How Tipping Helped Make Sexual Harassment the Norm for Female Servers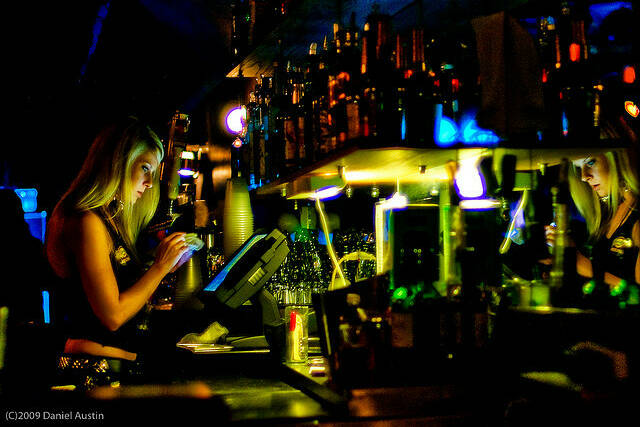 First pub­lished at Labor Notes.
While I was writ­ing about sex­u­al harass­ment of women work­ers at Ford, restau­rant work­ers remind­ed me that 37 per­cent of Equal Employ­ment Oppor­tu­ni­ty Com­mis­sion claims of sex­u­al harass­ment come from their indus­try. These dis­mal stats are con­nect­ed to how many restau­rant work­ers get paid: tips.
U.S. unions opposed tip­ping when it first became a thing in the ear­ly 1900s, import­ed by hoity-toity Amer­i­cans imi­tat­ing the Euro­pean rich. Most Amer­i­cans denounced the dis­pens­ing of a few coins to work­ers as anti-demo­c­ra­t­ic and a reminder of the kind of mas­ter-ser­vant folderol we had reject­ed with King George.
But now the tables are turned, and tip­ping is much more preva­lent in the U.S. than it is in Europe. In some coun­tries, like Aus­tralia, it's regard­ed as real­ly bad man­ners. ​"Who do you think you are, the Queen?" they ask.
Free Mon­ey
What hap­pened? While unions and oth­ers tried to out­law tip­ping in the ear­ly days, restau­rant employ­ers saw it as free mon­ey. ​"Work­ers get paid extra by the cus­tomers, so we can pay them less — what's not to like?" they reasoned.
The mess was cod­i­fied in 1966 when restau­rant and oth­er tipped work­ers final­ly got includ­ed in the Fair Labor Stan­dards Act. But instead of one fair wage, the law cre­at­ed a sec­ond tier: tipped work­ers who could be paid a sub­min­i­mum wage.
The restau­rant lob­by then leaned on politi­cians to hold the fed­er­al tipped min­i­mum wage at $2.13 an hour (the 1991 rate) while the min­i­mum wage rose. Tipped wages had been 50 per­cent of the fed­er­al min­i­mum; now they're just 29 per­cent. (The boss is sup­posed to top it up if $2.13 plus tips doesn't reach the hourly min­i­mum, but restau­rant work­ers say that doesn't hap­pen much.)
As a result, writes the Restau­rant Oppor­tu­ni­ties Cen­ters Unit­ed in a recent report, work­ers rely on tips for most of their pay. This means ​"a major­i­ty-female work­force must please and cur­ry favor with cus­tomers to earn a liv­ing," ROC notes. Men take advan­tage with harass­ing ques­tions, ges­tures, grop­ing, even stalking.
"Unfor­tu­nate­ly, it's just become the soci­etal norm, and we have all accept­ed it and we all hate it," a woman bar­tender told ROC.
While co-work­er harass­ment is also preva­lent in restau­rants, tip­ping rais­es the stakes. With co-work­ers, ​"I have more free­dom to be like, ​'okay, stop it,'" said one ROC inter­vie­wee. ​"But when a guest does it, then I feel a lot more pow­er­less. That's when I'm like, man, that's where my money's com­ing from…"
Man­agers tend to side with the cus­tomers when work­ers com­plain. ​"I said to myself, I can't be putting up with this, let me talk to my boss about it," said anoth­er serv­er harassed on the job. ​"I was kind of sur­prised by what my boss said… ​'Well, those peo­ple pay a lot of mon­ey for our ser­vices and, I mean, would it hurt to smile a lit­tle bit, be a lit­tle bit more friend­ly to them?' And I was blown away."
Makes a Difference
Due to orga­niz­ing by tipped work­ers, sev­er­al states have raised their tipped min­i­mums above the fed­er­al $2.13. Tipped work­ers get the full min­i­mum wage in Cal­i­for­nia, Ore­gon, Wash­ing­ton, Neva­da, Min­neso­ta, and Alaska.
That changes things. ROC found that in those states, sex­u­al harass­ment by cus­tomers, co-work­ers, and man­agers was less prevalent.
It's obvi­ous that if you're less depen­dent on tips, you'll put up with less crap from cus­tomers. But it's inter­est­ing that boss­es treat­ed them bet­ter, too — prob­a­bly because high­er wages made them less vulnerable.
Maybe one day we can make tip­ping his­to­ry. Mean­while, we can get rid of its more per­ni­cious effects by mak­ing sure any time the min­i­mum wage is dis­cussed, tipped work­ers get includ­ed — no two-tier wage sys­tem, and no exceptions.