How Would You Like Brigido Oregon's Job?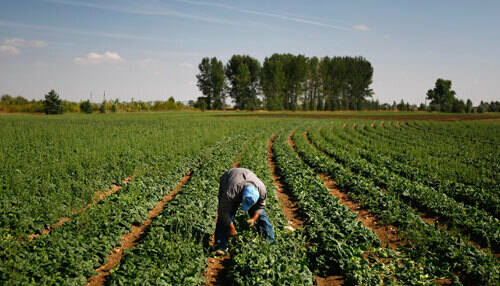 GRAND RAPIDS, MICH. — Brigido Oregon is a small man, so it is hard to imagine all the work that has been squeezed out of him in 27 years as a farmworker.
The blue baseball cap he is wearing flops down below his ears. He smiles and half of his teeth are missing. And he smiles frequently. He looks at least 60, but says he is 45. His hands shake somewhat, and he explains that is the result of a brutal beating he got some months ago by hooligans who hit him with a wooden stick in Immokalee, Fla., the place where thousands of farmworkers make their winter livelihoods.
But you wonder if he also shakes from the endless hours of picking in the early morning when it's still cold and then in broiling afternoons or from picking without a break or from picking in fields newly sprayed with pesticides or from just living around pesticides.
He says he worked 14 hours stretches day after day last year on some Michigan farms and got only $25 a day. He says he has worked in fields where the crew boss will sell him a bottle of water for a $1 and he will pay $25 a week for a ride by the crew boss out to the fields.
Some months he says he only earns $200 from his work in the fields.
He says there are bathrooms sometimes in the fields, but often he isn't allowed to go to them. ​"They don't want you to go to the bathroom. They want you just to work," he says with a faint smile.
He says he has worked for crew bosses who pay different wages to workers and the pay depends on whether the workers get along with the crew boss or not. He often does not indicate that he speaks English, because crew bosses, he explains, don't like English speakers since it means they can speak up for themselves.
​"People are afraid to talk," he says. ​"The crew leader says to them, ​'If you complain, I'll call immigration.'"
Because he is a permanent resident he doesn't mind speaking up. And so he complained about getting cheated out of his wages and officials at the Migrant Legal Aid office here say they helped win some justice.
But sometimes people don't listen to him. Like when he was arrested by immigration officials. In a statement he made at hearings last October on the conditions facing farmworkers by the Michigan Civil Rights Commission, he explained that:
I came home and my friends in the house I rented a room told me Immigration had been there and they were looking for me. I told them that couldn't be right, that I was legal, not illegal. I am a legal permanent resident. Later I was watching tv and heard footsteps…Immigration had come back. They didn't ask me if I was legal, they just put me in handcuffs. I told them I was legal, but they wouldn't listen. They said they would not talk to me about that until we got to the police station. When we got there they put my information in the computer and said I was going to be going to jail for some time.

I spent 17 days and night in jail. On the 17th, I went in front of the immigration Judge and he said he had good news and bad news. He said I wasn't going to be deported because they had found out I was legal. But I did have to go back to Texas to pay some money. I told him someone had stolen my papers and was using my identity in Texas. They checked my fingerprints and determined the name and photo of the man who stole my identity. They said I was free to go. I was in jail for 17 days for no reason.
As we talked, I was thinking about the United Farm Workers' Take Our Jobs campaign. I wondered how many would want Brigido Oregon's life or the lives of the 1.8 million workers who harvest our fields.
Stephen Franklin is a former labor and workplace reporter for the Chicago Tribune, was until recently the ethnic media project director with Public Narrative in Chicago. He is the author of Three Strikes: Labor's Heartland Losses and What They Mean for Working Americans (2002), and has reported throughout the United States and the Middle East.