How Would You Like Brigido Oregon's Job?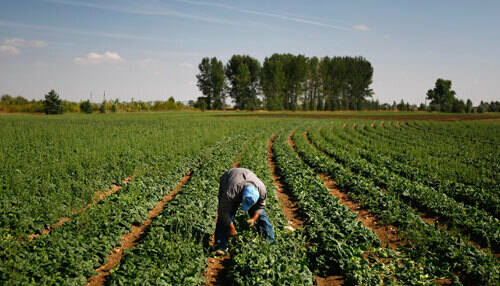 GRAND RAPIDS, MICH. — Brigi­do Ore­gon is a small man, so it is hard to imag­ine all the work that has been squeezed out of him in 27 years as a farmworker.
The blue base­ball cap he is wear­ing flops down below his ears. He smiles and half of his teeth are miss­ing. And he smiles fre­quent­ly. He looks at least 60, but says he is 45. His hands shake some­what, and he explains that is the result of a bru­tal beat­ing he got some months ago by hooli­gans who hit him with a wood­en stick in Immokalee, Fla., the place where thou­sands of farm­work­ers make their win­ter livelihoods.
But you won­der if he also shakes from the end­less hours of pick­ing in the ear­ly morn­ing when it's still cold and then in broil­ing after­noons or from pick­ing with­out a break or from pick­ing in fields new­ly sprayed with pes­ti­cides or from just liv­ing around pesticides.
He says he worked 14 hours stretch­es day after day last year on some Michi­gan farms and got only $25 a day. He says he has worked in fields where the crew boss will sell him a bot­tle of water for a $1 and he will pay $25 a week for a ride by the crew boss out to the fields.
Some months he says he only earns $200 from his work in the fields.
He says there are bath­rooms some­times in the fields, but often he isn't allowed to go to them. ​"They don't want you to go to the bath­room. They want you just to work," he says with a faint smile.
He says he has worked for crew boss­es who pay dif­fer­ent wages to work­ers and the pay depends on whether the work­ers get along with the crew boss or not. He often does not indi­cate that he speaks Eng­lish, because crew boss­es, he explains, don't like Eng­lish speak­ers since it means they can speak up for themselves.
​"Peo­ple are afraid to talk," he says. ​"The crew leader says to them, ​'If you com­plain, I'll call immigration.'"
Because he is a per­ma­nent res­i­dent he doesn't mind speak­ing up. And so he com­plained about get­ting cheat­ed out of his wages and offi­cials at the Migrant Legal Aid office here say they helped win some justice.
But some­times peo­ple don't lis­ten to him. Like when he was arrest­ed by immi­gra­tion offi­cials. In a state­ment he made at hear­ings last Octo­ber on the con­di­tions fac­ing farm­work­ers by the Michi­gan Civ­il Rights Com­mis­sion, he explained that:
I came home and my friends in the house I rent­ed a room told me Immi­gra­tion had been there and they were look­ing for me. I told them that couldn't be right, that I was legal, not ille­gal. I am a legal per­ma­nent res­i­dent. Lat­er I was watch­ing tv and heard footsteps…Immigration had come back. They didn't ask me if I was legal, they just put me in hand­cuffs. I told them I was legal, but they wouldn't lis­ten. They said they would not talk to me about that until we got to the police sta­tion. When we got there they put my infor­ma­tion in the com­put­er and said I was going to be going to jail for some time.

I spent 17 days and night in jail. On the 17th, I went in front of the immi­gra­tion Judge and he said he had good news and bad news. He said I wasn't going to be deport­ed because they had found out I was legal. But I did have to go back to Texas to pay some mon­ey. I told him some­one had stolen my papers and was using my iden­ti­ty in Texas. They checked my fin­ger­prints and deter­mined the name and pho­to of the man who stole my iden­ti­ty. They said I was free to go. I was in jail for 17 days for no reason.
As we talked, I was think­ing about the Unit­ed Farm Work­ers' Take Our Jobs cam­paign. I won­dered how many would want Brigi­do Oregon's life or the lives of the 1.8 mil­lion work­ers who har­vest our fields.
Stephen Franklin is a for­mer labor and work­place reporter for the Chica­go Tri­bune, was until recent­ly the eth­nic media project direc­tor with Pub­lic Nar­ra­tive in Chica­go. He is the author of Three Strikes: Labor's Heart­land Loss­es and What They Mean for Work­ing Amer­i­cans (2002), and has report­ed through­out the Unit­ed States and the Mid­dle East.