'Huge Win' for Workers as DC Council Approves $15 Minimum Wage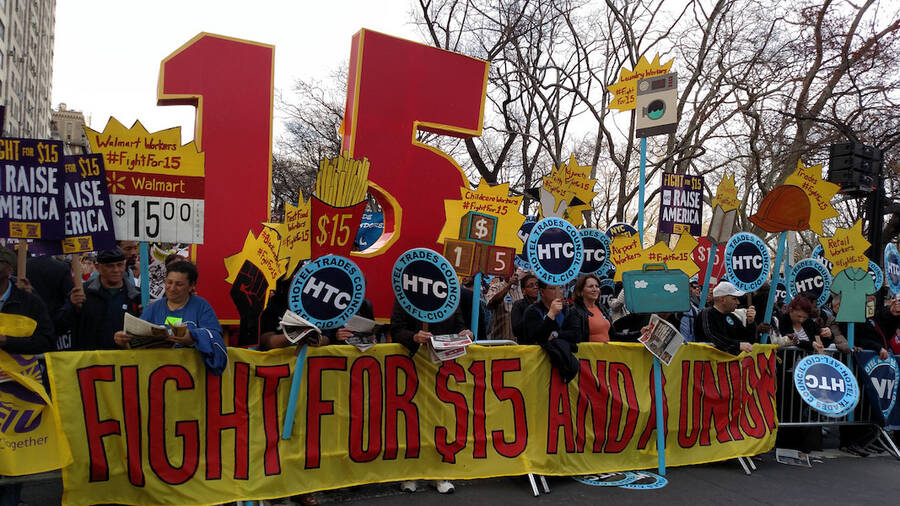 We wanted to make sure you didn't miss the announcement of our new Sustainer program. Once you've finished reading, take a moment to check out the new program, as well as all the benefits of becoming a Sustainer.

This article first appeared at Common Dreams.
Heralding a new victory for the Fight for $15 movement, lawmakers in Washington, D.C. on Tuesday unanimously approved a measure to raise the city's minimum wage to $15 an hour by 2020, which Mayor Muriel Bowser has promised to sign.
Beyond 2020, the minimum wage will rise with inflation. ​"When I see how much it costs to live in Washington, D.C. — and that cost is only going up — we know that it takes more money for every household to be able to afford to live," Bowser said during a news conference following the vote.
DC Working Families executive director and co-chair of D.C. for $15 Delvone Michael said Wednesday, ​"It wasn't long ago that raising D.C.'s minimum wage to $15 seemed like a pipe dream. But when the people speak up, leaders listen. Because of dedicated grassroots organizing and a bold campaign willing to take the issue directly to the people, we're seeing results."
Tipped workers will receive a lesser increase, from $2.77 to $5 an hour, although it would also be tied to inflation. According to the Washington Post, this provision was included in the measure to ​"assuage the District's powerful restaurant-industry lobby."
The D.C. Council's approval of the bill adds new momentum to the Fight for $15 movement that has already influenced policy in Seattle, New York, and California.
According to an analysis by the Economic Policy Institute released in March, a $15 floor would help 114,000 working people in D.C. — about 14 percent of its workforce.
During the hearing ahead of the vote, council member Vincent Orange, who co-sponsored the bill, said, ​"Raising the minimum wage will help address the issues of residents being pushed out of the District due to rising costs of living and income inequality."
On social media, Fight for $15 organizers said the vote was ​"a huge win," while D.C. Jobs With Justice called it ​"a huge step forward," although Jobs With Justice national executive director Sarita Gupta cautioned that there is still ​"the need to continue organizing to end tip credit."
Michael continued, ​"This represents a huge step forward, and we're thrilled to see it happen. But it's not enough. Washington, D.C. is a city awash in wealth, but still one where too many working people are struggling to keep their heads above water and care for their families."
"Today's action proves that change is possible," he said. ​"We remain committed to using every tool available to build power for working people and ensure that D.C. [is] a city that works for all working families."
Bowser called for raising the wage in March after Fight for $15 organizers campaigned in D.C. for over a year.
"There are families working day in and day out, sometimes two or three jobs but barely making ends meet," she said Tuesday.
Bowser also rejected the claim leaned on by opponents that raising hourly pay would kill entry-level jobs or encourage businesses to relocate.
"We've heard that argument before," she said. As long as the area remained safe and ​"hip," she continued, ​"people are going to want to live and work in the District of Columbia."
Be a Sustainer
We surveyed thousands of readers and asked what they would like to see in a monthly giving program. Now, for the first time, we're offering three different levels of support, with rewards at each level, including a magazine subscription, books, tote bags, events and more—all starting at less than 17 cents a day. Check out the new Sustainer program.