Hungry for Justice, Restaurant Workers Go for Gold in Chicago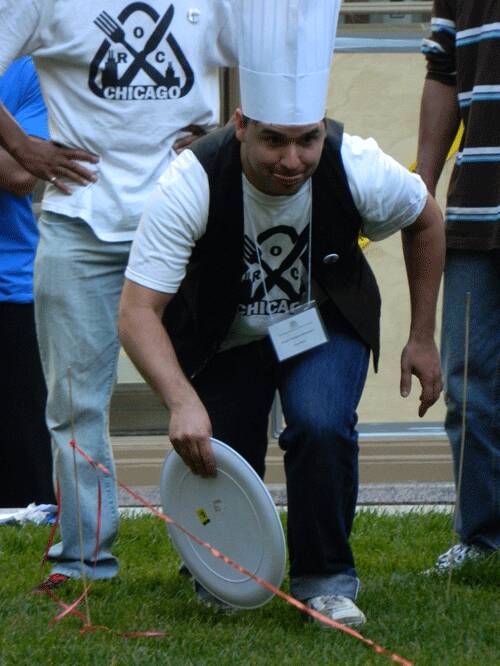 CHICAGO — Two racing busboys collided and nearly went airborne as they dashed through a maze of overturned crates holding trays of plastic utensils here on Sunday June 26. But within seconds, they regained their footing and delivered the trays to their teammates from restaurants around the country, who participated in the Restaurant Opportunities Center​'s (ROC) National Restaurant Worker Olympics held during Chicago's annual Taste of Chicago festival.
Restaurant workers also competed in the ​"People's Top Chef" competition, expertly applying icing to cupcakes with signature recipes representing their city. Victory in the competition (disclosure: I was one of the judges, along with In These Times Contributing Editor Laura Washington) went to the Chicago team, whose cupcakes were made with ale from a local brewery ​"to represent the city's working class" and decorated with towers of icing commemorating the Chicago flag. (New York workers took second place with chocolate espresso cupcakes topped with a furry (fake) rat in homage to the inflatable rats that grace many picket lines.)
ROC's Washington D.C. chapter prepared mousse-like chocolate cupcakes decorated with white icing and the colors of the District's flag. One of the workers described it as a representation of ​"the imbalance of power" in a ​"chocolate city," where ​"the White House, the Capitol and the Man" lord over regular people.
The Restaurant Worker Olympics was full of cheering, balloons and music, including a dancing flash mob (see video below) pop song lyrics adapted to the restaurant experience. But participants' message — delivered during one of the city's most popular festivals showcasing cuisine from hundreds of establishments — was deadly serious. The minimum wage for tipped employees in restaurants is only $2.13 an hour.
The idea is that tips boost earnings much higher, but many workers frequently earn much less on a given day — often less than minimum wage. And as studies by ROC show, the vast majority of restaurant workers have no paid sick days and few or no vacation days or other benefits, not to mention the often long and grueling hours, arbitrary schedules and frequent injuries.
The goal of the Olympics, like ROC's mission in general, was to raise awareness of the working conditions and wages of restaurant workers who serve three quarters of the population on a weekly basis (75 percent of people eat out once a week, ROC studies show) but often feel invisible.
Over the weekend ROC chapters around the country asked their customers to demand their legislators support the federal WAGES Act, which would increase the tipped minimum wage to 70 percent of the regular minimum wage, and the Healthy Families Act, which would mandate workers get up to seven paid sick days per year.
Currently, restaurant workers almost unanimously say they sometimes go to work sick, exposing their customers to illness.
As epitomized by the Olympics, many restaurant workers bring pride, energy and creativity to their jobs. They truly enjoy cooking and interacting with the public, many say, and they are proud of their cities and eager to share them with visitors. These qualities are central to a positive experience for customers.
ROC's message is that employers — especially the most expensive, fine dining establishments — should recognize that it is in everyone's best interest to pay restaurant workers well and guarantee them sick days and other benefits so that they can be healthy and happy on the job.
"We just really, really, really love our city," said a New Orleans cupcake decorator. His team wrote ​"We R NO" in signature pralines and cream icing. Similarly, the Miami team used orange peel and orange liqueur to celebrate their city.
ROC, founded by workers from the Windows on the World restaurant in the World Trade Center destroyed during the 9-11 attacks, is not a traditional union but a growing national organization with local chapters that enlist ​"high road" employers among fine dining establishments to serve as allies and examples for ​"low road" employers.
ROC policy director Jose Oliva noted that the National Restaurant Association industry group, which holds much sway with Congress, represents only employers, not workers, and only about a third of employers at that.
"We're a much more accurate voice of the whole industry, since we represent workers and employers," Oliva said. ​"The National Restaurant Association opposes any kind of mandate, even if it's one paid sick day a year, because they just don't want any mandates. They have so much power…if there's not balance to that influence, you see what happened with Wall Street."
Mo Williams, a ROC Chicago organizer who runs his own catering business—Mo Sweets—said he thinks most diners don't know what kinds of conditions restaurant workers labor under. ​"And the industry isn't going to tell them, so it's up to us to raise awareness," he said.
ROC co-founder and co-director Saru Jayaraman said the WAGES act would increase the wages of the lowest-paid restaurant workers by about 300 percent. Under the current system, she said, ​"We live in poverty as we cook, prepare and serve America's food."
After the Olympics, the competitors from New York, Detroit, Chicago, New Orleans, Washington D.C., Miami and Los Angeles chanted slogans of empowerment in scores of different languages, a testament to the diversity of restaurant workers around the country and the organization. (The Los Angeles' team celebrated this diversity with their cupcake, a corn muffin in homage to Latin American workers with icing made from coconut milk in reference to Asian workers).
Maybe I was under the influence of the sugar high, but it seemed the genuine energy, determination and joy in the air during this demonstration offered hope not only for the restaurant workers' struggle but for new and creative forms of workplace organizing taking root across the country.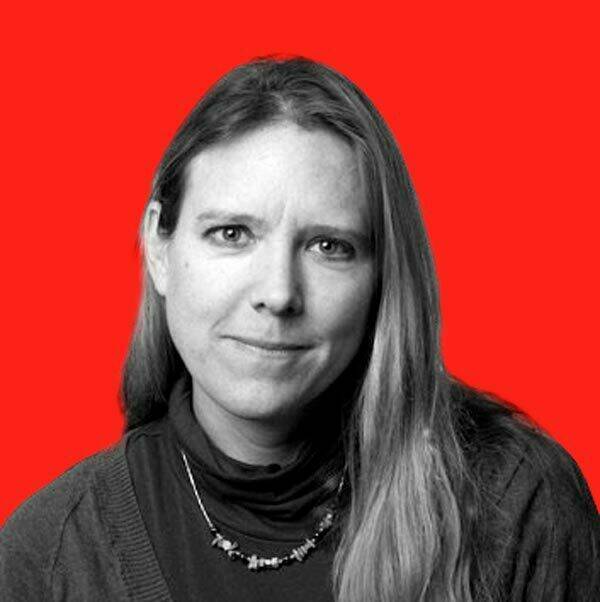 Kari Lydersen is a Chicago-based journalist, author and assistant professor at Northwestern University, where she leads the investigative specialization at the Medill School of Journalism, Media, Integrated Marketing Communications. Her books include Mayor 1%: Rahm Emanuel and the Rise of Chicago's 99%.