We Still Don't Know How Many Have Died In Puerto Rico After Hurricane Maria
There could be hundreds more dead than is currently being reported in the official tally.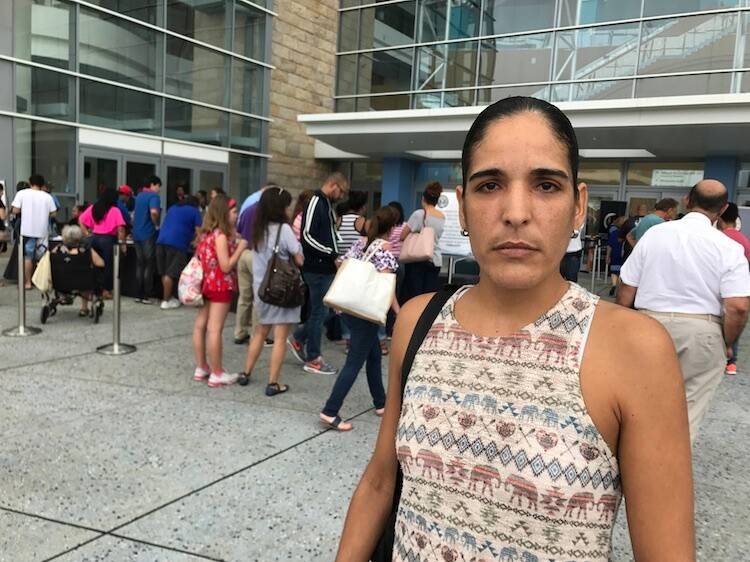 This arti­cle orig­i­nal­ly appeared at El Cen­tro de Peri­odis­mo Inves­tiga­ti­vo.
Since the hurricane, many people have gone daily to radio stations so that the on-air personalities can say the names of family members with whom they have been unable to communicate in a desperate attempt to find them.
Leovig­ildo Cot­té died in the midst of des­per­a­tion over not get­ting the oxy­gen need­ed to keep him alive in the only shel­ter that exists in the town of Lajas, which has been with­out elec­tric­i­ty since the pass­ing of Hur­ri­cane María a week ago. Not even his con­nec­tions with the gov­ern­ment saved him.
"The gen­er­a­tor nev­er arrived," said the cur­rent may­or of Lajas, Mar­cos Turín Irizarry, who explained that he looked for oxy­gen for Cot­té, father of the for­mer may­or of that same town, ​"turn­ing every stone," but could not find it.
Cot­té is one of the unac­count­ed vic­tims of the Cat­e­go­ry 5 hur­ri­cane that dev­as­tat­ed all of Puer­to Rico last week, with its sus­tained winds and gusts of up to 200 miles per hour. On Wednes­day, the Gov­ern­ment of Puer­to Rico, still held that the offi­cial num­ber of deaths as a result of the cat­a­stro­phe was 16, but the El Cen­tro de Peri­odis­mo Inves­tiga­ti­vo (CPI) has con­firmed that there are dozens and could be hun­dreds in the final count.
The fatal­i­ties relat­ed to cir­cum­stances cre­at­ed by the hur­ri­cane are still mount­ing with each pass­ing day, and offi­cial num­bers are not count­ing patients who are not receiv­ing dial­y­sis, oxy­gen and oth­er essen­tial ser­vices, such as Pedro Fontánez, 79, who is bedrid­den at the Pavía Hos­pi­tal in San­turce and who the insti­tu­tion is attempt­ing to release since Sat­ur­day, while he lacks elec­tric­i­ty at home to sup­port the oxy­gen and gas­tric tube-feed­ing he needs to con­tin­ue liv­ing. His daugh­ter Nil­ka Fontánez showed up des­per­ate at the government's Emer­gency Oper­a­tions Cen­ter ask­ing for help, but was told they were not accept­ing patients there.
"There's no infor­ma­tion," she said frustrated.
The dead are at the hos­pi­tal morgues, which are at capac­i­ty and in remote places where the gov­ern­ment has yet to go, and in many cas­es, their fam­i­lies are unaware of the deaths. The Demo­graph­ic Reg­istry cer­ti­fies the deaths so bod­ies can be removed by funer­al homes, many of which are also not oper­at­ing for a lack of resources and fuel. They bare­ly began cer­ti­fy­ing some of the dead on Mon­day, as Health Sec­re­tary Rafael Rodríguez-Mer­ca­do con­firmed in an interview.
Pub­lic Safe­ty Sec­re­tary Héc­tor Pes­quera told CPI that the names of the dead due to the hur­ri­cane will not be revealed, as the lack of com­mu­ni­ca­tion has kept many peo­ple from know­ing the where­abouts of their fam­i­lies. Since the hur­ri­cane, many peo­ple have gone dai­ly to radio sta­tions so that the on-air per­son­al­i­ties can say the names of fam­i­ly mem­bers with whom they have been unable to com­mu­ni­cate in a des­per­ate attempt to find them.
A week after María's pas­sage, the gov­ern­ment of Puer­to Rico is try­ing with great dif­fi­cul­ty to sup­ply basic ser­vices, such as fuel, roads and com­mu­ni­ca­tions and tells the world every day of the progress of these efforts through their press con­fer­ences at the Emer­gency Oper­a­tions Cen­ter (COE, for its ini­tials in Span­ish) estab­lished in San Juan. But the fact that is not dis­cussed is that the num­ber of deaths result­ing from the dis­as­ter are much high­er than the 16 or 19 that have been offered as the offi­cial tally.
CPI sources in half a dozen hos­pi­tals said those bod­ies are pil­ing up at the morgues of the 69 hos­pi­tals in Puer­to Rico, of which 70% are not oper­at­ing. The major­i­ty of the hos­pi­tal morgues that pro­vid­ed infor­ma­tion includ­ing Doctor's Cen­ter in Bayamón and San­turce, Pavía Hos­pi­tal in San­turce, the Man­atí Med­ical Cen­ter, Dr. Pila in Ponce, the Río Piedras Med­ical Cen­ter, the Mayagüez Med­ical Cen­ter and the HIMA hos­pi­tals in Caguas and Bayamón, are at full capac­i­ty. Those hos­pi­tals are among the 18 that are par­tial­ly operational.
Fur­ther­more, this media out­let learned that the Insti­tute of Foren­sic Sci­ences is also full of bod­ies and that alleged­ly 25 of those are hur­ri­cane vic­tims. On Tues­day, the IFS informed that it had increased its stor­age capac­i­ty for bod­ies with a trail­er that was obtained through The Morgue fed­er­al program.
It's unclear what is hap­pen­ing with the deceased that are at the morgues of the 51 hos­pi­tals that have had to close their doors, with which it has been impos­si­ble to communicate.
Sec­re­tary Rodríguez-Mer­ca­do acknowl­edged that hos­pi­tal morgues are full, includ­ing the one at the Med­ical Cen­ter in Mayagüez. He said the accu­mu­lat­ed bod­ies can­not be removed from the morgues by funer­al homes until the deaths can be cer­ti­fied by the Demo­graph­ic Reg­istry, who bare­ly began oper­at­ing from region­al emer­gency cen­ters on Monday.
Fur­ther­more, the doc­tor acknowl­edged that the hur­ri­cane-relat­ed deaths are many more than those offi­cial­ly doc­u­ment­ed so far. As he said Mon­day, the three hos­pi­tals he vis­it­ed that day in the island's west­ern region, dur­ing the first con­tact he was able to achieve with that region, he doc­u­ment­ed sev­en addi­tion­al deaths ​"to the 19" that had been revealed so far. That same after­noon, Gov. Ricar­do Rossel­ló said the offi­cial fig­ure of hur­ri­cane-relat­ed deaths was still 16.
To date, Rodríguez did not know the sta­tus of the sit­u­a­tion at the hos­pi­tals in Ponce, because the region remained com­plete­ly cut off from com­mu­ni­ca­tions, but planned to go to that town on Tues­day to explore the mat­ter. On Wednes­day, CPI learned through Ponce May­or María ​"Mayi­ta" Melén­dez that the hos­pi­tals oper­at­ing in that town are San Cristóbal and San Lucas.
"We're find­ing dead peo­ple, peo­ple who have been buried. Relat­ed to the hur­ri­cane (we have) 19 dead, which the gov­er­nor report­ed, but (peo­ple) have made com­mon graves. We've been told peo­ple have buried their fam­i­ly mem­bers because they're in places that have yet to be reached," the Sec­re­tary told CPI, while vis­i­bly shaken.
The sce­nario is not opti­mistic. The hos­pi­tals that closed their doors dur­ing the week that the emer­gency has last­ed have more than 4,000 beds, and when asked what hap­pened to those patients, where they were trans­ferred, the Sec­re­tary respond­ed with a sin­cere ​"I don't know."
CPI sources said that in just two of the hos­pi­tals that are oper­at­ing, they were they able to doc­u­ment a dozen deaths among patients that were trans­ferred out of the closed-down hos­pi­tals. Fur­ther­more, they point­ed out that the prob­lem is that patients are arriv­ing in crit­i­cal con­di­tion, with ven­ti­la­tors, for exam­ple, and with poor­ly doc­u­ment­ed records regard­ing what had hap­pened at the insti­tu­tion where they were hos­pi­tal­ized. For that rea­son, and the lim­i­ta­tion of resources and fuel for pow­er gen­er­a­tors, the major­i­ty of hos­pi­tals that are ​"oper­a­tional" are not accept­ing trans­fers or new patients, they said. The Río Piedras Med­ical Cen­ter, the government's main hos­pi­tal for this dis­as­ter and the only ter­tiary hos­pi­tal in Puer­to Rico, has been oper­at­ing at half capacity.
Rodríguez-Mer­ca­do said Wednes­day that on that same day, they would meet with spe­cial­ized author­i­ties from the U.S. Depart­ment of Health to dis­cuss the pro­to­cols used to han­dle cadav­ers to pre­vent a bud­ding pub­lic health prob­lem. He said the cur­rent pro­to­col for dis­pos­ing bod­ies and veg­e­ta­tive mate­r­i­al in emer­gency sit­u­a­tions is man­aged by the Envi­ron­men­tal Qual­i­ty Board. But soon after, the pres­i­dent of that agency, Tania Vázquez, said in an inter­view that her agency only over­sees the pro­to­col relat­ed to dis­pos­ing of ani­mals, not human beings, but added that bury­ing a dead per­son with­out a cer­ti­fi­ca­tion of the death is a crime. As of press time, the Gov. Ricar­do Rosselló's press sec­re­tary had not respond­ed to a peti­tion to clear up who is respon­si­ble for the pro­to­col for these emer­gency burials.
Mean­while, the dead con­tin­ue to accu­mu­late as a result of the chaos in the health sys­tem due to a lack of diesel and the absence of a com­mu­ni­ca­tions plan between the system's com­po­nents, and these must be added to those who are in areas that still lack com­mu­ni­ca­tion and those in remote areas.
"We're fight­ing. I would love for the gov­ern­ment to under­stand that it has to open dial­y­sis cen­ters. If they don't receive the ser­vice, the patients' health is com­pro­mised quick­ly and they die. And yes, they have died," Arman­do Rodríguez, vice pres­i­dent of Grupo HIMA con­fessed when con­firm­ing that the morgues of his two hos­pi­tals in Bayamón and Caguas is above capacity.
Mean­while, thou­sands of doc­tors and nurs­es are lit­er­al­ly at home unable to work, said Dr. Joaquín Var­gas, pres­i­dent of the Puer­to Rico Pri­ma­ry Physi­cians Groups Asso­ci­a­tion, who was at the COE to see if the gov­ern­ment would set up an oper­a­tions cen­ter where they could at least answer calls from citizens.
CPI also learned that a large por­tion of spe­cial­ized physi­cians is unable to work because hos­pi­tals don't have sup­plies and the abil­i­ty to con­duct their pro­ce­dures, nor basic resources such as fuel or elec­tric­i­ty to run their med­ical practices.
Omaya Sosa Pas­cual
is an award-win­ning inves­tiga­tive jour­nal­ist and new media entre­pre­neur with
20
years of expe­ri­ence. She is the found­ing co-direc­tor of El Cen­tro de Peri­odis­mo Inves­tiga­ti­vo and co-founder of Noti​Cel​.com, a dig­i­tal news out­let. Fol­low her on Twit­ter @omayasosa.