Hyatt Workers Win 4-Week Strike, Hours After Third Coast Audio Festival Refused to Cross Picket Line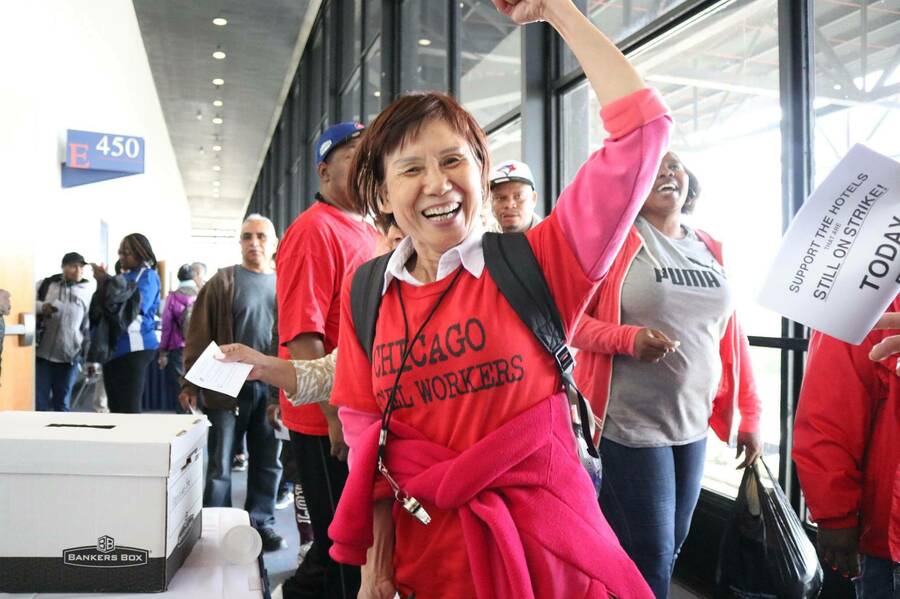 Twenty-eight days into the largest hotel strike Chicago has seen in a century, about 1,000 workers with UNITE HERE Local 1 have won a new contract at the Hyatt — the last major holdout after several other hotels in the city already settled with the union in recent weeks.
The victory comes just hours after Third Coast International Audio Festival (TCIAF) — a small arts nonprofit based in Chicago — made the difficult decision to move their annual conference out of the Hyatt Regency McCormick Place the night before it was set to begin.
TCIAF promotes all forms of audio storytelling, including radio, podcasts and live events. The conference brings together independent producers and journalists from around the world and is held every fall in conjunction with The Fest—a two-week lineup of podcasts recorded live on-stage across the city, described by Chicago Tonight as a ​"Sundance of Radio." Over 800 attendees are expected at this year's conference.
"We've been working on planning this conference for a year. We pour our hearts and souls into it," conference organizers told In These Times over email, noting that TCIAF has only three full-time staff members.
Since the strike began, TCIAF staff say they urged the Hyatt to concede to the workers' demands, and, based on conversations with the hotel, were confident that an agreement would soon be reached. Organizers feared that having to change venues would be financially untenable for the small nonprofit and hoped the Hyatt would settle a contract with workers ahead of the conference, just as other struck hotels such as the Hilton and Marriot did.
On October 2, two days before the conference was set to begin, TCIAF staff issued a letter to Hyatt management expressing support for striking workers with UNITE HERE Local 1. By the next day, with no end to the strike yet in site, a decision had to be made.
"We heard an overwhelming cry in support of the workers' strike, attendees' unwillingness to cross the picket line, and their urging us to take action," conference organizers said. ​"We decided that we could not host our conference at the Hyatt when there was a continued strike there. Asking our conference attendees to cross the picket line to take part in our programming does not reflect our vision for this audio community."
Despite throwing the conference plans into chaos, the eleventh-hour decision to change the venue was celebrated by many attendees who had previously voiced concerns.
"Good move @ThirdCoastFest, we're not here to be scabs," tweeted Madeline Taylor, a freelance radio producer based in Vancouver.
"So much respect and appreciation," podcast producer Julie Shapiro tweeted. ​"I could not be more proud of this community."
While members of the audio storytelling community scramble to find alternative housing options for the weekend, the conference program was moved to an alternative venue on Thursday. ​"We are determined to put on our conference no matter what — a scrappy, creative, new version, with as much of the programming intact as possible," TCIAF staff said.
The Chicago hotel strike originally involved 6,000 housekeepers, cooks, doormen, bartenders, servers and dishwashers at 26 hotels, and at its height last month, workers crowded picket lines across downtown. With the victory at the Hyatt, new contracts have now been ratified at 21 hotels. The 5,500 workers covered by these contracts have won year-round health insurance, including during the winter when many of them are furloughed because of slower business.
"After four weeks on strike, I'm proud to have a contract that guarantees healthcare in the wintertime. The workers of the hotels still on strike deserve the same," said Demetrius Jackson, a convention services worker at the Hyatt Regency Chicago.
Throughout the strike, several organizations have changed their plans in order to honor the picket line. Last month, the Democratic Attorneys General Association's fall conference and the Midwest LGBTQ Health Symposium were both moved out of the JW Marriott, while the Economic Policy Institute moved its annual conference out of the Kimpton Allegro Hotel. Both hotels have since agreed to new contracts with UNITE HERE Local 1.
The Chicago Foundation for Women went ahead with its annual luncheon at the Hyatt Regency Chicago on September 18, despite calls to honor the picket line, prompting criticism and protest.
Meanwhile, the wave of labor unrest continues this week as thousands of hotel workers with UNITE HERE in Boston and the Bay Area are now also on strike, with thousands more prepared to walk off the job in Hawaii.
With the strike resolved, the TCIAF conference will return to the Hyatt Regency McCormick Place as originally planned.
"We're figuring this out. We're listening to our community. We think that's the right thing to do," conference organizers said. ​"We support the rights of workers. And we are so excited to bring our community together in Chicago for the gathering of audio producers that means so much to so many, and that we believe is one of the most important heartbeats of our community."
Jeff Schuhrke is a labor historian, educator, journalist and union activist who teaches at the Harry Van Arsdale Jr. School of Labor Studies, SUNY Empire State University in New York City. He has been an In These Times contributor since 2013. Follow him on Twitter @JeffSchuhrke.