Hyatt Workers Win 4-Week Strike, Hours After Third Coast Audio Festival Refused to Cross Picket Line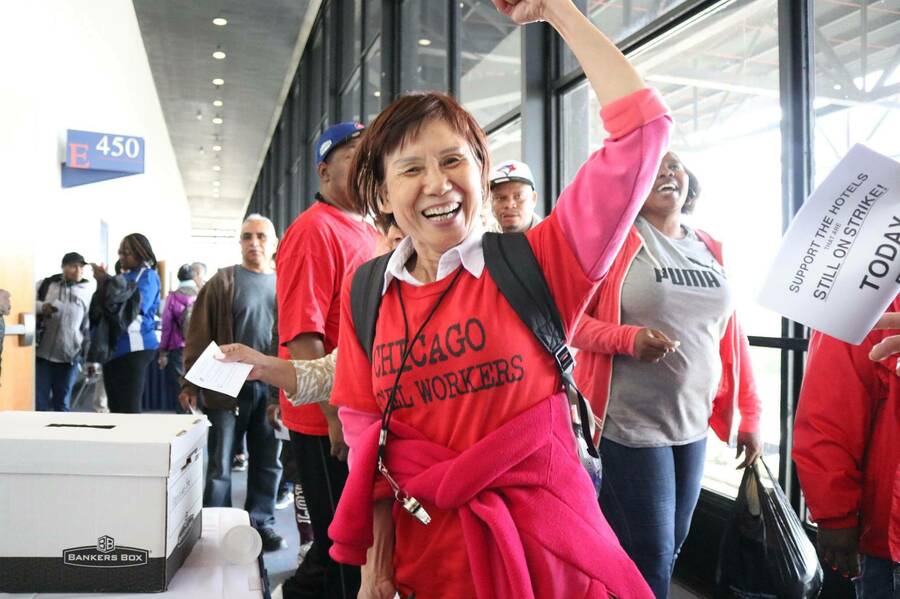 Twen­ty-eight days into the largest hotel strike Chica­go has seen in a cen­tu­ry, about 1,000 work­ers with UNITE HERE Local 1 have won a new con­tract at the Hyatt — the last major hold­out after sev­er­al oth­er hotels in the city already set­tled with the union in recent weeks.
The vic­to­ry comes just hours after Third Coast Inter­na­tion­al Audio Fes­ti­val (TCI­AF) — a small arts non­prof­it based in Chica­go — made the dif­fi­cult deci­sion to move their annu­al con­fer­ence out of the Hyatt Regency McCormick Place the night before it was set to begin.
TCI­AF pro­motes all forms of audio sto­ry­telling, includ­ing radio, pod­casts and live events. The con­fer­ence brings togeth­er inde­pen­dent pro­duc­ers and jour­nal­ists from around the world and is held every fall in con­junc­tion with The Fest—a two-week line­up of pod­casts record­ed live on-stage across the city, described by Chica­go Tonight as a ​"Sun­dance of Radio." Over 800 atten­dees are expect­ed at this year's conference.
"We've been work­ing on plan­ning this con­fer­ence for a year. We pour our hearts and souls into it," con­fer­ence orga­niz­ers told In These Times over email, not­ing that TCI­AF has only three full-time staff members.
Since the strike began, TCI­AF staff say they urged the Hyatt to con­cede to the work­ers' demands, and, based on con­ver­sa­tions with the hotel, were con­fi­dent that an agree­ment would soon be reached. Orga­niz­ers feared that hav­ing to change venues would be finan­cial­ly unten­able for the small non­prof­it and hoped the Hyatt would set­tle a con­tract with work­ers ahead of the con­fer­ence, just as oth­er struck hotels such as the Hilton and Mar­riot did.
On Octo­ber 2, two days before the con­fer­ence was set to begin, TCI­AF staff issued a let­ter to Hyatt man­age­ment express­ing sup­port for strik­ing work­ers with UNITE HERE Local 1. By the next day, with no end to the strike yet in site, a deci­sion had to be made.
"We heard an over­whelm­ing cry in sup­port of the work­ers' strike, atten­dees' unwill­ing­ness to cross the pick­et line, and their urg­ing us to take action," con­fer­ence orga­niz­ers said. ​"We decid­ed that we could not host our con­fer­ence at the Hyatt when there was a con­tin­ued strike there. Ask­ing our con­fer­ence atten­dees to cross the pick­et line to take part in our pro­gram­ming does not reflect our vision for this audio community."
Despite throw­ing the con­fer­ence plans into chaos, the eleventh-hour deci­sion to change the venue was cel­e­brat­ed by many atten­dees who had pre­vi­ous­ly voiced concerns.
"Good move @ThirdCoastFest, we're not here to be scabs," tweet­ed Made­line Tay­lor, a free­lance radio pro­duc­er based in Vancouver.
"So much respect and appre­ci­a­tion," pod­cast pro­duc­er Julie Shapiro tweet­ed. ​"I could not be more proud of this community."
While mem­bers of the audio sto­ry­telling com­mu­ni­ty scram­ble to find alter­na­tive hous­ing options for the week­end, the con­fer­ence pro­gram was moved to an alter­na­tive venue on Thurs­day. ​"We are deter­mined to put on our con­fer­ence no mat­ter what — a scrap­py, cre­ative, new ver­sion, with as much of the pro­gram­ming intact as pos­si­ble," TCI­AF staff said.
The Chica­go hotel strike orig­i­nal­ly involved 6,000 house­keep­ers, cooks, door­men, bar­tenders, servers and dish­wash­ers at 26 hotels, and at its height last month, work­ers crowd­ed pick­et lines across down­town. With the vic­to­ry at the Hyatt, new con­tracts have now been rat­i­fied at 21 hotels. The 5,500 work­ers cov­ered by these con­tracts have won year-round health insur­ance, includ­ing dur­ing the win­ter when many of them are fur­loughed because of slow­er business.
"After four weeks on strike, I'm proud to have a con­tract that guar­an­tees health­care in the win­ter­time. The work­ers of the hotels still on strike deserve the same," said Demetrius Jack­son, a con­ven­tion ser­vices work­er at the Hyatt Regency Chicago.
Through­out the strike, sev­er­al orga­ni­za­tions have changed their plans in order to hon­or the pick­et line. Last month, the Demo­c­ra­t­ic Attor­neys Gen­er­al Association's fall con­fer­ence and the Mid­west LGBTQ Health Sym­po­sium were both moved out of the JW Mar­riott, while the Eco­nom­ic Pol­i­cy Insti­tute moved its annu­al con­fer­ence out of the Kimp­ton Alle­gro Hotel. Both hotels have since agreed to new con­tracts with UNITE HERE Local 1.
The Chica­go Foun­da­tion for Women went ahead with its annu­al lun­cheon at the Hyatt Regency Chica­go on Sep­tem­ber 18, despite calls to hon­or the pick­et line, prompt­ing crit­i­cism and protest.
Mean­while, the wave of labor unrest con­tin­ues this week as thou­sands of hotel work­ers with UNITE HERE in Boston and the Bay Area are now also on strike, with thou­sands more pre­pared to walk off the job in Hawaii.
With the strike resolved, the TCI­AF con­fer­ence will return to the Hyatt Regency McCormick Place as orig­i­nal­ly planned.
"We're fig­ur­ing this out. We're lis­ten­ing to our com­mu­ni­ty. We think that's the right thing to do," con­fer­ence orga­niz­ers said. ​"We sup­port the rights of work­ers. And we are so excit­ed to bring our com­mu­ni­ty togeth­er in Chica­go for the gath­er­ing of audio pro­duc­ers that means so much to so many, and that we believe is one of the most impor­tant heart­beats of our community."
Jeff Schuhrke has been a Work­ing In These Times con­trib­u­tor since 2013. He has a Ph.D. in His­to­ry from the Uni­ver­si­ty of Illi­nois at Chica­go and a Master's in Labor Stud­ies from UMass Amherst. Fol­low him on Twit­ter: @JeffSchuhrke