IATSE Hopes Atlanta Win Will Help Spur Organizing in the South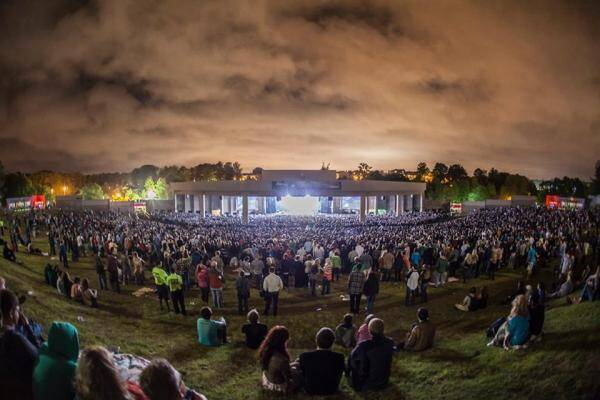 Perseverance paid off for a hardy band of stagehands trying to organize a labor union for concert workers and other temps in the Atlanta area. After three years of determined effort, including a major defeat in federal court, the workers have staged a comeback with the ratification of a first contract with one of the most prominent concert promoters in the country.
Leaders of the International Alliance of Theatrical Stage Employees (IATSE) and a spokeswoman for Live Nation Entertainment — a promoter that hires local stagehands, riggers and technicians for concerts and some outdoor festivals in the area — both confirmed the existence of a new agreement for Lakewood Amphitheater.
Although the agreement will benefit a small number of workers — estimated by the union at between 80 and 150 — IATSE is hoping it will help invigorate organizing in the South, where non-union labor contractors are depressing pay levels and benefits for this kind of freelance work.
Live Nation spokeswoman Carrie Davis put the number of workers covered by the agreement at between 25 and 90, saying it depends on the needs of a particular show. She declined to respond to additional questions about the content of the agreement, citing a need for confidentiality.
"This is a market that has been non-union for 25 years. It's an important first step," says Dan Di Tolla, co-director of IATSE's stagecraft department.
As an organizer, Di Tolla has been active in the Atlanta union campaign since 2013, when stagehand anger over poor wages and abusive work practices erupted against one of Live Nation's regular labor contractors, a company called Crew One Productions. A grassroots organizing campaign at Crew One was aided by IATSE but, as reported at In These Times last year, the organizing efforts faced forceful opposition. Despite winning a union representation election and a pro-union ruling from the National Labor Relations Board (NLRB), IATSE's efforts at Crew One were ultimately crippled this year when U.S. Court of Appeals Judge William Pryor overruled the NLRB in favor of Crew One. (Pryor, an appointee of President George W. Bush, was recently named a potential Supreme Court nominee by presidential candidate Donald Trump).
That left the workers with no alternative but to take their case directly to Live Nation ​"and appeal to their sense of fairness," says Brian Hill, one of the Crew One workers most active in the union fight.
IATSE thought an appeal to Live Nation's sense of fairness might work, according to Di Tolla, because the union already has more than 50 agreements with the company covering venues in different cities around the country. Labor-management relations are often amicable and mutually beneficial in those places, he says, so an Atlanta-area agreement seemed to be a workable option for all concerned.
But Atlanta presented special problems because cut-rate, non-union labor contractors have come to exert overwhelming market power. Hourly wages are down to $8.00 to $12.00 an hour with no benefits, according to Hill. Working conditions are degraded to the point that there is not always sufficient water to drink for the crew on hot summer days, he says. Even standard safety procedures seem to go by the wayside in some cases, Hill adds.
Under the new contract, stagehand employees at Lakewood working for Live Nation will start out with a minimum wage of $15.30 an hour, with higher amounts up to $28 an hour paid to the more skilled crafts — which averages out to an increase of 30 to 50 percent for workers — according to the union. Live Nation will also contribute to an IATSE training fund that should improve safety conditions, Di Tolla says.
Workers will be represented by IATSE Local 927, which currently has agreements to represent stagehand employees at some of the city's most prominent venues, such as the Georgia International Convention Center and the Fox Theater. Nationwide, IATSE represents some 130,000 members.
"Never give up fighting for the right thing. The workers have power in numbers, even if they don't realize it," says Hill. ​"Three years of hard work have come to fruition.
Support this work
Reader donations, many as small as just $5, are what fund the work of writers like this—and keep our content free and accessible to everyone. If you support this work, will chip in to help fund it?

It only takes a minute to donate. Click here to make a tax-deductible donation.
Bruce Vail
is a Baltimore-based freelance writer with decades of experience covering labor and business stories for newspapers, magazines and new media. He was a reporter for Bloomberg BNA's Daily Labor Report, covering collective bargaining issues in a wide range of industries, and a maritime industry reporter and editor for the Journal of Commerce, serving both in the newspaper's New York City headquarters and in the Washington, D.C. bureau.
Help support this work
As a reader-supported, nonprofit publication, all of the journalism In These Times produces is made possible by readers like you. If you support this work, will you chip in $5 or more to help fund it?