The Trump Administration Just Opened a New Immigrant Prison in Rural Michigan
But a statewide coalition of activists aims to shut it down.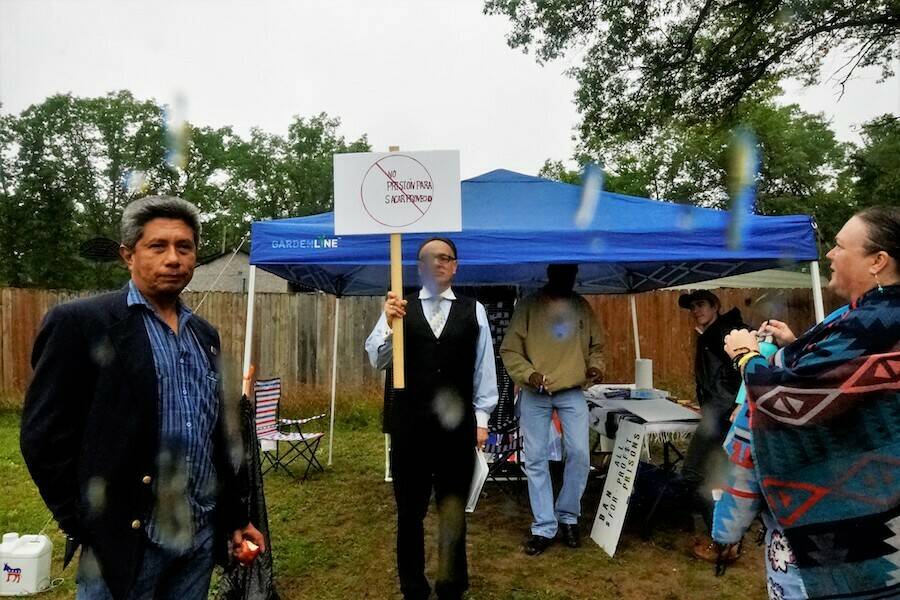 From his office at the Cristo Rey Church in Lans­ing, Mich., Oscar Cas­tañe­da runs a cam­paign against a new fed­er­al immi­grant prison, part of Pres­i­dent Don­ald Trump's esca­la­tion of immi­gra­tion enforcement.
Non-citizens convicted of federal crimes are segregated in privately run CAR prisons. The idea is that prisoners who aren't slated to return to the United States don't need educational programming or services like drug treatment, and can be incarcerated more cheaply.
In May 2019, the Trump admin­is­tra­tion award­ed a ten-year, $398 mil­lion con­tract to The GEO Group, the largest pri­vate prison cor­po­ra­tion in the coun­try, to reopen a shut­tered Michi­gan prison. Locat­ed in rur­al Bald­win, Mich., the North Lake Cor­rec­tion­al Facil­i­ty opened in late 2019 with a capac­i­ty of 1,800.
At Cristo Rey, Cas­tañe­da con­venes week­ly meet­ings of No Deten­tion Cen­ters in Michi­gan, a coali­tion of orga­ni­za­tions and indi­vid­u­als fight­ing to keep the state free of any immi­grant incar­cer­a­tion facil­i­ties — includ­ing the North Lake prison. The issue has attract­ed a ​"huge vari­ety of peo­ple," Cas­tañe­da says. ​"For the first time, we're achiev­ing some state-lev­el unity."
Unlike deten­tion cen­ters, which are man­aged by Immi­gra­tion and Cus­toms Enforce­ment (ICE), the North Lake facil­i­ty is a Crim­i­nal Alien Require­ment (CAR) prison, which are man­aged by the Bureau of Pris­ons (BOP). These facil­i­ties are specif­i­cal­ly for non-cit­i­zens who have been con­vict­ed of fed­er­al crimes. Often, the crime is ​"felony reen­try," or a sec­ond unau­tho­rized bor­der cross­ing, which car­ries a typ­i­cal sen­tence of two years (more for those with pri­or crim­i­nal records). After they serve their time, they are still deported.
"We call them shad­ow pris­ons," says Bár­bara Suárez Galeano, orga­niz­ing direc­tor with Deten­tion Watch Net­work. Often locat­ed in rur­al areas, CAR pris­ons are ​"hid­den away from the pub­lic eye," Galeano says, and fur­ther shield­ed from pub­lic scruti­ny by their pri­vate administration.
Cas­tañe­da works as a part-time orga­niz­er with Action of Greater Lans­ing, an assem­bly of con­gre­ga­tions in the Lans­ing area, housed at Cristo Rey. In addi­tion to address­ing the every­day needs, like legal ser­vices, of immi­grants who vis­it his office, he fre­quent­ly speaks at immi­gra­tion ral­lies and appears on radio pro­grams on behalf of the cam­paign against the North Lake prison.
Sit­ting in his office, Cas­tañe­da says, ​"a cou­ple months ago it was dif­fi­cult and hurt­ful to under­stand that we would not be able to pre­vent the North Lake prison from open­ing." But today he is hope­ful about win­ning the bat­tle to shut down the prison, ​"because every week we learn news about finan­cial com­pa­nies cut­ting ties with The GEO Group. Amer­i­can cit­i­zens are get­ting to under­stand how this cor­po­ra­tion operates."
Shad­ow Prisons
CAR pris­ons are a rel­a­tive­ly new out­growth of mod­ern mass incar­cer­a­tion. As the War on Drugs explod­ed the prison pop­u­la­tion, Pres­i­dent Bill Clin­ton began seg­re­gat­ing non-cit­i­zens con­vict­ed of fed­er­al crimes, such as drug traf­fick­ing, in pri­vate­ly run CAR pris­ons con­tract­ed through the BOP. The idea was that pris­on­ers who weren't slat­ed to return to the Unit­ed States didn't need edu­ca­tion­al pro­gram­ming or ser­vices like drug treat­ment, and could be incar­cer­at­ed more cheaply.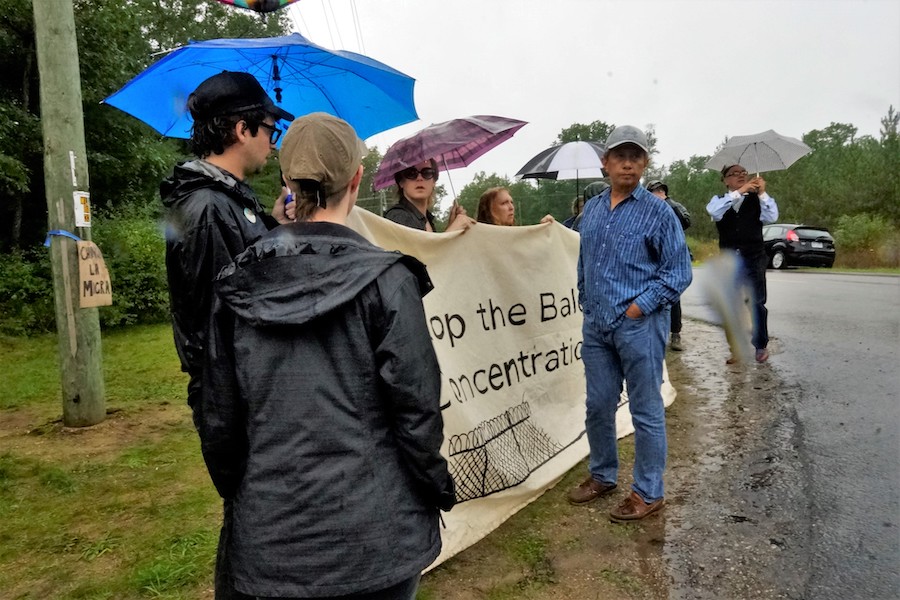 No Deten­tion Cen­ters in Michi­gan protests the open­ing of the GEO-Group-run North Lake Cor­rec­tion­al Facil­i­ty in Bald­win, Mich., on Oct 1., 2019. Three pro­test­ers were arrest­ed. Pho­to by There­sa Rosado
Judy Greene, exec­u­tive direc­tor of Jus­tice Strate­gies, has been a nation­al leader in try­ing to bring more pub­lic atten­tion to CAR pris­ons. Between 2001 and 2014, Greene recalls, ​"I watched with hor­ror" as 13 CAR pris­ons were built — a pace of near­ly one per year.
After 9⁄11, the fed­er­al gov­ern­ment turned its focus from drug crimes to nation­al secu­ri­ty. Immi­gra­tion, pre­vi­ous­ly treat­ed as a civ­il legal mat­ter, became crim­i­nal­ized. The new­ly formed Depart­ment of Home­land Secu­ri­ty ramped up pros­e­cu­tions for improp­er entry (a pet­ty mis­de­meanor) and re-entry (a felony offense).
Those charged with the mis­de­meanor often plead guilty and are returned to their home coun­try. If caught in the Unit­ed States a sec­ond time, they can be charged with felony re-entry. As felony reen­try pros­e­cu­tions rose, so did the num­ber of peo­ple incar­cer­at­ed in fed­er­al pris­ons for immi­gra­tion-relat­ed offens­es, grow­ing from 15,000 in 2001 to 20,000 to 2014.
Trump's announce­ment is a rever­sal of the Oba­ma administration's effort to scale back the fed­er­al reliance on pri­vate pris­ons due to poor con­di­tions. In August 2016, Deputy Attor­ney Gen­er­al Sal­ly Yates released a memo announc­ing the phase­out of pri­vate prison con­tracts. Greene recalls ​"pop­ping cham­pagne corks" when hear­ing the news of the Yates memo. GEO Group stock prices dropped pre­cip­i­tous­ly.
Pri­vate prison com­pa­nies donat­ed gen­er­ous­ly to put Trump in the White House. The GEO Group and Core­Civic, the sec­ond-largest pri­vate prison com­pa­ny, gave more than half a mil­lion dol­lars to Trump's elec­tion cam­paign, plus an addi­tion­al $250,000 for his inau­gu­ra­tion par­ty. A month after Trump took office, Attor­ney Gen­er­al Jeff Ses­sions rescind­ed the Yates memo, stat­ing it impaired the ​"future needs" of the fed­er­al cor­rec­tion­al sys­tem. Ses­sions and Trump also insti­tut­ed a ​"zero tol­er­ance" pol­i­cy for bor­der cross­ing, demand­ing that every­one arrest­ed be prosecuted.
After Trump has tak­en office, stocks for pri­vate prison com­pa­nies rebound­ed. The GEO Group recent­ly opened a new head­quar­ters build­ing in Boca Raton, Flori­da at a cost of $57 mil­lion. In April 2017, the Jus­tice Depart­ment issued a new round of bids for CAR pris­ons, and two years lat­er announced that The GEO Group was the win­ner of the con­tracts in Bald­win, and reopen­ing two of the three facil­i­ties at the Reeves Coun­ty Deten­tion Com­plex in Texas, which had been slat­ed to be phased out by Obama.
Pre­vi­ous­ly, Reeves was the largest pri­vate­ly-run prison in the world and named one of the top ten worst pris­ons in the Unit­ed States by Moth­er Jones. In 2008 – 9, Reeves expe­ri­enced a spate of five deaths, and two large riots. Inci­dents were sparked by the death of 32-year-old Manuel Galin­do who suf­fered a series of epilep­tic seizures inside the prison. Staff respond­ed by giv­ing him Tylenol. ​"I already told them that I have been here for one month alone and I have got­ten sick twice," Galin­do wrote to his moth­er just before dying. ​"I've already asked if they can place me with some­one else so I won't be by myself anymore."
The BOP did not return requests for com­ment for this story.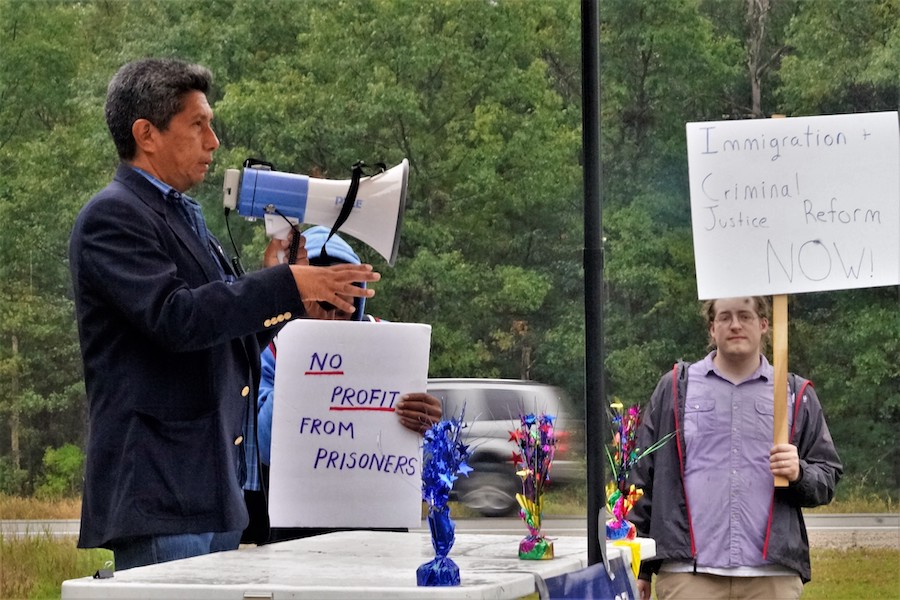 Oscar Cas­tañe­da protests Geo Group's North Lake Cor­rec­tion­al Facil­i­ty in Bald­win, Mich/​, on Oct. 1, 2019. Pho­to cred­it: There­sa Rosa­do)
A Per­fect Location
The open­ing of the CAR prison in Bald­win could eas­i­ly have flown under the radar. Bald­win is a small town in north­ern Michi­gan with a pop­u­la­tion of approx­i­mate­ly 1,200. Michi­gan state pol­i­tics are Demo­c­ra­t­ic-lean­ing because of strong union sup­port in Detroit, but rur­al areas like Bald­win are Trump country.
Cam Brown, age 29, who grew up near­by, shot his first deer just out­side of Bald­win. After Trump was elect­ed, Brown start­ed a local chap­ter of the of the Red­neck Revolt, an anti-racist, anti-fas­cist group. His inten­tion was to ​"use my skills with firearms, talk to my neigh­bors and pre­vent them from becom­ing more reac­tionary." He trav­elled Char­lottesville, Va., in 2017 to oppose the ​"Unite the Right" ral­ly, where a white suprema­cist drove his car into a crowd of pro­test­ers. The chap­ter par­tic­i­pat­ed in sev­er­al actions, includ­ing a protest of the vil­lage pres­i­dent of Kalka­s­ka in North­ern Michi­gan, who had called for the death of all Mus­lims, and a demon­stra­tion against an appear­ance by neo-Nazi Richard Spencer at Michi­gan State Uni­ver­si­ty in Lansing.
Since then, the chap­ter decid­ed to leave the net­work and give more atten­tion to their local com­mu­ni­ty. Form­ing North­ern Michi­gan Mutu­al Action, Brown says, ​"we still do firearms train­ings, counter-recruit­ment work, rur­al out­reach, and mutu­al aid projects."
As Brown explains, the group changed its focus because ​"as anti-fas­cists and abo­li­tion­ists we believe we must shut down the refugee and immi­grant con­cen­tra­tion camps and wel­come these peo­ple here in our com­mu­ni­ties." There are about 10 mem­bers work­ing on the fight against the North Lake prison.
Bald­win is in the mid­dle of Lake Coun­ty, the poor­est coun­ty in Michi­gan, mak­ing it the ​"per­fect loca­tion" for a pri­vate prison, says Brown, because of the jobs it pro­vides. A des­ti­na­tion for hunt­ing and fish­ing, Bald­win relies heav­i­ly on tourism. Dur­ing the sum­mer, tourists rent cot­tages and shop at a few stores. But even still, there aren't many jobs avail­able in the town.
Trained as a mason, Brown does chim­ney rebuilds, as well as stone and brick work. He is busy in the sum­mer months, but dur­ing the win­ter jobs are ​"nonex­is­tent," and he is forced to col­lect unem­ploy­ment. ​"It's hard," he says.
Promis­ing about 300 new jobs, the prison was pro­mot­ed as bring­ing eco­nom­ic pros­per­i­ty to the region. The GEO Group (then named Wack­en­hut Cor­rec­tions Cor­po­ra­tion) built the North Lake Cor­rec­tion­al Facil­i­ty in 1999, orig­i­nal­ly to house juve­niles. Referred to in the media as a ​"punk prison," it was built dur­ing a pan­ic over youth vio­lence in Detroit and oth­er major Michi­gan cities. The state pulled out of the deal in 2005 after reports of neglect. Except for brief con­tracts with the states of Cal­i­for­nia and Ver­mont, the prison has most­ly sat empty.
The con­tract with the Bureau of Pris­ons for the North Lake Cor­rec­tion­al Facil­i­ty allowed for ​"reac­ti­va­tion" of the site, as GEO Group announced in a press release. It will enable the com­pa­ny to make up for mil­lions in lost revenue.
Mem­bers of the local gov­ern­ment are over­whelm­ing­ly behind the prison. ​"They're being manip­u­lat­ed by the mon­ey the GEO Group brings," Brown says. Activists have been try­ing to reach out to mem­bers of the local com­mu­ni­ty. Most of the peo­ple who live there are ​"apa­thet­ic," Brown says. ​"They don't have many options."
A True Com­mu­ni­ty Response
No Deten­tion Cen­ters in Michi­gan first formed in 2018 to oppose a pri­vate deten­tion cen­ter slat­ed for Ionia, locat­ed mid­way between Lans­ing and Grand Rapids.
The coali­tion ​"formed quick­ly," says Lau­ra Sager, who lives in Lans­ing and works as a vol­un­teer with Jus­tice Strate­gies, a nation­al anti-immi­grant-deten­tion group that pro­vid­ed the coali­tion with sup­port. ​"It was a true com­mu­ni­ty response to the threat of a new facil­i­ty." The cen­ter was to hold between 500 and 600 detainees for ICE. The deal was bro­kered under then-Gov. Rick Sny­der, a Repub­li­can. In 2019, when Gretchen Whit­mer, a Demo­c­rat, was elect­ed Gov­er­nor, she prompt­ly blocked the proposal.
There was lit­tle time for coali­tion mem­bers to cel­e­brate. ​"The week that we found out that Gretchen Whit­mer was stop­ping the ICE jail," Cas­tañe­da says, the coali­tion got a tip about the GEO Group prison being pro­posed in Bald­win. ​"Next thing we know, we're in a cam­paign again."
The North Lake prison in Bald­win can­not be stopped so eas­i­ly by state or local gov­ern­ment action, as it is a pri­vate­ly-owned facil­i­ty, and sits on pri­vate land. Still, activists are not giv­ing up.
Dun­can Tarr, a mem­ber of the Michi­gan coali­tion, says says the group is now focused on a divest­ment cam­paign to cut off ​"streams of fund­ing" to The GEO Group. They orga­nized a protest in August 2019 out­side the head offices of Pru­den­tial Finan­cial, one of GEO Group's 10 largest share­hold­ers, based in Troy, Michigan.
"Our hope is to even­tu­al­ly choke it and make the prison as less prof­itable as pos­si­ble," Cas­tañe­da says. ​"And hope that Trump is not the pres­i­dent in a year."