Ilan Pappe: Israel Is the Last Remaining, Active Settler-Colonialist Project
Ilan Pappe discusses Noam Chomsky, Bernie Sanders and the post-Zionist movement.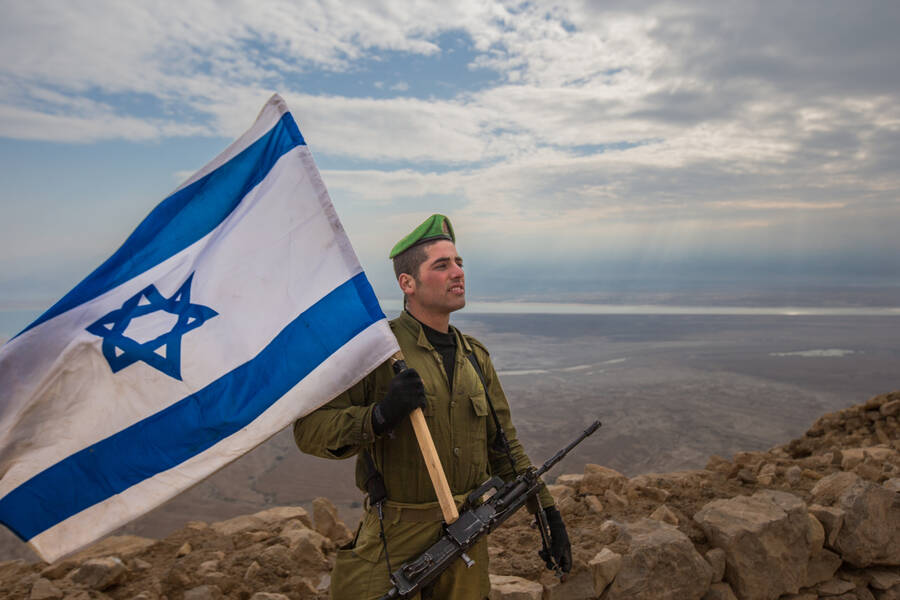 In the 1990s, a move­ment was grow­ing in Israel that ques­tioned the country's foun­da­tion­al myths. Among those lead­ing the charge of what was lat­er dubbed the ​"post-Zion­ist" move­ment were the Israeli ​"New His­to­ri­ans" who acknowl­edged the exis­tence of Pales­tini­ans and read­i­ly admit­ted mass atroc­i­ties were com­mit­ted in estab­lish­ing a Jew­ish state. Like the post-Zion­ist move­ment itself, the Israeli New His­to­ri­ans reflect­ed a broad spec­trum of ide­o­log­i­cal thought rang­ing from so-called lib­er­al Zion­ists like Ben­ny Mor­ris to anti-Zion­ists like Ilan Pappe.
Take the collective image that Israel constructs about the Palestinian and ask yourself if that is not actually a very good description of Zionism itself.
Pappe is most well-known for The Eth­nic Cleans­ing of Pales­tine, which gar­nered him noto­ri­ety, but also con­vinc­ing­ly argued the Jew­ish state was estab­lished through the con­cert­ed eth­nic cleans­ing of the indige­nous pop­u­la­tion, the Pales­tini­ans. In 2007 Pappe relo­cat­ed to the UK, where he cur­rent­ly teach­es at the Uni­ver­si­ty of Exeter, after receiv­ing death threats for his out­spo­ken Pales­tin­ian sol­i­dar­i­ty work and his endorse­ment of the Boy­cott, Divest­ment and Sanc­tion movement.
One of Pappe's lat­est books, now out in paper­back, The Idea of Israel, is a remark­able his­to­ri­o­graph­i­cal account of mod­ern Zion­ism. Pappe tack­les the foun­da­tion­al myths of Israel, the post-Zion­ist move­ment and the ​"neo-Zion­ist" back­lash, all while offer­ing com­men­tary and his­to­ry on trail­blaz­ing anti-Zion­ist fig­ures, Israel's rep­re­sen­ta­tion of Pales­tini­ans and Mizrahi, or Arab, Jews. As the sub­ti­tle sug­gests (A His­to­ry of Pow­er and Knowl­edge), Pappe uses the meth­ods pro­pound­ed in Edward Said's Ori­en­tal­ism to exam­ine Zion­ism, the Jew­ish state's rai­son d'être, dis­sect­ing the ide­ol­o­gy and inspect­ing each ele­ment for what they reveal about Israel.
Pappe and I talked about the post-Zion­ist move­ment, Noam Chom­sky and Bernie Sanders's pol­i­tics, and trail­blaz­ing anti-Zionists.
What fac­tors coa­lesced and led to the post-Zion­ist movement?
After 1973, crit­i­cal ele­ments in the soci­ety and mem­bers of more mar­gin­al­ized and repressed groups such as the Mizrahi Jews and women began ask­ing more seri­ous ques­tions about the state, the nation, the meta-ide­ol­o­gy that sup­pos­ed­ly con­nect­ed them togeth­er. Since 1973 Israel did not fight a major war. It had mil­i­tary clash­es in Lebanon with the PLO and Hezbol­lah and ever since then with Hamas in Gaza, but these are not wars that engulf the whole soci­ety as did the ​'48, ​'67, 1973 war.
It's rel­a­tive calm in Israel. In a rel­a­tive calm you can­not, for instance, tell Jews who came from North Africa and lived in impov­er­ished neigh­bor­hoods that they have to be there because secu­ri­ty takes prece­dence. Secu­ri­ty did not take prece­dence in ​'74, ​'75 and that's when you had the emer­gence of protest move­ments among North African Jews,. This was also a good time for social­ists and com­mu­nists to pon­der the real­i­ty in which they lived. This rel­a­tive calm was one factor.
Sec­ond, it was in 1982, the aggres­sive war in Lebanon. There was a mil­i­tary oper­a­tion in Lebanon and this sense that maybe there's some­thing wrong in the way we were told as Israelis about rea­sons for wars. This sense was accen­tu­at­ed by the First Intifa­da when you saw unarmed Pales­tini­ans resist­ing occu­pa­tion. You couldn't eas­i­ly buy into the Israeli pro­pa­gan­da that this was ter­ror­ism, anti-Semi­tism, what­ev­er they were using in order to explain why there is vio­lence against the state of Israel.
Also the peace ini­tia­tive by the late Egypt­ian pres­i­dent Anwar Sadat in ​'77 to ​'79 was break­ing the myth that there was no one there to talk to in the Arab world. Sud­den­ly the leader of the biggest Arab state is will­ing to extend his hand for peace. That also chal­lenged the basic foun­da­tion or mythology.
What led to the very reac­tionary neo-Zion­ist response? Sure­ly the Sec­ond Intifa­da played a major role.
There's one ver­sion that says the Sec­ond Intifa­da showed to some of these crit­i­cal voic­es that they were pre­ma­ture and that there's no one there to talk to on the Pales­tin­ian side and that the Sec­ond Intifa­da showed the real face of most Pales­tin­ian and Arab intran­si­gence against Israel, which I don't buy into. But that's the kind of expla­na­tion you will hear from Ben­ny Mor­ris, for instance.
This was a pre­text. Most of those — not every­one — felt they went too far. Also they didn't like the price they paid because they were treat­ed a bit like trai­tors. It's not a nice feel­ing. They were look­ing for an excuse to retract.
That's why we had all these mea cul­pas after 2000. Using the Sec­ond Intifa­da as an excuse for say­ing that we were wrong. Sev­er­al famous arti­cles by peo­ple were regard­ed as part of the post-Zion­ist or even anti-Zion­ist cri­tique who after 2000 did not only say ​"we were wrong," they adopt­ed what I call neo-Zion­ism. Name­ly, they adopt­ed harsh­er inter­pre­ta­tions and ver­sions of Zion­ism than the clas­si­cal ones before the cri­tique emerged.
You men­tioned Ben­ny Mor­ris, the Israeli New His­to­ri­an and a so-called lib­er­al Zion­ist. He's part­ed ways with many of the oth­er New His­to­ri­ans argu­ing for instance that ​"there are cir­cum­stances in his­to­ry that jus­ti­fy eth­nic cleans­ing" and that ​"it was nec­es­sary to uproot [the Pales­tini­ans]" to cre­ate a Jew­ish state. What has led him to such dif­fer­ent con­clu­sions than your­self despite work­ing from sim­i­lar his­tor­i­cal material?
He's part of a phe­nom­e­non, but he's more known than the oth­ers. It's a typ­i­cal lib­er­al Zion­ist posi­tion. They hope that if you cry after you shoot, if you say, ​"yes, I was par­tial­ly wrong. There are cer­tain things I shouldn't have done," the oth­er side would say, ​"You're so gen­er­ous. From now on we're will­ing to accept your guid­ance of how best to build a new life," which is what the Israelis expect­ed would hap­pen in Oslo.
It didn't work that way. The fact that you admit­ted that there were mas­sacres and espe­cial­ly expul­sions in 1948 for the Pales­tini­ans meant you have to move to the sec­ond stage which is account­abil­i­ty. You have to respect the right of return.
That is some­thing Mor­ris was not will­ing to do. That's where the clash began, between his inter­pre­ta­tion of what he has found and the Pales­tin­ian inter­pre­ta­tion of what he has found. But it was not only him. What we exposed as crit­i­cal Israeli Jews should've, to my mind and to the mind of most Pales­tini­ans, led us to become anti-Zion­ists and object to the very idea of Zion­ism and the Jew­ish state. The oth­er group thought what we found showed us we are excep­tion­al­ly moral and right­eous. You can see it in Ari Shavit's new book. It's the same idea. This crit­i­cal jour­ney to the past re-affirms our right to stay with­in the ide­o­log­i­cal frame­work of a Jew­ish state forever.
These are two dia­met­ri­cal­ly opposed con­clu­sions from the crit­i­cal journey.
You described Mor­ris as a lib­er­al Zion­ist. Can one be lib­er­al and Zion­ist or is this a con­tra­dic­tion in terms?
Yes, of course it is. It's like Jew­ish democ­ra­cy. They are oxymorons.
Zion­ism is the last remain­ing active set­tler-colo­nial­ist move­ment or project. Set­tler colo­nial­ism is, in a nut­shell, a project of replace­ment and dis­place­ment, set­tle­ment and expul­sion. Since this is the project, that you take over someone's home­land and you're not sat­is­fied until you feel you've tak­en enough of the land and you've got­ten rid of enough of the native peo­ple, as long as you feel that this is an incom­plete project, you will con­tin­ue with the project.
There­fore such a project is based on dehu­man­iza­tion and elim­i­na­tion. It can­not be lib­er­al. It can­not be social­ist. It can­not be any­thing uni­ver­sal because it is an ide­ol­o­gy that wants to help one group of peo­ple to get rid of anoth­er group of peo­ple. In most of the uni­ver­sal val­ues, we're try­ing to offer guid­ance of how human beings should live togeth­er rather than instead of each other.
The book begins with a quote from Yosef Gorny, a pro­fes­sor who stud­ies Zion­ism, who says ​"A sober and objec­tive con­sid­er­a­tion of the facts indi­cates that Zion­ism … has suc­ceed­ed in real­iz­ing most of its objec­tives." It's true to an extent. A Jew­ish state has been estab­lished. Nonethe­less, this ide­ol­o­gy also requires immense repres­sion, vio­lent con­trol and con­stant main­te­nance. Why has Zion­ism suc­ceed­ed, and how and why has it failed?
It's impor­tant to see how Gorny defines the suc­cess of Zion­ism. He says that Zion­ism is the only suc­cess­ful project of mod­ern­iza­tion out­side of Europe. For him it should be judged as suc­cess not just by pro­vid­ing a place for Jews or cre­at­ing a Jew­ish state, but at the same time it is a suc­cess because it would be a paragon of all those ideals that Europe believed in or the West believed in. So it has to be a paragon West­ern soci­ety, and I think that's Israel's biggest failure.
Yes, of course it suc­ceed­ed in defeat­ing the weak Pales­tini­ans. They manip­u­lat­ed the Holocaust's mem­o­ry very well in order to get inter­na­tion­al sup­port for a set­tler-colo­nial­ist project at a time when colo­nial­ism was already los­ing pos­i­tive pub­lic rela­tions, and they find them­selves a loca­tion in the Arab world which was divid­ed, fac­tion­al­ized, frag­ment­ed in a way that ensured there will not be a gen­uine pan-Arab effort to con­front this colo­nial­ist project.
But suc­cess as a legit­i­mate project in the eyes of the world? It's still ques­tion­able. The jury is out. Yes, in cer­tain aspects it's a suc­cess, espe­cial­ly for the Jews in Israel so far. It's a total dis­as­ter for the Pales­tini­ans and the ques­tion is can you main­tain a suc­cess if you cre­at­ed on the oth­er side of the equa­tion a dis­as­ter. My sense is that his­tor­i­cal­ly it doesn't work, but it can be main­tained for a while.
Couldn't you argue that Israel has failed like all oth­er West­ern states in attain­ing this unat­tain­able mod­ern­iz­ing ideal?
No, the dif­fer­ence is at least the eth­i­cal side of these states is very dif­fer­ent from that of Israel. I'll give you an exam­ple. In the Unit­ed States you can­not claim that Man­hat­tan is only open for Chris­tians. In Israel you can. You can eas­i­ly say Nazareth is only open for Jews. That's a big difference.
In the Unit­ed States, at least in prin­ci­ple, you can demon­strate against a war in Viet­nam and actu­al­ly cause the gov­ern­ment to change its impe­r­i­al poli­cies by the pow­er of the protest move­ment. No protest move­ment in Israel would ever suc­ceed in chang­ing Israeli mil­i­tary plans. There is some­thing far more moral­ly rot­ten and unac­cept­able at the heart of the Zion­ist project than there is in the project of Euro­pean nation states or in the Unit­ed States.
You said that you don't think a protest move­ment in Israel would be effec­tive in chang­ing Israeli mil­i­tary pol­i­cy. Is it there­fore point­less for Israelis to orga­nize and protest their government's actions?
Until today it hasn't worked. I do hope that the next gen­er­a­tion of activists will be inven­tive and ener­getic enough to suc­ceed where we all failed. We always have to be hope­ful. We also have some­thing new now that might change this pic­ture. This is the move­ment of pres­sure from the out­side, the BDS [Boy­cott, Divest­ment and Sanc­tion]. It enhances the chances for change from with­in by empow­er­ing the very few who dare to chal­lenge the basic moral poli­cies and iden­ti­ty of Israel. So that might change.
But chang­ing with­in here depends on two fac­tors which have not tran­spired yet. One is far more effec­tive move­ment of pres­sure from the out­side, not a civil­ian boy­cott, but gov­ern­men­tal sanc­tions, which I can't see hap­pen­ing in the near future. But it could hap­pen. They're begin­ning. You can see in the EU pol­i­cy a cer­tain trend in this direc­tion. It may strength­en and one should opti­mistic about that.
The sec­ond thing that has to hap­pen is the Pales­tini­ans have to get their act togeth­er. They have to rede­fine their project of lib­er­a­tion, to explain exact­ly how they view the Jew­ish com­mu­ni­ty that lives today in Israel and in the occu­pied ter­ri­to­ries in the future. We don't have a clear Pales­tin­ian strat­e­gy. We don't have a unit­ed Pales­tin­ian front. We don't have an authen­tic rep­re­sen­ta­tion of the Pales­tin­ian peo­ple. With­out that it would be very dif­fi­cult to push for­ward the project of lib­er­a­tion for all of us. These things are also con­tribut­ing to my lack of belief that change will come from with­in Israel. This change is dialec­ti­cal­ly con­nect­ed to what's hap­pen­ing in the world and the Pales­tin­ian side. It doesn't work by itself.
Many peo­ple will be sur­prised to read in the book that anti-Zion­ist Jews have been around since the found­ing of the state of Israel, some even before. Do you have any sto­ries about Max­im Ghi­lan, Israel Sha­hak, Boaz Evron, Yitzhak Laor, Ilan Hale­vi, Uri Davis?
Those of us who became more crit­i­cal of Zion­ism are stand­ing on their shoul­ders. They were there if not from the very begin­ning of Zion­ism, they were def­i­nite­ly there from the very begin­ning of the state.
Max­im Ghi­lan is some­one who went through the Holo­caust. I brought him as an exam­ple because he belonged to that gen­er­a­tion of Israelis in the ​'60s who could main­ly be found in the group Matzpen, in the 1960s and also after 1967, who suc­ceed­ed in pro­duc­ing a whole­sale counter-dog­ma to the Zion­ist dog­ma. There were some who were def­i­nite­ly more inter­est­ing intel­lec­tu­al­ly and ide­o­log­i­cal­ly than Ghi­lan was, but his col­or­ful life is more inter­est­ing than the others.
He also unlike some of these peo­ple had a sense of humor. I helped Ghi­lan to pub­lish a jour­nal after he came back from self-exile in Paris. It was very cost­ly pro­duc­tion for a jour­nal for which I think we were not only the only writ­ers but also the only read­ers. Since he had no mon­ey, all the costs fell on me.
I was try­ing to con­vince him to pro­duce the jour­nal on a less qual­i­ty paper to cut down the expens­es and then he said to me, ​"You don't under­stand. Israel will be destroyed in the near future and in the ruins the only paper that will sur­vive will be high qual­i­ty paper. So we're not writ­ing for the present gen­er­a­tion, we're writ­ing for the future generations."
But they were all col­or­ful in a way, very brave, very iso­lat­ed. But they left us an impor­tant intel­lec­tu­al legacy.
One of the things Edward Said argues in Ori­en­tal­ism is that the West's rep­re­sen­ta­tion of the Ori­ent says more about the West than it does the Ori­ent. What does Israel's rep­re­sen­ta­tion of Pales­tini­ans as ter­ror­ists say about Israel and Zionism?
In essence it's inver­sion. The way you demo­nize the ​"oth­er" is usu­al­ly a reflec­tion of the attrib­ut­es that you your­self pos­sess and are uneasy with. For instance, if Pales­tini­ans are blamed for under­stand­ing only the lan­guage of force, it actu­al­ly means that Zion­ists only under­stand the lan­guage of force. If Pales­tini­ans are described as peo­ple who would resort to vio­lence in order to deter­mine facts on the ground, actu­al­ly his­to­ry shows it was Zion­ism that believed you can change real­i­ty on the ground by force.
There is this process by which you can take the col­lec­tive image that Israel con­structs about the Pales­tin­ian and ask your­self if that is not actu­al­ly a very good descrip­tion of Zion­ism itself. Zion­ism does not describe aliens to the land as moti­vat­ed by vio­lence for the sake of vio­lence. All of these fea­tures can be very eas­i­ly attrib­uted to Zion­ism itself.
Do you have a gen­er­al assess­ment of Bernie Sanders and his stance on the Israel/​Palestine con­flict? Would things change under a Sanders presidency?
Bernie Sanders is a bit like the oth­ers we call PEOPs, ​"Pro­gres­sive Except On Pales­tine." That's a very com­mon Amer­i­can lib­er­al phe­nom­e­non. I would have a tough time if I were an Amer­i­can cit­i­zen who believes in oth­er issues than Pales­tine not to sup­port him because on some many issues he sounds like the kind of per­son I would have liked to be in the White House. As Barack Oba­ma before him I will have to resign to the fact that there's no chance in the world that he would change any­thing fun­da­men­tal­ly in Amer­i­can pol­i­cy towards Palestine.
Do you try to work with these peo­ple? Because appar­ent­ly any­one who gets to even the poten­tial­ly pow­er­ful posi­tion is afraid, is intim­i­dat­ed. I don't believe this is his real posi­tion. But he's intim­i­dat­ed enough even in 2016 not to go very far when it comes to Israel.
For me it means there's still a lit­tle bit of ground­work to be done in Amer­i­ca. The like­li­hood of an Amer­i­can pres­i­den­tial can­di­date that would begin to sound rea­son­able on Pales­tine in the near future is very slim. But that should not despair us. It's a long jour­ney and we're cov­er­ing far more mileage than before.
In the Unit­ed States look at the col­lege cam­pus­es and so on. We have to be patient. I wouldn't both­er too much with Bernie Sanders' posi­tion. I wouldn't be very hope­ful of chang­ing them. I would con­tin­ue with the grass­roots work from below and hope that the div­i­dends will be reaped lat­er on.
You and Noam Chom­sky worked togeth­er on two books, and in an inter­view you expressed dis­ap­point­ment about some of his views on the con­flict. What explains Chomsky's cul­tur­al Zion­ism, clear­ly expressed in his oppo­si­tion to the BDS move­ment and the one-state solution?
It's a legit­i­mate debate, but I can try and explain his posi­tion, which I dis­agree with. I have a lot of respect for him and in many ways he also influ­enced my think­ing. But he's in a moral cul-de-sac when it comes to Palestine.
One can under­stand there are some human­ist aspects to the Zion­ist project. For instance, it was nec­es­sary to save Jews from Euro­pean Nazism. It's not wrong for Jews to think of them­selves as a nation­al move­ment because so many oth­er peo­ple think of them­selves in this way. And Israel is not the worst state in the world. In fact, Chom­sky thinks he lives in a far worse state. He believes you have to be very care­ful when you sin­gle out Israel, which he thinks the BDS move­ment is doing.
I dis­agree with him. First of all, cul­tur­al Zion­ism, which he thinks is a more legit­i­mate form of Zion­ism, is an oxy­moron very much like lib­er­al Zion­ism. He refus­es to accept that Zion­ism is a pure set­tler-colo­nial­ist project that tran­scends into the 21st century.
The two-state solu­tion is based on the idea that there is a cer­tain aspect of the Zion­ist com­mu­ni­ty or his­to­ry or ide­ol­o­gy that is rea­son­able enough to enable nor­mal life with the Pales­tini­ans. I don't agree. You have to de-Zion­ize Israel to enable nor­mal life for the Pales­tini­ans. Maybe this is because he spent some time as a Zion­ist in a kib­butz and then devel­oped more crit­i­cal views. Is it because he feels we are sin­gling out Israel where­as his major strug­gle is against Amer­i­can impe­ri­al­ism? And third­ly, peo­ple can become cap­ti­vat­ed by for­mu­las such as the two-state solu­tion if they devote so much of their life to defend­ing it. It's very hard to put that aside sud­den­ly and adopt new ideas.
These are all guess­es that are not worth much. I enjoyed the dia­logue with him because he's such an amaz­ing intel­lec­tu­al. If we can con­vince him the BDS move­ment and the right of return and the one-state solu­tion we'll have a very pow­er­ful voice on our side. And who knows, maybe after a third book togeth­er we will come clos­er to con­vinc­ing him.
Eli Massey
is an inde­pen­dent jour­nal­ist, edi­tor, and researcher. His work has has appeared in the Chica­go Tri­bune, Cur­rent Affairs, Jacobin, Mon­doweiss, and else­where. He pre­vi­ous­ly was an intern at the Insti­tute for Pol­i­cy Stud­ies where he worked on Mid­dle East pol­i­tics and an edi­to­r­i­al intern at In These Times. Fol­low him at @EliJMassey