The War We Forgot To End: Why Are We Still in Afghanistan?
President Obama just announced he's keeping 8,400 troops in Afghanistan—but it's time for the U.S. to withdraw fully.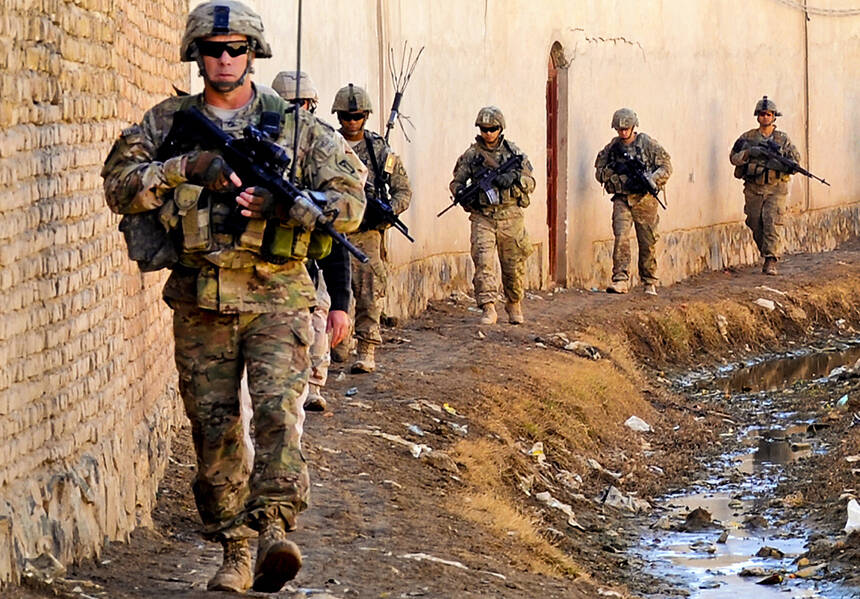 Last Wednes­day, Pres­i­dent Oba­ma once again delayed the with­draw­al of U.S. troops from Afghanistan. Approx­i­mate­ly 8,400 troops will remain in the coun­try through the end of his pres­i­den­cy, he announced, rather than the 5,500 he com­mit­ted to back in Octo­ber 2015. Mean­while, casu­al­ties con­tin­ue to mount: Thou­sands of Afghan civil­ians were killed in 2015 alone.
In Afghanistan as elsewhere, foreign military occupation and regime change have led to unintended, often terrible, consequences.
It's time to end the longest war in U.S. his­to­ry. Begun less than a month after the 9⁄11 attacks, the war aimed to destroy the al-Qae­da net­work led by Osama bin Laden and take out the Tal­iban gov­ern­ment that had pro­vid­ed them with safe haven. Pres­i­dent Bush's focus, how­ev­er, was any­thing but nar­row: ​"Our war on ter­ror begins with al-Qae­da, but it does not end there," he said short­ly before the inva­sion. ​"It will not end until every ter­ror­ist group of glob­al reach has been found, stopped and defeated."
Near­ly 15 years and over $740 bil­lion lat­er, there are few gen­uine suc­cess­es the Unit­ed States can claim as val­i­da­tion for its efforts. While an Amer­i­can with­draw­al won't rem­e­dy the prob­lems of Afghanistan entire­ly, there's good evi­dence to sug­gest our con­tin­ued pres­ence is mak­ing things worse.
Failed Mil­i­tary Strategies
This unend­ing, cost­ly war came in response to blow­back from Amer­i­can poli­cies in the region. Accord­ing to the con­ven­tion­al his­to­ry, we began aid­ing the mujahideen, a loose-knit assort­ment of Afghan Islamist guer­ril­la mil­i­tants, in 1980, in response to the Decem­ber 1979 Sovi­et inva­sion. (While Osama bin Laden arrived in Afghanistan in 1979 and was affil­i­at­ed with a pre­dom­i­nant­ly non-native mujahideen group at that time, the CIA main­tains it only fund­ed and armed indige­nous Afghan rebels.)
The con­ven­tion­al his­to­ry is wrong, at least accord­ing to a 1998 inter­view with Zbig­niew Brzezin­s­ki, for­mer Nation­al Secu­ri­ty Advi­sor to Pres­i­dent Jim­my Carter. Brzezin­s­ki told a French week­ly that we decid­ed to aid the mujahideen six months before the Sovi­et Union invad­ed Afghanistan, in July 1979, know­ing this could help push the Sovi­ets into a Viet­nam-style con­flict. When pressed about whether he felt any regret hav­ing pro­vid­ed aid and arms to Islam­ic fun­da­men­tal­ists, Brzezin­s­ki, three years before the 9⁄11 attacks, respond­ed brusque­ly: ​"What is more impor­tant in world his­to­ry? … Some agi­tat­ed Mus­lims or the lib­er­a­tion of Cen­tral Europe and the end of the Cold War?"
This strat­e­gy helped lead to the for­ma­tion of the Tal­iban gov­ern­ment, and iron­i­cal­ly, now we are the ones ensnared in a per­pet­u­al, bloody and expen­sive Afghanistan con­flict — all because of some ​"agi­tat­ed Mus­lims." There are 9,800 report­ed U.S. troops in Afghanistan (poten­tial­ly more unre­port­ed, as there have been in Iraq), and with Wednesday's announce­ment, we know that num­ber is unlike­ly to go down much through the end of Obama's pres­i­den­cy. While the Pres­i­dent has for­mal­ly declared that Amer­i­ca is not engaged in a com­bat role, clash­es between Amer­i­can forces and the Tal­iban continue.
Oba­ma has also embraced drone war­fare in Afghanistan, with the hope of more pre­cise com­bat. Accord­ing to the Bureau of Inves­tiga­tive Jour­nal­ism, Afghanistan holds the igno­min­ious dis­tinc­tion of being the ​"most drone-bombed coun­try in the world." But to what effect?
Michael Fly­nn, for­mer Direc­tor of Intel­li­gence in Afghanistan, had this to say: When a strike hits its tar­get, ​"it makes us all feel good for 24 hours. And you know what? It doesn't mat­ter. It just makes them a mar­tyr. They get replaced. It just cre­at­ed a new rea­son for them to fight us even harder."
A study by a U.S. mil­i­tary advis­er found that in one year, drone strikes in Afghanistan caused 10 times more civil­ian casu­al­ties than manned air­crafts. Leaked gov­ern­ment doc­u­ments show that between Jan­u­ary 2012 and Feb­ru­ary 2013, over 200 peo­ple were killed by drone in a spe­cial oper­a­tions cam­paign in north­east­ern Afghanistan — only 35 of whom were intend­ed targets.
And despite all this, the Tal­iban con­trol more of the coun­try than they have since we invad­ed in 2001. It's pos­si­ble that U.S. with­draw­al would allow the Tal­iban to take con­trol in addi­tion­al provinces, but there's lit­tle evi­dence to sug­gest our con­stant mil­i­tary pres­ence is effec­tive­ly hold­ing them off. And the vio­lence is only get­ting worse: More Afghan civil­ians were killed or wound­ed in the con­flict this past year than any oth­er since the U.N. began record keep­ing in 2009.
Failed Human­i­tar­i­an Projects
Our recon­struc­tion efforts have fared lit­tle bet­ter than our mil­i­tary efforts. We have spent over $113 bil­lion aid­ing the recov­ery of this coun­try we helped destroy — more than was spent on the Mar­shall Project fol­low­ing World War II, even adjust­ing for infla­tion — and $17 bil­lion of that was described by ProP­ub­li­ca as ​"ques­tion­able spend­ing" in a Decem­ber 2015 report.
Some of this was friv­o­lous on its face: For exam­ple, we spent $150 mil­lion rent­ing lux­u­ry hous­ing for U.S. Defense Depart­ment staff and their vis­i­tors. But even the more sub­stan­tive pro­grams that should have been suc­cess­ful were tan­gled in bureau­cra­cy, cor­rup­tion and incom­pe­tence. The Depart­ment of Defense invest­ed $200 mil­lion on a lit­er­a­cy pro­gram, but no efforts were made to ​"ver­i­fy stu­dents' lan­guage pro­fi­cien­cy, eval­u­ate the effec­tive­ness of instruc­tions, mon­i­tor class size and length of instruc­tion, or track grad­u­ates after they com­plet­ed train­ing," accord­ing to a report from John F. Sop­ko, the U.S. Spe­cial Inspec­tor Gen­er­al for Afghanistan Reconstruction.
Sop­ko also report­ed sev­er­al prob­lems with a near­ly $70 mil­lion agri­cul­tur­al effort — some of which was spent on pro­grams that Afghan offi­cials say ​"had been found to be inef­fec­tive in pre­cur­sor pro­grams." Anoth­er $488 mil­lion spent on min­er­al extrac­tion pro­grams was sim­i­lar­ly inef­fec­tive: Some of it was marred by cor­rup­tion, and much of it Afghans are unable to con­tin­ue on their own because they lack the capac­i­ty to reg­u­late the pro­gram and ​"research, award, and man­age new contracts."
While there have been some areas of improve­ment in qual­i­ty of life for Afghan chil­dren since 2000, such as a decline in the child mor­tal­i­ty rate (although it's still among the high­est in the world), the effects of the war have large­ly under­cut these pos­i­tive devel­op­ments. Child traf­fick­ing, abduc­tion and the use of child sol­diers have sky­rock­et­ed, and child labor is ram­pant. It's not fair to blame the U.S. entire­ly, but the impacts of Amer­i­can mil­i­tary inter­ven­tion have been far-reach­ing — for exam­ple, the U.S.-funded Afghan Local Police mili­tia has used child soldiers.
The 2001 inva­sion and sub­se­quent occu­pa­tion also under­mined the Taliban's 2000 ban on pop­py cul­ti­va­tion. In the thir­teen years after the U.S. oust­ed the Tal­iban and the U.S.-backed Afghan gov­ern­ment stepped in, opi­um pro­duc­tion doubled.
As of late 2014, 90 per­cent of the world's opi­um sup­ply came from Afghanistan. Accord­ing to Matthieu Aikins, a jour­nal­ist who has fol­lowed the country's opi­um pro­duc­tion close­ly, ​"Every­one is grow­ing it. Every­one is prof­it­ing. It touch­es all lev­els of Afghan soci­ety, both sides of the con­flict, the Tal­iban and the gov­ern­ment. … But the gov­ern­ment is even more involved." Despite the U.S. hav­ing sunk over $8 bil­lion in fight­ing the drug trade, Afghanistan is now the world leader in hero­in production.
This is not to say that we should stop aid­ing recon­struc­tion projects, though clear­ly we should address wide­spread mis­man­age­ment. Rather, we must rec­og­nize that an Amer­i­can mil­i­tary pres­ence and con­stant war under­mine human­i­tar­i­an and recon­struc­tion efforts. In Afghanistan as else­where, for­eign mil­i­tary occu­pa­tion and régime change — even if under­gird­ed by the best of inten­tions — have led to unin­tend­ed, often ter­ri­ble, consequences.
After 15 years of death and destruc­tion, not to men­tion bil­lions of dol­lars down the drain, we have to admit the mil­i­tary option is not work­ing. Our med­dling in Afghanistan has not made that coun­try bet­ter off or the world safer. It's time for an order­ly but imme­di­ate withdrawal.
Eli Massey
is an inde­pen­dent jour­nal­ist, edi­tor, and researcher. His work has has appeared in the Chica­go Tri­bune, Cur­rent Affairs, Jacobin, Mon­doweiss, and else­where. He pre­vi­ous­ly was an intern at the Insti­tute for Pol­i­cy Stud­ies where he worked on Mid­dle East pol­i­tics and an edi­to­r­i­al intern at In These Times. Fol­low him at @EliJMassey