Who Will Stand Up for Ilhan Omar?
False charges of anti-Semitism are being used to silence critics of Israel.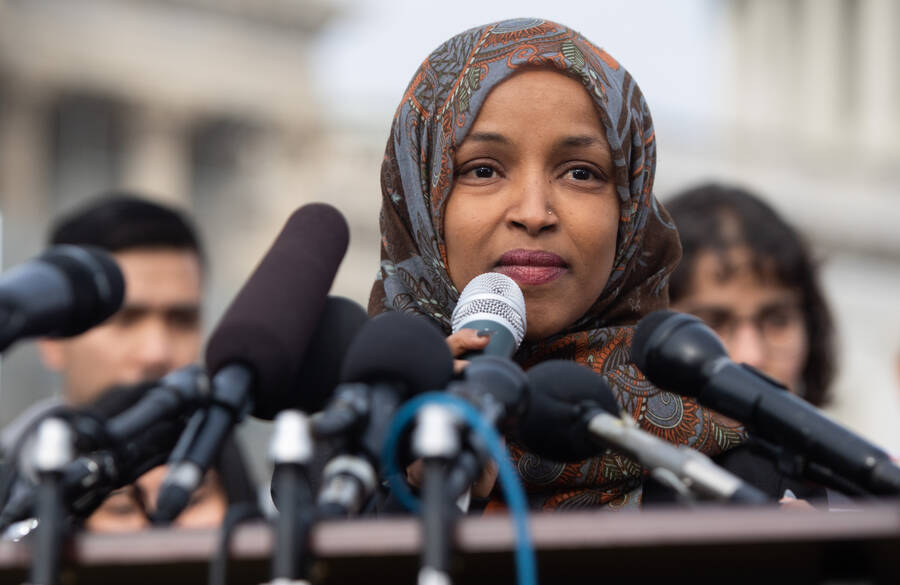 Over the week­end, Demo­c­ra­t­ic Min­neso­ta Rep­re­sen­ta­tive Ilhan Omar exposed a long-held open secret when she inferred that the finan­cial influ­ence of AIPAC, a top pro-Israel lob­by group, is a sig­nif­i­cant play­er in law­mak­ers' key pol­i­cy deci­sions that sup­port Israel's interests.
The pressure on U.S. lawmakers by Israel lobby groups is precisely designed to silence Israel's critics, using the threat of being labeled with anti-Semitism as a cudgel to break any defection from the status quo on Israel.
Respond­ing to jour­nal­ist Glenn Greenwald's about Repub­li­can leader Kevin McCarthy's cam­paign to pun­ish Omar and Rep. Rashi­da Tlaib (D‑Mich.) for their crit­i­cisms of Israel, Omar wrote a cou­ple of tweets under­scor­ing the finan­cial influ­ence of AIPAC. ​"It's all about the Ben­jamins, baby!" she wrote, ref­er­enc­ing $100 bills and the title of a late-1990s hip-hop track by Puff Daddy.
Ilhan Omar was right to call out the mas­sive influ­ence of Israel lob­by groups, which do not hide their close work­ing rela­tion­ships to U.S. law­mak­ers. Yet, she was imme­di­ate­ly denounced, crit­i­cized and smeared as an anti-Semi­te, and not just by the usu­al coterie of right-wing, Israel-aligned politi­cians who already despise her anti-war posi­tions and her bold sup­port of the Pales­tin­ian cause. She was blast­ed by self-iden­ti­fied lib­er­als as well — includ­ing Chelsea Clin­ton, the off­spring of famous politi­cians who have been loy­al sup­port­ers of AIPAC and Israel's geno­ci­dal poli­cies for decades.
The avalanche of con­dem­na­tion peaked on Mon­day with chastis­ing state­ments by top Demo­c­ra­t­ic lead­ers Rep. Nan­cy Pelosi (Calif.) and Sen. Chuck Schumer (N.Y.), both staunch advo­cates of Israel's poli­cies. As the crit­i­cisms reached crescen­do on Tues­day, Pres­i­dent Don­ald Trump called for Omar to resign.
Repub­li­cans and Democ­rats alike are hap­py to throw Omar — a Black, Mus­lim refugee woman who has gar­nered sig­nif­i­cant pop­u­lar­i­ty for her unapolo­getic pro­gres­sive pol­i­tics — under the bus.
How­ev­er, by slam­ming the fresh­man rep­re­sen­ta­tive, Pelosi, Schumer and the entire Demo­c­ra­t­ic par­ty revealed pre­cise­ly what Omar point­ed out: AIPAC, like oth­er enor­mous lob­by groups, wields its pow­er by push­ing politi­cians to pro­tect their inter­ests and silenc­ing those who refuse to cower.
The politi­cians also allowed an actu­al anti-Semit­ic trope to pro­lif­er­ate: the con­fla­tion of legit­i­mate crit­i­cism of Israel with anti-Jew­ish bigotry.
Israel advo­ca­cy orga­ni­za­tions such as the Anti-Defama­tion League rushed to thank the Democ­rats for attack­ing Omar, once again smear­ing the con­gress­woman as an anti-Semite.
Telling­ly, main­stream media out­lets — includ­ing The New York Times and Politi­co—false­ly report­ed that Omar referred to ​"Jew­ish mon­ey" in her crit­i­cism of AIPAC, when all she had done was point out the lob­by group's direct influ­ence over U.S. politi­cians — influ­ence about which AIPAC itself open­ly boasts.
A spokesper­son for Israel's for­eign min­istry joined the pile-on against Omar, accus­ing her of being part of a ​"rise" in ​"Left-wing anti-Semi­tism," while McCarthy— who has ped­dled actu­al anti-Semit­ic con­spir­a­cy the­o­ries against George Soros and oth­er promi­nent Jews — railed against Omar for ​"anti-Semit­ic tropes."
McCarthy, like his col­leagues on both sides of the aisle, pledg­ing to pro­tect ​"the Jew­ish peo­ple," slid into a casu­al con­fla­tion between Jews and Israel, which is itself an act of anti-Semitism.
A pow­er­ful right-wing lobby
All lob­bies on Capi­tol Hill work the same: They use mil­lions of dol­lars and heavy polit­i­cal influ­ence to sway and pres­sure U.S. law­mak­ers to draft leg­is­la­tion that push their polit­i­cal agendas.
AIPAC is explic­it­ly an Israel lob­by group, work­ing on behalf of Israel's inter­ests to shore up sup­port for its occu­pa­tion and apartheid poli­cies — poli­cies that are becom­ing increas­ing­ly unpop­u­lar amidst the Demo­c­ra­t­ic base and, sig­nif­i­cant­ly, amongst main­stream Jew­ish com­mu­nal organizations.
AIPAC itself boasts of its influ­ence on law­mak­ers to push Israel's agen­da. ​"The Unit­ed States Con­gress has pro­vid­ed Israel with the strongest sup­port of any insti­tu­tion in the world. Main­tain­ing bipar­ti­san con­gres­sion­al sup­port for Israel is cru­cial," the lob­by group states.
AIPAC is not a Jew­ish advo­ca­cy orga­ni­za­tion. It is a far-right-wing Zion­ist orga­ni­za­tion which exists to pro­mote Israel's polit­i­cal inter­ests and wield sig­nif­i­cant polit­i­cal influ­ence inside the halls of power.
One of the most per­ni­cious mech­a­nisms of those who wish to defend Israel's Zion­ist project has been to try to active­ly con­flate Israel's ide­olo­gies with Jew­ish iden­ti­ty in order to build a fortress around Israel's prac­tices of seg­re­ga­tion, occu­pa­tion, expul­sion and dis­crim­i­na­tion against Pales­tini­ans and non-Jews in Israel and the occu­pied West Bank and Gaza Strip, and mil­lions of Pales­tin­ian refugees in forced exile.
Such con­fla­tion of Jew­ish peo­ple with Israel's inter­ests is inher­ent­ly anti-Semit­ic because it lev­els the Jew­ish peo­ple as a mono­lith — a flat­tened group in strict lock-step with an apartheid sys­tem built on vio­lent theft of Pales­tin­ian land and decades of oppression.
Inad­ver­tent­ly, politi­cians' smears against Omar, and those in cor­po­rate media head­lines, became an iron­ic self-admis­sion of this big­ot­ed con­fla­tion: Their claims that Omar's crit­i­cisms of AIPAC were some­how an attack on ​"Jew­ish mon­ey" is a bla­tant act of anti-Semi­tism at its worst.
The assump­tion that AIPAC's inter­ests are inher­ent­ly Jew­ish inter­ests is not only anti-Semit­ic in the fusion of Israeli pol­i­cy with all Jew­ish peo­ple, but belies the fact that AIPAC is also sup­port­ed, and defend­ed, by both lib­er­al and right-wing evan­gel­i­cal Chris­t­ian pol­i­cy­mak­ers push­ing the U.S. government's impe­ri­al­ist, pro-war agen­das around the world.
We know how this cha­rade works. If Israel's poli­cies are crit­i­cized, ques­tioned or con­demned by elect­ed lead­ers, politi­cians line up to shield Israel and con­demn the detrac­tor as a big­ot. If stu­dents, pro­fes­sors, activists and jour­nal­ists speak out about Israel's human rights vio­la­tions, law­mak­ers fall all over them­selves to write bills that pun­ish such speech and those who say it.
These prac­tices have not evolved in a vac­u­um: They are delib­er­ate mea­sures draft­ed by Israel lob­by orga­ni­za­tions, includ­ing AIPAC, and pushed by politi­cians eager to win re-elec­tions at all costs. It is com­mon knowl­edge on Capi­tol Hill that in order to win in Con­gress, law­mak­ers have to accept pres­sure from influ­en­tial groups like AIPAC.
As activist Ady Barkan, a for­mer Demo­c­ra­t­ic con­gres­sion­al staffer, wrote in a Twit­ter thread on Mon­day, mon­ey from groups like AIPAC ​"is the lubri­cant that makes the whole machine run."
"AIPAC is a cen­tral pil­lar of the occu­pa­tion. With­out Con­gres­sion­al sup­port, the Likud/an­ti-Palestine/pro-occu­pa­tion project would be rad­i­cal­ly under­mined. AIPAC is the anchor of that sup­port, and its mon­ey and [bil­lion­aire Repub­li­can donor] Shel­don Adelson's mon­ey are indis­pens­able to the work," Barkan added.
AIPAC itself boasts of its abil­i­ty to pres­sure law­mak­ers to con­form to its polit­i­cal agen­da, as has been doc­u­ment­ed in hid­den cam­era footage acquired by Al Jazeera in its cen­sored doc­u­men­tary, ​"The Israel Lob­by — USA."
Silenc­ing critics
This is why politi­cians on both sides of the aisle have either con­demned Omar's remarks or failed to come to her defense: The pres­sure on U.S. law­mak­ers by Israel lob­by groups is pre­cise­ly designed to silence Israel's crit­ics, using the threat of being labeled with anti-Semi­tism as a cud­gel to break any defec­tion from the sta­tus quo on Israel.
But sup­port for Israel on Capi­tol Hill should not be dis­tilled down only to finan­cial or oth­er­wise thug­gish inter­ac­tions between lob­by group A and law­mak­er B. Rather, this rela­tion­ship aligns with the U.S. government's stan­dard pol­i­cy of main­tain­ing Israel as a high­ly-weaponized, author­i­tar­i­an ram­part for West­ern impe­ri­al­ist inter­ests in the Mid­dle East.
It's no coin­ci­dence that some of Israel's bold­est sup­port­ers in Con­gress are also some of the most pro-war actors to hold office today, includ­ing Pelosi and Schumer, who nev­er met an over­seas aggres­sion they didn't like.
Of course, Ilhan Omar is no anti-Semi­te, nor were her com­ments on AIPAC anti-Semit­ic. And of course, the U.S. law­mak­ers and pun­dits know it.
But accus­ing her of anti-Semi­tism is meant as a way to restrain her crit­i­cisms of Israeli poli­cies and, more impor­tant­ly, to make it clear to oth­er left­ist mem­bers of Con­gress to not both­er open­ing their mouths about Israel, let alone the oth­er projects of occu­pa­tions, wars and inter­ven­tions that ben­e­fit Israel and the Unit­ed States.
It is also telling that, so far, not one oth­er elect­ed rep­re­sen­ta­tive has robust­ly sup­port­ed Omar's right to cri­tique AIPAC, includ­ing woke pro­gres­sive dar­ling Alexan­dria Oca­sio-Cortez. Clear­ly, AIPAC's pres­sure, and the bul­ly­ing by top Demo­c­ra­t­ic lead­er­ship in ser­vice to AIPAC and oth­er Israel lob­by groups, is, as it itself claims, a major force in Wash­ing­ton. Oth­er­wise, Omar's crit­i­cisms of it would not have elicit­ed such spec­tac­u­lar fury.
And she wouldn't have been made to apol­o­gize, which she did on Mon­day evening.
The attacks on Omar won't stop, how­ev­er, no mat­ter how many times she is forced to make con­ces­sions. Israel's lob­by groups — and their polit­i­cal ben­e­fi­cia­ries — will con­tin­ue to use her hon­esty about the mech­a­nisms of polit­i­cal influ­ence in ser­vice to war and author­i­tar­i­an­ism as a weapon if she is left to fend for herself.
Omar's col­leagues in Con­gress know that the winds are shift­ing away from unchecked sup­port for Israel and its vio­lent sys­tems of apartheid and expul­sion of Pales­tini­ans. They should come to her defense and join her in call­ing out Israel's polit­i­cal influ­ence loud and clear.
Nora Bar­rows-Fried­man
is Asso­ciate Edi­tor of The Elec­tron­ic Intifa­da, author of ​
"
In Our Pow­er: US Stu­dents Orga­nize for Jus­tice in Palestine."