Illinois Bill Would Allow Cops to Spy on Protesters Using Drones With Facial-Recognition Technology
Putting this new surveillance power in the hands of police would threaten the most basic right to assemble.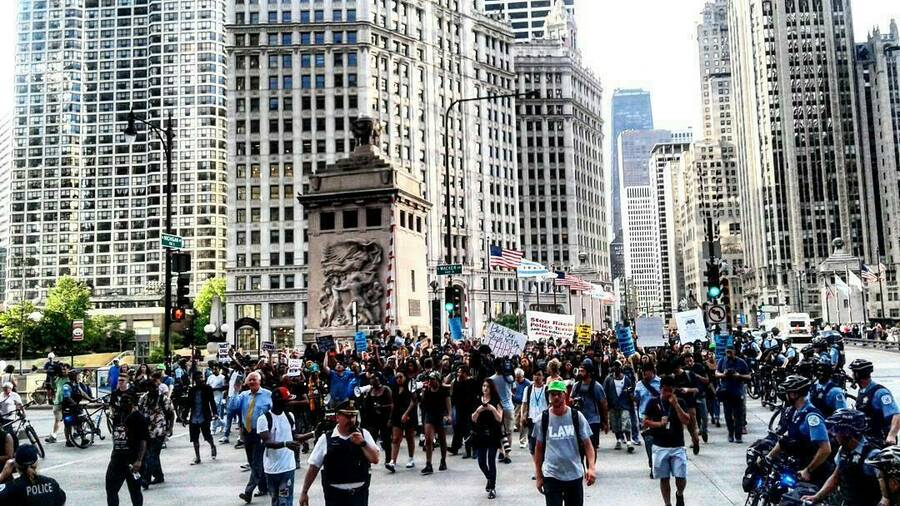 On May 2, the Illi­nois Sen­ate approved SB 2562, which would allow police to use drones equipped with facial recog­ni­tion capa­bil­i­ties to spy on large pub­lic gath­er­ings across the state. Cur­rent­ly, Illi­nois law only allows police to use drones if they have obtained a war­rant, sus­pect a high risk of loss of life, are search­ing for a miss­ing per­son or are tak­ing crime scene pho­tos. The bill is cur­rent­ly pend­ing in the Illi­nois House and is expect­ed to pass with very lit­tle pub­lic debate. If this bill pass­es, it will set a dan­ger­ous prece­dent for oth­er com­mu­ni­ties across the coun­try and serve as a seri­ous deter­rent for any­one con­sid­er­ing tak­ing to the streets in protest.
Increased surveillance of demonstrations and other public gatherings makes us all less safe because it intimidates and deters people from exercising their First Amendment right to protest, a necessary tool for holding elected officials accountable—especially in the age of Trump.
The Nation­al Lawyers Guild of Chica­go is trou­bled by the dra­mat­ic expan­sion of sur­veil­lance pow­ers this bill would make avail­able to Illi­nois law enforce­ment. The Chica­go Police Department's long his­to­ry of vio­lat­ing the rights of pro­test­ers is well known and includes unlaw­ful sur­veil­lance and tar­get­ed abuse of peo­ple work­ing to make this a more just city for our most mar­gin­al­ized res­i­dents. Chica­go police vio­lence, as exem­pli­fied by the police riot at the 1968 Demo­c­ra­t­ic Nation­al Con­ven­tion and the mur­der of Black Pan­ther Par­ty leader Fred Hamp­ton in 1969, con­tin­ues today. We need only look at the 2012 arrest of three young peo­ple charged with ter­ror­ism due to their oppo­si­tion to the NATO sum­mit and the recent attempts by the Chica­go police to stop pro­tect­ed First Amend­ment activ­i­ty by the #Black­Lives­Mat­ter to be con­vinced that the Chica­go police are not to be trust­ed with a legal tool that will allow them to invade per­son­al pri­va­cy and impede polit­i­cal activ­i­ty from the skies.
The Chica­go Police have also abused sur­veil­lance tech­nol­o­gy in recent his­to­ry. Most recent­ly, the depart­ment came under scruti­ny for their use of Stingrays. Mul­ti­ple law­suits have chal­lenged the lack of over­sight and the use of Stingray tech­nol­o­gy to col­lect data from the phones of thou­sands of unsus­pect­ing indi­vid­u­als attend­ing protests. After it was dis­cov­ered that Chica­go Police were using Stingrays with min­i­mal legal pro­tec­tions, the leg­is­la­ture passed a strong war­rant require­ment bill in 2016. Now, some mem­bers of the leg­is­la­ture are push­ing to give police more access to sur­veil­lance tech­nol­o­gy despite the fact that state law already allows law enforce­ment use of drones in a gen­uine secu­ri­ty crisis.
While some argue that such tech­nol­o­gy can be used to hold police account­able, the pro­lif­er­a­tion of body cam­eras has shown the fal­la­cy of this posi­tion. Police body cam­eras now allow us to watch the ongo­ing abuse of pow­er in viral social media videos, yet have lit­tle impact on the con­se­quences for police offi­cers involved. This was dis­played quite clear­ly in the body cam­era footage of the Chica­go Police mur­der of Paul O'Neal in July 2016. The fact that the offi­cers were wear­ing body cams didn't stop them from shoot­ing 18-year-old O'Neal in the back or from high-fiv­ing each oth­er as he bled to death in a South Side back­yard. More often than not, sur­veil­lance tech­nol­o­gy is used to crim­i­nal­ize the vic­tims of police vio­lence, not to hold the per­pe­tra­tors of state vio­lence account­able. Like body cams, new cam­eras on drones will be trained on civil­ians and not on the police themselves.
Increased sur­veil­lance of demon­stra­tions and oth­er pub­lic gath­er­ings makes us all less safe because it intim­i­dates and deters peo­ple from exer­cis­ing their First Amend­ment right to protest, a nec­es­sary tool for hold­ing elect­ed offi­cials account­able — espe­cial­ly in the age of Trump. Since 2016, more than 63 anti-protest bills have been intro­duced across 31 states. As Trump wages war on immi­grants, the envi­ron­ment and mar­gin­al­ized com­mu­ni­ties at home and abroad, the right to protest is now more impor­tant than ever. SB 2562 threat­ens to expand the wide­spread use of sur­veil­lance tech­nol­o­gy by police and set a dan­ger­ous mod­el for law enforce­ment in oth­er states. If we want to build a more equi­table world, the Illi­nois leg­is­la­ture must encour­age polit­i­cal engage­ment, not scare peo­ple across the coun­try from its most ele­men­tal form: pub­lic gathering.
Matthew McLough­lin
is an activist and legal work­er. He works with the Nation­al Lawyers Guild's Chica­go chap­ter as its Mass Defense Coor­di­na­tor and is a co-founder of the Chica­go Com­mu­ni­ty Bond Fund and cur­rent­ly serves as the organization's Direc­tor of Pro­grams. Cut­ting his teeth as an orga­niz­er with Occu­py Chica­go, Matt went on to orga­nize around school clo­sures, immi­grant rights and racial jus­tice. For years, he has helped lift up, doc­u­ment and sup­port local and nation­al social move­ments, includ­ing orga­niz­ing jail sup­port and sol­i­dar­i­ty actions.