"We Need to Stop Being Nice": IL Labor, Community Activists Push Progressive Budget Crisis Solutions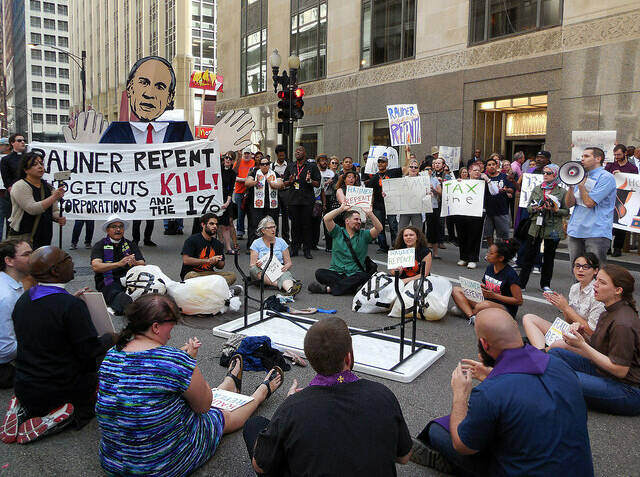 In the shadow of a potential state government shutdown, 125 leaders and policy wonks from 63 non-profit, community organizing and labor organizations came together on June 29 to deliberate over a series of proposals for revenue solutions to Illinois's budget shortfall. Their goal: to push past the austerity narrative that has long constricted progressive policymaking at all levels of government in the state.
"We're here to begin [a] conversation about progressive alternatives," said Amisha Patel, Executive Director of Grassroots Collaborative.
That conversation revolved around how to get corporations, wealthy individuals, and financial institutions to pay their ​"fair share."
Brandon Johnson, an organizer for the Chicago Teachers Union, argued that the time for alternatives is past due. ​"Lives are literally at stake," he stated.
In the state capital, right-wing Governor Bruce Rauner and the Democratic Party-controlled state legislature have engaged in budgetary brinksmanship, mirroring the narrative of ​"fiscal cliffs" and ​"government shutdowns" now familiar at the federal level. While politicians in the state capital Springfield debate the extent of austerity measures, social movements in Chicago have questioned the basis for it at all, such as the Chicago Teachers Union's contention that Chicago Public Schools is ​"broke on purpose." These recurrent crises and the political deadlock downstate show an opportunity to unite social movements against austerity, but such a broad united front has been largely absent in Illinois.
It's in this context that organizers called a half-day ​"emergency convening" with a wide swathe of the city's progressive and social service groups. Former mayoral candidate Jesus ​"Chuy" Garcia voiced his support and opened the convening, and was joined in the audience by sitting politicians from city, state and county government.
Those assembled heard several revenue proposals. The first focused on tax hikes aimed on wealthy individuals, including a proposed progressive income tax (estimated at raising up to $2.4 billion for the state), a commuter tax ($300 million) and a luxury sales tax (between $553 million and almost $2 billion, depending on services taxed). A second proposal focused on corporate accountability, including a proposed end to corporate tax loopholes ($334 million), raising corporate income taxes ($770 million), a fee for ​"bad businesses" that pay low wages ($2.2 billion), a moratorium on corporate handouts and subsidies ($564 million) and reforming Chicago's tax increment financing program ($457 million in annual revenue in the city). Proposed banking and financial industry reforms included a financial transaction tax and an end to predatory deals with banks for public financing such as the interest rate swaps Bank of America has arranged with the Chicago Public Schools.
While some of these proposals are tied to existing laws that have been brought up in Springfield, others would require more difficult, long-term campaigns. The progressive income tax, for example, would require a constitutional amendment.
"It's a multi-year crisis. We need a multi-year campaign," Patel said. ​"We know that we're going to be here every year, likely, at every level of government."
The policy suggestions were, by nature, dry. But speakers emphasized the proposals were about drawing a hard line against the economic elites they say are benefiting from Rauner and Chicago Mayor Rahm Emanuel's policies: corporations and ​"the 1%."
"Everybody keeps screaming there's a revenue crisis. Just tax the rich," said Ralph Edwards of ONE Northside.
During breakout sessions, much discussion focused on which proposals were most politically feasible and how to counter challenges such as competition with other states or capital flight. Some argued for the grassroots political will needed to make policies a reality.
"In order to connect this to the grassroots, the everyday person on the streets, the folks that are not in this room, you have to try to connect this whole question of revenue with how it will improve their everyday lives," said Johnnie Owens from the Center for New Horizons.
The steep hurdles raised in the discussions stem, in part, from the nature of non-profit community and social service organizations, who represented a majority of those in the room. Many voiced excitement about the bold campaigns being proposed but were hesitant to be the ones advancing such bold demands. Much of the final hour focused on how to present these class-based political demands in messaging that could energize a movement without alienating key players who might reject an agenda perceived as too radical.
Organizers acknowledged the difficulties of many of the proposals and building a long-term united front around them, but said those difficulties were part of the point of an experimental gathering like this.
"We wanted to pull people into a room who aren't normally in a room to talk about the future of the economy of our state," said Patel. ​"There's a lot of energy and interest about how to work together in a bold fashion."
Ron Baiman, an economics professor at Benedictine University who said he was impressed by the range of participants gathered, felt the current moment offers some unique political opportunities. His organization, the Chicago Political Economy Group, has been pushing for a financial transaction tax for years. But now, ​"things have come together. There was a crash. There were years and years of papering over this structural deficit. It has come to a head."
For many of the gathered groups, the state's crisis has also cut close to home. Some organizations present said they had felt the effects of the governor's recent round of budget cuts, especially on social service providers. Rauner's proposed cuts to public health services target the poorest and neediest: $1.4 billion from Medicaid, including cuts to kidney dialysis, dental and podiatry for adults; slashing community services by $5 million; and an additional $21.9 million cut from the Illinois Department of Public Health, including a 71% cut in screenings and services for breast and cervical cancer.
The governor's $431 million cut to higher education would reportedly be ​"catastrophic," especially to first-generation students and students of color. His attempt to cut public worker pensions by $2.35 billion has already been found unconstitutional by unanimous vote in the Illinois Supreme Court.
Given the dire stakes and the political opening created by social movements like Occupy against the ​"1%," many organizations and politicians seem to have come to the summit with a new willingness to form a campaign centered on a sharper message opposing the rich than they are accustomed to.
"We need to stop being nice," Baiman, the economics professor, stated.