Report: Illinois EPA Staff Has Been Cut in Half and That Risks Public Health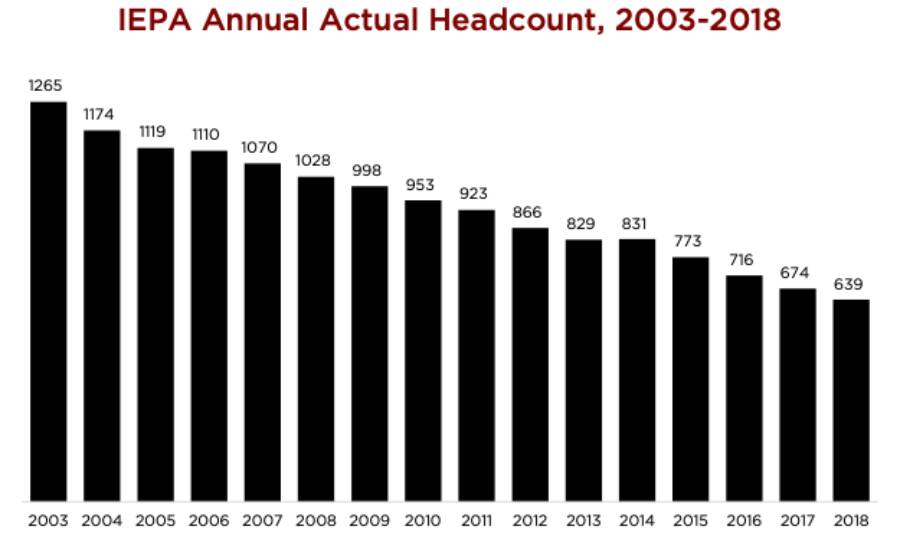 Reader donations, many as small as just $1, have kept In These Times publishing for 45 years. Once you've finished reading, please consider making a tax-deductible donation to support this work.
Editor's Note: This story was originally published on the Midwest Center for Investigative Reporting.
The state's lack of investment in the Illinois Environmental Protection Agency is putting citizens at increased risk of public health issues, according to a report released by a group of experts on Nov. 26.
The report, entitled ​"Protecting the Illinois EPA's Health, so that It Can Protect Ours," found that staffing at the agency has been cut in half since 2003 and, as a result, inspections of polluting facilities, monitoring of water quality and enforcement of environmental violations have decreased. The report was published by the Abrams Environmental Law Clinic at the University of Chicago, with input from former IEPA leaders.
The report highlighted the issues with the agency in order to call for a renewed investment to restore the agency back to where it was 15 years ago. In 2003, the IEPA had 1,265 employees. In 2018, the agency had 639.
The decline has been consistent and gradual, the report showed.
"There are real problems at the Illinois Environmental Protection Agency," said Mark Templeton, clinical professor of law and director of the Abrams Environmental Law Clinic at the University of Chicago, and an author of the report.
"The Illinois EPA appreciates the report's acknowledgement of some of the challenges faced by state government regulators. Like many Illinois state agencies, headcount and resources have decreased steadily over a number of years and under a number of directors and administrations," said Illinois EPA Spokeswoman Kim Biggs in an emailed statement on Nov. 27. ​"The Pritzker Administration and the Illinois EPA have been actively working to boost hiring, find creative ways to increase revenues, and effectively enforce environmental laws and regulations."
In 2018, the Midwest Center for Investigative Reporting published an analysis of staffing cuts that showed fewer inspections were being conducted, fewer violation notices were being issued and cases referred to the Attorney General had decreased significantly. The story was footnoted in the report.
"They don't have the resources to do everything they need to do," said Doug Scott, who served as IEPA Director from 2005 to 2011 when the employee headcount declined from 1,119 to 923. Scott said, during the decline, the agency has also assumed more responsibilities, as the federal government rolls back the U.S. EPA.
The Illinois EPA has posted 161 positions this year, according to the agency. Between 2013 and 2017, 276 positions were posted. The agency also said they plan to hire a new staff person to oversee recruitment and retention.
The report took about a year to compile, Templeton said.
The authors argue the IEPA needs to get on better footing by increasing fees on polluters, implementing new sources of revenue and a staffing plan to increase timely hiring.
Other issues highlighted by the report show that inspections of air pollutant emitting facilities have declined by 81 percent since 2003, and nearly 85 percent of river and stream miles and more than 50 percent of lake, reservoir and pond areas have not been assessed for health.
Mary Gade, who served as IEPA director from 1991 to 1999, said the agency's work is about ​"life and death." The agency has not received any general appropriations from the state since 2003, when the decline started. The decline has continued under both Democratic and Republican administrations.
"This is both a wake-up call and a call to action, to take notice and to take action," Gade said. ​"The slow gradual decline needs to be reversed and reversed quickly."
The Midwest Center for Investigative Reporting is a nonprofit, online newsroom offering investigative and enterprise coverage of agribusiness, Big Ag and related issues through data analysis, visualizations, in-depth reports and interactive web tools. Visit us online at www​.inves​ti​gatemid​west​.org
Your donation makes In These Times possible
Johnathan Hettinger
is a journalist based in Livingston, Montana. Originally from Central Illinois and a graduate of the University of Illinois, he has worked at the Midwest Center for Investigative Reporting, the Livingston Enterprise and the (Champaign-Urbana) News-Gazette. Contact Johnathan at jhett
93
@​gmail.​com and follow him on Twitter @jhett
93
.