Investigation: Illinois' Wage Theft Bill Actually Made Things Worse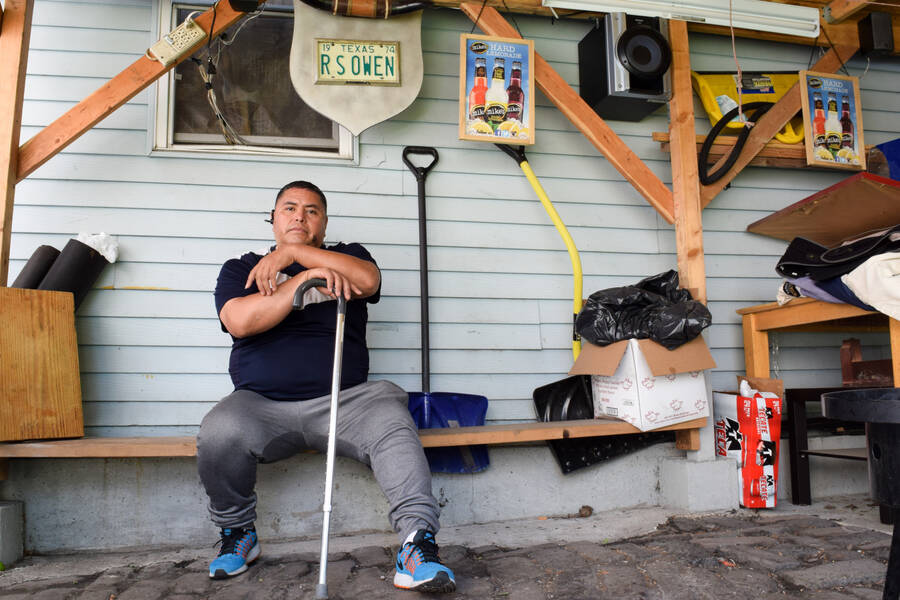 This piece first appeared in the Chica­go Reporter.
Most vic­tims of wage theft in Illi­nois nev­er see a dime because the sys­tem meant to help them isn't working.
That's not what labor advo­cates envi­sioned in 2010, when the state passed a bill meant to give employ­ees a bet­ter chance of recoup­ing stolen wages and to tough­en penal­ties against the employ­ers who stiff them.
The sit­u­a­tion, how­ev­er, has gone from bad to worse for the thou­sands of most­ly low-wage work­ers who have filed rough­ly $50 mil­lion in wage claims with the state since the mea­sure took full effect in 2014.
Work­ers who report wage theft now face longer wait times, high­er dis­missal rates and more red tape, accord­ing to a Chica­go Reporter review of com­plaint records and enforce­ment pro­ce­dures at the Illi­nois Depart­ment of Labor.
Few­er than 1 in 4 work­ers recouped wages with­in a year, the analy­sis found. The odds are so bad, many labor advo­cates say work­ers shouldn't both­er fil­ing a claim.
"The worst that can hap­pen to [employ­ers] is that they can use the work­ers like a cred­it card, and pay them months after the claims were first filed," said Jacob Lesniews­ki, an asso­ciate pro­fes­sor of social work at Domini­can Uni­ver­si­ty, who has stud­ied wage theft.
The Reporter's review of wage enforce­ment records found:
More claims are dis­missed:

58

per­cent in

2014

, up from

41

per­cent in

2010

. The state does­nt track why cas­es are dis­missed, but most are scrapped ear­ly, before work­ers get a chance to have the mer­its of the cas­es weighed.
Cas­es now take an aver­age of near­ly nine months to resolve, about two months longer than in

2010

. If a case ends up going to a hear­ing, resolv­ing it could take well over a year.
Even when work­ers win their cas­es, they might not be paid. Only about

1

in

10

of near­ly

500

cas­es for­ward­ed to the Illi­nois Attor­ney Gen­er­al's Office for col­lec­tion result­ed in pay­ment, and col­lec­tion can take years.
The state has let dozens of dead­beat employ­ers off the hook by allow­ing them to set­tle claims ear­ly in the enforce­ment process, avoid­ing for­mal vio­la­tions or finan­cial penalties.
Because of the inef­fec­tive enforce­ment, work­ers and labor advo­cates say they've lost con­fi­dence in the depart­ment. Per­haps as a result, wage claims have declined 40 per­cent since 2010.
One of the most cel­e­brat­ed aspects of the reforms ele­vat­ed repeat offens­es to felonies, a change that advo­cates hoped would be a deter­rent. But the labor depart­ment does not refer cas­es for crim­i­nal pros­e­cu­tion. Nor does it sys­tem­at­i­cal­ly track repeat offend­ers. One result: With­out such track­ing, Chica­go has nev­er been able to enforce its ordi­nance that allows the city to revoke the busi­ness licens­es of repeat offenders.
Depart­ment of Labor offi­cials say their pri­or­i­ty is to get wages back into work­ers' pock­ets, not to pun­ish businesses.
"The Illi­nois Depart­ment of Labor works col­lab­o­ra­tive­ly with employ­ees and employ­ers to try and reach a just out­come for all wage cas­es," a spokesman said in a writ­ten state­ment. ​"Rel­e­vant staff reviews each and every claim indi­vid­u­al­ly and lit­i­ga­tion can some­times length­en the dura­tion of open cas­es. How­ev­er, it is an impor­tant legal process that helps ensure fair­ness for both work­ers and businesses."
But with­out effec­tive state enforce­ment, low-wage work­ers have few options.
The labor depart­ment has become the de fac­to option for ​"peo­ple who either don't have infor­ma­tion to know they could get an attor­ney to take their case, or an attor­ney would­n't take their case because it's too small," said Chris Williams, a pri­vate labor attor­ney and one of the orig­i­nal cham­pi­ons of the 2010 leg­is­la­tion. ​"Unfor­tu­nate­ly I think it's kind of uti­lized in that way: It's where [those] cas­es go."
A work­er​'s quag­mire
In Chica­go, the high­est con­cen­tra­tion of wage com­plaints comes from work­ers liv­ing in low-income black, Lati­no and immi­grant com­mu­ni­ties, accord­ing to the Reporter's analy­sis. Com­plainants often work for small­er com­pa­nies in the health care, trans­porta­tion, con­struc­tion, land­scap­ing, man­u­fac­tur­ing and ser­vice industries.
"All of the growth indus­tries in the city rely on low-wage labor. These occu­pa­tions breed wage theft," said Lesniews­ki. ​"So much of what makes the city run are occu­pa­tions where wage theft is endem­ic. This is just as dam­ag­ing to the city as the crime problem."
<com­plaint by zip code gif>
Juan Lopez's sto­ry is typ­i­cal. Last August, the 42-year-old Mex­i­can immi­grant planned to take his two-week paid vaca­tion from the man­u­fac­tur­ing com­pa­ny in a Chica­go sub­urb, where he worked build­ing bev­er­age dis­plays. He had his bags packed and train tick­et to Los Ange­les pur­chased for a vis­it to his broth­er, whom he hadn't seen in more than two decades.
But on his last day before vaca­tion, a 145-pound oak whiskey bar­rel he was build­ing rolled off a dis­play mount and crushed his body. There would be no vaca­tion. Lopez, who used to take pride in his phys­i­cal prowess and jog every night after work in Pilsen, can no longer work and can bare­ly walk; injuries to his low­er back, hips and knees shoot pain up his body with every step. The com­pa­ny denied his work­ers' com­pen­sa­tion claim, but an attor­ney is help­ing him fight the rejection.
When he went to pick up his last pay­check, Lopez asked his for­mer boss about his vaca­tion pay, a lit­tle over $1,000. His employ­er told him he wouldn't get paid. Lopez was deject­ed but unsure of his rights. He didn't know that the Illi­nois Wage Pay­ment and Col­lec­tion Act pro­tects a worker's right to be paid for earned vaca­tion time.
But Lopez, depressed because he was plow­ing through his sav­ings, knew ​"a thou­sand dol­lars would help me pay the bills for a long time." He turned to Chica­go Com­mu­ni­ty & Worker's Rights, a work­ers center.
Exec­u­tive Direc­tor Mar­tin Unzue­ta knew Lopez's case was too small for a pri­vate attor­ney. So he con­tact­ed Lopez's for­mer employ­er and asked the com­pa­ny to pay up.
"We go to the Depart­ment of Labor as a last resort," said Unzueta.
Direct nego­ti­a­tions got nowhere. So Unzue­ta helped Lopez pre­pare a wage claim in Jan­u­ary, though warn­ing him not to get his hopes up about get­ting his mon­ey quickly.
"He told me this could take a year or more," recalled Lopez, speak­ing in Span­ish. ​"I said that was OK. In a year I will still need $1,000. I don't know when I will be able to work again."
With­in weeks, a labor depart­ment employ­ee called Lopez to ask him to fill out anoth­er wage claim form. Lopez speaks and writes lim­it­ed Eng­lish, and said he was told lan­guage help was avail­able at the department's down­town Chica­go office and that he would hear back on a date to come in. Lopez said he nev­er heard back, but got a let­ter telling him his case would be closed if he didn't pro­vide more evi­dence with­in 10 days.
"To tell you the truth, I got frus­trat­ed … because we'd already sent them what they were ask­ing for," Lopez said. ​"I called the office once and nobody picked up. So I didn't both­er fill­ing out the form again. They already had all the information."
In March, the depart­ment dis­missed his case, records from Lopez's case show. (After Unzueta's group con­tact­ed the labor depart­ment, Lopez was able to refile his paper­work to open a new case, which is now pend­ing). The Reporter's analy­sis shows that work­ers who say they need a trans­la­tor are far more like­ly to have their cas­es dismissed.
Like Lopez's case, most claims to the labor depart­ment are dis­missed ear­ly on. Depart­ment offi­cials esti­mate that near­ly half of dis­missals occur because of incom­plete claim forms.
<com­plaint cir­cle graph>
Stricter noti­fi­ca­tion require­ments as well as recent labor depart­ment poli­cies have made dis­missals more like­ly, espe­cial­ly for low-wage and immi­grant work­ers. For exam­ple, the depart­ment will dis­miss a case when it can't locate a work­er — and low-income and immi­grant work­ers tend to be more tran­sient and are more like­ly to change phone num­bers. Also, work­ers, instead of the labor depart­ment, are now required to send copies of their evi­dence to their employ­er — cre­at­ing an added expense.
"Some work­ers don't know the real name of their employ­er or how to find their address or phone num­ber," said Car­men Cabr­era, an orga­niz­er with the Chica­go Work­ers' Col­lab­o­ra­tive, anoth­er work­ers cen­ter. ​"These peo­ple know how to work with their hands, and that's it … It's impos­si­ble for some of them to stay on top of their cas­es, espe­cial­ly if they're look­ing for a new job."
In a writ­ten state­ment, a labor depart­ment spokesman said, ​"The new forms have helped pro­vide clar­i­ty for work­ers on their rights and respon­si­bil­i­ties, improved the pro­cess­ing of claims inter­nal­ly, and con­tributed to the reduced num­ber of cas­es filed per year."
But Lopez got the sense that labor depart­ment staff was so over­whelmed, ​"it was like they were try­ing to frus­trate me with the process so I would drop the case. So I would go away."
Find­ing solu­tions elsewhere
Labor advo­cates and for­mer labor depart­ment offi­cials say lack of man­pow­er is part of the prob­lem, as wage claim spe­cial­ists han­dle hun­dreds of cas­es per year. The ongo­ing state bud­get impasse has made it impos­si­ble to hire more staff.
"They don't have much in the way of resources and so they're back­logged. To get any­thing done takes for­ev­er. It's like pulling teeth," said State Rep. Bar­bara Fly­nn Cur­rie, a Chica­go Demo­c­rat who has stud­ied the issue. ​"My impres­sion is that they are just plain under-resourced and overworked."
Depart­ment offi­cials acknowl­edge that cas­es take far too long to resolve, and they have begun to make changes. More admin­is­tra­tive law judges have been trained, and depart­ment offi­cials said that move dou­bled the num­ber of cas­es that went to hear­ings late last year.
Advo­cates have pro­posed oth­er changes, includ­ing more aggres­sive col­lec­tions against dead­beat employ­ers, who take advan­tage of the lengthy process by dis­solv­ing their assets or declar­ing bank­rupt­cy to avoid pay­ment. Work­ers then may find it near­ly impos­si­ble to recoup their wages, and employ­ers who stiff work­ers get a mes­sage that the state won't go after them.
"For very few employ­ers have there been con­se­quences, because of the slow­ness of the Depart­ment of Labor, because of the dif­fi­cul­ty of prov­ing the charge, because of the timetable," said Fly­nn Cur­rie, who intro­duced leg­is­la­tion last sum­mer that would let the labor depart­ment file wage liens against an employer's prop­er­ty at the time a work­er files a claim. ​"Peo­ple who need the mon­ey now don't have the time and the resources to go through all of these motions, jump through all of these hoops and wait three years to get their money."
The labor depart­ment oppos­es the bill and esti­mates that the law would cost about $1 mil­lion annu­al­ly, most­ly in salaries for new staff with exper­tise in lien procedures.
"For us it's an admin­is­tra­tive bur­den," said Chris Wieneke, leg­isla­tive liai­son for the depart­ment, dur­ing an Illi­nois House com­mit­tee hear­ing in Feb­ru­ary. ​"Our oppo­si­tion is the mil­lion-dol­lar price tag to prop­er­ly enforce this act."
Anoth­er bill, intro­duced this spring by State Sen. Daniel Biss, an Evanston Demo­c­rat who's run­ning for gov­er­nor, would increase fines for employ­ers that refuse to pay judg­ments for wage theft and would ban repeat offend­ers from get­ting state con­tracts. The bill has passed the state leg­is­la­ture and now heads to the governor's desk.
A recent study sug­gests that high­er finan­cial penal­ties do reduce wage theft. Daniel Galvin, an asso­ciate pro­fes­sor of polit­i­cal sci­ence at North­west­ern Uni­ver­si­ty, ana­lyzed self-report­ed income data from the Cur­rent Pop­u­la­tion Sur­vey and found the states with stiff finan­cial penal­ties for wage theft — par­tic­u­lar­ly triple dam­ages — have few­er min­i­mum-wage violations.
"Each state's embrace of tre­ble dam­ages sig­naled to employ­ers that inten­tion­al wage vio­la­tions would be extreme­ly cost­ly, espe­cial­ly in cas­es involv­ing mul­ti­ple plain­tiffs," Galvin not­ed in his paper, pub­lished last year in the aca­d­e­m­ic jour­nal Per­spec­tives on Pol­i­tics.
Unlike Illi­nois, a hand­ful of states, includ­ing Cal­i­for­nia, New York and Mass­a­chu­setts, are more aggres­sive in crim­i­nal pros­e­cu­tion. The strat­e­gy has drawn more atten­tion in recent years, par­tic­u­lar­ly after high-pro­file cas­es brought by New York Attor­ney Gen­er­al Eric Schnei­der­man against home health agen­cies, car wash boss­es and a piz­za fran­chise owner.
"It's so impor­tant for pros­e­cu­tors to take these cas­es seri­ous­ly and under­stand the crim­i­nal­i­ty of this con­duct," said Ter­ri Ger­stein, for­mer Labor Bureau chief at Schneiderman's office. ​"It is, while non­vi­o­lent, cer­tain­ly anal­o­gous to many oth­er kinds of cas­es pros­e­cu­tors rou­tine­ly bring with­out bat­ting an eye­lash. And these crimes have a seri­ous social impact on vic­tims and communities."
Illi­nois could fol­low New York's exam­ple because the 2010 amend­ments ele­vat­ed crim­i­nal penal­ties for repeat or will­ful offend­ers from a mis­de­meanor to a felony. But it doesn't.
Advo­cates point out that it will take a vari­ety of strate­gies to make a dent in the prob­lem. Improv­ing the com­plaint-based sys­tem, which the labor depart­ment relies on, would not be enough, giv­en the scale of need and the per­sis­tent lack of resources.
"We have to think about [each of] these as small, incre­men­tal changes," said Sophia Zaman, exec­u­tive direc­tor of the Raise the Floor Alliance, an umbrel­la legal and pol­i­cy advo­ca­cy group for the state's eight work­ers cen­ters. ​"How do we make the path to jus­tice eas­i­er for workers?"
Melis­sa is a for­mer reporter for the Chica­go Reporter. Matt Kiefer is the data edi­tor for the Reporter.