Opponents of School Privatization Are Very Worried About a New Law in Illinois. Here's Why.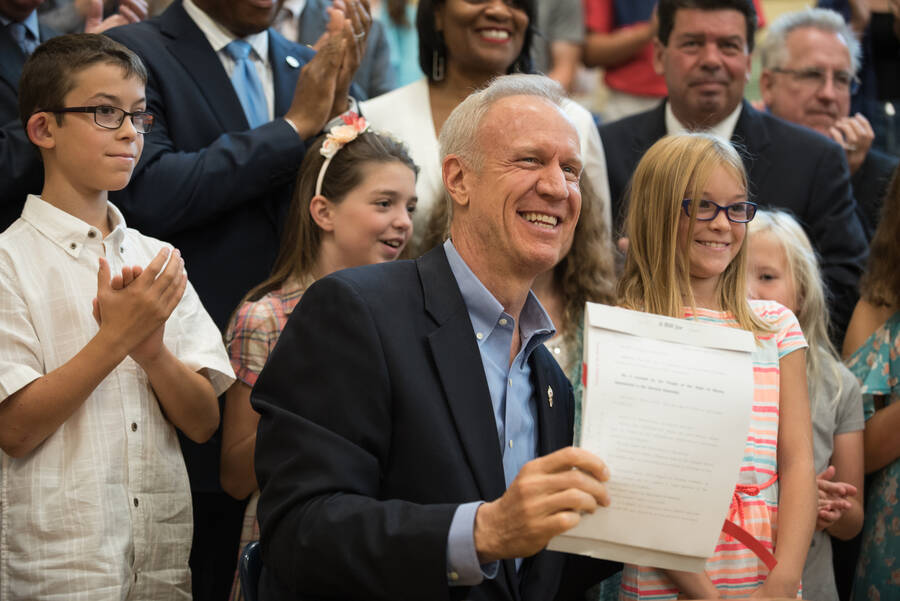 Chica­go pub­lic schools began class­es this month after secur­ing much-need­ed mon­ey from the state. But the fund­ing bill came with a pro­vi­sion that crit­ics say could imper­il pub­lic edu­ca­tion in the state and serve as a fright­en­ing prece­dent for the rest of the country.
This ​"poi­son pill," as teach­ers unions call it, allows indi­vid­u­als and cor­po­ra­tions to donate to pri­vate schools in lieu of pay­ing tax­es. Many oppo­nents liken this to school vouch­er pro­grams, which can be dev­as­tat­ing to pub­lic schools.
The new pro­gram dif­fers from a tra­di­tion­al vouch­er pro­gram. Rather than direct­ly using pub­lic mon­ey for pri­vate-school tuition, it doles out tax cred­its for dona­tions to pri­vate-school schol­ar­ship funds.
But oppo­nents of the pro­gram allege that its effect could be sim­i­lar to that of vouch­ers, by caus­ing stu­dents to leave pub­lic schools while reduc­ing these schools' per-pupil fund­ing base. As more stu­dents are incen­tivized to attend pri­vate schools through the new­ly cre­at­ed schol­ar­ships, pub­lic schools could see their atten­dance num­bers plum­met. As a result, these pub­lic schools — which are fund­ed based on enroll­ment — face the prospect of even deep­er cuts at a time when they are already under­go­ing a desta­bi­liz­ing bud­get crisis.
Back­door vouchers
In ear­ly August, Repub­li­can Gov. Bruce Rauner vetoed a pre­vi­ous ver­sion of the school fund­ing bill, which he called a ​"bailout" for Chica­go schools. But after the vouch­er-like pro­vi­sion was insert­ed, the bil­lion­aire and long­time school pri­va­ti­za­tion pro­po­nent signed his name to the bill, end­ing a months-long standoff.
The law cre­ates a five-year pilot pro­gram capped at $75 mil­lion per year. At this lev­el, experts say, the pro­gram is unlike­ly to divert sig­nif­i­cant num­bers of stu­dents from pub­lic schools. Pro­jec­tions show that it would like­ly cre­ate few­er than 10,000 full schol­ar­ships statewide, depend­ing on how the details of the pro­gram are craft­ed, and these could like­ly be used by stu­dents already enrolled in pri­vate schools.
But crit­ics wor­ry the pro­gram could pave the way for a much larg­er vouch­er-like pro­gram down the line, which could lead to large-scale lay­offs of pub­lic school teacher union mem­bers and deal a blow to the future of pub­lic edu­ca­tion in the state.
Crit­ics charge that the pro­gram will also allow rich indi­vid­u­als and big busi­ness­es to avoid pay­ing tax­es. For every $1,000 donat­ed to pri­vate schools, par­tic­i­pants will receive a $750 tax cred­it. And the bill appears to allow dona­tions to be direct­ed to spe­cif­ic schools, allow­ing wealthy indi­vid­u­als and cor­po­ra­tions to receive tax breaks for sim­ply con­tin­u­ing their cur­rent giv­ing practices.
"Instead of giv­ing to the gov­ern­ment and let­ting the peo­ple decide how to use the mon­ey, they want to pick and choose their spe­cial caus­es," says state Rep. Will Guz­zar­di (D‑Chicago), who oppos­es the tax cred­it. ​"It's pos­si­ble there's already $75 mil­lion in giv­ing in this area, so this might not incen­tivize an extra dime."
Dona­tions to Catholic schools are eli­gi­ble for tax rebates under the bill, and Car­di­nal Blasé Cupich of the Arch­dio­cese of Chica­go, which runs near­ly 200 schools, strong­ly advo­cat­ed for the pro­vi­sion. Crit­ics believe the pro­vi­sion skirts legal ques­tions about sep­a­ra­tion of church and state.
"We believe pub­lic mon­ey should not go to pri­vate or parochial school inter­ests," says Daniel Mont­gomery, pres­i­dent of the Illi­nois Fed­er­a­tion of Teach­ers. ​"This is kind of an end run around this."
A sign of things to come?
Chica­go Teach­ers Union Vice Pres­i­dent Jesse Sharkey fears the five-year pilot pro­gram will open the door to a much wider assault on pub­lic schools.
"There's no rea­son to believe peo­ple won't be lin­ing up the moment this opens — a stam­pede to get out of pay­ing tax­es," Sharkey says. ​"Instead of giv­ing mon­ey to the gov­ern­ment that does things like reg­u­late busi­ness, pro­vide health­care and a whole bunch of not par­tic­u­lar­ly sexy things, if you're a wealthy cor­po­ra­tion you can give that mon­ey to schol­ar­ships, get all the cred­it and love for help­ing stu­dents, and write that right off the top of your tax bill, up to a mil­lion dollars.
"Then the pop­u­lar­i­ty becomes a polit­i­cal tool in the hands of peo­ple who want to increase the program."
After the tax cred­it pro­gram was intro­duced, CPS aggres­sive­ly pres­sured prin­ci­pals to lob­by their leg­is­la­tors in favor of the pro­gram, as revealed by the Chica­go Prin­ci­pals and Admin­is­tra­tors Asso­ci­a­tion. The 118-year-old asso­ci­a­tion is head­ed by Troy LaR­aviere, a prin­ci­pal oust­ed from his post after pub­licly crit­i­ciz­ing May­or Rahm Emanuel and CPS. (Full dis­clo­sure: LaR­aviere emceed In These Times' 41st-anniver­sary gala this month.)
Prin­ci­pals sent LaR­aviere emails and voice­mails they had received from school offi­cials order­ing them to lob­by on behalf of the tax cred­it, as well as a Google Doc they were told to fill out track­ing their activ­i­ty. After LaR­aviere pub­li­cized these actions, the Google Doc was imme­di­ate­ly made inac­ces­si­ble, he says. CPS did not respond to a request to com­ment on these claims.
In explain­ing why fun­nel­ing stu­dents into pri­vate schools could hurt aca­d­e­m­ic out­comes, LaR­aviere point­ed to recent stud­ies show­ing that across Illi­nois, stu­dents in pub­lic schools per­form bet­ter than their peers of sim­i­lar race and eco­nom­ic back­ground in pri­vate schools. This trend is espe­cial­ly con­cern­ing, LaR­aviere explains, if an expand­ed tax cred­it pro­gram were to send strug­gling low-income and minor­i­ty stu­dents into pri­vate schools ill-equipped to edu­cate them.
"Pri­vate schools don't even want the kind of stu­dents that pro­po­nents of this kind of leg­is­la­tion often talk about," LaR­aviere says. ​"The whole nature of pri­vate edu­ca­tion is that it's exclu­sion­ary. They would­n't even know what to do with half the kids from low-income house­holds who in the­o­ry are sup­posed to get these so-called tax cred­it scholarships."
LaR­aviere says the stud­ies show what many edu­ca­tors in the pub­lic sys­tem have long known: ​"There is no school sys­tem more effec­tive [than pub­lic schools] at get­ting stu­dents to learn and grow when you take into account their start­ing point. So the most intel­li­gent thing to do is to con­tin­ue to invest in the sys­tem that has proven itself."
The Rahm-DeVos connection
While Rahm Emanuel has been at log­ger­heads with Gov. Rauner of late over the school fund­ing issue, LaR­aviere sees the tax cred­it as part of the mayor's long-stand­ing pri­va­ti­za­tion agenda.
"As a Demo­c­rat, he was in an unten­able posi­tion, but he saw an oppor­tu­ni­ty where he could get away with it," LaR­aviere says of Emanuel's sup­port for the tax-cred­it deal.
While Rauner and his allies have long pushed for pri­va­ti­za­tion of pub­lic edu­ca­tion and gov­ern­ment sup­port for char­ter schools, union lead­ers and oth­er experts note that the ground is now fer­tile for enact­ing this agen­da, with the U.S. Depart­ment of Edu­ca­tion head­ed by Bet­sy DeVos, an ardent backer of char­ter schools, faith-based schools and cor­po­rate edu­ca­tion reform.
LaR­aviere notes the par­al­lels, adding, ​"This is about more than DeVos — this is about the forces behind DeVos and behind Emanuel, which are one and the same."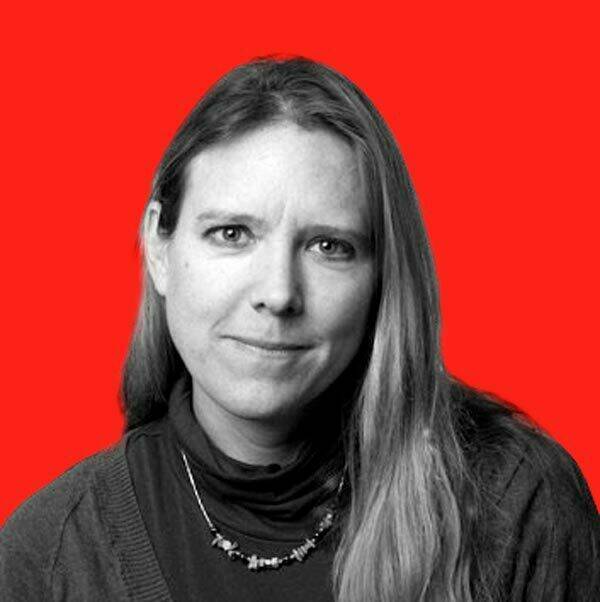 Kari Lyder­sen
is a Chica­go-based reporter, author and jour­nal­ism instruc­tor, lead­ing the Social Jus­tice
&
amp; Inves­tiga­tive spe­cial­iza­tion in the grad­u­ate pro­gram at North­west­ern Uni­ver­si­ty. She is the author of May­or
1
%: Rahm Emanuel and the Rise of Chicago's
99
%.