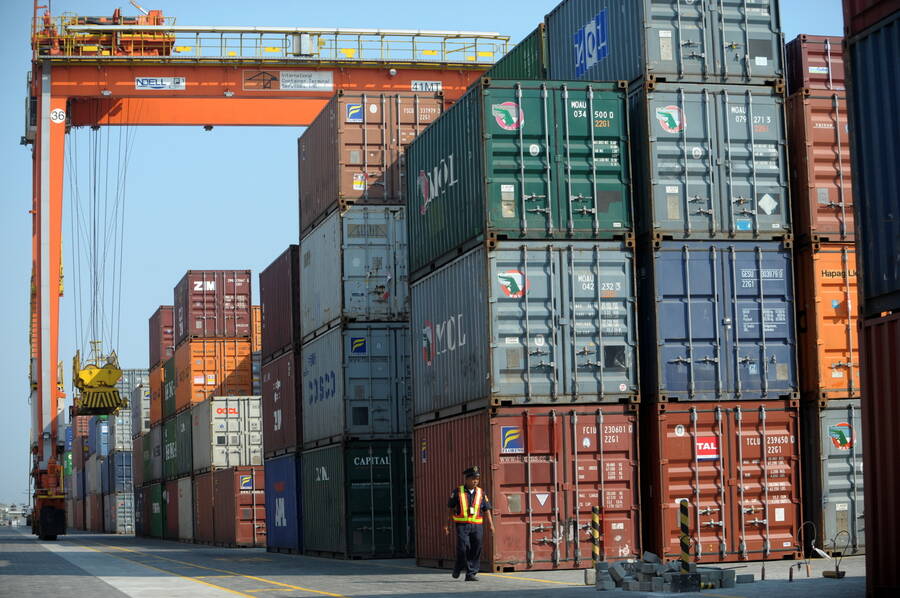 The Inter­na­tion­al Long­shore and Ware­house Union (ILWU) is fac­ing an exis­ten­tial crisis.
Found­ed by the mil­i­tant labor icon Har­ry Bridges, the ILWU has made a name for itself as the take-no-crap West Coast dock­ers union, one that has engaged in work stop­pages and oth­er tac­tics both to pro­tect their jobs and ben­e­fits, but also to oppose war and racism.
A fed­er­al jury in Port­land, Ore­gon grant­ed a $93.6 mil­lion penal­ty in Novem­ber against the union to the Amer­i­can sub­sidiary of the Philip­pines-based Inter­na­tion­al Con­tain­er Ter­mi­nal Ser­vices (ICT­SI), which for­mer­ly oper­at­ed the Port­land ter­mi­nal. The back sto­ry is a com­pli­cat­ed one about union juris­dic­tion. In 2012, the local ILWU began a series of work slow­downs over two jobs that involved han­dling refrig­er­at­ed con­tain­ers (as well as elec­tri­cal equip­ment relat­ed to those con­tain­ers) that the union believed were wrong­ly being put out­side of the ILWU's col­lec­tive bar­gain­ing agree­ment. Instead, these two port jobs were rep­re­sent­ed by the Inter­na­tion­al Broth­er­hood of Elec­tri­cal Work­ers (IBEW). ICT­SI sued the ILWU, claim­ing the indus­tri­al action was an ille­gal sec­ondary boy­cott and that years of bat­tling the union had tak­en finan­cial toil on the com­pa­ny. The jury sided with ICTSI.

The ILWU has $8 mil­lion in assets, accord­ing to its most recent Depart­ment of Labor fil­ing (Local 8, the local involved in the suit, has $386,000 in total assets, accord­ing to its DOL fil­ing). Need­less to say, the award, if upheld by the judge in pro­ceed­ings in Feb­ru­ary, will almost cer­tain­ly lead to bank­rupt­cy for the union.
While offi­cials say that this would not be the end of the union nec­es­sar­i­ly, the restruc­tur­ing of the union would like­ly cramp its abil­i­ty to admin­is­ter the busi­ness of rep­re­sent­ing and orga­niz­ing work­ers. The union's pres­i­dent, Willie Adams, said in a mes­sage in the union's news­pa­per, the Dis­patch­er, ​"We're hop­ing that the Court will review the ver­dict and explore a dif­fer­ent out­come — one that is more fair and con­sis­tent with the evi­dence. If that doesn't hap­pen, there's a pos­si­bil­i­ty that we may seek pro­tec­tion in fed­er­al court to re-orga­nize our finances under pro­tec­tions allowed by the fed­er­al bank­rupt­cy court. While nobody wants to take this step, it may be the best way to pro­tect the ILWU and to allow us to return to sound finan­cial foot­ing as quick­ly as possible."
For mar­itime union­ists, the involve­ment of ICT­SI in this case rais­es eye­brows. It is one of the most noto­ri­ous ports oper­a­tor in the mar­ket, a com­pa­ny that prof­its off of war, mis­ery and labor exploita­tion. The news that ICT­SI would seek to destroy a union is in line with its trou­bling glob­al track record of under­min­ing work­ers' rights — and exploit­ing low wages and poor work­ing con­di­tions to pro­tect its profits.
An inter­na­tion­al labor-rights abuser
The com­pa­ny brings a glob­al track record mired in accu­sa­tions of labor abus­es. Start­ing in 2017, the Inter­na­tion­al Trans­port Work­ers Fed­er­a­tion, the glob­al alliance of trans­port unions, inter­vened in what it called a severe under­cut­ting of labor stan­dards by ICT­SI, the oper­a­tor at the Port of Tan­jung Priok, in the Indone­sian cap­i­tal of Jakar­ta. Specif­i­cal­ly, union activists alleged that the ICT­SI-run ter­mi­nal was pay­ing work­ers 15% less than oth­er near­by port oper­a­tors. The Inter­na­tion­al Trans­port Work­ers Fed­er­a­tion (ITF) also alleged that the com­pa­ny had bro­ken Indone­sian labor law by con­tin­u­ing to out­source labor, against the gov­ern­men­t's orders, and avoid­ing issu­ing over­time pay. As one Indone­sian labor leader, Didik Noryan­to, said at the time, ​"Work­ers at the ICT­SI port are look­ing to the Indone­sian Gov­ern­ment to show lead­er­ship and step in to defend these work­ers' basic human rights because ICT­SI is wag­ing an aggres­sive cam­paign to dri­ve down their wages and conditions."
These con­cerns led to the Mar­itime Union of Aus­tralia lead­ing a sev­er­al-week-long block­ade in late 2017 of the Port of Melbourne's ter­mi­nals, run by the ICT­SI, specif­i­cal­ly on grounds that a firm with such a bad rep­u­ta­tion with­in the ITF had no busi­ness in Aus­tralia. Pad­dy Crum­lin, the IFT's chief dock­ers offi­cial, said at the time, ​"Every­one is awake to ICTSI's destruc­tive ways and won't cop it anymore."
Crum­lin described ICTSI's rogue labor record as a ​"can­cer" spread­ing around the world. Indeed, that same year, the Guardian uncov­ered union bust­ing and low wages at Madagascar's main port, also run by ICT­SI. This dra­ma, once again, made its way back to Aus­tralia, where ICT­SI was look­ing to increase its pres­ence. In 2018, the ITF demand­ed an inves­ti­ga­tion of the com­pa­ny after it was award­ed the Webb Dock ter­mi­nal at the Port of Mel­bourne. The ITF also raised con­cerns about the firm's anti-union prac­tices in Mada­gas­car with ICT­SI share­hold­ers, urg­ing them to vote out two board mem­bers for fail­ing to reign in the company's oper­a­tions in places like Mada­gas­car, where, accord­ing the trade jour­nal Mar­itime Exec­u­tive, ITF ​"said that hauler strikes and protests have led to delays, with some ves­sels report­ed­ly anchored and unable to berth for weeks."
Exploit­ing misery
But to ful­ly under­stand the ICTSI's rep­u­ta­tion as a rogue oper­a­tor in the world of port man­age­ment, one must real­ly look more at the company's busi­ness mod­el, one that specif­i­cal­ly turns the eco­nom­ic mis­ery and com­plete lack of demo­c­ra­t­ic gov­er­nance to its busi­ness advan­tage. And to under­stand that busi­ness mod­el, you have to under­stand its chair­man and pres­i­dent, Enrique Razon.
Razon is one of the rich­est peo­ple in the Philip­pines with a net worth esti­mat­ed over $5 bil­lion and is a scion of the ports indus­try. His grand­fa­ther came from Spain to Mani­la to estab­lish its pri­ma­ry port. From there, Razon has built his ship­ping for­tune — and noto­ri­ety — pri­mar­i­ly by swoop­ing into coun­tries that are so unde­sir­able from a human rights stand­point that he wouldn't have to go into bid­ding wars with rivals and cre­ate a near monop­oly for him­self. He told investors in 2015: ​"I'm very bull­ish about Iran, Con­go and Cam­bo­dia… It's okay to say that if you make invest­ments in bad places right now, over time, you'll gain with­out competition."
And Razon par­tic­u­lar­ly likes set­ting up shop in sub-Saha­ran Africa, where he's faced accu­sa­tions of union bust­ing in Mada­gas­car. Razon specif­i­cal­ly high­light­ed that the des­per­a­tion for infra­struc­ture means he can charge high­er fees. He told the Wall Street Jour­nal in 2014, ​"Bot­tom line: Returns are best there with high yields in the han­dling busi­ness. To han­dle a box in our ter­mi­nal in Yan­tai, [Chi­na], we charge about $45-$50. The same con­tain­er in Africa eas­i­ly goes for $200-$250."
Crum­lin put it crude­ly in a state­ment released August 2018: "[It is a] busi­ness mod­el of delib­er­ate­ly pri­or­i­tiz­ing coun­tries where human and labor rights are most at vul­ner­a­ble and by part­ner­ing with some of the worst anti-demo­c­ra­t­ic regimes impli­cat­ed in crimes against humanity."
But per­haps ICT­SI's most intrigu­ing oper­a­tions have been in the Demo­c­ra­t­ic Repub­lic of Con­go. With rel­a­tive­ly poor rail and paved trans­port infra­struc­ture, the Con­go Riv­er is the major high­way for goods in the sec­ond largest coun­try in Africa in terms of area. This past Decem­ber, the com­pa­ny announced that it would spend $100 mil­lion to dou­ble con­tain­er capac­i­ty at its port oper­a­tions in Mata­di, where it has con­trol­ling stake in the port com­pa­ny. Ten per­cent of that com­pa­ny is the state-owned Société Con­go­laise des Trans­ports et des Ports. For the ITF, this means that ICT­SI isn't sim­ply trad­ing with a cor­rupt régime, but is inex­tri­ca­bly linked to the régime of Pres­i­dent Joseph Kabi­la, which the fed­er­a­tion calls on its web­site ICT­SI Exposed, ​"one of the world's worst kleptocracies."
Today, Razon's busi­ness empire includes casi­nos, a ven­ture he has jok­ing­ly called his night job, but the gam­ing side of his oper­a­tions is no less sor­did. In 2016, cyber thieves made off with $81 mil­lion from the cen­tral bank of Bangladesh's Amer­i­can account at the Fed­er­al Reserve Bank of New York, with $29 mil­lion wind­ing up in an account for Solaire, one Razon's gam­ing sub­sidiaries. Razon insist­ed that the scan­dal did lit­tle dam­age to his busi­ness' reputation.
Aus­tralian labor's resis­tance to ICT­SI oper­at­ing ports was based on the fear that the com­pa­ny — seek­ing to expand its pres­ence around the globe — would dri­ve down stan­dards for the country's port work­ers. Aus­tralian unions had a right to be wor­ried: Eco­nom­ic lib­er­al­iza­tion has led to a decline in union bar­gain­ing pow­er in Aus­tralia, and union mem­ber­ship is declin­ing. In fact, the MUA faced a crip­pling law­suit, sim­i­lar to the one the ILWU is fac­ing, regard­ing a work stop­page involv­ing Chevron car­go, and the MUA end­ed up merg­ing with anoth­er union.
Rat­tling the trans­port labor movement
ICT­SI is no longer oper­at­ing at the Port­land ter­mi­nal. But its exis­tence there, unless the judge in the ILWU case decides to rehear the mat­ter or grant some sort of appeal, will for­ev­er leave a stamp in Amer­i­can mar­itime union­ism and rat­tle the trans­port labor move­ment worldwide.
It should be not­ed, how­ev­er, that ILWU's cam­paign at the Port­land ter­mi­nal may be con­sid­ered ill-advised. The dis­pute in Port­land stemmed from the fact that the jobs in ques­tion relat­ed to elec­tri­cal oper­a­tion of refrig­er­at­ed con­tain­ers. Thus, the Inter­na­tion­al Broth­er­hood of Elec­tri­cal Work­ers claimed, the jobs right­ly belonged to the IBEW. ICT­SI had made the argu­ment that as the port oper­a­tor, the ILWU's tar­get­ing of ICT­SI in what was ulti­mate­ly a dis­pute over union juris­dic­tion was a sec­ondary boy­cott. Was it real­ly the best use of the ILWU's time and ener­gy to fight over a few work­ers who were like­ly going to end up with some sort of union rep­re­sen­ta­tion? In hind­sight, it cer­tain­ly was not.
It isn't clear if ICT­SI-relat­ed com­pa­nies have any port oper­a­tions in the Unit­ed States or plan to com­pete for oppor­tu­ni­ties at U.S. ports any­time soon — the com­pa­ny did not respond to a request for com­ment. What is clear from this deba­cle is that employ­ers are ready and will­ing to use the sec­ondary boy­cott ban against trans­port unions to the extent that it could crip­ple unions' oper­a­tions. Employ­ers have hap­pi­ly embraced the jury award, say­ing that it puts the union — and rank-and-file port work­ers — on notice.

​"It hear­kens back to the Gild­ed Age when cor­po­ra­tions used employ­er friend­ly courts to bank­rupt and destroy unions," said James Gre­go­ry, a labor his­to­ri­an at the Uni­ver­si­ty of Wash­ing­ton. ​"More impor­tant, it threat­ens the exis­tence of a union that has long been a mod­el of pro­gres­sive pol­i­tics and demo­c­ra­t­ic gov­er­nance, a union that fights for labor rights world­wide, a union that has beat­en back every chal­lenge since 1934. And if the courts are again going to issue rul­ings bank­rupt­ing unions, no union is safe, nor are the work­place rights that all of us — union and no union — rely upon."
Ari Paul
has cov­ered pol­i­tics for
The Nation
,
Vice
,
The Guardian
,
Dis­sent
,
Jacobin
,
Al Jazeera Amer­i­ca
and many oth­er outlets.