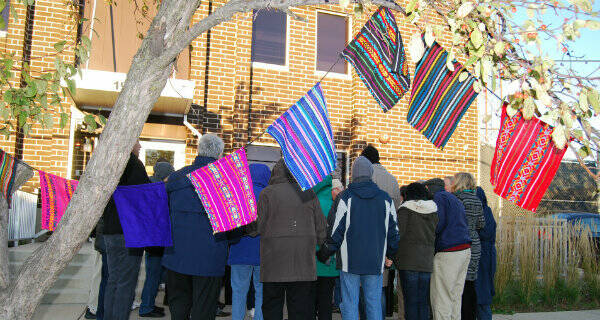 Learn more about Plan B access at www​.whereisy​our​planb​.com.
'When ICE contracts with these [private prison contractors], it really diffuses their accountability to uphold the basic human rights of immigrants,' says Madhuri Grewal, policy counsel at Detention Watch Network.
Plan B One-Step is now legal­ly avail­able all over the coun­try — in drug­stores, clin­ics and some­times even vend­ing machines — for any­one, no ID or pre­scrip­tion nec­es­sary. A Dis­trict Court rul­ing this spring lift­ed a con­tro­ver­sial FDA require­ment that women younger than 17 obtain pre­scrip­tions to receive access to the emer­gency con­tra­cep­tive and that adult women receive it ​"over the counter" from a phar­ma­cist, rather than just pick­ing it up from the shelf. Women's health advo­cates strong­ly sup­port­ed the change, which went into effect in August, say­ing it's extreme­ly impor­tant for sex­u­al assault vic­tims, who have no way of plan­ning con­tra­cep­tion in advance. If Plan B is tak­en with­in 72 hours of hav­ing unpro­tect­ed sex, it has an esti­mat­ed 87 per­cent chance of pre­vent­ing pregnancy.
But the thou­sands of women in immi­grant deten­tion cen­ters still evi­dent­ly have no assur­ance of emer­gency con­tra­cep­tive avail­abil­i­ty, even though detainees face a high risk of sex­u­al abuse.
In the­o­ry, detainees are sup­posed to have access to emer­gency con­tra­cep­tion. That was spelled out ten years ago in the Prison Rape and Elim­i­na­tion Act (PREA), passed by Con­gress in 2003 to pre­vent prison rape on fed­er­al, state and local lev­els. But a Sep­tem­ber dead­line for the Depart­ment of Home­land Secu­ri­ty (DHS) to imple­ment the emer­gency con­tra­cep­tive pro­vi­sions of PREA flew by, and detainee advo­cates are impa­tient­ly await­ing word.
DHS had plen­ty of warn­ing about the dead­line. The Vio­lence Against Women Act, renewed in March 2013, offi­cial­ly gave the agency until Sep­tem­ber to imple­ment the pro­vi­sions of PREA, includ­ing pro­vid­ing emer­gency con­tra­cep­tion to detainees in a time­ly man­ner fol­low­ing sex­u­al abuse, in its facil­i­ties, which include deten­tion cen­ters. And though DHS pub­lished an ini­tial draft of the pro­pos­al in Decem­ber 2012, it has yet to pub­lish and imple­ment a final version.
While await­ing a fin­ished plan, U.S. Immi­gra­tion and Cus­toms Enforce­ment, the prin­ci­pal inves­tiga­tive arm of the DHS, has relied on gen­er­al pol­i­cy direc­tives to pro­tect its detainees. Those poli­cies, how­ev­er, aren't exact­ly effec­tive, say human rights groups. As of 2009, ICE's Divi­sion of Immi­grant Health Ser­vices (DIHS) denied women in deten­tion access to any con­tra­cep­tive drugs at all, accord­ing to a Human Rights Watch Report.
In 2011, ICE final­ly issued a pol­i­cy direc­tive titled ​"Per­for­mance-Based Nation­al Deten­tion Stan­dards 2011" (PBNDS) which, in the­o­ry, gave vic­tims of sex­u­al assault access to basic respons­es to sex­u­al abuse such as emer­gency con­tra­cep­tion or abor­tion ser­vices. Gen­der-neu­tral assault pro­tec­tions, like lim­i­ta­tions on strip search­es, were also drafted.
But, as immi­grant deten­tion advo­cates point out, PBNDS is sim­ply a set of rules — much like ones a com­pa­ny might set for its employ­ees. PBNDS does­n't have any teeth to it, espe­cial­ly con­sid­er­ing that ICE facil­i­ties face no legal penal­ties for fail­ure to com­ply by it. And because pri­vate prison con­trac­tors run 80 per­cent of ICE facil­i­ties, accord­ing to Just Deten­tion, advo­cates say enforce­ment of PBNDS is incon­sis­tent at best.
​"When ICE con­tracts with these [pri­vate prison con­trac­tors], it real­ly dif­fus­es their account­abil­i­ty to uphold the basic human rights of immi­grants," says Mad­huri Gre­w­al, pol­i­cy coun­sel at Deten­tion Watch Net­work. ​"Once ICE is con­tract­ing with a facil­i­ty, then that facil­i­ty is now pri­vate­ly run, and con­tracts with out­side med­ical or men­tal health providers." In oth­er words, ICE does not have the means to ensure that their rules are being enforced.
Asked for com­ment on EC access, ICE spokesper­son Gail Mon­tene­gro told In These Times that because male and female detainees are housed in sep­a­rate units, there is lit­tle to no need for emer­gency con­tra­cep­tion. Con­sen­su­al sex is not allowed in deten­tion cen­ters, she said.
Michelle Brané, direc­tor of the Migrant Rights and Jus­tice pro­gram at the Women's Refugee Com­mis­sions, says this is a com­mon answer giv­en by ICE offi­cials to ques­tions about con­tra­cep­tives, but ​"that's not the right answer. That's not a good answer." Debat­ing whether con­sen­su­al sex takes place or not miss­es the point, she says, because it doesn't account for sex­u­al assault.
ICE says it main­tains a ​"zero-tol­er­ance pol­i­cy" towards sex­u­al abuse. And an ear­li­er ver­sion of PBNDS, pub­lished in 2008, con­tained steps such as unan­nounced inspec­tions and reg­u­lar facil­i­ty vis­its to pre­vent and stop sex­u­al abuse in deten­tion cen­ters, accord­ing to an ICE state­ment. ICE reports that it tried to ensure those stan­dards were enforced. In 2009, ICE hired more than 40 Deten­tion Ser­vice Man­agers to check on deten­tion stan­dards enforcement.
Accord­ing to the ACLU, how­ev­er, which obtained ICE's records through a Free­dom of Infor­ma­tion Act request in 2011, there were around 200 alle­ga­tions of sex­u­al assault against guards and inmates in immi­grant deten­tion cen­ters from 2007 – 2011. Though many cas­es involved male guards assault­ing female detainees, cas­es of assault among inmates and of detainees assault­ed on their way to the air­port to be deport­ed were record­ed as well.
Plus, as Brané points out, not every case of assault is like­ly to be report­ed. ​"We've had cas­es come to our atten­tion in which ICE or the local facil­i­ty staff or admin­is­tra­tion has not tak­en seri­ous­ly alle­ga­tions of sex­u­al assault," Brané said. ​"Or where peo­ple are afraid of say­ing some­thing because they don't feel [safe enough to go to a] person."
PBNDS 2011 was an effort to improve upon the 2008 stan­dards by fill­ing gaps in ser­vices, includ­ing med­ical and men­tal health­care, and sex­u­al assault response stan­dards. But it's still vague — it pro­vides its pris­ons with guide­lines for poli­cies, and then orders all facil­i­ties to write their own poli­cies regard­ing sex­u­al abuse pre­ven­tion and response. As a result, there are incon­sis­ten­cies across the board in these poli­cies' effec­tive­ness against sex­u­al assault, includ­ing access to emer­gency con­tra­cep­tion, wrote Lovisa Stan­now, exec­u­tive direc­tor of advo­ca­cy group Just Deten­tion Inter­na­tion­al, in a 2012 Huff­in­g­ton Post arti­cle.
Brané agrees that the poten­tial for high­ly var­ied reg­u­la­tions results in con­fu­sion among facil­i­ty author­i­ties. ​"His­tor­i­cal­ly, what we have found is that deten­tion staff and admin­is­tra­tion gen­er­al­ly have very lit­tle knowl­edge on what the direct pro­ce­dures are," Brané says. When deten­tion cen­ter offi­cials are asked about pro­ce­dures address­ing sex­u­al assault, offi­cials pref­ace their answers with ​"if it's a valid claim," Brané says.
When asked for elab­o­ra­tion on what a ​"valid claim" is, offi­cials grow frus­trat­ed and angry, Brané says. Because of this, she doubts that detainees are reg­u­lar­ly giv­en access to the repro­duc­tive health care they need. ​"I can say pret­ty con­fi­dent­ly, I don't think [emer­gency con­tra­cep­tion] being pro­vid­ed [in response to assault] is very con­sis­tent," con­tin­ues Brané, who has done exten­sive research on deten­tion cen­ters. ​"I think peo­ple would real­ly have to insist upon it to get it."
Should DHS final­ly pro­vide a final draft on PREA, the con­tracts ICE signed with its pri­vate pris­ons pose anoth­er chal­lenge. In order to imple­ment PREA in all deten­tion cen­ters, ICE must change those con­tract terms, accord­ing to com­ments sub­mit­ted by Deten­tion Watch Net­work on DHS's ini­tial PREA draft. Cur­rent­ly, as PBNDS 2011 man­dates, deten­tion cen­ters draft their own stan­dards on sex­u­al abuse pre­ven­tion. Pre­sum­ably, ICE could change the terms of the con­tracts when they are renewed. But, in many cas­es, Deten­tion Watch points out, con­tracts don't have an end date — they go on indef­i­nite­ly until either par­ty decides to end the contract.
Brané says ICE is often unwill­ing to insist on con­di­tion improve­ment in pri­vate deten­tion cen­ters because that would open up con­tract nego­ti­a­tions. Accord­ing to Brané, ICE is specif­i­cal­ly afraid pris­ons might ask for more bed space, which ICE would have to pay for. But there is no need for ICE to shy away from the prospect of rene­go­ti­a­tion, she points out, because con­tracts are a busi­ness deal, and ICE is the customer.
Though Gre­w­al points out that the high cost of doc­tors and med­ica­tions means it's in cor­po­ra­tions' best inter­ests to min­i­mize the med­ical ser­vices they offer detainees, ICE could eas­i­ly lever­age its posi­tion as the buy­er to push for more humane con­di­tions in all pri­vate pris­ons, Brané says. In oth­er words, ICE does not have to wait for con­tracts to be up but could nego­ti­ate new ones imme­di­ate­ly after DHS releas­es the final PREA draft.
ICE spokesper­son Mon­tene­gro declined to com­ment on the mat­ter of contracts.
Med­ical con­di­tions over­all in ICE have improved vast­ly the past few years, immi­grant deten­tion advo­cates acknowl­edge. But sex­u­al assault con­tin­ues to plague deten­tion cen­ters, Brané says, and the vague poli­cies sur­round­ing respons­es to it, includ­ing avail­abil­i­ty of emer­gency con­tra­cep­tion, just aren't adequate.
​"Frankly, PREA is law, it's fed­er­al law," Brané says. As soon as DHS releas­es its final­ized PREA plans, '[ICE] just needs to comply.'
This sto­ry is part of the Repro­duc­tive Jus­tice Report­ing Project, an ini­tia­tive of the Media Con­sor­tium in part­ner­ship with the Asso­ci­a­tion of Alter­na­tive News­me­dia, made pos­si­ble with a grant from the Quixote Foun­da­tion. Learn more about this issue at www​.whereisy​our​planb​.com.
Joyce Lee
is a Fall
2013
intern at In These Times and junior at North­west­ern Uni­ver­si­ty. She is inter­est­ed in immi­gra­tion law, human traf­fick­ing and pho­to­jour­nal­ism. Her work has been pub­lished at The Chica­go Bureau, the Juve­nile Jus­tice Infor­ma­tion Exchange and Youth Pol­i­cy. Fol­low her on Twit­ter at @joyceslee.