Immigrant Detainees in Texas Launch Hunger Strike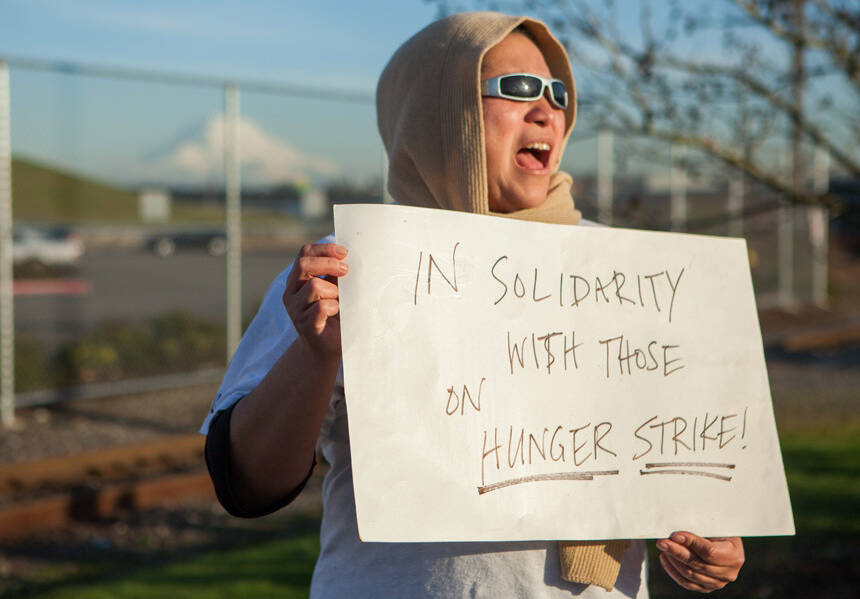 Hun­dreds of immi­grant detainees at the Joe Cor­ley Deten­tion Cen­ter in Con­roe, Texas launched a hunger strike ear­ly Mon­day morn­ing to protest unjust treat­ment and demand an end to mass depor­ta­tions around the country.
Accord­ing to Grass­roots Lead­er­ship, an Austin-based orga­ni­za­tion opposed to for-prof­it incar­cer­a­tion, the Con­roe detainees are strik­ing in sol­i­dar­i­ty with the efforts at North­west Deten­tion Cen­ter in Taco­ma, Wash., where at least 750 immi­grants began refus­ing food ear­li­er this month. As of Tues­day, some detainees were still skip­ping some meals.
Both the Taco­ma and Con­roe facil­i­ties are oper­at­ed by GEO Group, a pri­vate com­pa­ny that runs 98 detain­ment, incar­cer­a­tion and men­tal health facil­i­ties across the globe. In the past, GEO Group has been the tar­get of numer­ous alle­ga­tions that its prac­tices have result­ed in deplorable pris­on­er treat­ment and an envi­ron­ment of sys­temic vio­lence at its facilities.
In addi­tion to ask­ing for a nation­wide halt of depor­ta­tions, the strik­ers at both facil­i­ties have told advo­cates that they're protest­ing cell over­crowd­ing, dou­ble jeop­ardy for old offens­es, and unfair com­mis­sary prices. They're also demand­ing bet­ter food and improved med­ical care.
As momen­tum builds, how­ev­er, the hunger strik­ers are putting them­selves at risk of mal­nour­ish­ment and alleged retal­i­a­tion. In a press release, immi­grant rights activist Maru Mora Vil­lal­pan­do claimed, ​"At the North­west Deten­tion Cen­ter, GEO Group and ICE have retal­i­at­ed by putting lead­ers in soli­tary con­fine­ment and threat­en­ing to force-feed oth­ers. With the strike spread­ing to Texas, it's time for ICE and GEO Group to rec­og­nize the detainees' demands instead of engag­ing in retaliation."
Pri­vate-prison com­pa­nies main­tain a huge finan­cial stake in immi­grant deten­tion. In 2013, GEO Group promised not to lob­by Con­gress on issues of immi­gra­tion reform; lat­er that year, they reneged, fork­ing over $40,000 to lob­by both the House and Sen­ate on ​"alter­na­tives to deten­tion with­in ICE."
The strikes threat­en to attract pub­lic atten­tion to the deten­tion cen­ter sec­tor of the pri­vate-prison econ­o­my, where busi­ness is boom­ing. In 2012, the Asso­ci­at­ed Press report­ed that the Fed­er­al Bureau of Pris­ons was pay­ing out $5.1 bil­lion in the form of long-term con­tracts of vary­ing lengths to cor­po­ra­tions detain­ing immi­grants. In the ensu­ing years, GEO Group prof­it mar­gins have con­tin­ued to soar.
And the exec­u­tive admin­is­tra­tion's immi­gra­tion pol­i­cy has only increased the demand for deten­tion cen­ters. There were almost 100,000 immi­gra­tion pros­e­cu­tions in fis­cal year 2013, a stag­ger­ing 150 per­cent increase from 2007 lev­els. More than 30,000 immi­grants are cur­rent­ly detained every day in the Unit­ed States, and the fed­er­al bud­get actu­al­ly con­tains a pol­i­cy that ICE funds be used to, as the Wash­ing­ton Post report­ed last year, ​"keep an aver­age of 34,000 detainees per day in its custody."
Though the White House bud­get pro­pos­al for fis­cal year 2015, unveiled ear­li­er this month, removes the man­date, it still includes $1.3 bil­lion to sup­port more than 30,000 deten­tion beds—sig­nal­ing that the admin­is­tra­tion has no plans to change course any­time soon.
Andrew Mor­taza­vi
is a Spring
2014
edi­to­r­i­al intern. Fol­low him on Twit­ter at @andrewmortazavi.