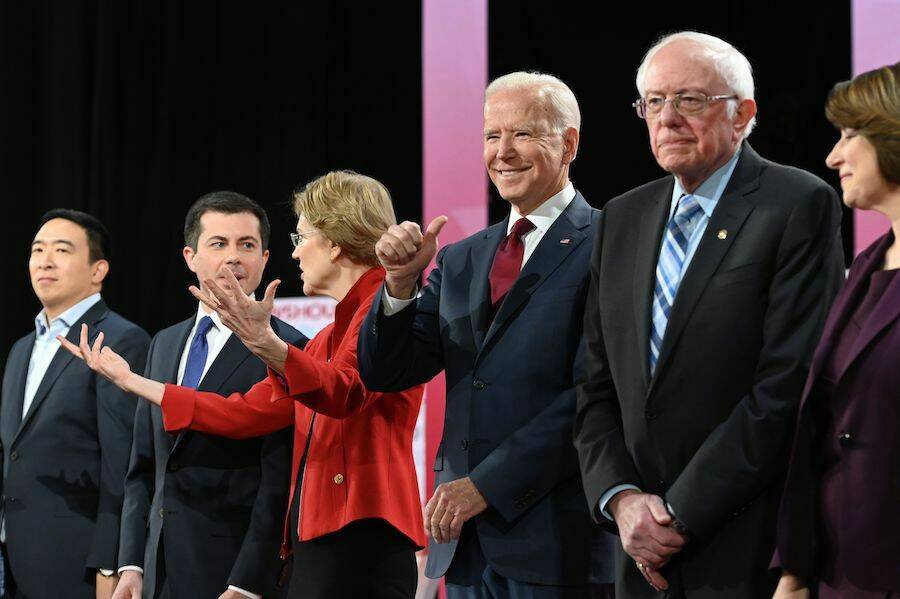 This sto­ry has been updated.
The senators are not required to be present at the trial, but given that the Senate is majority Republican, Democratic senators will likely feel an obligation to attend.
Well, it's final­ly hap­pen­ing. The Sen­ate is hold­ing an impeach­ment trial.
Some on the Left have debat­ed whether impeach­ment is a dis­trac­tion from more press­ing polit­i­cal issues. Oth­ers have crit­i­cized the Democ­rats' han­dling of a mat­ter: In a Tweet, Jamelle Bouie, an opin­ion writer for The New York Times, referred to the tim­ing of the impeach­ment dur­ing the pri­maries and the nar­row focus on Ukraine as ​"absolute polit­i­cal malpractice."
What's sure is that a Sen­ate tri­al will be a major prob­lem for the four sit­ting Sen­a­tors run­ning for the Demo­c­ra­t­ic nom­i­na­tion for pres­i­dent, includ­ing Bernie Sanders and Eliz­a­beth Warren.
For more than a year, Sanders and War­ren have been on the march around the coun­try, hold­ing town halls, ral­lies and oth­er cam­paign events. Sanders appeared in 102 events in Iowa alone between Jan. 1, 2019 and Dec. 19, 2019, while War­ren appeared in 77 events in Iowa dur­ing that peri­od. A Sen­ate impeach­ment tri­al will put a near-halt to that trav­el just as the pres­i­den­tial pri­maries take off.. With Iowa's cau­cus Feb­ru­ary 3 and New Hampshire's pri­ma­ry soon after, this could prove advan­ta­geous to the cam­paigns of the oth­er two fron­trun­ners, for­mer Vice Pres­i­dent Joe Biden and May­or Pete Buttigieg. In Politi­co, jour­nal­ist Marc Caputo quotes a Biden cam­paign advi­sor who says that if Sanders and War­ren have to be in Wash­ing­ton for impeach­ment hear­ings ​"while we're in Dubuque[, Iowa], that's their problem."
But it appears the can­di­dates have some workarounds in mind. Sean Bag­niews­ki, chair of the Polk Coun­ty Demo­c­ra­t­ic Par­ty in Iowa, told Politi­co that can­di­dates do not have to remain on the cam­paign trail every day to remain rel­e­vant. He argues that if War­ren and Sanders could make their way to the liv­ing rooms of Iowans through TV cov­er­age of impeach­ment, it would be a net pos­i­tive for their campaigns.
The Sanders and War­ren cam­paigns, as well as the orga­ni­za­tions that have endorsed them, also have plans.
Reps. Alexan­dria Oca­sio-Cortez (New York), Ilhan Omar (Minn.) and Rashi­da Tlaib (Mich.) will stand in for Sanders in Iowa. Oca­sio-Cortez has already made waves in Iowa cam­paign­ing for Sanders in Novem­ber. War­ren will report­ed­ly send her cam­paign co-chairs: Reps. Ayan­na Press­ley (Mass.), Katie Porter (Calif.) and Deb Haa­land (N.M.).
Jack Rear­don of the Iowa Cit­i­zens for Com­mu­ni­ty Improve­ment Action Fund (Iowa CCI Action Fund), which recent­ly endorsed Sanders, believes grass­roots sup­port can keep the cam­paign alive.
"His cam­paign­ing has knocked on the most doors in Iowa and made the most calls," says Rear­don, "[Bernie] believes in the pow­er of move­ment pol­i­tics and orga­niz­ing every­day to make that change."
Rear­don empha­sizes that regard­less of the tim­ing of the hear­ings, the Demo­c­ra­t­ic nom­i­nat­ing con­tests will be decid­ed by turnout. ​"Get out there and orga­nize!" he tells Sanders sup­port­ers. ​"Change hap­pens from the bot­tom up. The only way the people's can­di­date wins on cau­cus night is when peo­ple get out there and orga­nize their fam­i­ly, friends and neigh­bors and build a people/​planet first movement."