In D.C.'s Wealthiest Suburbs, It's Round 2 in the Fight for $15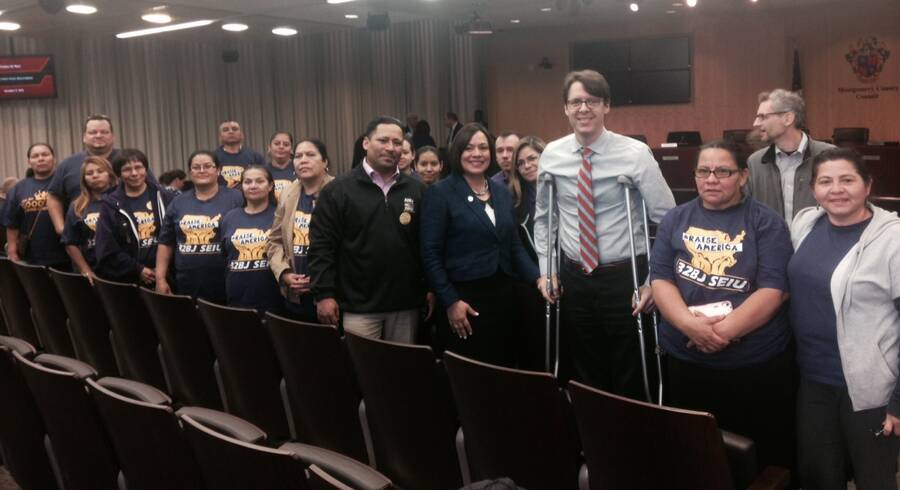 Undeterred by a stinging defeat earlier this year, a union-backed push for a $15-an-hour wage is back on in the Washington, D.C. suburbs — home to many of the senior civil servants, lobbyists and office workers that run key federal agencies.
Maryland's Montgomery County Council will begin considering a revised bill later this month to raise the minimum hourly wage from $11.50 to $15, and the outlook is hopeful, says Democratic Councilman Marc Elrich, the chief sponsor. ​"We are almost there," Elrich says. ​"I'm confident we'll make it this time."
Supporters have already lined up enough votes to pass it, Elrich says. The most powerful obstacle remains opposition from Democratic County Executive Ike Leggett, who vetoed a similar measure in January but has so far made no public decision on the new version of the bill introduced in July.
"As we get closer to the election, we are getting closer to a veto-proof majority," in favor of the higher minimum, says Gino Renne, president of United Food & Commercial Workers (UFCW) Local 1994. Though the elections are not until next year, Renne says that organizing around the Democratic primary elections for County Council has already begun and is tilting the playing field in favor of $15. The campaigning is energizing progressive elements in the county with the emergence of new, left-leaning candidates, some of whom are sharply critical of the more middle-of-the-road Leggett.
Montgomery County, a sprawling network of suburban towns that is home to around one million people, is known primarily for its affluence. With a median household income of $98,917, Montgomery is among the wealthiest counties in the country. Suburban towns like Bethesda and Chevy Chase are emblematic of the class divide in the D.C. region, standing out as suburban islands of privilege for the affluent, while lower-income minorities remain largely confined to the urban enclaves of D.C.
But Montgomery is also home to a well-established group of labor unions that is able to make its power felt in local politics, says Jaime Contreras, vice president of Service Employees International Union (SEIU) Local 32BJ. SEIU, the force behind the broader Fight for $15 campaign, has joined with UFCW, Laborers International Union of North America and other unions to provide institutional support for the higher minimum wage push in Montgomery.
"I wouldn't say that the prospects are bright exactly, but they are promising," says Contreras. ​"On the County Council we have five votes for the $15, which is enough to pass it. But we need six votes for a veto-proof majority. We don't have that yet."
But Contreras agrees with UFCW's Renne that the upcoming County Council elections are shifting the political ground in favor of the higher wage. Meanwhile, the state's Democratic gubernatorial primary is heating up, and several of the leading candidates are supporters of the Fight for $15. ​"Workers can really use some help from their local government, because they are not getting it from the White House," says Contreras.
To avoid another veto, Councilman Elrich tells In These Times that supporters plan to amend the bill in response to some of the complaints of its opponents. For example, small businesses will be given additional time to phase in the higher wage, and supporters are willing to negotiate other minor changes to attract additional Council votes. Elrich didn't want to lay out specific compromises, saying instead that proponents of the $15 bill are ​"open" to well-intentioned proposals that would broaden support.
"There is a process of hearings and amendments that will take place, so we have a chance to make refinements or improvements that should get us additional votes," says Elrich. ​"I think we should get to six votes — the veto-proof majority — by early October."
In an attempt to justify his veto of the wage increase, County Executive Leggett commissioned a study earlier this year that claimed the county would lose 47,000 jobs as a result of the raise. Supporters of the $15 push, however, criticized the report's methodology and its findings. The study was ​"just crap" designed to back up Leggett's opposition, says Elrich. And an examination of the study led the D.C.-based Economic Policy Institute to label it ​"junk science."
Leggett was forced to acknowledge the potential flaws in the study, Renne explains, and that is setting a positive tone for discussion around the bill scheduled to be considered later this month. ​"Leggett said he is willing to sign the bill if it won't be harmful to local businesses. His own study doesn't back up any criticism on those grounds," Renne says. ​"At the end of the day, I think Leggett will reconsider and sign the bill."
Bruce Vail
is a Baltimore-based freelance writer with decades of experience covering labor and business stories for newspapers, magazines and new media. He was a reporter for Bloomberg BNA's Daily Labor Report, covering collective bargaining issues in a wide range of industries, and a maritime industry reporter and editor for the Journal of Commerce, serving both in the newspaper's New York City headquarters and in the Washington, D.C. bureau.