In Defense of a Free Press
Journalist Sarah Olson talks about her defiance in the face of a subpoena by the Army, the rights of U.S. journalists and what the wider context is of the Army's court martial of First Lt. Ehren Watada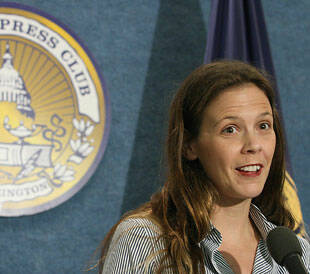 Sarah Olson, a jour­nal­ist based in the San Fran­cis­co Bay area, has became a hero for Amer­i­cans con­cerned about the ero­sion of press free­doms in the Bush era. On May 30, 2006, Olson inter­viewed Army First Lieu­tenant Ehren Wata­da, the first com­mis­sioned offi­cer to pub­licly refuse deploy­ment to Iraq, for the Web site truthout​.org and Paci­fi­ca Radio. For that refusal, on Feb. 5, the Army hauled him before a mil­i­tary court in Fort Lewis, Wash­ing­ton, for a court-mar­tial. The Army charged him with one count of ​"miss­ing move­ment," for refus­ing to deploy to Iraq, and four counts of con­duct unbe­com­ing an offi­cer and a gen­tle­man – two of which stem from state­ments he made to indi­vid­ual jour­nal­ists regard­ing his oppo­si­tion to the Iraq war.
To help make their case, in Decem­ber, the U.S. mil­i­tary sub­poe­naed Olson to tes­ti­fy in Watada's mil­i­tary tri­al, where if con­vict­ed he could face a year in jail for each of the two charges relat­ed to speak­ing with Olson and, on a sep­a­rate occa­sion, Greg Kake­sako of the Hon­olu­lu Star-Bul­letin.
The sub­poe­na required Olson to appear in court on behalf of the pros­e­cu­tion to ver­i­fy Watada's state­ments, even though audio files were avail­able on the Inter­net. If she refused to com­ply, she risked a felony charge and six months in jail.
So, Olson start­ed a cam­paign to chal­lenge the sub­poe­na. On Jan. 29, bow­ing to pub­lic pres­sure, the Army dropped the sub­poe­na against Olson just pri­or to the start of the tri­al. The defense and the pros­e­cu­tion had reached a deal: Wata­da would ver­i­fy the state­ments attrib­uted to him and in response the pros­e­cu­tion would drop the two charges result­ing from state­ments he made to jour­nal­ists. Watada's court-mar­tial result­ed in a mis­tri­al on Feb. 7, when the mil­i­tary judge nul­li­fied the Stip­u­la­tion of Facts accept­ed by the pros­e­cu­tion and the defense. A new tri­al will begin on March 19.
For uphold­ing the First Amend­ment right to free­dom of the press, Olson will receive the James Madi­son Award from the Soci­ety of Pro­fes­sion­al Jour­nal­ists on March 13. The award is named after Madi­son, the fourth Pres­i­dent of the Unit­ed States and the cre­ative force behind the First Amendment.
In These Times recent­ly spoke with Olson about her case, its sig­nif­i­cance and the chal­lenges cur­rent­ly fac­ing defend­ers of the First Amendment.
A num­ber of jour­nal­ists have recent­ly been sub­poe­naed to reveal their con­fi­den­tial sources and/​or hand over unpub­lished mate­r­i­al. How was your sit­u­a­tion different?
It was a mil­i­tary court that sub­poe­naed me, rather than a civil­ian court. The mil­i­tary is the only place that I know of where peo­ple in the Unit­ed States can be charged with mak­ing per­son­al polit­i­cal state­ments. For me, that's the biggest difference.
Why didn't you just ver­i­fy what Lt. Wata­da said and get it over with?
It's a journalist's job to report the news, not to par­tic­i­pate in the government's pros­e­cu­tion of per­son­al polit­i­cal speech. These kinds of sub­poe­nas erode the bar­ri­er between press and gov­ern­ment. When speech itself is a crime, jour­nal­ists are turned into an inves­tiga­tive tool of the gov­ern­ment. It also scares jour­nal­ists away from cov­er­ing sto­ries that may not be pop­u­lar with the cur­rent administration.
How would you com­pare your sit­u­a­tion to that of for­mer New York Times cor­re­spon­dent Judith Miller?
Judy Miller's case is about reveal­ing con­fi­den­tial sources and who leaked clas­si­fied infor­ma­tion about some­thing. Every­thing Lt. Wata­da said is on the record. So it's not the typ­i­cal frame­work peo­ple think of when they think of jour­nal­ists being sub­poe­naed. This case is about pre­serv­ing the right of ordi­nary Amer­i­cans, par­tic­u­lar­ly men and women in the armed ser­vices, to speak to the press with­out fear of ret­ri­bu­tion or cen­sure. A num­ber of peo­ple have sug­gest­ed that the Army may be using his court-mar­tial to send a mes­sage to the rest of the mil­i­tary that pub­lic oppo­si­tion to the war isn't going to be tolerated.
A lot of peo­ple are real­ly down on Judy Miller. I can under­stand that because she may have done more than any oth­er sin­gle per­son in the Unit­ed States to help cre­ate the war in Iraq. Her con­sis­tent­ly bad report­ing and unwill­ing­ness to ver­i­fy the accu­ra­cy of the things she was say­ing is one of the rea­sons that we're in the war today. America's thresh­old for bring­ing jour­nal­ists into court has been sig­nif­i­cant­ly low­ered in part because of Judy Miller.
Josh Wolf, anoth­er Bay Area-based media work­er, is in jail for refus­ing to hand over his unpub­lished mate­r­i­al. Do you think your vic­to­ry is rel­e­vant to his case?
I cer­tain­ly hope to raise aware­ness about his case. Josh was work­ing as an inde­pen­dent video­g­ra­ph­er – he sold his footage of a San Fran­cis­co protest against the G8 Sum­mit in 2005 to the local news – and the local/​federal law enforce­ment agen­cies want­ed his unpub­lished out­takes. That's total­ly pro­tect­ed under the Cal­i­for­nia state shield law. [The shield law pro­tects a jour­nal­ist from being held in con­tempt of court for refus­ing to dis­close unpub­lished infor­ma­tion that was gath­ered for news pur­pos­es, whether the source is con­fi­den­tial or not.] The pros­e­cu­tor got around that by con­ven­ing a fed­er­al grand jury, say­ing that a cop car alleged­ly set on fire dur­ing the protest was pur­chased in part by fed­er­al dollars.
On Feb. 6, he broke the record for the longest num­ber of days that a jour­nal­ist in the Unit­ed States has been incar­cer­at­ed for not hand­ing over his unpub­lished mate­r­i­al to a fed­er­al grand jury. It's pos­si­ble that Josh will con­tin­ue to sit in prison after hav­ing bro­ken no law what­so­ev­er, which is an infu­ri­at­ing and gross injustice.
Did you ever waver in your deci­sion to chal­lenge the subpoena?
No. I was con­tact­ed by the Army in July and I was sub­poe­naed in Decem­ber. I had a lot of time to think about the sit­u­a­tion and work myself into a First Amend­ment fren­zy. By the time I was sub­poe­naed I was very clear about what the issues were.
Can you fore­see any cir­cum­stance in which you would tes­ti­fy on behalf of a gov­ern­ment prosecution?
I think a per­son could make a rea­son­able case that there are cer­tain sit­u­a­tions when jour­nal­ists should be com­pelled to reveal cer­tain pieces of information.
For exam­ple, in a hypo­thet­i­cal sit­u­a­tion, what if in the course of your inter­view some­one told you they had a nuclear bomb that was going to go off in 48 hours and they told you where it was, would you reveal that infor­ma­tion? This is just sim­ply not one of those sit­u­a­tions. Obvi­ous­ly I would take each sit­u­a­tion at its face value.
Did you learn any­thing about the rights of jour­nal­ists or the First Amend­ment that you didn't know?
Absolute­ly. The first thing is that jour­nal­ists don't real­ly have any rights. That was real­ly shock­ing to me. I wasn't aware that the courts didn't uphold a journalist's abil­i­ty to object to a sub­poe­na and I wasn't aware that you could be com­pelled to par­tic­i­pate in the pros­e­cu­tion of some­one who is speak­ing to you.
You say that media work­ers – and not just mem­bers of the press – should be cov­ered under shield laws. Why do you make that distinction?
It's impor­tant to pro­tect the whole scope of peo­ple who are engag­ing in acts of news­gath­er­ing. That includes blog­gers, Indy­media jour­nal­ists and peo­ple who are work­ing on a con­tract basis, for exam­ple, peo­ple who are work­ing as assis­tants, trans­la­tors and fix­ers in Iraq. A whole host of peo­ple work in news­gath­er­ing who are not tra­di­tion­al­ly defined as jour­nal­ists, and who don't nec­es­sar­i­ly work for the Hearst Cor­po­ra­tion or a huge paper.
Do you have any crit­i­cisms about how the media cov­ered your role in the Wata­da cases?
The media did a fine job for the most part. One of the things I've learned through this process is how chal­leng­ing it is for jour­nal­ists to fol­low sto­ries that address not just the who, what, where and when, but also the why. My sit­u­a­tion might be very dis­turb­ing to me, my fam­i­ly and my friends, but the rea­son I began speak­ing pub­licly is not because I see this as a sit­u­a­tion about me as a per­son. It's not even a sto­ry just about Lt. Wata­da. It's not about the indi­vid­ual play­ers. I think we need to think more about why we don't have a place in the dai­ly news for sto­ries that tack­le the ques­tion of why.
What are the ram­i­fi­ca­tions of the Army going after Lt. Wata­da for speak­ing out?
The Army's own num­bers show that more than 50 per­cent of the mil­i­tary is unhap­py with the war and there are a num­ber of high-pro­file objec­tion cas­es or AWOL cas­es. This is the con­text in which Lt. Watada's court-mar­tial is hap­pen­ing – it's a very polit­i­cal con­text. I do believe that the Army would like to send a mes­sage in some way.
I think that Lt. Watada's court-mar­tial will set legal prece­dent for decades into the future about what's allow­able speech, and it will set a polit­i­cal tone today for what is tol­er­at­ed in terms of dissent.
We don't know what is going to hap­pen to Lt. Wata­da. What do you hope peo­ple take away from his court-mar­tial and your role in his case?
I hope there is greater sup­port in the Unit­ed States for jour­nal­ists to be able to gath­er and dis­sem­i­nate news with­out the gov­ern­ment inter­fer­ing in that process. That fun­da­men­tal notion of press free­dom is not as irrel­e­vant to indi­vid­u­als and insti­tu­tions as we some­times think. When jour­nal­ists are able to fight back against these sub­poe­nas, it's pos­si­ble for them to be dropped.
With regards to Lt. Watada's sit­u­a­tion, I want to under­score that there is a grow­ing amount of dis­sent with­in the mil­i­tary. A major­i­ty of the troops in Iraq would like to come home, and active duty mem­bers of the mil­i­tary are increas­ing­ly find­ing ways to express their dis­con­tent and oppo­si­tion to the war. It is very impor­tant that we have a media that can cov­er that perspective.