In Egypt, Arab World's 'Largest Social Movement' Gains Steam Among Workers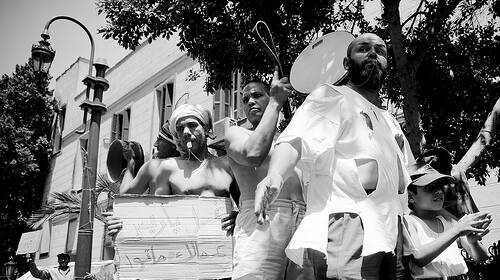 CAIRO, EGYPT — They banged rocks on met­al bar­ri­cades that pinned them to the side­walk. They pound­ed drums. And if that wasn't enough, they blew whis­tles with all the wind they had left. (A video of the protest is here.)
The ruckus on a steamy Cairo after­noon (see video beow) was absolute­ly deaf­en­ing in a place where such dis­or­der was taboo and quite dan­ger­ous only a few years ago. But here were dozens of strag­gly, sweaty work­ers from a fac­to­ry out­side of Cairo, sleep­ing night­ly on the side­walk in front of one of the hous­es of the Egypt­ian par­lia­ment and dai­ly rais­ing a noisy, eye-catch­ing hell along one of the Cairo's busiest down­town streets.
They were just one of the many groups of work­ers who have tak­en to Egypt's streets in the last few years, cre­at­ing a wave that has swept up pri­vate work­ers, pub­lic employ­ees and work­ers in the government's vast ware­house of state-owned industries.
The surge is stun­ning because it open­ly defies Egypt's tra­di­tion­al union lead­er­ship, which is close­ly linked to the gov­ern­ment and pokes its fin­gers in the face of a secu­ri­ty-mind­ed régime that has led the coun­try for the last 29 years under emer­gency powers.
It is esti­mat­ed that over 2 mil­lion work­ers have tak­en part in over 3,300 fac­to­ry occu­pa­tions, strikes, demon­stra­tions or oth­er forms of protest since 2004.
For Egypt's pol­i­tics, for the country's work­ers and for parts of the Arab world, where unions are nei­ther free nor even exist, what's been hap­pen­ing in down­town Cairo has been more than riveting.
Joel Beinin, a Stan­ford Uni­ver­si­ty pro­fes­sor, describes it as ​"the largest mod­ern labor move­ment in Egypt and the largest social move­ment in the Arab world since World War II." But for the aver­age Egypt­ian it's a guess­ing game whether it will have any last­ing effects or van­ish with a hand­ful of deals.
What has brought the work­ers' blood to a boil is less of a mystery.
A much-detailed report released ear­li­er this year by the AFL-CIO's Sol­i­dar­i­ty Cen­ter on the roots of the unrest points to the steady growth in unem­ploy­ment for aver­age work­ers and dete­ri­o­rat­ing con­di­tions for those strug­gling by on low wages. Beinin, a lead­ing expert on Egypt­ian labor, was the major writer.
Life is, indeed, dire for some Egyptians.
Unchanged since 1984, the min­i­mum wage in Egypt today is about $7 a month. Many work­ers earn more than that, but just bare­ly, accord­ing to Egypt­ian news reports. The aver­age gov­ern­ment work­er, for exam­ple, earns about $70 a month, said al Ahram, a gov­ern­ment-owned newspaper.
Despite eco­nom­ic gains and shim­mer­ing sub­urbs on Cairo's edges, pover­ty haunts Egypt.
An esti­mat­ed 40 per­cent of the 80 mil­lion Egyp­tians earn less than $2 a day, which puts them under the inter­na­tion­al stan­dard for pover­ty. But it is not just their low wages that has angered Egypt­ian work­ers. Many of the demon­stra­tions in the last few years have involved work­ers angry about bro­ken promis­es from their boss­es. So, too, after the gov­ern­ment stepped up its pri­va­ti­za­tion of state-owned busi­ness­es sev­er­al years ago, work­ers' com­plaints took off.
Rather than boost­ing work­ers' pay and con­di­tions, pri­va­ti­za­tion, accord­ing to the Sol­i­dar­i­ty Cen­ter report, has brought less job secu­ri­ty, longer hours and low­er social stan­dards for the workers.
The com­plaint from the work­ers from the Amon­si­to tex­tile fac­to­ry, who were sleep­ing in front of the par­lia­ment, was that the own­er of their fac­to­ry had fled the coun­try due to finan­cial prob­lems and left the fac­to­ry and them to floun­der.
The bank that took over the plant even­tu­al­ly shut it, leav­ing the work­ers to rely on occa­sion­al pay­ments from the Min­istry of Man­pow­er and Immi­gra­tion, accord­ing to the inde­pen­dent news­pa­per al Mas­ry al Youm.
Dri­ven to finan­cial des­per­a­tion, the work­ers had camped out­side of the par­lia­ment sev­er­al months ago, and that led to a deal from the bank to make one-time fac­to­ry clos­ing pay­ments to the factory's 1,700 work­ers. But when the pay­ments were not forth­com­ing, the work­ers returned to the sidewalk.
"We are not going to fight or make trou­ble. We are just going to stay here until the gov­ern­ment imple­ments the agree­ment to pay us the mon­ey," vowed Khaled el Shishawy.
A short, mus­cu­lar man in his 40s with 20 years at the fac­to­ry, he patrolled the line-up of demon­stra­tors as pas­sen­gers in hun­dreds of cars stalled in the rush hour traf­fic stared at them and at the dozens of police and secu­ri­ty forces lined up fac­ing the work­ers.

The work­ers didn't want their clos­ing mon­ey, but they had no choice since there are no oth­er jobs for them, el Shishawy said. ​"We call this ​'ear­ly death mon­ey,'" he explained over the din. ​"The old­er peo­ple will not be able to find work again but the younger ones will try. But even they can't find work."
They weren't the only pro­test­ers on the street. Near­by was a group of dis­abled com­plain­ing about the lack atten­tion to their needs. And there was a father protest­ing inad­e­quate edu­ca­tion for his children.
To keep their demon­stra­tion going, the work­ers were tak­ing shifts on the street. That allowed them to go home occa­sion­al­ly to scrounge for mon­ey for the fam­i­lies. In the mean­while, they exper­i­ment­ed with new ways to catch the atten­tion of the Egypt­ian news media. Some days they tore their shirts to show their pover­ty. Some days they held fake funerals.
And when the heat became unbear­able, they prayed en masse in the ear­ly mornings.
To Hos­sam el Hamal­away, a jour­nal­ist and pho­tog­ra­ph­er who has doc­u­ment­ed Egypt's labor unrest, the ​"strikes are impor­tant because Egypt is going through an era of tran­si­tion." Spurred by the dar­ing shown by polit­i­cal demon­stra­tors, the work­ers ​"got courage," he said.
Indeed, a turn­ing point came in Decem­ber 2007, labor experts say, when work­ers rep­re­sent­ing 3,000 munic­i­pal real estate tax col­lec­tors occu­pied a Cairo street in front of a gov­ern­ment Min­istry build­ing. Their 11-day long protest net­ted an agree­ment for a hefty salary increase.
Plus they were able to form the first inde­pen­dent union since the Egypt­ian Trade Union Fed­er­a­tion was cre­at­ed a half cen­tu­ry ear­li­er. But the Amon­si­to work­ers' deter­mi­na­tion not to budge crum­bled in min­utes near the end of May.
In a sud­den show of force, gov­ern­ment secu­ri­ty forces cleaned them and any oth­er protest­ing work­ers off the streets in front of the par­lia­ment. Offi­cials said they were react­ing to threats from the Amon­si­to work­ers, and ordered the secu­ri­ty forces to deal lenient­ly with the demon­stra­tors, accord­ing to al Ahram.
In con­trast, the work­ers com­plained that the secu­ri­ty forces had blud­geoned them with­out rea­son, leav­ing sev­er­al bruised and bat­tered, accord­ing to an arti­cle by the Egypt Dai­ly News.
Not long after­ward, a hand­ful of the Amon­si­to work­ers gath­ered in a run­down build­ing in anoth­er part of Cairo along with oth­ers who share their work­place woes.
It didn't mat­ter that they had been swept off the street, con­fi­dent­ly explained el Shishawy. His fel­low work­ers would take up their protests out­side oth­er gov­ern­ment build­ings in Cairo, he said.
What the work­er activists most­ly want­ed to talk about was how to get their word out to work­ers around the world. They didn't think any­one had heard about their struggles.
And because they are dis­si­dents, try­ing to form inde­pen­dent unions out­side of the gov­ern­ment-con­trolled orga­ni­za­tions, they said they had no idea how to reach beyond Egypt. ​"We are not afraid," said one mid­dle-aged fac­to­ry work­er. ​"But we don't know who to talk to."
Abel Kad­er Nada, a vet­er­an work­er and an offi­cial in the new­ly formed union for real estate tax col­lec­tors, was there to brain­storm with the oth­ers about a joint strategy.
Until his fel­low work­ers protest­ed, he said he had nev­er been involved in union activ­i­ties. But that came to an end with their protest. And their luck in land­ing hand­some wage increas­es, he added, wasn't the only rea­son for the change of mind that he and oth­ers experienced.
"It gave us courage," he explained.
Stephen Franklin is a for­mer labor and work­place reporter for the Chica­go Tri­bune, was until recent­ly the eth­nic media project direc­tor with Pub­lic Nar­ra­tive in Chica­go. He is the author of Three Strikes: Labor's Heart­land Loss­es and What They Mean for Work­ing Amer­i­cans (2002), and has report­ed through­out the Unit­ed States and the Mid­dle East.