In Honduras, Resistance Against Ruling Party Continues Despite Peril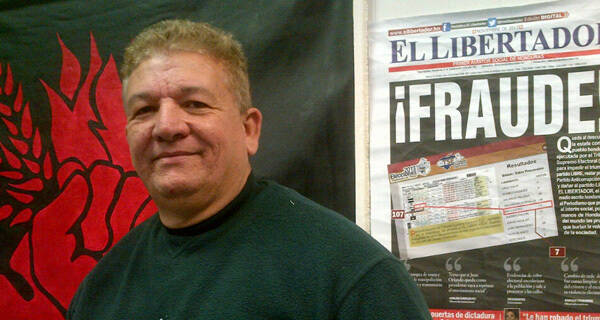 Hon­duras has been named one of the most dan­ger­ous coun­tries for jour­nal­ists. In the last four years, at least 15 have been assas­si­nat­ed, with the mur­ders wide­ly attrib­uted to the nation's envi­ron­ment of polit­i­cal strife, repres­sion, drug traf­fick­ing and cor­rup­tion. And since Juan Orlan­do Hernán­dez of the con­ser­v­a­tive Nation­al Par­ty won the now-con­test­ed Novem­ber 24 pres­i­den­tial elec­tion, many jour­nal­ists say they've faced even more hazards.
Edgar­do Cas­tro, an out­spo­ken TV and radio reporter with the major media com­pa­ny Globo, told In These Times that when he returns to Hon­duras from a trip to Chica­go to talk with sup­port­ers and escape the imme­di­ate risk of vio­lence post-elec­tion, he will be ​"in dan­ger every­where, all the time." In Novem­ber, Cas­tro was also elect­ed to Con­gress as a rep­re­sen­ta­tive of the oppo­si­tion LIBRE par­ty, which formed after the 2009 coup that removed then-Pres­i­dent Manuel Zelaya from power.
Like many LIBRE politi­cians and advo­cates, Cas­tro has been receiv­ing an increas­ing num­ber of death threats in the last few weeks. The evening before the elec­tion, two lead­ers of a rur­al farm­ers' group, who were also LIBRE mem­bers, were mur­dered after leav­ing a poll-watch­er train­ing. A week lat­er, high-pro­file LIBRE activist José Anto­nio Ardon was kid­napped and then found dead. And on Decem­ber 7, Castro's Globo col­league Juan Car­los Argeñal Med­i­na — a LIBRE sup­port­er — was mur­dered in his home.
Help keep this report­ing pos­si­ble by mak­ing a dona­tion today.
Despite the obvi­ous per­il, Cas­tro said he will keep report­ing about cor­rup­tion and polit­i­cal repres­sion. And he will con­tin­ue work­ing with the resis­tance move­ment, which is chal­leng­ing the elec­tion results and demand­ing polit­i­cal reform.
LIBRE's pres­i­den­tial can­di­date in Novem­ber was Xiomara Cas­tro, wife of deposed pres­i­dent Zelaya (and no rela­tion to Edgar­do). She and her fol­low­ers are stri­dent­ly opposed to the poli­cies of out­go­ing pres­i­dent Por­firio ​"Pepe" Lobo, a Nation­al Par­ty mem­ber who has spent the last four years imple­ment­ing aus­ter­i­ty and pri­va­ti­za­tion pro­grams, includ­ing a World Bank-backed con­ser­v­a­tive edu­ca­tion over­haul and var­i­ous moves to increase for­eign invest­ment. Xiomara Cas­tro, by con­trast, advo­cat­ed for more con­trols on min­ing and ener­gy invest­ment by for­eign com­pa­nies, more scruti­ny of big busi­ness own­ers and more sup­port for small farm­ers and workers.
In the years since the coup, union mem­bers, includ­ing teach­ers, civ­il ser­vants and fac­to­ry work­ers, have been tar­gets of vio­lence and intim­i­da­tion. Human-rights and labor lead­ers believe that these attempts at repres­sion are tac­it­ly or direct­ly backed by the gov­ern­ment and the mem­bers of the oli­garchy—a small num­ber of fam­i­lies who have much polit­i­cal and eco­nom­ic power.
​"In Hon­duras it is pro­hib­it­ed to have more than a cer­tain amount of land under agrar­i­an reform laws, yet a few fam­i­lies con­trol [almost] all the land, all the air­ports, the police," said Cas­tro. ​"They're dis­man­tling our pub­lic edu­ca­tion, our pub­lic health care … Hon­durans don't have access to their own institutions."
A Novem­ber report by the Wash­ing­ton, D.C.-based Cen­ter for Eco­nom­ic and Pol­i­cy Research found that income inequal­i­ty, pover­ty and unem­ploy­ment wors­ened sig­nif­i­cant­ly in Hon­duras after the 2009 coup, while spend­ing on social ser­vices was cut dras­ti­cal­ly. Unem­ploy­ment and ​"invol­un­tary part-time work" has risen from 6.8 per­cent to 14.1 per­cent since 2008, and the num­ber of peo­ple work­ing full-time but not mak­ing min­i­mum wage went from 28.8 per­cent of the labor force to 43.6 per­cent in 2012.
The report con­clud­ed, ​"In the two years after the coup, Hon­duras had the most rapid rise in inequal­i­ty in Latin Amer­i­ca and now stands as the coun­try with the most unequal dis­tri­b­u­tion of income in the region. … [More than] 100 per­cent of all real income gains in in 2010 and 2011 went to the wealth­i­est 10 per­cent of Hondurans."
Cas­tro told In These Times he expects these dis­mal work­ing con­di­tions and the repres­sion of unions and pub­lic work­ers to only get worse if the elec­tion results are allowed to stand.
The Orga­ni­za­tion of Amer­i­can States, the Euro­pean Union and the U.S. gov­ern­ment have deemed the elec­tion valid. But seri­ous con­cerns have been raised by promi­nent observers, includ­ing Span­ish judge Bal­tasar Gar­zon and EU del­e­gate and Aus­tri­an jour­nal­ist Leo Gabriel. Advo­ca­cy groups, includ­ing the Hon­duras Sol­i­dar­i­ty Net­work and the Nation­al Lawyers Guild, have also report­ed violations.
Cas­tro recent­ly spoke to sup­port­ers at a Chica­go event host­ed by the local sol­i­dar­i­ty group La Voz de los de Aba­jo to show­case their expe­ri­ence in Hon­duras as part of a del­e­ga­tion of offi­cial­ly cer­ti­fied U.S. elec­tion observers. In addi­tion to wit­ness­ing rel­a­tive­ly minor irreg­u­lar­i­ties them­selves at polling places, La Voz mem­bers said they heard tes­ti­mo­ny before and after the elec­tion from numer­ous cit­i­zens who described more seri­ous trans­gres­sions, includ­ing wide­spread reports that the Nation­al Par­ty was buy­ing votes with hun­dreds of dol­lars in cash or cement and build­ing mate­ri­als for poor areas.
Hon­durans told the U.S. vis­i­tors that vio­lence and threats have also played a seri­ous role in pre­emp­tive­ly sup­press­ing oppo­si­tion votes. At the Chica­go event, La Voz del­e­ga­tion mem­ber Eric Tor­res Alvarez showed video of the funer­als of the two lead­ers from the Cen­tral Nacional de Tra­ba­jadores del Cam­po (CNTC, or Nation­al Rur­al Work­ers Cen­ter) who were mur­dered on the eve of the election.
​"No one from that town vot­ed the next day," not­ed La Voz mem­ber Vic­ki Cervantes.
In the town of El Paraí­so, which is head­ed by a Nation­al Par­ty may­or and on a major drug traf­fick­ing route, armed men report­ed­ly held elec­tion observers in a hotel with­out allow­ing them to do their work. The Cen­ter for Eco­nom­ic and Pol­i­cy Research report­ed that ​"the intim­i­da­tion seems to have its desired effect," as El Paraí­so logged 85 per­cent vot­er turnout with 81 per­cent of the vote going to the Nation­al Par­ty, "[more than] 11 per­cent­age points high­er than in any oth­er city in the entire country."
Crit­ics say that in addi­tion to vot­er sup­pres­sion and intim­i­da­tion, the rul­ing par­ty may have stolen the elec­tion through mis­re­port­ing vote totals from indi­vid­ual polling places to the cen­tral elec­toral tri­bunal. LIBRE and anoth­er oppo­si­tion par­ty — which togeth­er got almost half the votes — have thus called for a recount of paper ballots.
Through­out his talk in Chica­go, Cas­tro denounced the rul­ing party's tac­tic of call­ing oppo­si­tion mem­bers ​"ter­ror­ists" and ​"Com­mu­nists." In return, he vowed that the opposition's resis­tance will con­tin­ue as ​"a civ­il move­ment, like Gand­hi and Nel­son Mandela."
​"We don't have arms to fight," Cas­tro said. ​"Our only weapon is jus­tice and the desire to fight for a world where we can live and work freely. … We are fight­ing against a big giant … but we are stubborn."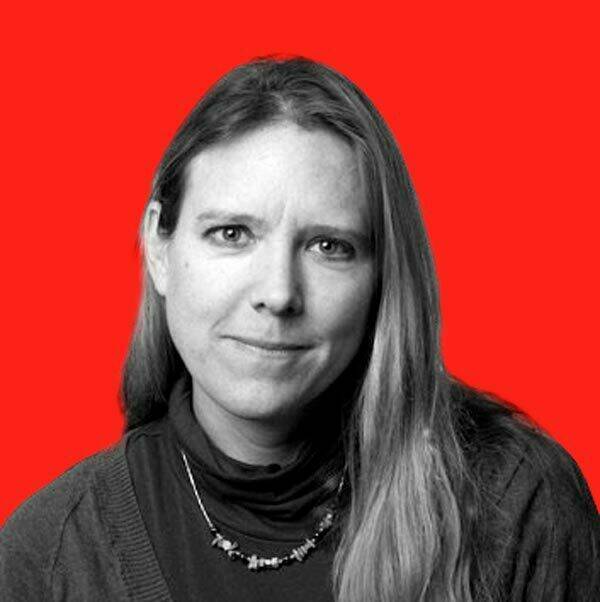 Kari Lyder­sen
is a Chica­go-based reporter, author and jour­nal­ism instruc­tor, lead­ing the Social Jus­tice
&
amp; Inves­tiga­tive spe­cial­iza­tion in the grad­u­ate pro­gram at North­west­ern Uni­ver­si­ty. She is the author of May­or
1
%: Rahm Emanuel and the Rise of Chicago's
99
%.