Unite Here and Hyatt Hit Hiccups in Peace Process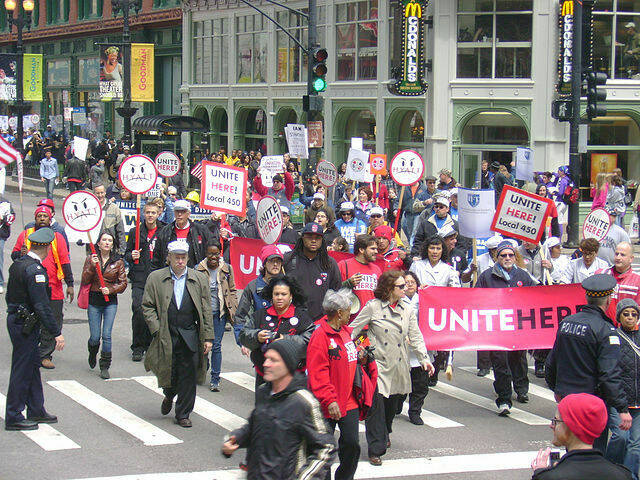 A widely heralded union peace agreement that would end a global boycott of Hyatt Hotels Corp and usher in a new era of better labor relations at the sprawling lodgings chain is hitting some potholes on the road to completion, but both sides are still expressing confidence in its ultimate success.
Announced July 1, Hyatt's ​"national agreement" with the Unite Here union was advertised as the way to quickly end bitter fights over expired labor contracts at nine hotels in four different cities and to provide a smooth path forward for settling related disputes elsewhere. At the time, Unite Here President Donald Taylor said the contracts would be finalized over the next four to six weeks. After that, a second phase would begin in which several new organizing initiatives would go forward.
Some 10 weeks later, however, Unite Here has not yet called off its ​"Hyatt Hurts" global boycott of the hotel chain, and while contract agreements have been reached in three of the four cities where collective bargaining was underway, San Francisco remains in negotiations. And the national agreement has failed to bring labor peace to Seattle, where Unite Here Local 8 launched a new boycott of the city's two Hyatt hotels on August 28.
Unite Here spokesperson Annemarie Strassel tells Working In These Times that these hiccups do not signal a breakdown of the national agreement, but simply reflect that the workplace issues are complex and time-consuming.
According to Strassel, the first important step in the agreement's implementation came with the August 8 ratification by union members of new contracts to cover about 1,500 workers at four Chicago hotels (Hyatt Regency Chicago, Hyatt McCormick Place, Park Hyatt and Hyatt Regency O'Hare). Union workers there had been without a new contract for four long years, she explains, and the new contracts include pay raises, including some retroactive raises to help cover the lost years of earnings power.
The Chicago contract was key, agrees Virginia Parks, a professor at the University of Chicago who has studied the union conflict closely. When Hyatt flatly refused to sign on to a Chicago citywide hotel agreement in 2009 it was a shock to the system, she says, and was seen as evidence of a broader union-busting effort by the hotel chain. Settling the Chicago contract became central to restoring the union's right to represent Hyatt workers nationally, according to Parks.
In this context, the new Chicago contract ratification is very good news, she says. It sets a new standard of $16.40 an hour for the basic housekeepers wage rate, up from $14.60 in 2009. ​"We sometimes think of these housekeeper jobs as low-income jobs, but a union housekeeper working full time earns almost $35,000 a year with benefits, and that's a middle-class income in Chicago today," she says.
The Chicago settlement was followed by some 500 union members approving a new contract for the Hyatt hotel in Honolulu (Hyatt Regency Waikiki) on August 15, Strassel continues. Similar to Chicago, the Hawaii hotel workers had been without a new contact for years, and the pay raise included in the new contract provides for retroactive wage payments for the lost years. Even more recently, contracts to cover two Hyatt hotels in Los Angeles were ratified, she says, although contract details were not immediately available.
That leaves San Francisco, where two hotels (Grand Hyatt Union Square and Hyatt Regency Embarcadero) employ about 700 union members, according to Unite Here Local 2 spokesperson Julia Wong. Referring to the new contract, Wong says ​"these things take time" and a new contract that will bring the basic housekeeper wage rate up to the union's standard San Francisco rate of $20.09 an hour is expected before long.
Announcement of the Seattle boycott represents a setback for the national agreement, because union leaders had hoped to include Seattle in the peace pact's second phase, wherein a neutrality agreement would allow new union organizing efforts to go forward at a number of different Hyatt locations.
On a positive note, Strassel says the union and Hyatt have settled on two cities where such organizing efforts will proceed – in Baltimore and in Emeryville, Calif., an East Bay community near Oakland. No date has been set for the official start of these efforts, she says, although some observers expect they may begin as early as next month.
Hyatt and the union have also agreed to use a recent organizing campaign in Long Beach, Calif., as the model for Baltimore and Emeryville. The Long Beach campaign resulted in union certification at two hotels (Hyatt Regency Long Beach and Hyatt The Pike Long Beach) in April, according to Unite Here Local 11 spokesperson Leigh Shelton. Negotiations for a first contract to cover about 500 union members there are still going on, she says.
One feature of the Long Beach certification effort that will likely be repeated was a low public profile. Outsiders were not aware the process was taking place until after the fact, and the union doesn't want to answer any questions about the details of how it was handled, Shelton says.
Hyatt itself is likewise close-mouthed about details. In an e‑mail response to Working In These Times inquiries, Senior Vice President Doug Patrick states ​"We're pleased to announce ratification in Chicago, Waikiki and L.A., and we look forward to completing all the contract ratifications enabled by our national agreement with Unite Here."
Referring to the process for allowing new unionizing efforts to advance, Patrick states somehat vaguely: ​"As you have noted, the national agreement provides Hyatt associates with a process for voting on whether to be represented by the union in limited circumstances. The process can be implemented at hotels where Unite Here and Hyatt agree to use it. While the national agreement ends Unite Here's global boycott against Hyatt, some union locals may continue their efforts to unionize Hyatt associates on a local level, such as in Seattle."
University of Chicago's Parks sees the new Hyatt contracts as a major achievement for Unite Here. She concedes that she is no disinterested observer (she was one of some 160 union protestors arrested in a 2009 civil disobedience action aimed at Hyatt), but says ​"Hyatt is such a big player, not just in Chicago but in the national hotel market," that reversing the effort to undermine the union resonates across the country. ​"I think that the Unite Here (global campaign) was is a little different in that it recognized that what's it stake is not just a job, it's also about livelihiood and community."
Limited time: $10 gift subscriptions
We've made it easier and more affordable to give the gift of In These Times than ever. Give a shining example of a free, independent press to all the progressive thinkers on your gift list. For a limited time, 12-issue gift subscriptions are just $10.
Bruce Vail
is a Baltimore-based freelance writer with decades of experience covering labor and business stories for newspapers, magazines and new media. He was a reporter for Bloomberg BNA's Daily Labor Report, covering collective bargaining issues in a wide range of industries, and a maritime industry reporter and editor for the Journal of Commerce, serving both in the newspaper's New York City headquarters and in the Washington, D.C. bureau.
Special Offer: Gift subscriptions for just $10
For a limited time, you can give a gift subscription to In These Times magazine for just $10.