In Philadelphia, Progressive Education Organizers Fight 'Disaster Capitalism'
This week, Democrats descended upon the city of Philadelphia, attempting to present themselves as simultaneously progressive enough to be the party of racial, gender, and economic justice, but conservative enough to be welcoming to Republicans turned off by Donald Trump.
In a succinct illustration of some of the contradictions at play during the Democratic National Convention, vice presidential candidate Tim Kaine, the former governor of a Right-to-Work state, spoke proudly of his dad running a union shop. While K-12 public education hasn't played a prominent role in the primetime speeches this week, it's another thorny issue for a Democratic party struggling to appeal to unions while also advancing a neoliberal education reform agenda.
The battle over public education is, in large part, a battle over labor, and there's no better illustration of that than Philadelphia. In 2013, the city's School Reform Commission (which is appointed, not elected) closed roughly 10 percent of the city's schools, laid off almost 4,000 teachers and other school staff and, in 2014, terminated the teachers' contract to save on health insurance costs. They remain without a contract to this day.
"The union has been under very sharp assault," says Ron Whitehorne, a retired teacher and organizer with the Philadelphia Coalition Advocating for Public Schools (PCAPS).
In the years since the closures, Philadelphia teachers, parents and other public school advocates have been organizing.
"Organizing will help us provide a counter-narrative to shift the paradigm in the nation of how people view public education in our daily lives," says Ismael Jimenez, a history teacher and member of Working Educators, the progressive caucus within the Philadelphia Federation of Teachers. To him, what's happening in Philadelphia is illustrative of the attacks on education going on all over the country, including within the Democratic Party.
"I believe organizing is the only real political tool we have today to combat this two-party system that is beholden to neoliberal interests," he said.
Jimenez was disappointed that the DNC held up Cory Booker, an advocate of the so-called education reform movement, which promotes public school closures and cheers charter schools, which are often non-union.
"This is a designed, planned strategy against labor," said Antoine Little Sr., a public school parent and union member of the American Federation of State, County and Municipal Employees Local 427. He got involved with education organizing after his neighborhood public school, from which he graduated and which his children attended, was put on a list of schools to be shut down.
"This is happening at the same time as they're attacking public sector unions for their pensions. Public sector unions have been a classic place where black people can live a working class living in America," he said.
Little is a member of the 215 People's Alliance, a group of parents, teachers, students, and union members. Fellow alliance member Todd Wolfson adds that attacks are an effort ​"to roll back the public contract, the social contract, of what we owe our citizens." The ultimate target, says Wolfson, is ​"public education as a social good. It's disaster capitalism."
Every organizer I spoke with at the DNC pointed their criticisms far beyond Philadelphia, to the national education reform movement, neoliberalism and capitalism more broadly.
"We're witnessing the collapse of the neoliberal vision around privatizing these public commons," says Rapheal Randall, executive director of Youth United for Change, a youth-centered organization that works to develop leadership among black and brown youth in working class communities in Philadelphia. Randall says that the model in Philadelphia has been to treat schools like businesses, rather than focusing on the needs of the communities they serve. That model, he says, has shown itself to be a failure, and people are more primed than ever to reinvest in the public good.
"I think we're at a really good point, with Bernie, seeing these conversations about what it means to have young people asking about what socialism is," says Randall. ​"There's an opportunity for us to capitalize on that and reassert the importance of public goods."
The Democratic Party is at a critical moment for public education. Barack Obama's legacy has been one that, largely, facilitated the types of reform efforts that decimated Philadelphia's public schools. The language around K-12 education in the 2016 Democratic Party platform is considerably more progressive, explicitly condemning the closure of public schools based on high-stakes testing.
Hillary Clinton is trying to walk the line, supporting charters but also staying in the good graces of teachers' unions like the American Federation of Teachers and the National Education Association. But public school advocates in Philadelphia are fighting for an entirely different world — one where workers, families and young people hold the power.
"It's not enough for someone else to tell you what's best for you, but you have an opportunity to shape what's best for you," says Randall. ​"You can feel it all over the country and really all over the world: people who are saying another world is possible."
For a limited time: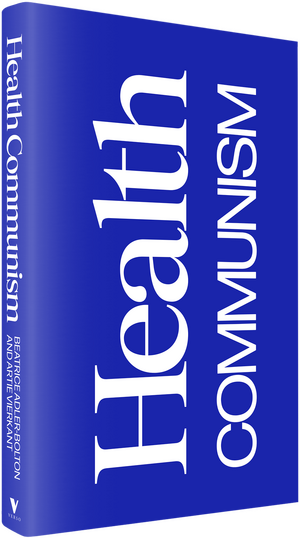 Donate $25 or more to support In These Times and we'll send you a copy of Health Communism.
A searing analysis of health and illness under capitalism from hosts of the hit podcast "Death Panel," Health Communism looks at the grave threat capitalism poses to global public health, and at the rare movements around the world that have successfully challenged the extractive economy of health.
"This is a book you should read before you die, because the ideas synthesized by Adler-Bolton and Vierkant could save our collective lives." –Jon Shaffer
Molly Knefel
is a journalist, writer, and co-host of Radio Dispatch, a daily political podcast. She writes about social justice, gender and youth advocacy. Her work can be found at TheRa​dioDis​patch​.com and @mollyknefel on Twitter.