In Texas, Construction Reform Has an Unlikely Champion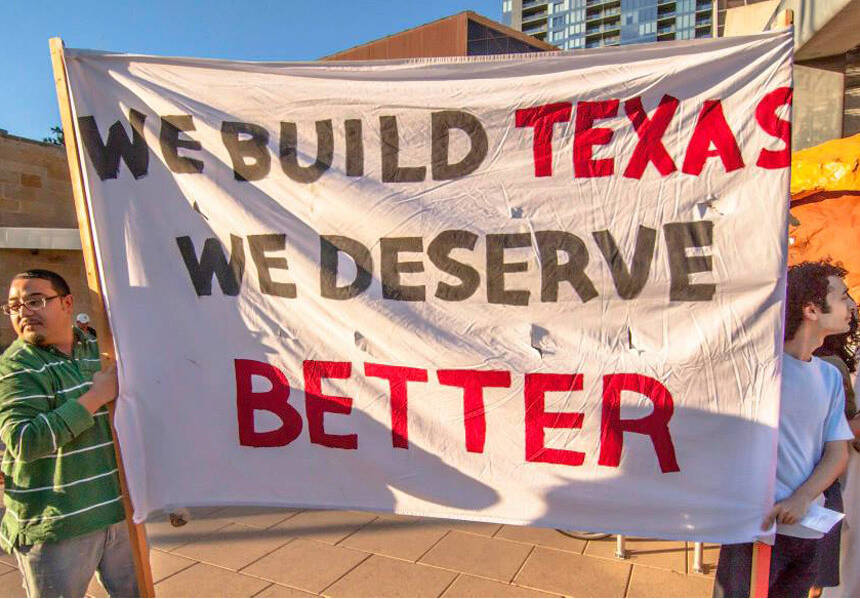 At the end of April, the Texas House Busi­ness and Indus­try Com­mit­tee held an explorato­ry hear­ing on how to address the big prob­lems of wage theft and safe­ty haz­ards in the state's con­struc­tion indus­try. And per­haps unex­pect­ed­ly, both busi­ness and labor rep­re­sen­ta­tives took the stand to argue for the same thing: increased regulation.
​"It's the Wild West," says Stan Marek, CEO of Marek Broth­ers, in an inter­view with In These Times. Marek, who tes­ti­fied at the April 22 hear­ing, con­tin­ues, ​"You just basi­cal­ly put the word out how many men you need, they show up on your job, you tell them you're going to pay them as inde­pen­dent con­trac­tors. In Texas, you can get them to sign a waiv­er to give up their right to worker's com­pen­sa­tion if [they get] hurt. That's legal in Texas."
When employ­ers mis­clas­si­fy their employ­ees as inde­pen­dent con­trac­tors, a cat­e­go­ry meant for self-employed work­ers who can set their own hours and sched­ule, it is con­sid­ered pay­roll fraud. It is also, how­ev­er, one of the most com­mon forms of wage theft in the coun­try. Among oth­er rights, it strips employ­ees of min­i­mum wage, over­time pay and work­ers' com­pen­sa­tion — already a rar­i­ty in Texas, the only state that does not require employ­ers of any size to car­ry work­place insur­ance. All in all, half a mil­lion work­ers there have no finan­cial safe­ty net in case of injury on the job.
And injuries do occur. Per­haps because of a dearth of prop­er safe­ty train­ing, Texas has the high­est death rate of any con­struc­tion indus­try in the coun­try. Chris­t­ian Hur­ta­do, a con­struc­tion work­er who also tes­ti­fied at the April hear­ing, tells In These Times that the he con­sid­ers the state ​"the worst place in mind to work in con­struc­tion." Hurtado's father died from a fall while work­ing on a con­struc­tion project in Austin; Hur­ta­do him­self says he's had sev­er­al close calls.
With these prob­lems in mind, Marek, Hur­ta­do and oth­ers tes­ti­fied at the hear­ing in favor of manda­to­ry work­ers' com­pen­sa­tion and tougher laws against mis­clas­si­fi­ca­tion in the industry.
In addi­tion to more gen­er­al strate­gies, Marek pro­mot­ed a pri­vate-sec­tor solu­tion: a 1‑year-old ini­tia­tive called Con­struc­tion Career Col­lab­o­ra­tive (C3). C3 is an asso­ci­a­tion of ​"social­ly respon­si­ble" own­ers and con­trac­tors that offers accred­i­ta­tion to com­pa­nies who meet their stan­dards, includ­ing work­er and con­trac­tor safe­ty train­ing, craft train­ing, and fair wages for workers.
For Marek, who was instru­men­tal in cre­at­ing C3 and whose com­pa­ny has rep­re­sen­ta­tion on C3's board, C3's focus on improv­ing con­di­tions for Tex­an employ­ees is about build­ing a sus­tain­able workforce.
​"Kids aren't going to go into con­struc­tion work­ing as an inde­pen­dent sub­con­trac­tor respon­si­ble for their own tax­es, not get­ting over­time, not hav­ing a career. They're not going to do that," he says. ​"One of these days, own­ers and con­trac­tors are going to wake up and say ​'Hey, we don't have any more labor! What are we going to do?' Well, you've got to fix the model."

Marek makes sure to note that he's ​"a free-mar­ket guy," but that for him, in addi­tion to improv­ing the indus­try, imple­ment­ing reforms ​"is a moral issue and a social jus­tice issue."

​"The AFL-CIO loves what we're doing," he con­tin­ues. ​"We're basi­cal­ly doing some­thing that the unions would be doing if they had the power."

The Build­ing and Con­struc­tion Trades Depart­ment of the AFL-CIO (BCTD) was also at the hear­ing last week, tes­ti­fy­ing side-by-side with busi­ness inter­ests. There, true to Marek's word, Michael Cun­ning­ham, exec­u­tive direc­tor of the Texas state coun­cil of the BCTD, called for the same reforms as C3: manda­to­ry worker's com­pen­sa­tion and stricter leg­is­la­tion against work­er mis­clas­si­fi­ca­tion in the pri­vate sector.

Although ​"love" is not a word that comes up when Cun­ning­ham talks about C3's role in reform­ing the con­struc­tion indus­try, he says that they ​"have all come to agree­ment on cer­tain things, on enforce­ment and things like that." He notes that Robert Cross, who directs a union appren­tice­ship pro­gram in the Hous­ton area, also serves on C3's Craft Train­ing Com­mit­tee. Accord­ing to Cun­ning­ham, when it comes to C3, ​"The ques­tion is, ​'How do we get more unions involved?'"

​"Unions do some things well that we need, which is train­ing," says Chuck Gremil­lion, exec­u­tive direc­tor of C3. ​"C3 does not pro­vide train­ing; we're a con­duit for train­ing. We'll pro­vide direc­tion to peo­ple where they can get train­ing." He says C3 directs poten­tial work­ers toward union-led train­ing pro­grams ​"if that's where they could get it."

Cun­ning­ham points out, how­ev­er, that C3 has close ties with the Asso­ci­at­ed Builders and Con­trac­tors (ABC), which ​"is not a union-friend­ly organization."

That turns out to be an under­state­ment. ABC is an explic­it­ly anti-union orga­ni­za­tion that endorsed Repub­li­can can­di­date Mitt Rom­ney in the last pres­i­den­tial elec­tion, has pushed for leg­is­la­tion draft­ed by the right-wing Amer­i­can Leg­isla­tive Exchange Coun­cil, and oper­ates an ​"issue advo­ca­cy arm" called the Free Enter­prise Alliance whose stat­ed goals are ​"the pro­hi­bi­tion of Union-Only Project Labor Agree­ments, Respon­si­ble Con­trac­tor Ordi­nances, enact­ment of Right-to-Work laws, repeal of the Davis Bacon Act and elim­i­na­tion of bur­den­some reg­u­la­to­ry pro­grams admin­is­tered by the NLRB and OSHA." A 2012 report fund­ed by BCTD accused ABC of attempt­ing ​"to devel­op a par­al­lel sys­tem of open shop [non-union] train­ing" since the 1970s, pur­su­ing a ​"short-term, low-cost approach."

Accord­ing to jour­nal­ist David Moberg, ABC has been ​"union-bust­ing" since 1950. In 2012, Moberg report­ed for In These Times that ABC ​"played a key role in unleash­ing the anti-union jug­ger­naut of the past half century."

The group's ties with C3 are not adver­tised, but nei­ther are they hard to find. ABC cur­rent­ly has rep­re­sen­ta­tives on C3's board; in addi­tion, the for­mer direc­tor of edu­ca­tion for ABC-affil­i­at­ed Con­struc­tion and Main­te­nance Edu­ca­tion Foun­da­tion, Kat­ri­na Ker­sch, served as C3's act­ing exec­u­tive direc­tor for the first six months of the organization's exis­tence until she was replaced by Chuck Gremil­lion in Feb­ru­ary of this year. Accord­ing to Gremil­lion, ABC was indeed ​"one of many orga­ni­za­tions" involved in form­ing C3, but he says, ​"C3 doesn't take a stance on union or non-union. In fact, we do have ami­ca­ble dis­cus­sions with them."

And despite ABC's his­to­ry of cam­paign­ing against project labor agree­ments — pre-hire col­lec­tive bar­gain­ing agree­ments that often favor union­ized work­ers — Gremil­lion says that C3 doesn't take sides on that issue either. He says he would ​"have to see the spe­cif­ic agree­ment," but that ​"I could tell you what we do stand for, which is that work­ers be paid by the hour, that they're W2 earn­ers, that they be paid over­time when it's earned, and that all fed­er­al and state unem­ploy­ment tax­es be paid, and social secu­ri­ty be paid."

Stephanie Gharakhan­ian of the Work­ers Defense Project (WDP), a Texas work­ers cen­ter that the New York Times once called ​"a union in spir­it," says that it's true that unions don't have much pow­er in the state to push for reforms — so the con­tri­bu­tions of pri­vate cor­po­ra­tions could great­ly help the fight for work­er secu­ri­ty. In her esti­ma­tion, unions only rep­re­sent about 10 per­cent of con­struc­tion employ­ees; there­fore, WDP ​"applaud[s] any efforts to improve from with­in the industry."

Amy Price, also of WDP, says that in this case, C3's advo­ca­cy for impor­tant reforms may out­weigh its poten­tial­ly ques­tion­able con­nec­tions. She says, ​"If we align [with C3] on cer­tain issues, we'll work with them."

April 22's hear­ing on work­er mis­clas­si­fi­ca­tion and work­ers' com­pen­sa­tion was held in prepa­ra­tion for the next reg­u­lar ses­sion, which will not begin until Jan­u­ary 2015. How­ev­er, Chair­man René Oliveira said that the com­mit­tee hopes to con­clude hear­ings by the end of this month. Respond­ing to Marek's tes­ti­mo­ny at the April hear­ing, Oliveira put one option on the table for improv­ing the indus­try: tax incen­tives for com­pa­nies that par­tic­i­pate in C3 or sim­i­lar programs.

For her part, Gharakhan­ian is ​"opti­mistic" that Texas will soon see some tougher reg­u­la­tion in its con­struc­tion indus­try — regard­less of the spe­cif­ic form such reg­u­la­tion will take.

​"One of the things that I took away is that I think the com­mit­tee real­ly under­stands that prop­er clas­si­fi­ca­tion is a com­plete gate­way to all of the rights that employ­ees ben­e­fit from," she says. ​"And I think Chair­man Oliveira in par­tic­u­lar seemed inter­est­ed in explor­ing ways to curb mis­clas­si­fi­ca­tion, whether that's through increased enforce­ment or some oth­er incen­tive regimen."

For Cun­ning­ham, coop­er­a­tion between labor and the pri­vate sec­tor is a nec­es­sary step toward a safer and more sus­tain­able con­struc­tion indus­try in Texas. ​"Like Stan Marek says, there's room in this equa­tion for both union and non-union employ­ers," Cun­ning­ham says. Ulti­mate­ly, he says, the state of the indus­try is ​"killing busi­ness­es and we need to stop it. Maybe C3 is one answer."
Amien Essif
is a reg­u­lar con­trib­u­tor to Work­ing In These Times and main­tains a blog called The Gazine, which focus­es on con­sumerism, gen­tri­fi­ca­tion, and tech­nol­o­gy with a Lud­dite bent. His work has also appeared on the Guardian and Coun­ter­Punch. You can find him using Twit­ter reluc­tant­ly: @AmienChicago