In Texas, Construction Reform Has an Unlikely Champion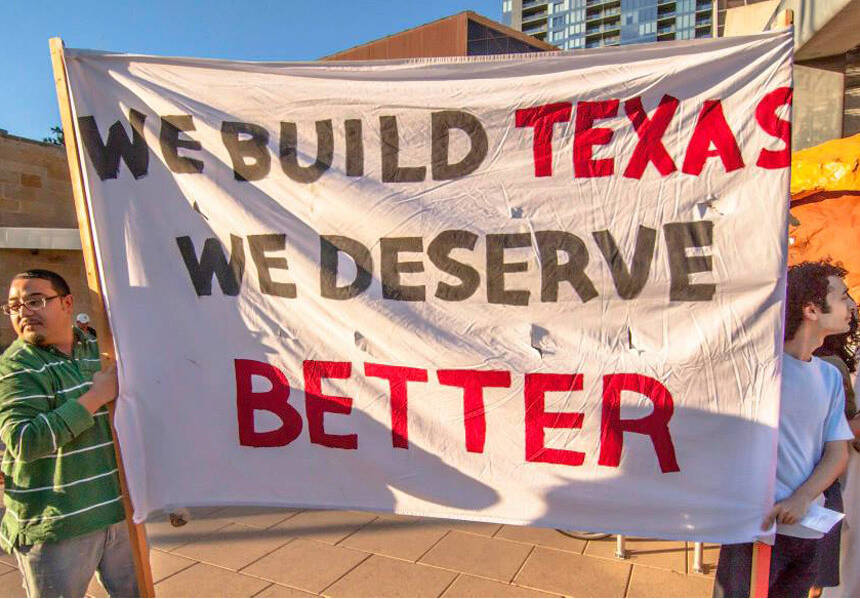 At the end of April, the Texas House Business and Industry Committee held an exploratory hearing on how to address the big problems of wage theft and safety hazards in the state's construction industry. And perhaps unexpectedly, both business and labor representatives took the stand to argue for the same thing: increased regulation.
​"It's the Wild West," says Stan Marek, CEO of Marek Brothers, in an interview with In These Times. Marek, who testified at the April 22 hearing, continues, ​"You just basically put the word out how many men you need, they show up on your job, you tell them you're going to pay them as independent contractors. In Texas, you can get them to sign a waiver to give up their right to worker's compensation if [they get] hurt. That's legal in Texas."
When employers misclassify their employees as independent contractors, a category meant for self-employed workers who can set their own hours and schedule, it is considered payroll fraud. It is also, however, one of the most common forms of wage theft in the country. Among other rights, it strips employees of minimum wage, overtime pay and workers' compensation — already a rarity in Texas, the only state that does not require employers of any size to carry workplace insurance. All in all, half a million workers there have no financial safety net in case of injury on the job.
And injuries do occur. Perhaps because of a dearth of proper safety training, Texas has the highest death rate of any construction industry in the country. Christian Hurtado, a construction worker who also testified at the April hearing, tells In These Times that the he considers the state ​"the worst place in mind to work in construction." Hurtado's father died from a fall while working on a construction project in Austin; Hurtado himself says he's had several close calls.
With these problems in mind, Marek, Hurtado and others testified at the hearing in favor of mandatory workers' compensation and tougher laws against misclassification in the industry.
In addition to more general strategies, Marek promoted a private-sector solution: a 1-year-old initiative called Construction Career Collaborative (C3). C3 is an association of ​"socially responsible" owners and contractors that offers accreditation to companies who meet their standards, including worker and contractor safety training, craft training, and fair wages for workers.
For Marek, who was instrumental in creating C3 and whose company has representation on C3's board, C3's focus on improving conditions for Texan employees is about building a sustainable workforce.
​"Kids aren't going to go into construction working as an independent subcontractor responsible for their own taxes, not getting overtime, not having a career. They're not going to do that," he says. ​"One of these days, owners and contractors are going to wake up and say ​'Hey, we don't have any more labor! What are we going to do?' Well, you've got to fix the model."

Marek makes sure to note that he's ​"a free-market guy," but that for him, in addition to improving the industry, implementing reforms ​"is a moral issue and a social justice issue."

​"The AFL-CIO loves what we're doing," he continues. ​"We're basically doing something that the unions would be doing if they had the power."

The Building and Construction Trades Department of the AFL-CIO (BCTD) was also at the hearing last week, testifying side-by-side with business interests. There, true to Marek's word, Michael Cunningham, executive director of the Texas state council of the BCTD, called for the same reforms as C3: mandatory worker's compensation and stricter legislation against worker misclassification in the private sector.

Although ​"love" is not a word that comes up when Cunningham talks about C3's role in reforming the construction industry, he says that they ​"have all come to agreement on certain things, on enforcement and things like that." He notes that Robert Cross, who directs a union apprenticeship program in the Houston area, also serves on C3's Craft Training Committee. According to Cunningham, when it comes to C3, ​"The question is, ​'How do we get more unions involved?'"

​"Unions do some things well that we need, which is training," says Chuck Gremillion, executive director of C3. ​"C3 does not provide training; we're a conduit for training. We'll provide direction to people where they can get training." He says C3 directs potential workers toward union-led training programs ​"if that's where they could get it."

Cunningham points out, however, that C3 has close ties with the Associated Builders and Contractors (ABC), which ​"is not a union-friendly organization."

That turns out to be an understatement. ABC is an explicitly anti-union organization that endorsed Republican candidate Mitt Romney in the last presidential election, has pushed for legislation drafted by the right-wing American Legislative Exchange Council, and operates an ​"issue advocacy arm" called the Free Enterprise Alliance whose stated goals are ​"the prohibition of Union-Only Project Labor Agreements, Responsible Contractor Ordinances, enactment of Right-to-Work laws, repeal of the Davis Bacon Act and elimination of burdensome regulatory programs administered by the NLRB and OSHA." A 2012 report funded by BCTD accused ABC of attempting ​"to develop a parallel system of open shop [non-union] training" since the 1970s, pursuing a ​"short-term, low-cost approach."

According to journalist David Moberg, ABC has been ​"union-busting" since 1950. In 2012, Moberg reported for In These Times that ABC ​"played a key role in unleashing the anti-union juggernaut of the past half century."

The group's ties with C3 are not advertised, but neither are they hard to find. ABC currently has representatives on C3's board; in addition, the former director of education for ABC-affiliated Construction and Maintenance Education Foundation, Katrina Kersch, served as C3's acting executive director for the first six months of the organization's existence until she was replaced by Chuck Gremillion in February of this year. According to Gremillion, ABC was indeed ​"one of many organizations" involved in forming C3, but he says, ​"C3 doesn't take a stance on union or non-union. In fact, we do have amicable discussions with them."

And despite ABC's history of campaigning against project labor agreements — pre-hire collective bargaining agreements that often favor unionized workers — Gremillion says that C3 doesn't take sides on that issue either. He says he would ​"have to see the specific agreement," but that ​"I could tell you what we do stand for, which is that workers be paid by the hour, that they're W2 earners, that they be paid overtime when it's earned, and that all federal and state unemployment taxes be paid, and social security be paid."

Stephanie Gharakhanian of the Workers Defense Project (WDP), a Texas workers center that the New York Times once called ​"a union in spirit," says that it's true that unions don't have much power in the state to push for reforms — so the contributions of private corporations could greatly help the fight for worker security. In her estimation, unions only represent about 10 percent of construction employees; therefore, WDP ​"applaud[s] any efforts to improve from within the industry."

Amy Price, also of WDP, says that in this case, C3's advocacy for important reforms may outweigh its potentially questionable connections. She says, ​"If we align [with C3] on certain issues, we'll work with them."

April 22's hearing on worker misclassification and workers' compensation was held in preparation for the next regular session, which will not begin until January 2015. However, Chairman René Oliveira said that the committee hopes to conclude hearings by the end of this month. Responding to Marek's testimony at the April hearing, Oliveira put one option on the table for improving the industry: tax incentives for companies that participate in C3 or similar programs.

For her part, Gharakhanian is ​"optimistic" that Texas will soon see some tougher regulation in its construction industry — regardless of the specific form such regulation will take.

​"One of the things that I took away is that I think the committee really understands that proper classification is a complete gateway to all of the rights that employees benefit from," she says. ​"And I think Chairman Oliveira in particular seemed interested in exploring ways to curb misclassification, whether that's through increased enforcement or some other incentive regimen."

For Cunningham, cooperation between labor and the private sector is a necessary step toward a safer and more sustainable construction industry in Texas. ​"Like Stan Marek says, there's room in this equation for both union and non-union employers," Cunningham says. Ultimately, he says, the state of the industry is ​"killing businesses and we need to stop it. Maybe C3 is one answer."
Amien Essif
is a regular contributor to Working In These Times and maintains a blog called The Gazine, which focuses on consumerism, gentrification, and technology with a Luddite bent. His work has also appeared on the Guardian and CounterPunch. You can find him using Twitter reluctantly: @AmienChicago