In the Face of the GOP's Class-War Tax Bill, Chicago Activists Voice Outrage in the Streets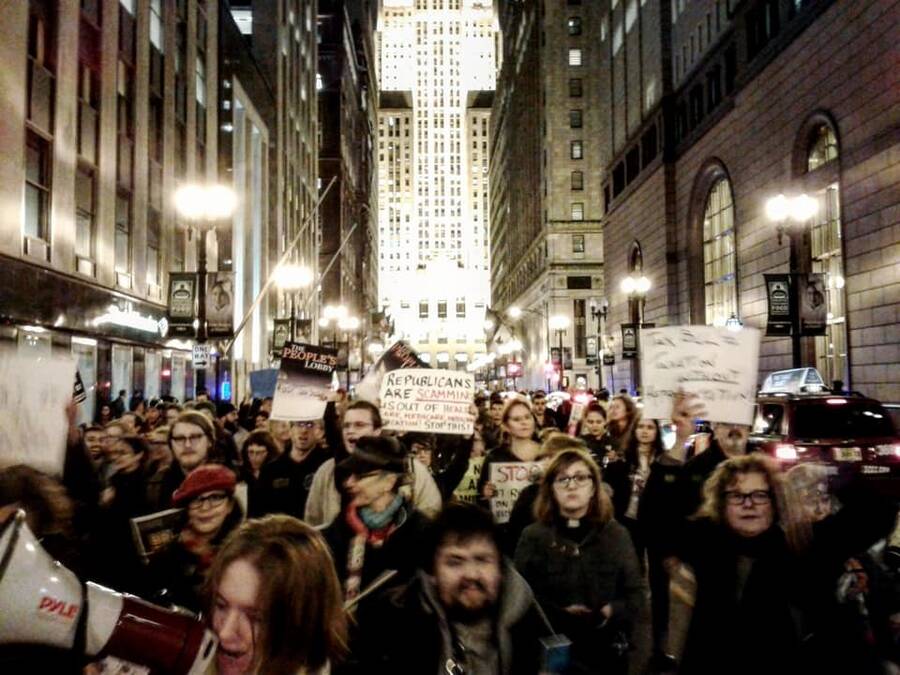 Chica­go — It's an unsea­son­ably warm Decem­ber evening and a crowd of about 500 peo­ple, some wear­ing knit­ted pussy hats and recy­cled signs from pre­vi­ous ral­lies, are gath­ered at the plaza in front of the Chica­go Board of Trade. Two days ear­li­er the Sen­ate passed its ver­sion of the GOP's tax plan, which gives lav­ish tax breaks to the wealthy at the expense of every­one else.
"Every­one I talk to in my church and in my sem­i­nary com­mu­ni­ty is ter­ri­fied of what this bill and oth­er pieces of leg­is­la­tion mean for us," says Saman­tha Nichols, a 24-year-old sem­i­nary stu­dent who attend­ed the event.
Nichols wore her cler­i­cal col­lar under a grey coat as she marched in the Decem­ber 4 protest. With almost $50,000 in debt and one year left on her par­ents' health insur­ance, she wor­ries both about her future and that of the parish­ioners at the Bridge­port church where she is a vicar.
In the city that launched Barack Oba­ma, home to one of the most diverse and most seg­re­gat­ed urban pop­u­la­tions in the coun­try, street protests have become both an expres­sion of pop­u­lar out­rage and a chance for polit­i­cal atten­tion. Notice of Chicago's protest against the GOP tax plan was post­ed online Decem­ber 2 by The Peo­ple's Lob­by and co-host­ed by a dozen oth­er orga­ni­za­tions. By Decem­ber 4, around 700 peo­ple had RSVP'd on Facebook.
Hun­dreds of ral­lies and protests have erupt­ed around the coun­try as the GOP tax bill made its way out of the Sen­ate com­mit­tee. Last Wednes­day, grad­u­ate stu­dents at more than 40 uni­ver­si­ty cam­pus­es walked out of class, and pro­test­ers took to the streets around the coun­try as the bill made its way out of the Sen­ate Bud­get Com­mit­tee. Accord­ing to Indi­vis­i­ble, dozens more ral­lies and events are planned this week in Cal­i­for­nia, Col­orado, Louisiana, Mon­tana, Maine, New York, New Jer­sey, Flori­da, Vir­ginia, Ohio, and Michigan.
At the Chica­go protest, the crowd chant­ed, 

​"Love thy neigh­bor as thy­self! Tax the rich and share the wealth!" One man held a sign illus­trat­ed with a pitchfork.
While many of the most­ly white pro­test­ers walked straight from their Loop offices to join the march, 34-year-old Reid McCol­lum came in from the west­ern sub­urb of Hins­dale to par­tic­i­pate. He leads the Coali­tion for a Bet­ter Illi­nois 6th, a net­work of 25 grass­roots groups advo­cat­ing for local civic engagement.
McCollum's con­gres­sion­al dis­trict is rep­re­sent­ed Repub­li­can Peter Roskam, one of only two dozen red dis­tricts in the coun­try won by Hillary Clin­ton in Novem­ber 2016. About an hour before crowds gath­ered in down­town Chica­go, Roskam had been select­ed to rec­on­cile the cur­rent ver­sions of the Sen­ate and House GOP tax bills before they're sent to Pres­i­dent Don­ald Trump.
The House has named its con­fer­ees (though not with­out a tantrum from the con­ser­v­a­tive Free­dom Cau­cus), and the Sen­ate is expect­ed to do so on Wednes­day. The time­line is unknown and the process to rec­on­cile the House and Sen­ate ver­sions will take place behind closed doors, but GOP law­mak­ers are eager to get the law passed before Con­gress goes on hol­i­day break after Decem­ber 15.
One of the major stick­ing points is expect­ed to be the late addi­tion of the cor­po­rate alter­na­tive min­i­mum tax (AMT) into the Sen­ate pro­pos­al. Remov­ing it in con­fer­ence would add $40 bil­lion to the cost of the bill. And while the Sen­ate ver­sion guts the Oba­macare indi­vid­ual man­date, the House pro­pos­al leaves it untouched. Oth­er dif­fer­ences that will need to be ironed out include whether grad­u­ate stu­dents' tuition waivers are tax­able income, estate tax­es, the mort­gage inter­est deduc­tion, and the child tax credit.
"Peter Roskam is the most cul­pa­ble politi­cian in the entire state of Illi­nois for this tax bill," says McCol­lum. ​"He wrote this thing and right now he's sit­ting in a room with lob­by­ists and bil­lion­aires writ­ing a ver­sion that's going to prob­a­bly pass, and con­stituents in my dis­trict need to know about it. … No Demo­c­rat has vot­ed for this thing. The fact is that only one Repub­li­can sen­a­tor had the courage to say this is wrong, this is not what we believe in – it's not even what the Repub­li­can Par­ty believes in, its what the lib­er­tar­i­an extreme donors believe in, and they're work­ing for them not the Amer­i­can people."
McCol­lum wants peo­ple to focus on street protests, can­vass­ing, and turn­ing out for the next elec­tion to oust law­mak­ers like Roskam.
Max Romero works as an inde­pen­dent pub­lish­ing con­trac­tor in Uptown and orga­nizes with ONE North­side. He wor­ries that with­out the deduc­tions he relies on, he will not be able to con­tin­ue work­ing inde­pen­dent­ly, and that find­ing a job as a 47-year-old in media will be near­ly impos­si­ble. Until six months ago, he and his wife went on Oba­macare, and he now wor­ries about how fur­ther finan­cial insta­bil­i­ty may affect his family.
"I do put some of the blame on estab­lish­ment Democ­rats. They for too long have been almost like the less con­ser­v­a­tive arm of one par­ty that runs this coun­try," he says. But, Romero adds, a lot of peo­ple are wak­ing up, and many are run­ning for office or enter­ing pol­i­tics who would nev­er have thought about it oth­er­wise. ​"I think that's where our real hope is."
At a few min­utes past 5 p.m. Illi­nois State Sen­a­tor and Demo­c­ra­t­ic guber­na­to­r­i­al can­di­date Daniel Biss shouts through a mega­phone, ​"Do you know what kinds of untold wealth come in and out of that build­ing on a dai­ly basis?" asks Biss, nod­ding at the tow­er­ing Chica­go Board of Trade.
"As a stu­dent teacher what real­ly con­cerns me is the fact that they're tak­ing out the deduc­tion for teach­ers [in the house bill]," says Joe Padil­la, a stu­dent teacher. ​"We have to buy our own sup­plies because we don't have ful­ly fund­ed schools, and now they're tak­ing our deduc­tions so we're pay­ing more."
Padil­la, is from the west­ern sub­urbs and is a senior at the Uni­ver­si­ty of Illi­nois in Chica­go where he's study­ing to be a his­to­ry teacher. While on cam­pus he got involved in the fight for stu­dent work­ers to be paid min­i­mum wage and became a coor­di­na­tor with UIC Stu­dent Action.
Padil­la has attend­ed pub­lic schools his whole life, and his moth­er is a pub­lic school teacher. He joined the protest because the House ver­sion of the GOP tax plan includes a vouch­er for char­ter schools to allow a fam­i­lies to with­draw up to $10,000 a year from tax-free col­lege sav­ings and use it for tuition and expens­es at K‑12 schools, includ­ing pri­vate and reli­gious schools.
"What gives me hope is see­ing things like this," he says, ​"being able to go into leg­isla­tive meet­ings and demand that our elect­ed offi­cials sup­port a bud­get not just in Illi­nois, but across the coun­try that puts peo­ple and plan­et first, over prof­its and corporations."
Rena­to Mar­i­ot­ti, a for­mer fed­er­al pros­e­cu­tor run­ning in the crowd­ed race for Illi­nois attor­ney gen­er­al says the blame for the tax bill lies on ​"peo­ple I know who stayed home and didn't care when I asked them to get ener­gized for this last election."

Biss and Mar­i­ot­ti are not the only polit­i­cal hope­fuls attend­ing the ral­ly. Ra Joy who is run­ning for lieu­tenant gov­er­nor as the run­ning mate of guber­na­to­r­i­al can­di­date Chris Kennedy (Bob­by Kennedy's son) is also there.
"This bil­lion­aires' tax scam is com­plete­ly and total­ly moral­ly bank­rupt," he says. ​"It's prob­a­bly the most regres­sive and unfair piece of leg­is­la­tion to move through Con­gress in my lifetime."
Edi­tor's Note:
A pre­vi­ous ver­sion list­ed Indi­vis­i­ble Chica­go as the orga­ni­za­tion that post­ed the event to Face­book. The arti­cle has been updat­ed to show that The Peo­ple's Lobby​ post­ed the notice.