Rural Stories Making Headlines (July 9, 2016)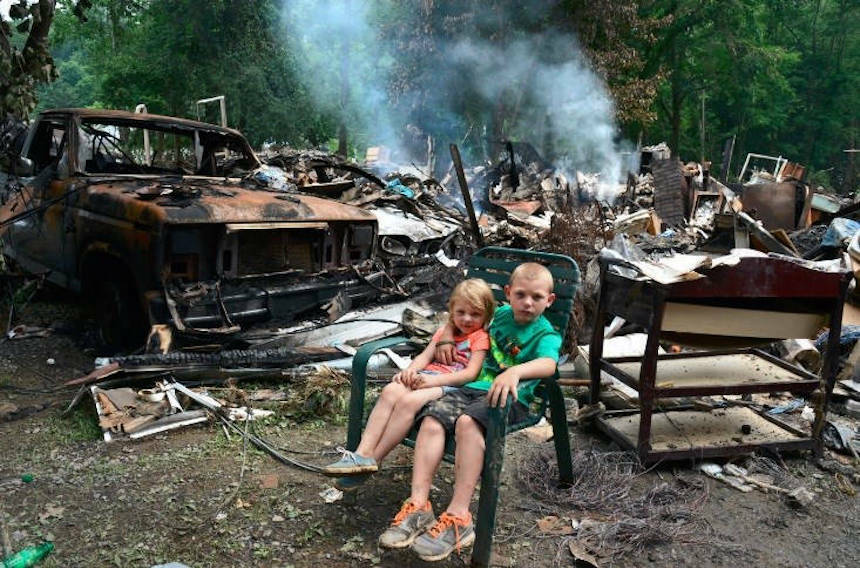 The Internet is a big and crowded place. Rural America In These Times is not. With that in mind, welcome to our first roundup of important stories in rural journalism, where we'll share links to articles of interest — everything from extreme weather events, to agricultural policy, the economy, healthcare, Native issues and more — as they become available.
In the news
The recent flooding in West Virginia has been called a ​"once in a thousand year event" and brought issues of outdated infrastructure, emergency response, the long-term affects of logging, mining and coal slurry management to the forefront of local media. In a comprehensive article for The Charleston Gazette-Mail, Ken Ward Jr. reports on the history of flooding in the state and reveals that changes urged by a decade-old West Virginia Flood Protection Plan have yet to be implemented. Read ​"State Flood Protection Plan ​'sitting on dusty shelf' " here.
Healthcare
As RAITT readers are probably aware, affordability and access to healthcare in rural America has suffered a serious decline in recent years. In many counties, due to a range of contributing factors — including cost, a shortage of doctors, a sicker-than-anticipated population, lack of cooperatives in the marketplace, the closing of hospitals and a spike in heroin/​opioid use — the situation is downright dangerous. In Rural Roads, a publication of the National Rural Health Association, Dr. Christine Hancock focuses squarely on rural hospital closures, explaining that the fallout is worse than many realize. Read ​"Speak Your Piece: The True Cost of Rural Hospital Closures," here.
Governing magazine, meanwhile, went a step further and asks whether rural America can ​"survive" increasing numbers of failing hospitals. Additionally, the Kaiser Commission on Medicaid and the Uninsured and the Urban Institute conducted case studies of three 2015 hospital closures and found that many factors contributed to the closures — the closures reduced access to care, and new care models may be better able to address the needs of rural communities. Read ​"A Look at Rural Hospital Closures and Implications for Access to Care: Three Case Studies" here.
Broadband
Broadband access remains a controversial issue in rural politics as residents often cite the need for more development project funding than governments are willing to provide. Funding is a contentious issue in many states, including in Georgia, Maine, and Massachusetts. In Wisconsin, WPR reports that rural communities in the state can now apply for certifications that make it easier for utilities to expand access, but critics of Gov. Scott Walker's initiative claim this policy does not go far enough to offset the costs of broadband expansion. Read ​"Broadband Certification Looks to Help Communities Attract New Investment", here.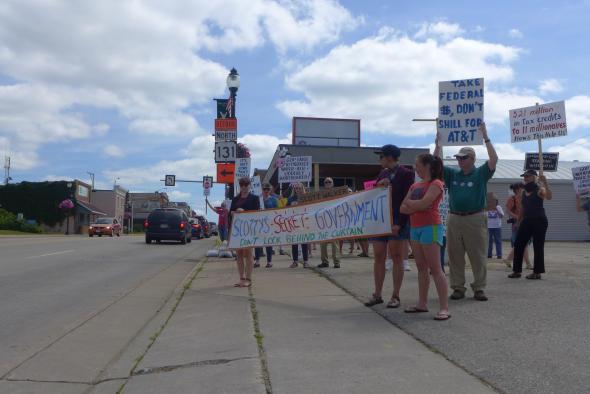 Democratic Party protestors outside the closed press conference at Vernon Communications Cooperative in Vernon County, Wisconsin. (Photo: Hope Kirwan / WPR)
On the environment
A new report from Environment America investigates the impact of the five biggest corporate agriculture businesses on the nation's waterways and suggests policy solutions. In their analysis of the investigation's findings, The Christian Science Monitor reports:
The report details three main measures of environmental impact: manure production, chemical runoff from crop production, and the direct dumping of ​"toxic discharges" from slaughterhouses and processing plants. The main thrust of its findings is that farming itself is not inherently toxic, but the industrialization of the process, particularly the concentration of food production in ​"factory farms," has created a system in conflict with the natural environment.
Read the full story (including the startling environmental impact of chicken-giant Tyson) here.
In other news, The Herald-Tribune of Batesville, Ind., publishes a story on opposition to wind farms in rural Indiana based on fears of noise, adverse health effects and worries that home values will plummet.
Tribal sovereignty
On June 22, members of the Battle Mountain Band of Te-Moak Western Shoshone visited the Tosawihi Quarries in Elko, Nevada to survey damage being done near and around the sacred site. In a piece for Indian Country Today Media Network, Stephanie Woodard (a frequent RAITT contributor) writes:
The trail, which has been declared eligible for the National Register of Historic Places, is a critical feature of a northern Nevada cultural landscape that the Western Shoshone and other Plains tribes have used for at least 10,000 years.

However, construction of a mining-related power line along the doctoring trail is in the process of obliterating it. Starting about two weeks prior to the June 22 visit, a road has been bulldozed over the spiritual pathway, and a long trench has been gouged across the face of a nearby hillside.
According to Woodard, ​"The Bureau of Land Management (BLM), which administers the land the Tosawihi Quarries and the trail its on, allowed this phase of construction to proceed, despite ongoing litigation over the project."
Read ​"Down and Dirty: 11 Photos Show Destruction Accelerating at Sacred Site" here.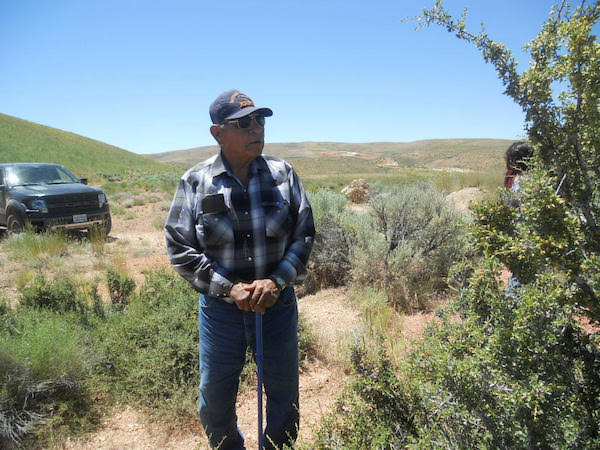 According to council member and former chairman Joe Holley, tribal members were ​"without words at the horrid destruction," he said. Holley said the injuries to the site and its features seemed excessive, even wanton. (Caption / Photo: ICTMN / Courtesy Te-Moak Band of Western Shoshone)
That's all for now, but if you stumble on stories that should be highlighted in the next Rural America roundup, please send links to john@​inthesetimes.​com. Given the horrific events across the nation in recent days, any articles that express even a shred of optimism will be given top priority.
For a limited time: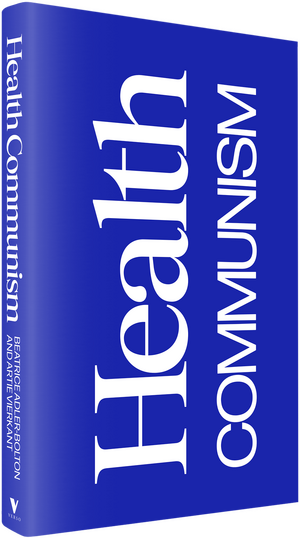 Donate $25 or more to support In These Times and we'll send you a copy of Health Communism.
A searing analysis of health and illness under capitalism from hosts of the hit podcast "Death Panel," Health Communism looks at the grave threat capitalism poses to global public health, and at the rare movements around the world that have successfully challenged the extractive economy of health.
"This is a book you should read before you die, because the ideas synthesized by Adler-Bolton and Vierkant could save our collective lives." –Jon Shaffer
This blog's mission is to provide the public service of helping make the issues that rural America is grappling with part of national discourse.