Rural Stories Making Headlines (July 9, 2016)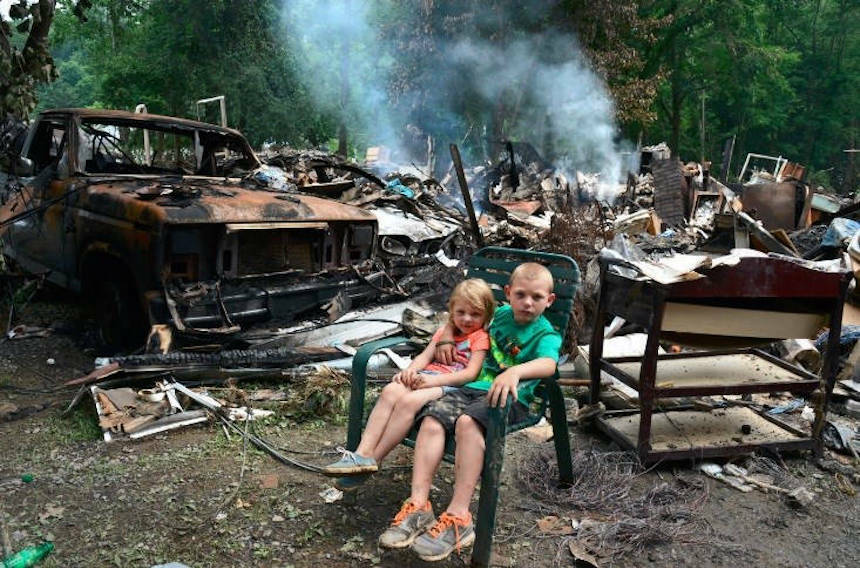 The Inter­net is a big and crowd­ed place. Rur­al Amer­i­ca In These Times is not. With that in mind, wel­come to our first roundup of impor­tant sto­ries in rur­al jour­nal­ism, where we'll share links to arti­cles of inter­est — every­thing from extreme weath­er events, to agri­cul­tur­al pol­i­cy, the econ­o­my, health­care, Native issues and more — as they become available.
In the news
The recent flood­ing in West Vir­ginia has been called a ​"once in a thou­sand year event" and brought issues of out­dat­ed infra­struc­ture, emer­gency response, the long-term affects of log­ging, min­ing and coal slur­ry man­age­ment to the fore­front of local media. In a com­pre­hen­sive arti­cle for The Charleston Gazette-Mail, Ken Ward Jr. reports on the his­to­ry of flood­ing in the state and reveals that changes urged by a decade-old West Vir­ginia Flood Pro­tec­tion Plan have yet to be imple­ment­ed. Read ​"State Flood Pro­tec­tion Plan ​'sit­ting on dusty shelf' " here.
Health­care
As RAITT read­ers are prob­a­bly aware, afford­abil­i­ty and access to health­care in rur­al Amer­i­ca has suf­fered a seri­ous decline in recent years. In many coun­ties, due to a range of con­tribut­ing fac­tors — includ­ing cost, a short­age of doc­tors, a sick­er-than-antic­i­pat­ed pop­u­la­tion, lack of coop­er­a­tives in the mar­ket­place, the clos­ing of hos­pi­tals and a spike in heroin/​opioid use — the sit­u­a­tion is down­right dan­ger­ous. In Rur­al Roads, a pub­li­ca­tion of the Nation­al Rur­al Health Asso­ci­a­tion, Dr. Chris­tine Han­cock focus­es square­ly on rur­al hos­pi­tal clo­sures, explain­ing that the fall­out is worse than many real­ize. Read ​"Speak Your Piece: The True Cost of Rur­al Hos­pi­tal Clo­sures," here.
Gov­ern­ing mag­a­zine, mean­while, went a step fur­ther and asks whether rur­al Amer­i­ca can ​"sur­vive" increas­ing num­bers of fail­ing hos­pi­tals. Addi­tion­al­ly, the Kaiser Com­mis­sion on Med­ic­aid and the Unin­sured and the Urban Insti­tute con­duct­ed case stud­ies of three 2015 hos­pi­tal clo­sures and found that many fac­tors con­tributed to the clo­sures — the clo­sures reduced access to care, and new care mod­els may be bet­ter able to address the needs of rur­al com­mu­ni­ties. Read ​"A Look at Rur­al Hos­pi­tal Clo­sures and Impli­ca­tions for Access to Care: Three Case Stud­ies" here.
Broad­band
Broad­band access remains a con­tro­ver­sial issue in rur­al pol­i­tics as res­i­dents often cite the need for more devel­op­ment project fund­ing than gov­ern­ments are will­ing to pro­vide. Fund­ing is a con­tentious issue in many states, includ­ing in Geor­gia, Maine, and Mass­a­chu­setts. In Wis­con­sin, WPR reports that rur­al com­mu­ni­ties in the state can now apply for cer­ti­fi­ca­tions that make it eas­i­er for util­i­ties to expand access, but crit­ics of Gov. Scott Walker's ini­tia­tive claim this pol­i­cy does not go far enough to off­set the costs of broad­band expan­sion. Read ​"Broad­band Cer­ti­fi­ca­tion Looks to Help Com­mu­ni­ties Attract New Invest­ment", here.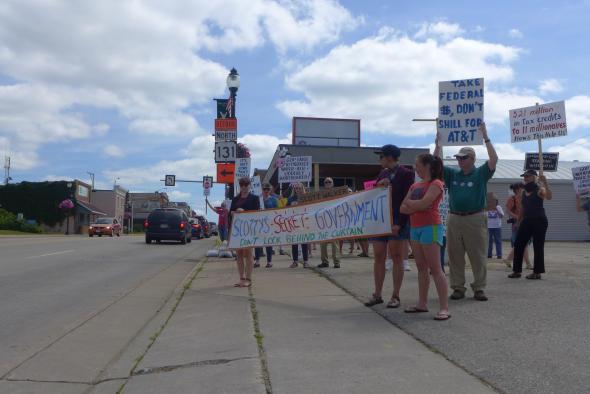 Demo­c­ra­t­ic Par­ty pro­tes­tors out­side the closed press con­fer­ence at Ver­non Com­mu­ni­ca­tions Coop­er­a­tive in Ver­non Coun­ty, Wis­con­sin. (Pho­to: Hope Kir­wan / WPR)
On the environment
A new report from Envi­ron­ment Amer­i­ca inves­ti­gates the impact of the five biggest cor­po­rate agri­cul­ture busi­ness­es on the nation's water­ways and sug­gests pol­i­cy solu­tions. In their analy­sis of the investigation's find­ings, The Chris­t­ian Sci­ence Mon­i­tor reports:
The report details three main mea­sures of envi­ron­men­tal impact: manure pro­duc­tion, chem­i­cal runoff from crop pro­duc­tion, and the direct dump­ing of ​"tox­ic dis­charges" from slaugh­ter­hous­es and pro­cess­ing plants. The main thrust of its find­ings is that farm­ing itself is not inher­ent­ly tox­ic, but the indus­tri­al­iza­tion of the process, par­tic­u­lar­ly the con­cen­tra­tion of food pro­duc­tion in ​"fac­to­ry farms," has cre­at­ed a sys­tem in con­flict with the nat­ur­al environment.
Read the full sto­ry (includ­ing the star­tling envi­ron­men­tal impact of chick­en-giant Tyson) here.
In oth­er news, The Her­ald-Tri­bune of Batesville, Ind., pub­lish­es a sto­ry on oppo­si­tion to wind farms in rur­al Indi­ana based on fears of noise, adverse health effects and wor­ries that home val­ues will plummet.
Trib­al sovereignty
On June 22, mem­bers of the Bat­tle Moun­tain Band of Te-Moak West­ern Shoshone vis­it­ed the Tosaw­i­hi Quar­ries in Elko, Neva­da to sur­vey dam­age being done near and around the sacred site. In a piece for Indi­an Coun­try Today Media Net­work, Stephanie Woodard (a fre­quent RAITT con­trib­u­tor) writes:
The trail, which has been declared eli­gi­ble for the Nation­al Reg­is­ter of His­toric Places, is a crit­i­cal fea­ture of a north­ern Neva­da cul­tur­al land­scape that the West­ern Shoshone and oth­er Plains tribes have used for at least 10,000 years.

How­ev­er, con­struc­tion of a min­ing-relat­ed pow­er line along the doc­tor­ing trail is in the process of oblit­er­at­ing it. Start­ing about two weeks pri­or to the June 22 vis­it, a road has been bull­dozed over the spir­i­tu­al path­way, and a long trench has been gouged across the face of a near­by hillside.
Accord­ing to Woodard, ​"The Bureau of Land Man­age­ment (BLM), which admin­is­ters the land the Tosaw­i­hi Quar­ries and the trail its on, allowed this phase of con­struc­tion to pro­ceed, despite ongo­ing lit­i­ga­tion over the project."
Read ​"Down and Dirty: 11 Pho­tos Show Destruc­tion Accel­er­at­ing at Sacred Site" here.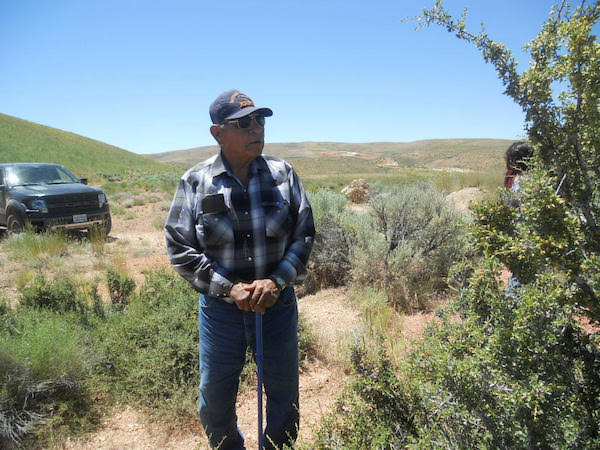 Accord­ing to coun­cil mem­ber and for­mer chair­man Joe Hol­ley, trib­al mem­bers were ​"with­out words at the hor­rid destruc­tion," he said. Hol­ley said the injuries to the site and its fea­tures seemed exces­sive, even wan­ton. (Cap­tion / Pho­to: ICTMN / Cour­tesy Te-Moak Band of West­ern Shoshone)
That's all for now, but if you stum­ble on sto­ries that should be high­light­ed in the next Rur­al Amer­i­ca roundup, please send links to john@​inthesetimes.​com. Giv­en the hor­rif­ic events across the nation in recent days, any arti­cles that express even a shred of opti­mism will be giv­en top priority.
This blog's mis­sion is to pro­vide the pub­lic ser­vice of help­ing make the issues that rur­al Amer­i­ca is grap­pling with part of nation­al discourse.