A Look at Persistent Poverty and the Rural-Urban Divide in North Carolina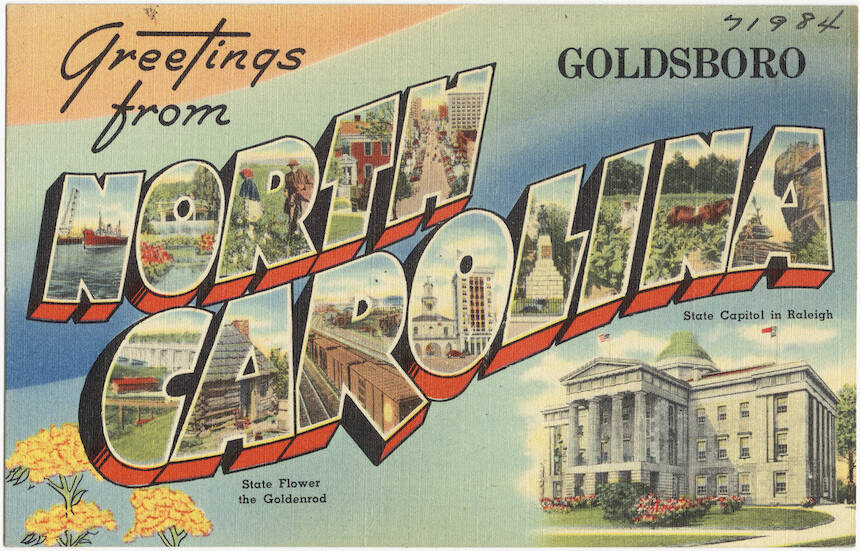 My col­leagues and I, from the North Car­oli­na Pover­ty Research Fund, spent much time last year in two very dis­tinct com­mu­ni­ties — Golds­boro and Wilkes Coun­ty. Our stud­ies there indi­cat­ed clear­ly that North Carolina's eco­nom­ic recov­ery has not been wide­ly shared. They also revealed much about the state's yawn­ing rur­al-urban divide. Final­ly, they high­light­ed a con­tin­u­ing polar­iza­tion that marks the pol­i­tics of North Car­oli­na and the South.
Golds­boro lies about 60 miles south­east of Raleigh, in Wayne Coun­ty. Its pop­u­la­tion, some 36,000, has actu­al­ly dropped mod­est­ly since 1990. Although Sey­mour John­son Air Force Base pro­vides a sound and much-need­ed eco­nom­ic foun­da­tion, Goldsboro's pover­ty chal­lenges are among the most daunt­ing in North Carolina.
A 2015 nation­al study found Golds­boro to be the fifth-poor­est city in Amer­i­ca. Stan­ford Uni­ver­si­ty's mobil­i­ty stud­ies con­clud­ed that 95 per­cent of the country's met­ro­pol­i­tan areas had bet­ter eco­nom­ic mobil­i­ty rates than Golds­boro. The Pew Research Cen­ter deter­mined, in 2016, that the last decade brought the city a 26 per­cent drop in medi­an income and huge loss­es in mid­dle income employ­ment. Both fig­ures were among the very worst the coun­try has experienced.
Over 25 per­cent of Golds­boro res­i­dents live in pover­ty. Forty per­cent of all kids are poor, over half of African-Amer­i­can chil­dren. In some cen­sus tracts we stud­ied, 65 per­cent of kids were impov­er­ished. And Golds­boro has near­ly the worst racial­ly-dri­ven, con­cen­trat­ed pover­ty in North Carolina.
Safe, afford­able hous­ing is a gigan­tic prob­lem. A full-time work­ing sin­gle mom's sto­ry was typ­i­cal. All she could afford was the hous­ing author­i­ty ​"and it's ter­ri­ble and dan­ger­ous, there are gun­shots all the time." Ambu­lances and police are always here, she said. She wish­es there was a ​"porch or back­yard where her chil­dren could play safe­ly, but that's not pos­si­ble." The pub­lic school bus only stops two blocks down the road. ​"Every­body knows that's too dan­ger­ous for kids to walk to," she sighed.
Wilkes Coun­ty shares much of this record of hard­ship, though it wasn't always so. Nes­tled into the east­ern slope of the Blue Ridge, with the Yad­kin Riv­er at its core, Wilkes is about a half-hour dri­ve from Boone, shar­ing much of its beau­ty. Once home to Lowe's, North­west Bank, Hol­ly Farms, Car­oli­na Mir­ror and North Wilkes­boro Speed­way, the coun­ty was rav­aged by NAFTA.
Medi­an income dropped by near­ly 30 per­cent over 15 years. In the late 1990s, the unem­ploy­ment rate was a remark­able 2 per­cent. A decade lat­er it had soared to over 13 per­cent. Half of all Wilkes house­holds now make under $30,000. A quar­ter of its 69,000 res­i­dents live in pover­ty, a third of all chil­dren. There are, today, 5,000 few­er pri­vate-sec­tor jobs than exist­ed in 1995. Twice as many folks live in mobile homes as the state aver­age. Dis­abil­i­ty, over­dose and addic­tion rates are high. Almost 90 per­cent of the coun­ty pop­u­la­tion is white.
Tina Krause of Hos­pi­tal­i­ty House explains, ​"a lot of folks in the com­mu­ni­ty I love have a lot of things to unpack." But ​"I have a heart for them," Krause says, ​"they are, ​'by God, Wilkes County."
Decent, safe hous­ing is a chal­lenge in Wilkes too. I think par­tic­u­lar­ly of a fam­i­ly I inter­viewed in a small mobile home lot last sum­mer. The trail­ers were ancient and pressed in close prox­im­i­ty. Con­fed­er­ate flags and Trump signs were on broad dis­play. (There were none in the hous­ing projects of Golds­boro.) The win­dows were closed tight and cov­ered with sheets, though it was exceed­ing­ly hot. Fans ran full speed, push­ing around the sti­fling air. The smell of mold was intense. Two kids played on their aunt and uncle's floor. The adults were hope­ful the young ones would have a bet­ter chance than they'd had.
There is lit­tle of the Tri­an­gle or Charlotte's boom in Goldsboro's east or Wilkes' west. As one local leader explained, ​"a lot of folks here have been on the los­ing end for a long time and feel like they've had the hell kicked out of them." They report no actu­al sense of come­back or recov­ery. They're fran­tic for their children's future.
It is also illu­mi­nat­ing to think of the dis­cus­sions around kitchen tables in both the Golds­boro projects and the Wilkes­boro mobile home lots. The dis­parate res­i­dents like­ly con­sid­er them­selves polit­i­cal and cul­tur­al adver­saries. But their fears and aspi­ra­tions fol­low near­ly iden­ti­cal paths. They seek bet­ter schools, high­er pay­ing jobs, afford­able health and child care, decent places to live, safe streets, elec­tric bills they can man­age, and mean­ing­ful access to pub­lic trans­porta­tion. They're also cer­tain their polit­i­cal lead­ers know absolute­ly noth­ing about their actu­al lives.
(​"In NC's strug­gling regions: ​'Folks feel like they've had the hell kicked out of them'" first appeared in the News and Observer's op-ed sec­tion and is repost­ed on Rur­al Amer­i­ca In These Times with per­mis­sion from the author.)
Gene Nichol
is Boyd Tins­ley dis­tin­guished pro­fes­sor at the Uni­ver­si­ty of North Car­oli­na. He was direc­tor of the UNC Pover­ty Cen­ter (
2008
−
2015
) until it was closed by the Board of Gov­er­nors for pub­lish­ing arti­cles crit­i­cal of the gov­er­nor and Gen­er­al Assem­bly. Since
2015
, his research has been sup­port­ed by the N.C. Pover­ty Research Fund. Nichol was pres­i­dent of the Col­lege of William
&
Mary (
2005
−
2008
), law dean at the Uni­ver­si­ty of Col­orado (
1988
−
1995
), and dean at UNC from
1999
 – 
2005
.