Indian Country: The Situation is Bleak, But Not Hopeless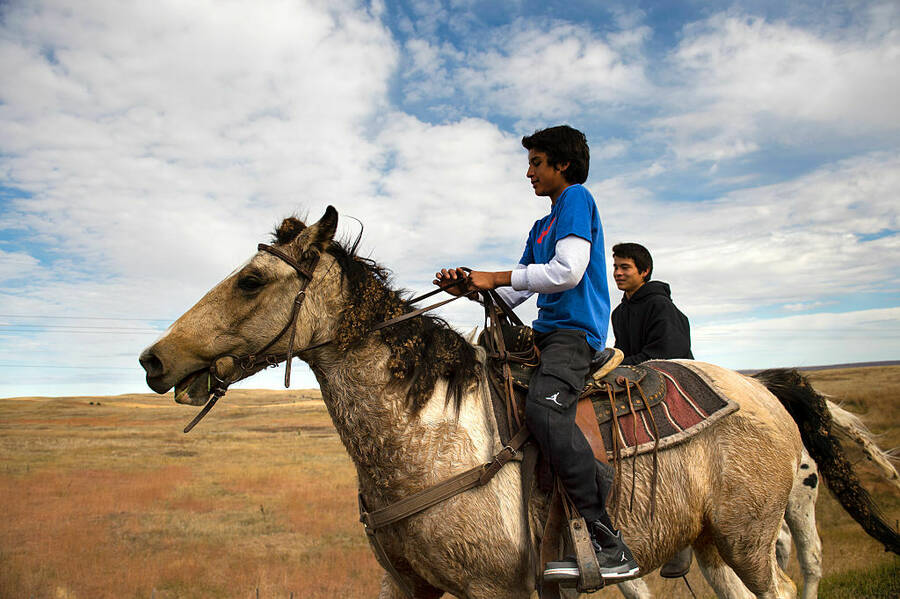 Back in 2001, about 100 miles west of Kab­ul, in the Bamiyan Val­ley, the Tal­iban rigged two tow­er­ing sand­stone stat­ues of Gau­ta­ma Bud­dha with enough dyna­mite to wipe them clean from the cliff they were carved into dur­ing the sixth cen­tu­ry. Despite an inter­na­tion­al out­cry, the Tal­iban det­o­nat­ed the 1,700-year old stat­ues. They were met with con­dem­na­tion, out­rage and head­lines the world over.
In ear­ly 2015, videos start­ed cir­cu­lat­ing show­ing Islam­ic State of Iraq and the Lev­ant (ISIL) fight­ers tak­ing jack­ham­mers, drills and sledge­ham­mers to ancient arti­facts in the Mosul muse­um. Then ISIL took a bull­doz­er to the Mash­ki and Adad Gates of Nin­eveh, and all but top­pled the 2nd-cen­tu­ry city of Palmyra.
In the sum­mer of 2016, mem­bers of the Bat­tle Moun­tain Band of the Te-Moak Tribe of West­ern Shoshone Tribe mount­ed legal action against min­ing oper­a­tions that endan­gered large por­tions of the Tosaw­i­hi Quar­ries — a 15,000-year-old trib­al sacred trib­al site in Neva­da that includes ancient-stone gath­er­ing places and an ances­tral healer's trail that qual­i­fied for the Nation­al Reg­is­ter of His­toric Places. The min­ing com­pa­ny didn't wait for a final rul­ing to begin oper­a­tions and irrepara­bly dam­aged the Tosaw­i­hi Quar­ries.
Can we derive any com­mon denom­i­na­tors from the events in the Bamiyan Val­ley, Mosul, Nin­eveh, Palmyra and the Tosaw­i­hi Quarries?
In her new book, Amer­i­can Apartheid: The Native Strug­gle for Self-Deter­mi­na­tion and Inclu­sion, Stephanie Woodard writes, ​"Demo­li­tion of irre­place­able ancient arti­facts usu­al­ly mer­its out­rage, or at least notice." When it comes to how the media cov­ers Native issues, we've been doing it all wrong.
Before the Trump administration's direc­tives involv­ing Stand­ing Rock, Bears Ears, and Grand Stair­case Escalante pro­pelled Native affairs into nation­al head­lines, Woodard, who writes reg­u­lar­ly for In These Times, spent 20 years report­ing onNa­tive issues — his­tor­i­cal­ly a blind spot for main­stream media out­lets. In Amer­i­can Apartheid, Woodard argues that Indi­an coun­try faces a cri­sis that extends beyond the events at Stand­ing Rock, one that has not become part of the nation­al conversation.
Despite the pub­lic inter­est in the fight against the Dako­ta Access Pipeline, Woodard writes that it remains ​"just one of many oil, gas, and elec­tri­cal trans­mis­sion lines, roads, rail­roads and oth­er infra­struc­ture projects that cross Native lands nation­wide." The exploita­tion of Native peo­ple isn't a thing of the past; it's hard­wired into our democ­ra­cy and insti­tu­tion­al­ized at every lev­el of government.
Patrick Wolfe, the late his­to­ri­an of colo­nial­ism, wrote that col­o­niza­tion is a ​"struc­ture rather than an event." Woodard's the­sis is sim­i­lar­ly ground­ed. She maps the fed­er­al poli­cies, bro­ken treaties and pub­lic atti­tudes that exac­er­bate ​"eco­nom­ic dis­tress and keep trib­al peo­ple sep­a­rate, unequal and exposed to preda­to­ry interests."
The most com­pelling and unnerv­ing finds emerge when Woodard brings into sharp focus the casu­al­ties of the cozy rela­tion­ship between pri­vate inter­ests and gov­ern­ment agen­cies. She writes about a Nava­jo family's fight for appro­pri­ate com­pen­sa­tion in return for renew­ing the right-of-way grant of an oil pipeline that trans­ports about 15,000 bar­rels of crude oil a day across their 160-acre plot of land. When all was said and done, Woodard writes, the fam­i­ly faced accept­ing a sum of "$6,656 for 20 addi­tion­al years of access to their land, or about $333 per year." She con­tin­ues, ​"The amount was to be split among near­ly 50 peo­ple, for an aver­age of a lit­tle more than six dol­lars per each year."
It turns out that the Bureau of Indi­an Affairs autho­rizes lease appli­cants, some but not all of which are oil com­pa­nies, to set the price for the Native prop­er­ty they want. She writes, ​"This is busi­ness as usu­al in Indi­an country.
Over­turn­ing decades-old laws that dis­crim­i­nate against Native peo­ple is made more dif­fi­cult when they are rou­tine­ly shut out of the vot­ing process. In an unlucky com­bi­na­tion, ​"dis­tance and pover­ty pre­vent trib­al mem­bers from get­ting to white-major­i­ty towns and their cour­t­house polling places." For instance, Woodard writes, ​"In San Juan Coun­ty, Nava­jo Nation res­i­dents who need­ed to or want­ed to vote in per­son had to trav­el as many as 400 miles to do so." A round-trip dis­tance like this would require a work­ing car and gas mon­ey, resources that not every­body on reser­va­tions has access to.
Vot­ing by mail, the next best alter­na­tive for reser­va­tion vot­ers, man­ages to be sim­i­lar­ly com­pli­cat­ed. Get­ting a mail-bal­lot can also require steps that are daunt­ing on iso­lat­ed, impov­er­ished reser­va­tions," she writes. ​"The prospec­tive vot­er gen­er­al­ly has to down­load instruc­tions and a bal­lot appli­ca­tion, pho­to­copy the doc­u­ment along with iden­ti­fi­ca­tion, and get it all nota­rized before putting this pack­et in the mail." Keep in mind, a com­put­er, inter­net access, a pho­to­copi­er and a print­er are unlike­ly to be avail­able at the same place and the same time on any reser­va­tion. An attor­ney from a vot­ing-rights group, who already had the advan­tage of a lap­top, test­ed the mail-in process and had to trav­el across state lines to find a pho­to­copi­er and a printer.
The police pow­ers of the state are also arrayed against Native peo­ple. A 2016 study by Jean Schroedel and Roger Chin of Clare­mont Grad­u­ate Uni­ver­si­ty found that in ​"Mis­sis­sip­pi, South Dako­ta, Ida­ho, Wash­ing­ton, Alas­ka and North Dako­ta, the death rates for Native Amer­i­cans caused by the police ranged from 1.19 down to .27 per 10,000. All six were high­er than the high­est rate for African Amer­i­cans — in Cal­i­for­nia, at .19 deaths per 10,000."
Life on the reser­va­tion is clear­ly vicious­ly dif­fi­cult. For Native youth liv­ing at the inter­sec­tion of so much gen­er­a­tional pain, the con­se­quences are heart­break­ing. Woodard writes, ​"The sui­cide rate for of Natives aged 15 to 24 was not only the high­est in the nation, it had climbed steadi­ly over the 15 years between 1999 and 2014." The lat­est fig­ures from the Sui­cide Pre­ven­tion Resource Cen­ter report that in 2016 the sui­cide rate among Amer­i­can Indians/​Alaskan Natives was 21.39 per 100,000, com­pared to the nation­al aver­age of 13.5 per 100,000 in the same year.
Amer­i­can Apartheid sug­gests that if nobody knows, nobody can care. Woodard is also deeply aware that those who do know about the oppres­sion of Native peo­ple are active­ly ben­e­fit­ing from it. Bet­ter media cov­er­age may not stop this human rights cri­sis — but doc­u­ment­ing the struc­tur­al racism that Native peo­ple expe­ri­ence is the first step. It makes us con­front the preda­to­ry polit­i­cal and eco­nom­ic appa­ra­tus that ben­e­fits from the oppres­sion of the first Amer­i­cans and the exploita­tion of the nat­ur­al resources still under their control.
Woodard's last­ing mes­sage, how­ev­er, is that while the chal­lenges are many, Native cul­tur­al resilience ensures that the tribes will sur­vive. ​"The sit­u­a­tion in Indi­an coun­try is not, and has nev­er been hope­less. Dur­ing vis­its to Native com­mu­ni­ties around the coun­try, I have seen that cul­ture is a shield that has per­sist­ed, indeed thrived, despite all efforts to stamp, starve and reg­u­late it out of exis­tence," she writes. ​"The ongo­ing hum of tra­di­tion under­lies the cacoph­o­ny of prob­lems that trib­al mem­bers are con­stant­ly fight­ing to resolve."