The West Must Learn from Indigenous Communities Who Have Lived With Wildfire for Thousands of Years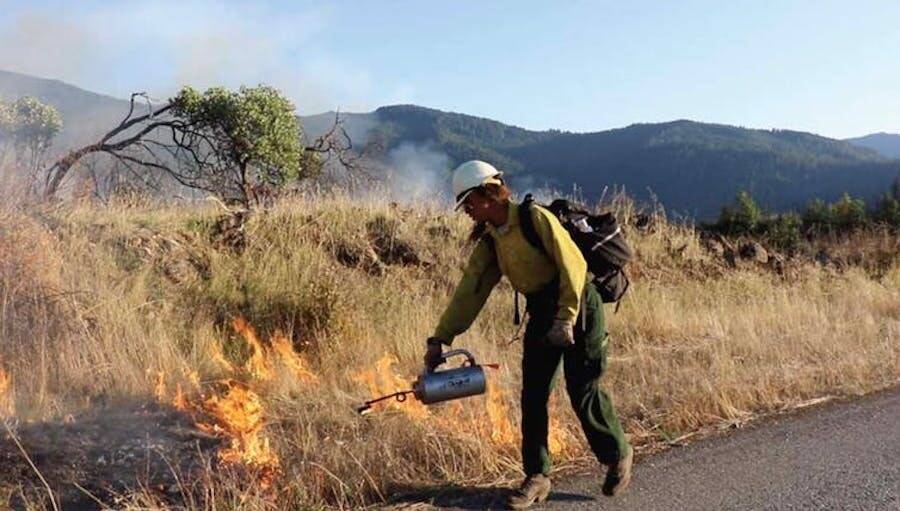 For sev­er­al months in 2019, it seemed wild­fires wouldn't rage across the West as they had in recent years. But then came the dry autumn and California's San­ta Ana and Dia­blo winds, which can dri­ve the spread of wild­fires. Util­i­ties are shut­ting off pow­er across the state to reduce the risk of dam­aged equip­ment or downed trees on wires caus­ing fires.
There's no lack of pro­pos­als for man­ag­ing wild­fires more effec­tive­ly: Cal­i­for­nia Gov. Gavin New­som recent­ly signed 22 wild­fire-relat­ed bills in one day. But what's miss­ing are per­spec­tives from indige­nous com­mu­ni­ties across North Amer­i­ca, who have lived with fire for thou­sands of years.
In our research on cli­mate change and people's reac­tions to it, we have worked with the Karuk Tribe in north­west­ern Cal­i­for­nia and south­ern Ore­gon on their plan to man­age their land under these evolv­ing con­di­tions. Amer­i­can Indi­an tribes across the West are work­ing with an increased sense of urgency to man­age fire-adapt­ed land­scapes in the face of cli­mate change. The Karuk Tribe's cli­mate adap­ta­tion plan directs their efforts to do just that.
This work has con­vinced us that this is an excit­ing polit­i­cal moment to restore west­ern forests and pro­tect the pub­lic from dan­ger­ous wild­fires — and that tribes are unique­ly posi­tioned to lead the way.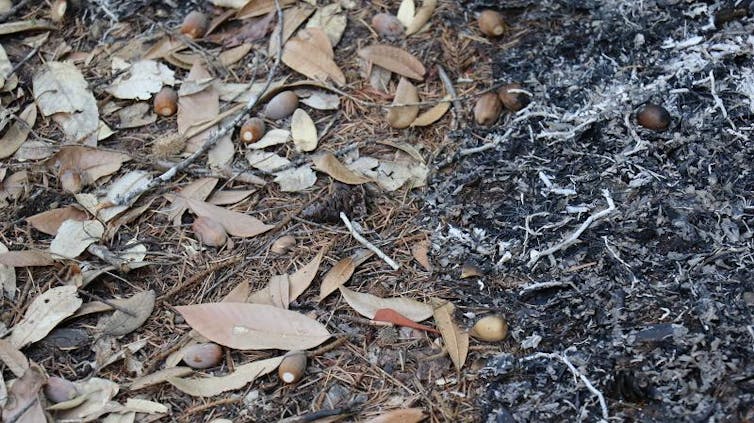 Tanoak acorns (xun­tá­pan) are a sta­ple Native food for many indige­nous peo­ple and are also vital for numer­ous wildlife species. Tanoak (xun­yêep) is very sus­cep­ti­ble to high-inten­si­ty fire, but ben­e­fits from cul­tur­al burn­ing that decreas­es tree and acorn pests and reduces com­pet­i­tive veg­e­ta­tion. (Pho­to by Lisa Hill­man, Karuk Tribe, CC BY-ND)
From col­o­niza­tion to fire suppression
News media cov­er­age of wild­fires com­mon­ly frames them as ​"nat­ur­al dis­as­ters" — dan­ger­ous ele­ments of the nat­ur­al world over which humans have lit­tle con­trol. The lan­guage of cli­mate change, fear of fire and the sense that it has become inevitable can be over­whelm­ing, leav­ing peo­ple with the view that lit­tle can be done to man­age these events.
But in fact, peo­ple aren't help­less. While fires can be dan­ger­ous, they are inevitable and nec­es­sary in many ecosys­tems, and humans have long adapt­ed to them. Across North Amer­i­ca, indige­nous peo­ples have active­ly man­aged for­est ecosys­tems through the use of fire.
Euro-Amer­i­can set­tlers were struck by the rich bio­di­ver­si­ty of California's forests, wood­lands and prairies, but they didn't under­stand that indige­nous people's use of fire was respon­si­ble for them. Instead, they sought to sup­press fires wher­ev­er pos­si­ble. The out­right vio­lence of the mis­sion and gold rush peri­ods toward indige­nous peo­ples, fol­lowed by the U.S. For­est Service's fire sup­pres­sion poli­cies, so thor­ough­ly dis­rupt­ed his­toric fire regimes that the effects are vis­i­ble in tree ring data.
While many view cli­mate change as the major dri­ver of today's mega-fires, one 2016 study demon­strates how Euro-Amer­i­can col­o­niza­tion caused the largest shifts in fire behav­iors in Cal­i­for­nia over the past 400 years. In oth­er words, the geno­cide of indige­nous peo­ples direct­ly relates to today's cat­a­stroph­ic burning.
The inter­play between humans, fire, plants and animals
The Karuk peo­ple have devel­oped com­plex sys­tems of indige­nous knowl­edge over at least the last 10,000 years through direct inter­ac­tion with their envi­ron­ment. Indige­nous sci­ences include tra­di­tion­al eco­log­i­cal knowl­edge of the inter­play among humans, plants, ani­mals and nat­ur­al phe­nom­e­na.
Indige­nous peo­ples have long set low-inten­si­ty fires to man­age eco-cul­tur­al resources and reduce the buildup of fuels — flam­ma­ble trees, grass­es and brush — that cause larg­er, hot­ter and more dan­ger­ous fires, like the ones that have burned across the West in recent years. Before fire sup­pres­sion, forests in the West expe­ri­enced a mix of low- to high-sever­i­ty fires for mil­lenia. Large, high-sever­i­ty fires played an impor­tant eco­log­i­cal role, yet their spread was lim­it­ed by low-sever­i­ty fires set by indige­nous peo­ples, much like the ​"pre­scribed burns" land man­age­ment agen­cies use today.
Karuk use of fire has been cen­tral to the evo­lu­tion of flo­ra and fau­na of the mid-Kla­math region of North­ern Cal­i­for­nia. Sophis­ti­cat­ed Karuk fire prac­tices include using fre­quent, low-inten­si­ty fires to restore grass­lands for elk and main­tain tanoak and black oak acorns. Fires also main­tain grass­lands that pro­vide qual­i­ty bas­ketry mate­ri­als, and pro­vide smoke that shades the Kla­math Riv­er, cool­ing water tem­per­a­tures and ben­e­fit­ing fish dur­ing the hot late sum­mer months.
As Dr. Frank K. Lake, a Karuk descen­dant and U.S. For­est Ser­vice research ecol­o­gist, explains, ​"the Karuk Tribe, among oth­ers, sees fire as med­i­cine, and as such views tra­di­tion­al burn­ing as a human ser­vice for ecosys­tems." Places where fire has been exclud­ed, he said, ​"are sick, as are the peo­ple who live there, from a trib­al per­spec­tive. Even­tu­al­ly, those places then get too much fire (i.e., cat­a­stroph­ic wild­fire), like an overdose."
Fire sup­pres­sion as colo­nial violence
Research in part­ner­ship with the Karuk Tribe demon­strates how fire sup­pres­sion and the out­law­ing of Karuk fire man­age­ment changes forests from food pantries to food deserts. We under­stand this exclu­sion of Karuk man­age­ment prac­tices as a form of colo­nial eco­log­i­cal vio­lence.
"With­out fire the land­scape changes dra­mat­i­cal­ly," Ron Reed, a Karuk dip net fish­er­man, told us. ​"The tra­di­tion­al foods we need for a sus­tain­able lifestyle become unavail­able. The spir­i­tu­al con­nec­tion to the land­scape is altered significantly."
As fed­er­al for­est researchers Jonathan W. Long and Frank K. Lake have found, col­o­niza­tion and the sup­pres­sion of indige­nous man­age­ment caused incred­i­ble harm to Native peo­ples and cre­at­ed a social-eco­log­i­cal trap, in which the very prac­tices that enhance ecosys­tems become more dif­fi­cult to achieve with­in present legal and polit­i­cal con­straints. The rec­om­men­da­tions pre­sent­ed in the Karuk Cli­mate Adap­ta­tion Plan under­stand that socio-eco­log­i­cal solu­tions are need­ed to address these traps.
Karuk Depart­ment of Nat­ur­al Resources Direc­tor Leaf Hill­man explains his belief that fire sup­pres­sion has failed.
Com­bin­ing indige­nous and west­ern science
The Karuk Cli­mate Adap­ta­tion Plan calls for using indige­nous burn­ing meth­ods as an adap­ta­tion for emer­gency con­di­tions, such as cool­ing off streams that have become lethal­ly hot for fish. It includes an entire chap­ter on using pre­scribed fire to pro­tect crit­i­cal elec­tri­cal infra­struc­ture, as an alter­na­tive to pow­er shutoffs.
The plan cen­ters around revi­tal­iz­ing Karuk man­age­ment and fire sci­ence, includ­ing use of 23 Karuk cul­tur­al indi­ca­tors across sev­en habi­tat man­age­ment zones. Some of these species, such as salmon and black oak, are com­mon­ly ref­er­enced in non­trib­al cli­mate plans. Oth­ers, such Pacif­ic giant sala­man­der, Indi­an pota­toes and mul­ti­ple hon­ey­bee species, have received far less attention.
"These species have sto­ries to tell — lessons of how to get back to tra­di­tion­al man­age­ment," Bill Tripp, Deputy Direc­tor of Eco-Cul­tur­al Revi­tal­iza­tion, Karuk Tribe, and Lead Coor­di­nat­ing Author of the cli­mate plan, told us.
Much of the plan cen­ters on spe­cif­ic strate­gies for return­ing fire to areas that have not burned due to fire sup­pres­sion. It empha­sizes the need for col­lab­o­ra­tion with the com­mu­ni­ty and land man­age­ment agen­cies, increas­ing pub­lic aware­ness, and pol­i­cy advo­ca­cy to get Karuk tra­di­tion­al man­age­ment and fire back onto the land.
Burn­ing as restoration
Fed­er­al, state and local gov­ern­ment agen­cies are increas­ing­ly rec­og­niz­ing indige­nous burn­ing as an ecosys­tem com­po­nent and restora­tion tech­nique. We believe the cri­sis of cli­mate change offers land man­agers an oppor­tu­ni­ty to rem­e­dy inap­pro­pri­ate socio-eco­log­i­cal actions and cre­ate suc­cess­ful col­lab­o­ra­tions to pro­mote col­lec­tive survival.
We agree with Karuk Nat­ur­al Resources Direc­tor Leaf Hillman's state­ment that ​"We have to reestab­lish a pos­i­tive rela­tion­ship with fire. Fear of fire has got­ten us to the place where we need to be afraid of fire today."
Edi­tor's Note: This arti­cle is repub­lished from The Con­ver­sa­tion under a Cre­ative Com­mons license. Read the orig­i­nal arti­cle. Bill Tripp, Deputy Direc­tor of Eco-Cul­tur­al Revi­tal­iza­tion at the Karuk Tribe, and a Karuk trib­al mem­ber, con­tributed to this article.

Kari Marie Nor­gaard is a Pro­fes­sor of Soci­ol­o­gy and Envi­ron­men­tal Stud­ies at the Uni­ver­si­ty of Ore­gon. Sara Worl is a Master's Degree Can­di­date in Envi­ron­men­tal Stud­ies at the Uni­ver­si­ty of Oregon.