Accord­ing to recent polls, only 20 per­cent of Amer­i­cans know how many U.S. Sen­a­tors there are, and only one in sev­en young Amer­i­cans could iden­ti­fy either Iraq or Afghanistan on a world map. A major­i­ty of Amer­i­cans were unable to name more than one of the pro­tec­tions guar­an­teed by the First Amend­ment to the Constitution.
The same polls show that 20 per­cent of Amer­i­cans believe the sun revolves around Earth, and that 30 per­cent of Amer­i­cans were unable to answer what year 9⁄11 took place. Yet, 22 per­cent of us were able to come up with the name of every mem­ber of the Simp­son family.
This is, after all, the coun­try in which the Flat Earth Inter­na­tion­al Con­fer­ence was held in 2017 (make sure to check it out this Novem­ber in Den­ver), and fea­tured work­shops with names like ​"NASA and oth­er Space Lies" and ​"It's Flat Like God Made It."
Per­haps less mind-blow­ing, but equal­ly dis­turb­ing and far more haz­ardous, is our accep­tance of ​"news" that is deliv­ered to us. The meme ​"fake news" has been mak­ing its way around our cos­mos over the past cou­ple of years, thanks to a Trump admin­is­tra­tion that polls real­ly well with the flat-earth­ers. But the truth is, on many top­ics, we have ​"dilut­ed" news. They are sum­maries of what's hap­pen­ing in our coun­try, but rarely explain why.
It is at our own per­il that we do not under­stand why what's hap­pen­ing in our coun­try is hap­pen­ing. Nor do we under­stand how our sys­tem of gov­ern­ment and law not only allows the why, but sup­ports it.
When we under­stand the ​"why," we are a dan­ger­ous pub­lic to those in pow­er. Not know­ing the ​"why" makes us eas­i­er to control.
Take a recent sto­ry that is play­ing out in Wash­ing­ton State over the export of coal from the Unit­ed States to Asia. As is often the case, the Asso­ci­at­ed Press cov­ered the sto­ry, and that arti­cle was then picked up and pub­lished by news­pa­pers across the Unit­ed States. Head­lined ​"Coal Com­pa­ny Sues Wash­ing­ton State Over Coal-export Ter­mi­nal," the arti­cle was three sen­tences long, and read, in total:
Devel­op­ers of a mas­sive coal-export ter­mi­nal pro­posed on the Colum­bia Riv­er have sued Wash­ing­ton State over the project. Utah-based Light­house Resources sued in fed­er­al court in Taco­ma Wednes­day, alleg­ing that state offi­cials vio­lat­ed fed­er­al laws in delay­ing and deny­ing per­mits for its Mil­len­ni­um Bulk Ter­mi­nals-Longview project. The project would move coal mined in U.S. West­ern states through a ter­mi­nal in Longview, Wash­ing­ton for export to South Korea, Japan, and oth­er Asian markets.
Okay, so I'm a read­er of the sto­ry; what do I take from it? The gov­ern­ment of Wash­ing­ton State turned down a company's request to export coal through a ship­ping ter­mi­nal, and the com­pa­ny is suing the state to over­turn the state's decision.
Chalk anoth­er one up to a dif­fer­ence of opin­ion on whether we should be export­ing coal.
Sti­fle a yawn. Turn the page.
But, as Paul Har­vey famous­ly said, ​"now for the rest of the story."
The real sto­ry (and why it isn't told)
What isn't relayed by the sto­ry is that the cor­po­ra­tion, Light­house Resources, is claim­ing that its civ­il rights were vio­lat­ed by the state. The cor­po­ra­tion is claim­ing it has a con­sti­tu­tion­al right to engage in com­merce, i.e., the ship­ping of coal to oth­er coun­tries. It's claim­ing the state is vio­lat­ing its con­sti­tu­tion­al­ly guar­an­teed right to engage in that com­merce. Light­house Resources is now seek­ing mon­e­tary dam­ages (tax­pay­er monies) that it claims the state owes the cor­po­ra­tion for vio­lat­ing the corporation's con­sti­tu­tion­al rights.
A more pre­cise head­line would be ​"Coal Export Cor­po­ra­tion Sues Wash­ing­ton State for Vio­lat­ing its Con­sti­tu­tion­al Rights by Deny­ing Con­struc­tion of Terminal."
Such a head­line would be more like­ly to lead to an array of ques­tions by read­ers, including:
"

How does a cor­po­ra­tion have civ­il rights?"

"

Why does a cor­po­ra­tion have civ­il rights?"

"

Why should a corporation's rights be able to over­ride a state government's deci­sion that a project isn't in the pub­lic interest?"
Read­ers may then find them­selves with even more prob­ing ques­tions, such as:
"

Has this hap­pened before?"

"

Why does it mat­ter who we elect if cor­po­ra­tions have the pow­er to over­ride the deci­sions made by our own elect­ed offi­cials?" and perhaps,

"

Who is run­ning this place, anyway?"
Because, as it turns out, such law­suits — the use of courts by cor­po­ra­tions to over­ride gov­ern­men­tal deci­sions on the basis of cor­po­rate ​"rights" — are com­mon­place; in fact, they're just how things are run.
Those ques­tions nev­er get asked, because there's no rea­son to ask them. The law­suit plays out as a game between cor­po­rate and gov­ern­men­tal lawyers.
Out of sight and out of mind.
"Democ­ra­cy means more than just voting"
The truth is, our sys­tem of gov­ern­ment has become so spe­cial­ized, cen­tral­ized, and pro­fes­sion­al­ized, that our sole con­tact with ​"our" sys­tem is usu­al­ly cast­ing a vote on Elec­tion Day. And we don't even do that well any­more. In the Unit­ed States today, only 38 per­cent of the pop­u­la­tion casts a vote. In a close pres­i­den­tial race, that means the win­ning can­di­date is only sup­port­ed by 19 per­cent of the over­all pop­u­la­tion. That's hard­ly a man­date. It's more like the tail wag­ging the dog.
Democ­ra­cy means more than just vot­ing, how­ev­er. It means under­stand­ing the sys­tem which gov­erns us, and course-cor­rect­ing that sys­tem. That may mean orga­niz­ing to throw peo­ple out of office, sup­port­ing cer­tain laws and poli­cies, draft­ing and enact­ing our own laws, or mak­ing more bedrock change like cor­rect­ing the pow­er imbal­ance between cor­po­ra­tions and our own governments.
But with­out even a cur­so­ry under­stand­ing of how the sys­tem isn't work­ing, we can't elect the right peo­ple, let alone direct­ly con­trol our sys­tem of gov­ern­ment. After all, if we don't have the infor­ma­tion we need to under­stand sim­ple news­pa­per arti­cles, how are we equipped to take the steps nec­es­sary to stop cli­mate change or rein in corporations?
An informed, crit­i­cal think­ing pub­lic is a pain in the ass to those in pow­er, because it doesn't make gov­ern­ing easy. With an unin­formed, pas­sive pub­lic, the sys­tem bends and turns accord­ing to the needs and wants of those with wealth and power.
Unsur­pris­ing­ly, over­all, we're an unin­formed public.
Get­ting informed (and learn­ing to fly)
If any­thing is going to change, we need to get informed. That means rec­og­niz­ing we've been duped (for exam­ple, we're not a democ­ra­cy — we're not even a repub­lic). It means under­stand­ing how we've been duped (pro­pa­gan­da that has been so effec­tive, we believe and spread it our­selves). And it means under­stand­ing why we've been duped (greed).
When we're done mourn­ing the sys­tem that we thought exist­ed, we need to begin the hard work of think­ing for ourselves.
It's crit­i­cal work that has pre­ced­ed all of the great social move­ments. Whether it was Chico Mendes in the rain­for­est; Lucy Stone of the women's suf­frage move­ment, or Wen­dell Phillips of the abo­li­tion­ists; the first step in doing any­thing real was to cre­ate a space where peo­ple could ful­ly under­stand how the exist­ing sys­tem functioned.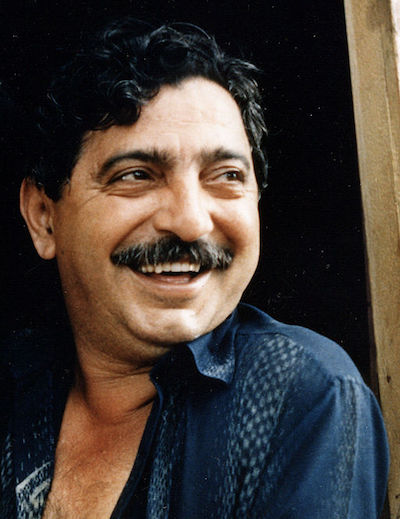 Chico Mendes in

1988

.
(Image: Wiki­me­dia Commons)
To that end, the abo­li­tion­ists showed the day-to-day real­i­ty of slav­ery to peo­ple, trig­ger­ing a moral and eth­i­cal duty to act. The suf­frag­ists remind­ed women of what it was like to be owned and used. The rub­ber tap­pers remind­ed the world of the impact of its insa­tiable hunger for the destruc­tion of the plan­et and indige­nous communities.
Then they dared to imag­ine what a new world would look like, steer­ing those awak­ened ener­gies into the cre­ation of that world.
The com­mu­ni­ty rights movement
One of the places where that is cur­rent­ly hap­pen­ing is the ​"com­mu­ni­ty rights" move­ment — a move­ment of hun­dreds of com­mu­ni­ties across the Unit­ed States which is com­ing to grips with the real­i­ty that large cor­po­ra­tions have more pow­er in their com­mu­ni­ties than they do.
These com­mu­ni­ties are con­front­ed with impend­ing frack­ing oper­a­tions, fac­to­ry hog farms and large-scale water with­drawals. These com­mu­ni­ties are also tak­ing the time to ques­tion how the exist­ing sys­tem works, fig­ur­ing out how to change that sys­tem so that it begins to pro­tect com­mu­ni­ties and the plan­et, and dar­ing to do the work on the ground to birth a new system.
Their work means ques­tion­ing why cor­po­ra­tions (and the rel­a­tive­ly small hand­ful of those who run them) have more pow­er with­in this sys­tem than their own gov­ern­ments, how the U.S. con­sti­tu­tion­al struc­ture made it so easy for them to grab that pow­er, and how we need a new sys­tem of gov­er­nance that lib­er­ates their com­mu­ni­ties to pro­tect them­selves and the nat­ur­al world.
There are, of course, oth­er move­ments out there doing the same thing: the gay rights move­ment dri­ving into the courts to legal­ize same-sex mar­riage, the ​"me too" move­ment seek­ing to rewrite the land­scape of sex­u­al harass­ment and equal treat­ment, the indige­nous rights move­ment seek­ing to reclaim trib­al lands and iden­ti­ty, and the new­ly ener­gized civ­il rights move­ment, illu­mi­nat­ing the his­to­ry of lynch­ing and racism that runs as a pri­ma­ry thread through our culture.
Those move­ments, as with the com­mu­ni­ty rights move­ment, do not arrive with­out a pow­er­ful back­lash. Those who com­prise the back­lash, in the form of Trumpians and oth­ers, believe that the Amer­i­can ethos itself is under siege. They are sell­ing a sto­ry that the Amer­i­can ​"way of life" is under attack — that the ​"free" mar­ket has been hin­dered by cor­po­rate reg­u­la­tion; that pub­lic lands have been shield­ed from nec­es­sary devel­op­ment; and that own­ing and car­ry­ing guns is a con­sti­tu­tion­al birthright.
In their minds, they are now repelling board­ers who have sought to hijack the constitution.
Get­ting it right
In many ways, the Trumpians are right on the mon­ey. Past move­ments in this coun­try have all been about try­ing to morph the ​"Amer­i­ca" that was set into stone by the white, wig-wear­ing new aris­to­crats of the 1780s. Those one-per­centers who gath­ered in Philadel­phia to write a new con­sti­tu­tion so dis­trust­ed ​"we the peo­ple" that they cre­at­ed con­sti­tu­tion­al pro­vi­sions ele­vat­ing cor­po­rate com­merce above demo­c­ra­t­ic con­trol, while dilut­ing the author­i­ty of peo­ple to choose their own governments.
In striv­ing to make a new world, past move­ments had to untan­gle the ​"found­ing vio­lence" that made women prop­er­ty, endorsed and pro­tect­ed slav­ery, and enshrined a cen­tral­ized form of gov­ern­ment that was very much about white priv­i­lege and the pro­tec­tion of those with prop­er­ty and wealth.
We must do the same. But the first moun­tains to climb reside in our own heads. We must grap­ple with the fact that we don't even know the scope of the prob­lem that we face. Until we take time to fig­ure that out, a new way of life will remain beyond our reach.
("Dan­ger­ous to the 1%: An Informed Pub­lic" was first pub­lished on The Com­mu­ni­ty Envi­ron­men­tal Legal Defense Fund's web­site and is repost­ed on Rur­al Amer­i­ca In These Times with per­mis­sion.)
The Com­mu­ni­ty Envi­ron­men­tal Legal Defense Fund (
CELDF
) part­ners with com­mu­ni­ties and orga­ni­za­tions across the Unit­ed States and around the world to advance Com­mu­ni­ty Rights and the Rights of Nature. This means sup­port­ing com­mu­ni­ties as they grap­ple with dif­fi­cult ques­tions, pro­vid­ing grass­roots orga­niz­ing and legal assis­tance as they forge a new path to the com­mu­ni­ties they envi­sion, and lead­ing the ground­break­ing Rights of Nature work.