Colombian Ex-GM Workers Call on U.S. for Help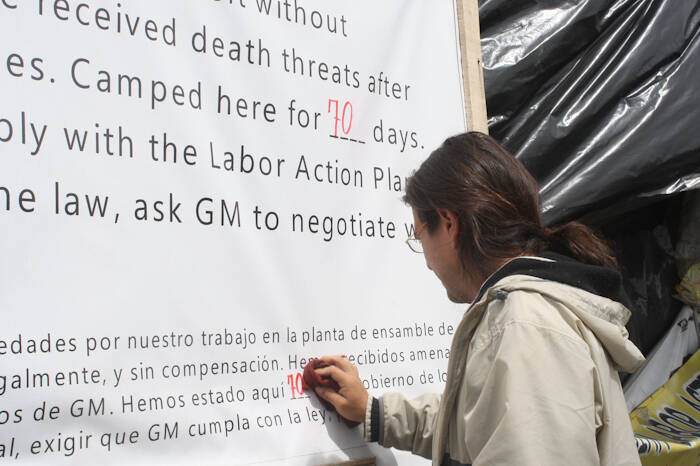 Bogo­ta, COLOM­BIA — As Jorge Par­ra rose to mark down on a sign on the out­side of his tent anoth­er day of his two-year-long vig­il, his man­gled body fought back.
Parra's back is stiff as a met­al plank; his left foot near­ly par­a­lyzed. He blames the crip­pling injuries to his arms and spine from the day-to-day scars of work­ing con­di­tions in the Gen­er­al Motors plant in Bogo­ta, where he worked for sev­en years until he was fired in 2011.
Par­ra wasn't the only injured work­er let go. In May 2011, he and 67 oth­er ex-GM work­ers formed a group called the Asso­ci­a­tion of Injured Work­ers and Ex-Work­ers of Gen­er­al Motors Colom­bia (ASOTRECOL). They charged that GM had fired work­ers injured on the job so it would not have to assume the costs of their health­care. In August, the work­ers launched a tent encamp­ment out­side the U.S. embassy in Bogo­ta, pledg­ing to remain there until they received a just set­tle­ment from GM.
A GM spokesper­son told In These Times that the work­ers had been fired for var­i­ous rea­sons, and that the com­pa­ny does not com­ment on per­son­nel matters.
​"When we first came here, they thought we would be here for a week. But we're here for two years already, and we've shown that we have the deter­mi­na­tion not to give up," declares Par­ra, a for­mer work­er at a Gen­er­al Motors plant in Bogota.
Dur­ing their long vig­il, the work­ers have waged mul­ti­ple hunger strikes in hopes of wring­ing a set­tle­ment from GM. Their strug­gle has caught the atten­tion of U.S.-based union, human rights activists and reli­gious lead­ers, who have implored GM to resolve the dis­pute with the workers.
The work­ers have also called for inter­ven­tion from the U.S. gov­ern­ment, cit­ing its con­trol­ling stake in GM, which received $50 bil­lion in fed­er­al bailout mon­ey, as well as the recent approval of a bilat­er­al free trade agree­ment between the Unit­ed States and Colombia.
The agree­ment drew the ire of labor activists when it was first pro­posed in 2006, and passed Con­gress in 2011 only after U.S. and Colom­bian nego­tia­tors reached a detailed plan for labor pro­tec­tions. But unions and oth­er observers were still doubt­ful, ques­tion­ing whether the gov­ern­ment of Colom­bia — dubbed by the AFL-CIO's Sol­i­dar­i­ty Cen­ter the most dan­ger­ous place in the world for trade union­ists — would or could live up to its promises.
Among oth­er things, the gov­ern­ment promised to pro­tect work­ers against vio­lence and pros­e­cute their attack­ers. But the plight of Par­ra and his col­leagues, who have tried unsuc­cess­ful­ly for more than two years to win com­pen­sa­tion in Colom­bian courts, sug­gests that many of the prob­lems persist.
False unions
A major goal of the free trade agreement's labor pro­tec­tions was to bol­ster Colombia's bad­ly bat­tered labor unions, whose ranks have fall­en to only 4 per­cent of the work­place, down from about 15 per­cent two decades ago.
Vio­lence against union­ists has been a dri­ving force in unions' down­ward spi­ral. Since 1986, more than 2,900 union mem­bers have been killed and 12,000 threats have made against union mem­bers, accord­ing the Nation­al Labor Acad­e­my in Medellin, a reli­able source for labor infor­ma­tion in Colombia.
Though the mur­ders of union mem­bers have marked­ly declined in the last few years, threats and attacks on union mem­bers jumped by about 50 per­cent in the last year, espe­cial­ly for those try­ing to assert the trade agreement's promis­es for work­ers, say offi­cials with the Nation­al Labor Academy.
But equal­ly destruc­tive has been the use of sham labor agree­ments — which work­ers can­not nego­ti­ate and are forced to accept if they want to keep their jobs — to under­mine unions.
Such ​"col­lec­tive pacts" are the lega­cy of right-wing gov­ern­ments that have bowed to busi­ness inter­ests. Over 227,000 Colom­bian work­ers were cov­ered by col­lec­tive pacts in 2011, accord­ing to the U.S. Depart­ment of Labor. The sham agree­ments have been fierce­ly con­demned by Colom­bian unions and strong­ly crit­i­cized by the Inter­na­tion­al Labor Orga­ni­za­tion, but con­tin­ue to be imposed on work­ers nonetheless.
At the GM plant in Bogo­ta, the inde­pen­dent union that led a strike in the late 1990s was soon under­mined by a com­pa­ny-favored col­lec­tive pact, accord­ing to Par­ra. ​"They said, ​'You must sign with the col­lec­tive pact and if you don't, you won't work here,'" said Par­ra, recall­ing his first days on the job in 2004.
The orig­i­nal union has since shrunk to only a few mem­bers, and the col­lec­tive pact rep­re­sents the major­i­ty of the plant's work­ers, a fact con­firmed by GM offi­cials in Detroit.
Work­ers at the plant suf­fered under the com­pa­ny union. Sev­er­al years after start­ing work as a welder, Par­ra said his arms and back began to ache. ​"I would go to the GM med­ical cen­ter, and they would say it's okay and give me an injec­tion for relief," he recalled. Ulti­mate­ly, he had oper­a­tions on his spine and arms, but his med­ical woes were not relieved.
Par­ra brought his med­ical prob­lems to the heads of the col­lec­tive at the plant, but his com­plaints fell on deaf ears. ​"They basi­cal­ly worked for the com­pa­ny. They were not work­ers like us," Par­ra said.
As part of the free trade agree­ment, Colom­bia passed a law in 2011 impos­ing fines on com­pa­nies that use col­lec­tive pacts to under­mine unions. But the AFL-CIO says that the law is too weak to be enforced. A 2012 study by the Nation­al Labor Acad­e­my found no con­vic­tions under the law to date.
​"I don't think the gov­ern­ment doesn't want to solve the prob­lem. But you have struc­tur­al prob­lems relat­ed to 50 years of civ­il war," sug­gest­ed Todd How­land, Rep­re­sen­ta­tive of the UN High Com­mis­sion­er for Human Rights in Colom­bia. ​"Colom­bia is very good at pass­ing laws and reg­u­la­tions and it has a prob­lem mak­ing them real through­out the country."
The free trade deal also spurred Colom­bia to pass laws requir­ing recog­ni­tion of inde­pen­dent unions, but com­pa­nies have found ways around them. Rather than deal direct­ly with their work­ers, com­pa­nies are ​"employ[ing] work­ers under fraud­u­lent schemes," accord­ing to an April report by the Trade Union Advi­so­ry Com­mit­tee for Orga­ni­za­tion for Eco­nom­ic Coop­er­a­tion and Development.
The U.S. State Department's 2012 glob­al human rights report acknowl­edges the trou­bled state of labor rights in Colombia.
​"Employ­ers con­tin­ued to use tem­po­rary con­tracts, ser­vice agen­cies, and CTAs to lim­it work­er rights and pro­tec­tions and low­er costs…In prac­tice fines assessed by the gov­ern­ment did lit­tle to dis­suade vio­la­tors," the report notes.
In com­par­i­son, U.S. offi­cials from the Depart­ment of Labor and the Office of the US Trade Rep­re­sen­ta­tive in Wash­ing­ton, D.C, who would only speak on back­ground, were gen­er­al­ly pos­i­tive about the state of labor prac­tices in Colombia.
​"The Colom­bians have suc­cess­ful­ly met the mile­stones," said one offi­cial, refer­ring to the pro­vi­sions laid out in the trade agree­ment regard­ing unions and work­ers. U.S. offi­cials hear the unions' com­plaints and are ​"engaged" with the Colom­bians about them, the offi­cial added.
Colom­bian labor offi­cials read­i­ly con­cede that work­ers have been vic­tims of vio­lence and abu­sive labor prac­tices, includ­ing shell labor orga­ni­za­tions. But they insist that change in these areas is grad­ual, and that many improve­ments have already been made.
​"We have a long way to go, but we've gone beyond any­one before," said Alfon­so Cuel­lar, Colombia's deputy chief of mis­sion in Wash­ing­ton, D.C.
Colombia's Labor Min­istry touts the fact that it spent $111 mil­lion on pro­tec­tion efforts for union mem­bers last year, and has lev­eled 2,348 fines against labor law vio­la­tors in 2013. By 2014, the min­istry plans to boost the num­ber of work­place inspec­tors by 44 percent.
Nego­ti­at­ing setbacks
Par­ra, for his part, sees lit­tle change.
A year after the for­mer GM work­ers launched their encamp­ment in August 2011, the ranks of pro­test­ers had dropped to 13. Noth­ing had changed. They had mas­sive debts. Some had lost their homes. Despair over­came many. Mon­ey raised by U.S. union mem­bers bare­ly helped. Depres­sion haunt­ed Par­ra. ​"I'd get out of bed and there would be no food." His mar­riage collapsed.
In des­per­a­tion, the work­ers decid­ed to sew their lips shut and launch a hunger strike. Their 28-day fast had quick results. GM offi­cials from Detroit along with US medi­a­tors came to Bogo­ta to nego­ti­ate in August 2012.
But the talks col­lapsed with no results.
The 13 work­ers were demand­ing retrain­ing for dif­fer­ent jobs at the plant, as well as $5.5 mil­lion to the cov­er their med­ical costs. Instead, the com­pa­ny offered $3,000 ini­tial­ly and then $35,000 for each work­er, accord­ing to Parra.
ASOTRECOL declined the offer, insist­ing that they should receive the same com­pen­sa­tion from GM as U.S. work­ers injured on the job. Typ­i­cal­ly, com­plete­ly dis­abled work­ers can receive up to two-thirds of their salary for their life­time in the U.S., accord­ing to work­place com­pen­sa­tion attor­neys. The mon­ey offered by GM to ASOTRECOL work­ers ​"wouldn't come close to cov­er­ing our health prob­lems," said Parra.
GM coun­ters that it made a num­ber of offers dur­ing the nego­ti­a­tions. One totaled $150,000 in pro­grams for the work­ers and their fam­i­lies. Anoth­er would have pro­vid­ed 15 months of salary, health care and pen­sion ben­e­fits and two years of high­er edu­ca­tion costs, accord­ing to McBride.
The work­ers have also fought GM in Colom­bian courts, seek­ing com­pen­sa­tion for their injuries and chal­leng­ing their dis­missals. By GM's reck­on­ing, it has won in 25 out of 29 cas­es filed by the work­ers. Four are pending.
In June, the work­ers thought they had made a break­through when a Min­istry of Labor offi­cial ordered the work­ers' case to be reopened regard­ing health and safe­ty records, work­place pro­ce­dures and gov­ern­ment inves­ti­ga­tions at the plant. A gov­ern­ment inspec­tor for the plant pre­vi­ous­ly was sanc­tioned for fail­ing to do his work properly.
Much to their sur­prise, how­ev­er, the inves­ti­ga­tor shelved the case in July. ​"It's clear what hap­pened. The com­pa­ny talked to the Min­is­ter and he told her (the inves­ti­ga­tor) to back off," claimed Rhett Doumitt, head of the AFL-CIO's Sol­i­dar­i­ty Cen­ter in Bogota.
ASOTRECOL decid­ed to try anoth­er dra­mat­ic ges­ture, and planned to sym­bol­i­cal­ly cru­ci­fy one of their ranks on a cross in front the embassy. Eager to avert a cri­sis, local gov­ern­ment offi­cials agreed to help restart nego­ti­a­tions in mid-August, but noth­ing came from the ges­ture. GM offi­cials mere­ly repeat­ed the company's pri­or offer, accord­ing to Doumitt, whose office has close­ly fol­lowed the GM work­ers' strug­gle. GM offi­cials con­firmed that the meet­ing failed to pro­duce any results.
Frank Ham­mer, a retired UAW local pres­i­dent and GM work­er from Detroit, is one of the union, reli­gion and human rights activists, who have embraced the work­ers' cause. Dur­ing a recent vis­it to Bogo­ta, he lis­tened as the won­dered what to do after all their set­backs they've suffered.
Ham­mer believes ASOTRECOL's strug­gle is cru­cial both for Colom­bian work­ers and for Amer­i­can ones, whom he says could one day face the same strug­gle — suf­fer­ing work­place injus­tices with­out any­one speak­ing up for them.
The fight is still an uphill one, but Ham­mer is encour­aged by the way that the work­ers have dug in. ​"If we can blow our horns a lit­tle loud­er," he says, ​"then maybe they (GM) will change their think­ing about a settlement."
The Pulitzer Cen­ter for Cri­sis Report­ing sup­port­ed this reporting.
Stephen Franklin is a for­mer labor and work­place reporter for the Chica­go Tri­bune, was until recent­ly the eth­nic media project direc­tor with Pub­lic Nar­ra­tive in Chica­go. He is the author of Three Strikes: Labor's Heart­land Loss­es and What They Mean for Work­ing Amer­i­cans (2002), and has report­ed through­out the Unit­ed States and the Mid­dle East.