On Octo­ber 2, Euro­pean Union lead­ers and Afghan gov­ern­ment offi­cials signed an agree­ment called the ​"Joint Way For­ward" (JWF). The deal declared that the EU could deport Afghan asy­lum seek­ers in unlim­it­ed num­bers, and Afghanistan would accept them back.
Many Afghan and international migrant rights activists and human rights groups have blasted the deal as a secret backroom agreement forced by a strong government upon a weak one.
Human rights groups and activists have alleged the JWF deal is the result of ​"black­mail." They claim, based on a leaked memo, that the EU pres­sured Afghanistan to accept depor­tees in exchange for a $15.2 bil­lion aid package.
By recat­e­go­riz­ing many Afghans flee­ing their home­land from ​"refugees" to ​"eco­nom­ic migrants," the EU is able to cir­cum­vent inter­na­tion­al laws on the rights of refugees. The EU also claims that many areas in Afghanistan are secure and ​"safe" for deport­ed Afghans to return to.
All of this seems out of touch with the real­i­ty: 2016 has been the blood­i­est year on record for civil­ians since the 2001 U.S./NATO occu­pa­tion began. This year has seen a 15 per­cent increase over last year in child injuries and deaths, while Afghan secu­ri­ty forces have suf­fered at least 15,000 casualties.
The JWF deal states that it will pro­vide ​"a dig­ni­fied return" to Afghanistan. But it fails to men­tion the at least 1.2 mil­lion Afghans already dis­placed inside Afghanistan — who live in camps that are any­thing but dig­ni­fied, camps that show the con­di­tions to which the poor­est and most vul­ner­a­ble of the EU's depor­tees are like­ly to return.
Dis­placed and Dispossessed
The num­ber of inter­nal­ly dis­placed peo­ple (IDPs) in Afghanistan is grow­ing rapid­ly due in part to heavy fight­ing between gov­ern­ment forces — backed by U.S. air pow­er — and the Tal­iban in Kun­duz, Uruz­gan, Hel­mand, Farah and Faryab provinces, result­ing in over 450,000 dis­placed this year accord­ing to the U.N. Office for the Coor­di­na­tion of Human­i­tar­i­an Affairs (UN-OCHA).
Dis­placed Afghans liv­ing in neigh­bor­ing Iran and Pak­istan, who have report­ed­ly faced police vio­lence, arbi­trary arrests and harass­ment, are also being forced back into Afghanistan. Pak­istani author­i­ties have giv­en a dead­line of March 2017 for all of the approx­i­mate­ly three mil­lion Afghans liv­ing in Pak­istan to leave the country.
So far this year rough­ly 400,000 Afghans have crossed the Torkham bor­der from Pak­istan back into Afghanistan.
This has also con­tributed to the growth of Afghanistan's IDP pop­u­la­tions, and new IDP camps are pop­ping up through­out the country.
Although some are gov­ern­ment-sanc­tioned, many camps in Afghanistan are con­sid­ered ille­gal set­tle­ments and face con­stant harass­ment from pri­vate cit­i­zens claim­ing own­er­ship over the land as well as from local author­i­ties threat­en­ing to force every­one off the encampments.
Ismail, age 40 (who, like many of the dis­placed peo­ple In These Times spoke with, did not give a last name), is the cur­rent ​"Malik," or head, of Charahi Qam­bar camp, the largest IDP camp in Afghanistan's cap­i­tal of Kab­ul. He says that with lit­tle to no sup­port com­ing from the Afghan cen­tral gov­ern­ment, the pop­u­la­tion of the camp has been left to fend for themselves.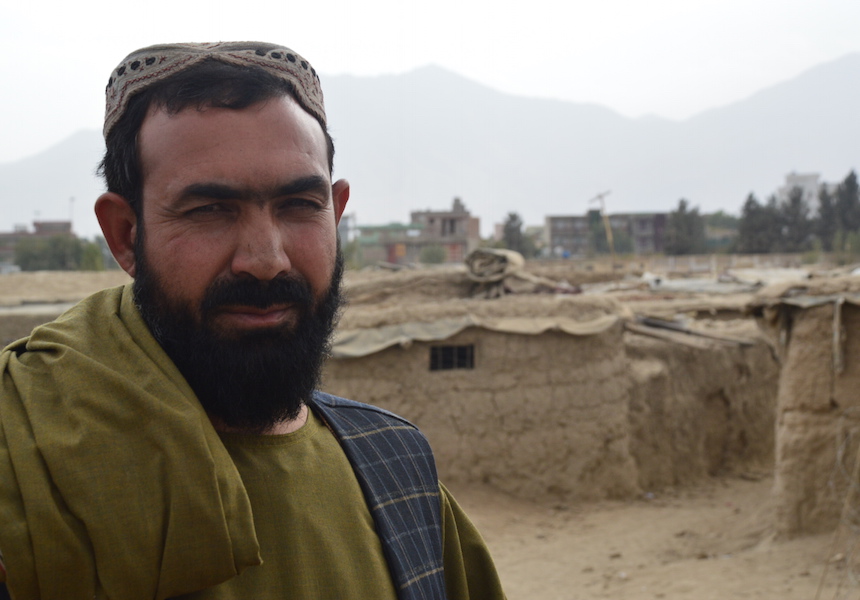 Ismail, Malik of the Charahi Qam­bar IDP camp. (Pho­to by Mohammed Harun Arsalai)
"Dur­ing [for­mer Pres­i­dent Hamid] Karza­i's gov­ern­ment," Ismail says, U.N. aid agen­cies and the Afghan Min­istry of Refugees and Repa­tri­a­tions (MoRR) at least provied some sup­port. "[They] came to vis­it us sev­er­al times. They would ask how we were doing and gave us some basic supplies."
But, he says, it wasn't enough.
They gave out a total of 950 cards to Charahi Qam­bar, camp res­i­dents remem­ber, each with a 4,000 Afghani allowance (rough­ly $60 USD), despite Ismail's esti­mate that there are up to 1,350 households.
"We could buy basic goods at near­by stores with cards, but the store own­ers would over­charge us," Ismail says.
This 4,000 Afghani allowance — which last­ed house­holds no more than a few weeks, camp res­i­dents tell In These Times—was giv­en once a year, sev­er­al times under the Karzai gov­ern­ment, which last­ed until Sep­tem­ber 2014. ​"But now," Ismail says, ​"under [cur­rent Pres­i­dent Ashraf] Ghani nobody has come to help us. When they do come, it's to threat­en us to leave the land."
This aligns with broad­er trends iden­ti­fied in a May 2016 Amnesty Inter­na­tion­al report, find­ing that food aid for Afghanistan's IDPs is ​"usu­al­ly spo­radic and ad hoc," that IDPs report decreased aid in recent years and that much of what U.N. agen­cies do give to the Afghan gov­ern­ment does not get deliv­ered to IDPs due to MoRR corruption
The MoRR and U.N.-OCHA have not replied to requests for comment.
Vio­lence from All Sides
Charahi Qam­bar camp lies on the out­skirts of Kab­ul city and res­i­dents esti­mate it hous­es any­where from 4,000 to 9,000 dis­placed Afghans in between 950 and 1350 mud hous­es and tent struc­tures. The camp is approx­i­mate­ly nine years old, accord­ing to its res­i­dents, and was found­ed by peo­ple dri­ven out of Hel­mand and Uruz­gan provinces by fight­ing between the Tal­iban and the government.
Most camp res­i­dents fled with noth­ing but their lives, hav­ing wit­nessed or suf­fered vio­lence and abuse from all sides — the Tal­iban, the Afghan Nation­al Army and the U.S. mil­i­tary. Take, as examples:
Qasim, age

8

: He lost his arm alleged­ly in a U.S. airstrike on his vil­lage in Hel­mand. The strike burnt his house down and killed three of his neighbors.
Rashid, age

50

: His wife was alleged­ly killed in fight­ing between the Tal­iban and the Unit­ed States. Rashid has­n't emo­tion­al­ly recov­ered from the loss of his wife, and peo­ple in the camp deem him ​

"

insane." He has a teenage son who takes care of him.
Mul­lah Noor, age

33

: He lost both his par­ents alleged­ly in a U.S. airstrike in Hel­mand. Noor claims the intend­ed tar­gets, the Tal­iban, were not in the area when the attack took place.
Many res­i­dents in the camp allege that, back in Hel­mand dur­ing the fight­ing, the Afghan Nation­al Army would rou­tine­ly arrest them on unfound­ed sus­pen­sions of being Tal­iban mem­bers. Camp res­i­dents com­plain of beat­ings and arbi­trary deten­tions — some­times, they allege, being locked away for months or years until author­i­ties were sat­is­fied they were a ​"non-com­bat­ant."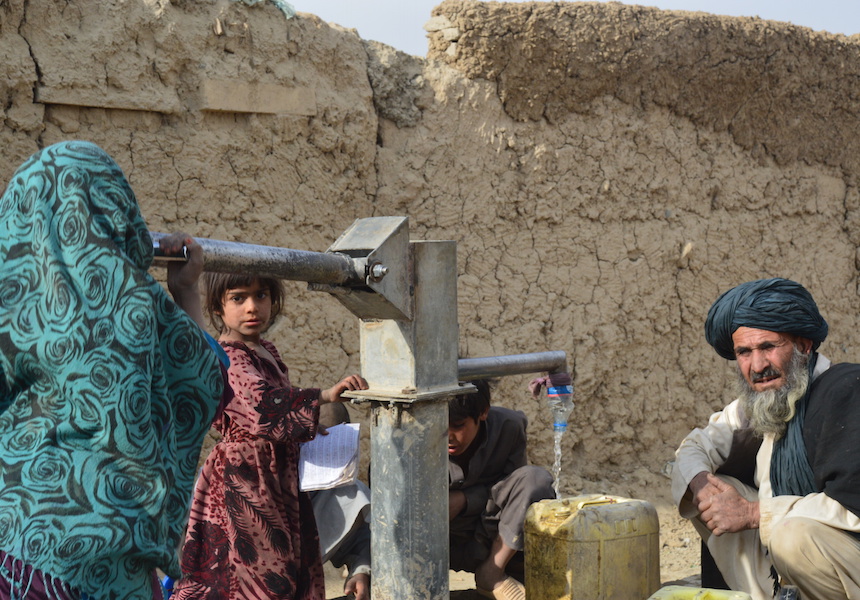 Water from a well in Charahi Qam­bar camp. (Pho­to by Mohammed Harun Arsalai)
Wel­come Home
On the oth­er side of Kab­ul, just east of the city in the Bagra­mi dis­trict, is Pole Sheena camp. The camp, res­i­dents say, is home to an esti­mat­ed 80 hous­es occu­pied by 400 peo­ple. This makes it much small­er than the oth­er camps in Kab­ul; it's bro­ken into lit­tle pieces by tow­er­ing 3- or 4‑story homes, between which IDPs have set up in emp­ty lots. Most of Pole Sheena's res­i­dents had at one point been refugees liv­ing in Pak­istan, but many returned to Afghanistan after being harassed, beat­en and jailed by Pak­istani authorities.
"They start­ed by tear­ing down the [Pak­istani] camps, so we'd move," says Khwa­ja, a 30-year-old Pole Sheena res­i­dent. ​"Then they would come and ask for doc­u­ments that we didn't have and beat and arrest us. When one of us would final­ly be bailed out, we'd find out that our broth­er or cousin was arrest­ed while we were in jail and we'd have to then find mon­ey to bail them out as well."
Oth­ers in the camp claimed that they had only received out­side assis­tance once, in the six years that the camp has existed.
"If you're going to invite peo­ple back from Pak­istan, you should at least have pre­pared tea for them," exclaims one elder­ly camp resident.
"You see these kids?" he con­tin­ues as he pulls lit­tle chil­dren towards him who had gath­ered around. ​"Do these kids need any­thing? Aren't these chil­dren going to want something?"
One of the chil­dren pulled for­ward is 8‑year-old Fari­da Jan, who is miss­ing an arm. She says she does­n't remem­ber what hap­pened because she was too young, but oth­ers in the camp say her arm was sev­ered by shrap­nel from a mine or IED.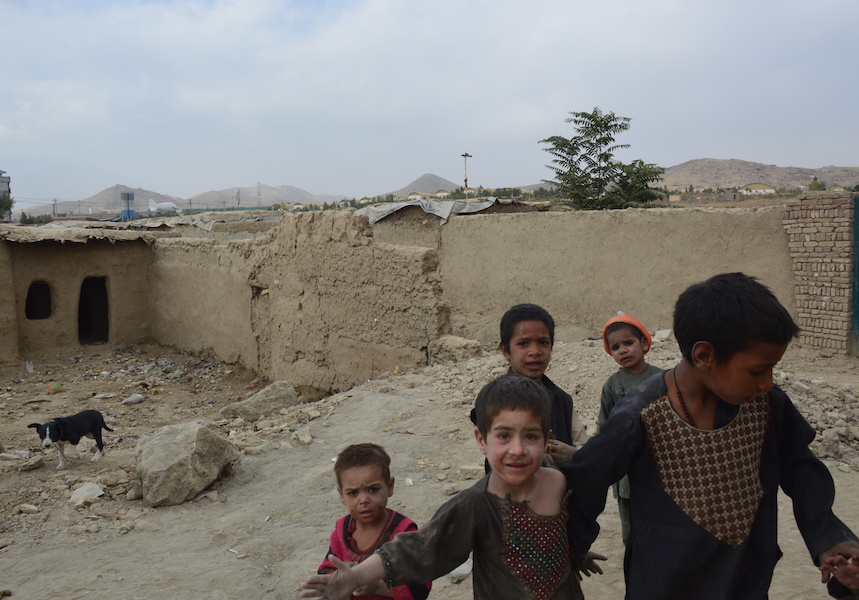 Chil­dren play at Charahi Qam­bar camp. (Pho­to by Mohammed Harun Arsalai)
Toward Dis­as­ter
All indi­ca­tors point to a wors­en­ing secu­ri­ty sit­u­a­tion in Afghanistan: Anoth­er recent Tal­iban takeover of Kun­duz; the near fall of Faryab and Farah provinces; heavy fight­ing between the Tal­iban and Afghan secu­ri­ty forces con­tin­ues in Hel­mand; the Islam­ic State's grow­ing pres­ence through­out the country.
Indeed, the EU's own leaked doc­u­ment indi­cates that there have been a ​"record lev­els of ter­ror­ist attacks and civil­ian casu­al­ties (over 11,000 civil­ian casu­al­ties record­ed in 2015)," a num­ber the doc­u­ment states ​"is like­ly to grow stronger."
The leaked doc­u­ment also reveals the EU ratio­nale for push­ing the JWF deal: an expect­ed mas­sive wave of Afghan migra­tion to Europe in the near future due to the ​"dete­ri­o­rat­ing" eco­nom­ic and mil­i­tary sit­u­a­tion in Afghanistan as well as mass expul­sions from Iran and espe­cial­ly Pakistan.
Out of appar­ent frus­tra­tion with the JWF agree­ment, Min­is­ter Sayed Hus­sain Ali­mi Balkhi of Afghanistan's MoRR refused to sign the deal. This ges­ture was only sym­bol­ic, how­ev­er, as the deputy min­is­ter then signed for him.
Many Afghan and inter­na­tion­al migrant rights activists and human rights groups have blast­ed the deal as a secret back­room agree­ment forced by a strong gov­ern­ment upon a weak one.
Amnesty Inter­na­tion­al, in response to the deal, said that mak­ing devel­op­ment aid con­tin­gent on accept­ing depor­tees is ​"an absolute disgrace."
In Kab­ul, Afghan civ­il soci­ety activists have begun orga­niz­ing against the JWF, and are demand­ing the deal not be imple­ment­ed. Activists called the agree­ment ​"unde­mo­c­ra­t­ic" for nev­er being dis­cussed or debat­ed before implementation.
Fron­tex, the EU's bor­der agency, is expect­ed to car­ry out the depor­ta­tions, many of which are expect­ed to be invol­un­tary. Fron­tex has been accused of bru­tal­i­ty towards migrants, and their involve­ment is anoth­er aspect of the JWF deal sin­gled out by Afghan civ­il soci­ety activists.
Mean­while, Pres­i­dent Ghani has been wide­ly crit­i­cized for not doing enough to sup­port Afghan asy­lum seek­ers. In a BBC inter­view in March of this year Ghani said he has ​"no sym­pa­thy" for those flee­ing his country.
The mil­lions of Afghans expect­ed to be forced back into Afghanistan dur­ing this high­ly volatile and inse­cure time will undoubt­ed­ly add to the boom in the num­ber of IDP camps and their pop­u­la­tions, and fur­ther an already dis­as­trous human­i­tar­i­an cri­sis. It's unclear how IDP camps will cope with the new arrivals, espe­cial­ly giv­en the already poor con­di­tions for cur­rent residents.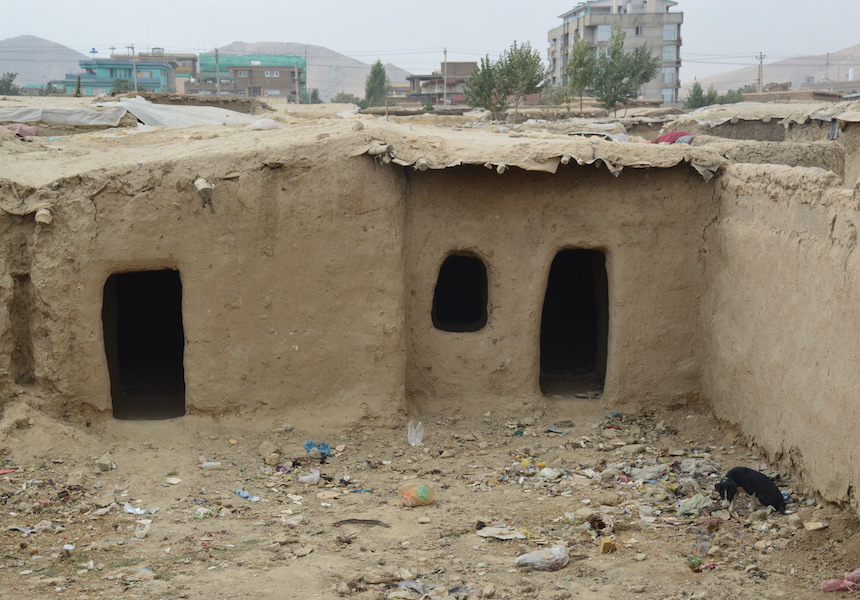 A dog in Charahi Qam­bar camp. (Pho­to by Mohammed Harun Arsalai)
Stuck with no alter­na­tives, already des­per­ate and tired of wait­ing years for a solu­tion after 9 years, Malik Ismail of the Charahi Qam­bar camp makes his posi­tion and the posi­tion of those resid­ing inside the camp clear:
"We're not leav­ing here until 1,000 or 2,000 or 3,000 or what­ev­er num­ber of us are here are all giv­en hous­ing: the elder­ly, chil­dren, women, men. … Until then, we are not leav­ing under any cir­cum­stances — they will have to kill us and our chil­dren before we leave."