Why May Day Continues to Capture the Hearts and Imaginations of Workers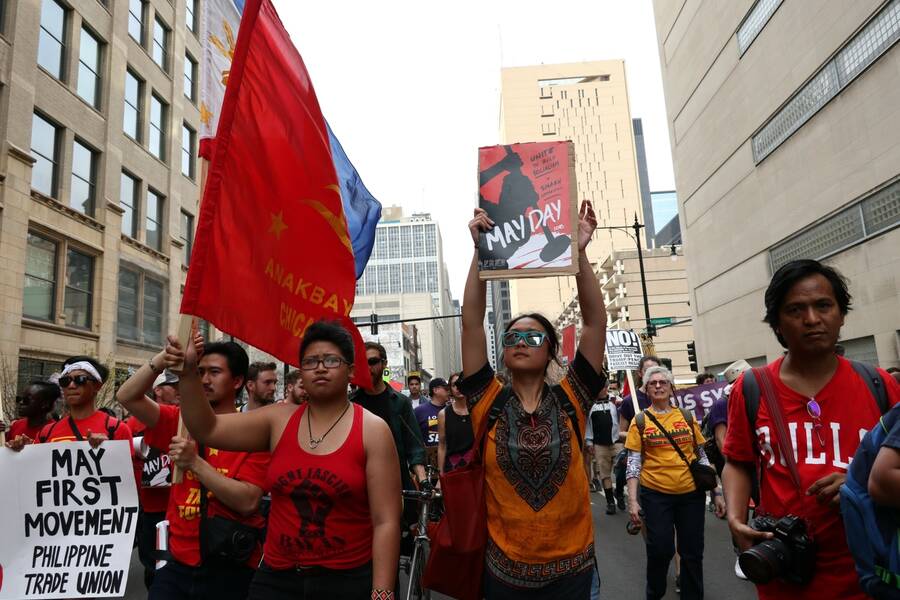 May 1 has an ener­gy that is pal­pa­ble across the globe. On this day, every year for more than a cen­tu­ry, work­ers across the world gath­er for Inter­na­tion­al Work­ers Day, also known as May Day. These march­es have inspired every­one from retired mechan­ics to immi­grant fast food work­ers to high school stu­dents to take the streets in hon­or of labor — and in a show of respect for the pow­er of a strike. Amid the Trump admin­is­tra­tion's egre­gious assaults on the lives of work­ers and immi­grants, show­ing up for a day that asserts the dig­ni­ty of work­ers from all back­grounds is more impor­tant than ever.
"May Day serves as a reminder to all work­ing peo­ple around the world that we are fac­ing a com­mon strug­gle, and that we are still the major­i­ty," Joel Fay­pon, a mem­ber of Unit­ed Elec­tri­cal, Radio and Machine Work­ers of Amer­i­ca (UE) Local 1008, tells In These Times. ​"And that we still have the pow­er to dri­ve world pol­i­tics to a direc­tion that would best serve us."
The his­to­ry of May Day
May Day was born in Chica­go in 1886. Dur­ing the late 19th cen­tu­ry, work­ers, tired of 10- to 16-hour days and lit­tle pay, began to orga­nize along social­ist and anar­chist prin­ci­ples. Whether in for­mal unions, polit­i­cal par­ties or cul­tur­al groups, work­ing-class peo­ple in the Unit­ed States were moti­vat­ed by their dis­mal con­di­tions and the hope they found in anti-cap­i­tal­ist ideas. With dis­cus­sion about unfair work­ing con­di­tions spread­ing like a fever, the 1884 con­ven­tion of the Fed­er­a­tion of Orga­nized Trades and Labor Unions (FOTLU) con­clud­ed with a dec­la­ra­tion that ​"eight hours shall con­sti­tute a legal day's labor from and after May 1, 1886." Both the FOTLU and the Knights of Labor would sup­port strikes and demon­stra­tions to achieve it.
In a his­to­ry of the events lead­ing up to the first May Day, Indus­tri­al Work­ers of the World mem­ber Eric Chase notes that between 1884 and 1886, ​"an esti­mat­ed quar­ter mil­lion work­ers in the Chica­go area became direct­ly involved in the cru­sade to imple­ment the eight-hour work day."
When May 1 final­ly arrived, 40,000 work­ers went on strike in Chica­go, and over 300,000 work­ers across the Unit­ed States walked off their jobs. For two days, ral­lies and demon­stra­tions ensued with­out vio­lence, but on May 3, police attacked and killed pick­et­ing work­ers at the McCormick Reaper Works Plant. Labor lead­ers called for a pub­lic meet­ing to protest the deaths, set for the evening of May 4 in Hay­mar­ket Square. The events that ensued at Hay­mar­ket are fuzzy: A chaot­ic scene of pro­test­ers and police became the site of a bomb explo­sion (whose source has nev­er been proven), fol­lowed by gun­shots. When things were qui­et, the scene left near­ly a dozen dead (the exact num­bers are dis­put­ed, but the Illi­nois Labor His­to­ry Soci­ety states that sev­en police­man and four work­ers were killed).
Despite hav­ing no hard evi­dence on their side, the police placed blame on eight peo­ple they believed to be anar­chists: Albert Par­sons, August Spies, Samuel Field­en, Oscar Neebe, Michael Schwab, George Engel, Adolph Fis­ch­er and Louis Lingg. These charges were root­ed in not only anti-anar­chist and com­mu­nist sen­ti­ment of the time, but also deeply-entrenched xeno­pho­bia. Much of the labor force was made up of immi­grants, and so anar­chists, com­mu­nists, immi­grants and work­ers became easy scapegoats.
Six of the eight defen­dants were immi­grants, and sev­en of the eight men were found guilty and sen­tenced to death. Two of the men's sen­tences were changed to life in prison, one was exon­er­at­ed and five remained to be hanged. Louis Lingg was found dead in his jail cell before the exe­cu­tion. And so, on Novem­ber 11, 1887, Adolph Fis­ch­er, George Engel, Albert Par­sons and August Spies were hanged. May Day cel­e­bra­tions are meant to hon­or the lives of these peo­ple and the move­ments from which they emerged.
A Day of Action for immi­grants, queers and workers
Arman­do Rob­les, the Pres­i­dent of UE Local 1110 who was part of the his­toric Repub­lic Win­dows and Doors occu­pa­tion, cen­ters this his­to­ry as a rea­son to keep hon­or­ing May Day. ​"Peo­ple sac­ri­ficed their lives fight­ing for eight hours," he explains, ​"and in Chica­go and around the world, this day means some­thing impor­tant because of that."
Just like in the late 1800s, Rob­les argues, ​"we have to fight a lot of bat­tles all over the coun­try with this administration's poli­cies against immi­grants. So, we have to not only cel­e­brate and march, but also hold work­shops, meet­ings and tell the gov­ern­ment we are not in favor of this treatment."
In 2006, labor move­ment and immi­grant jus­tice lead­ers worked to cen­ter immi­grant labor in that year's May Day march­es. In the face of the Sensen­bren­ner bill—a fed­er­al bill intro­duced in 2005 which would have crim­i­nal­ized assis­tance to undoc­u­ment­ed immi­grants who were seek­ing food, hous­ing or med­ical ser­vices — May Day orga­niz­ers pro­claimed the march ​"A Day With­out Immi­grants." The bill passed in the House but failed in the Sen­ate, thanks in part to mass resis­tance. Still, com­pre­hen­sive immi­gra­tion reform has yet to be upheld, and the con­nec­tion between and over­lap among immi­grants and work­ers con­tin­ues to be an inte­gral theme of May Day rallies.
Today, with the Trump admin­is­tra­tion's con­stant assault on immi­grants, May Day's com­mit­ment to uphold the val­ue and dig­ni­ty of immi­grants is vital. Max­imil­lian Alvarez is a grad­u­ate stu­dent at the Uni­ver­si­ty of Michi­gan, a mem­ber of the Grad­u­ate Employ­ees' Orga­ni­za­tion (Amer­i­can Fed­er­a­tion of Teach­ers Local 3550), and the son of an immi­grant work­er from Mex­i­co. He tells In These Times, ​"Peo­ple under­stand that the easy way out is to blame immi­grants — to punch down and find some oth­er des­per­ate group of peo­ple to kick off the life raft, with­out doing the hard­er task of under­stand­ing the mech­a­nisms of glob­al cap­i­tal­ism are ulti­mate­ly the rea­son they will nev­er achieve the sus­tain­able hap­pi­ness they were promised as hard­work­ing peo­ple. And I think this speaks to the imper­a­tive of May Day, the spir­it of inter­na­tion­al work­er sol­i­dar­i­ty. It's a spir­it of sol­i­dar­i­ty that fun­da­men­tal­ly under­stands that cap­i­tal wins by divid­ing us, and by pit­ting us against each other."
Sim­i­lar­ly, queer work­ers — includ­ing queer, immi­grant work­ers — are in a par­tic­u­lar­ly pre­car­i­ous time in the Unit­ed States, with right-wing pol­i­cy mak­ers work­ing to roll back exist­ing pro­tec­tions and to pre­vent new pro­tec­tions from being enact­ed. There are no explic­it and con­sis­tent fed­er­al pro­tec­tions for LGBTQ work­ers, and exist­ing pro­tec­tions pro­vid­ed through the Equal Employ­ment Oppor­tu­ni­ty Com­mis­sion and judi­cial inter­pre­ta­tion are on their way to the Supreme Court, where they may be over­turned by next sum­mer. This makes union con­tracts an incred­i­ble asset to queer work­ers, who can fight for health­care, job pro­tec­tion and part­ner ben­e­fits through con­tract negotiations.
Be Marston, a shop stew­ard for UNITE HERE Local 8 in Port­land, Ore­gon, says she shows up to May Day mobi­liza­tions to help remind peo­ple that queer and trans work­ers are fight­ing eco­nom­ic injus­tice along­side their fight against trans and homo­pho­bic treat­ment. ​"Being a mem­ber of the LGBTQ+ com­mu­ni­ty, I want to show every­one we are in this fight," Marston notes. ​"May Day is a day when we all pull out of our trench­es and remind our­selves of the great pow­er we have when we all come together."
Kris Brown, a union work­er with the Inland­boat­man's Union in San Fran­cis­co echoes that May Day is more than just a cel­e­bra­to­ry march. ​"Labor Day in the U.S. is a day of rest for those work­ers who are for­tu­nate enough to have hol­i­days off, and May Day is a day of action," he says.
May Day orga­niz­ers plan more than march­es. The Work­er Sol­i­dar­i­ty Net­work has pro­posed that May 1 should mark the start of glob­al ​"sol­i­dar­i­ty days," which would involve ​"actions in the streets, orga­niz­ing at work­places, and build­ing assem­blies of work­ers." Sim­i­lar­ly, the Boston May Day Coali­tion has meet­ings year-round and is active in orga­niz­ing and sup­port­ing immi­grant jus­tice actions.
Around the globe, trade unions and oth­er work­er jus­tice groups plan march­es and oth­er events in hon­or of the Hay­mar­ket mar­tyrs, as well as var­i­ous labor actions and strikes in their respec­tive coun­tries. The Yel­low Vests, a com­plex eco­nom­ic jus­tice move­ment that began in France in Novem­ber of 2018, will spend its first May Day in the streets, re-assert­ing demands for fair wages and high­er tax­es on the rich. In Cuba, which is home to some of the largest May Day demon­stra­tions in the world, work­ers and stu­dents take the streets in sup­port social­ism and against harsh U.S. block­ades. South Africa has long cel­e­brat­ed Inter­na­tion­al Work­ers Day, and in 1950, the Com­mu­nist Par­ty of South Africa (CPSA) called for a May Day strike in sup­port of work­ers and in oppo­si­tion to the apartheid gov­ern­ment. That strike end­ed in state-sanc­tioned vio­lence, leav­ing 18 dead. Every May Day since has in part hon­ored the lives lost in the strug­gle for work­er jus­tice and self-determination.
Reviv­ing the strike
May Day is also a strike. Most march­es ask us to walk off work, in hon­or of the 1886 his­to­ry, and as a reminder of the neces­si­ty of keep­ing this labor tac­tic alive. Author and orga­niz­er Jane McAlevey explains in her book No Short­cuts that, par­tic­u­lar­ly now, we can't count on courts or politi­cians to pro­tect work­ers. Instead, we must fight and build pow­er in the ​"the eco­nom­ic are­na" in order to trans­form society.
As Trump admin­is­tra­tion attacks on work­ers get worse, the U.S. has seen a dra­mat­ic increase in the num­ber of strikes: teach­ers in West Vir­ginia, Ari­zona, Okla­homa, Col­orado, North Car­oli­na and Cal­i­for­nia; nurs­es in Ver­mont; Mar­riott Hotel work­ers in var­i­ous loca­tions; food ser­vice work­ers at Har­vard and Tufts; and the recent 11-day Stop and Shop strike in New Eng­land. In all of these cas­es, the pow­er­ful act of ceas­ing work result­ed in wins for work­ers that they hadn't been able to obtain through oth­er means. The strike reminds us all that it is work­ers who cre­ate wealth, who have the pow­er, and who deserve fair contracts.
Jes­si­ca Sal­fia is a mem­ber of the West Vir­ginia teach­ers union, and was a key play­er in the 2018 strike that result­ed in a 5% pay increase. For her and her fel­low teach­ers, the strike was a tool they knew they had to use for their and their student's sur­vival. Sal­fia explains that after years of work­place set­backs — slashed salaries, increased class sizes and the loss of class­room resources — the teach­ers knew they had to take seri­ous action. ​"For me, it was death by a thou­sand cuts," says Sal­fia. ​"And when they said we were gonna have to deal with bad health care and a pay cut, teacher's said this time, ​'no, this is it, we've had enough.'"
Danielle Man­ning, a pub­lic school teacher and co-chair of Unit­ed Teach­ers Los Ange­les, says that his­to­ry played an impor­tant role in her union's abil­i­ty to go on strike in Jan­u­ary of 2019. ​"A few of our teach­ers were on strike in the ​'89 strike. And know­ing the his­to­ry of strik­ing — that it's pos­si­ble — is important."
Joe Jarmie, a mem­ber of Unit­ed Food and Com­mer­cial Work­ers Local 371, also went on strike this year, walk­ing off his job as a meat cut­ter at Stop and Shop where he's been work­ing for 33 years. Joe says the sol­i­dar­i­ty from oth­er unions and the com­mu­ni­ty helped keep their spir­its up dur­ing the 11-day negotiations.
"We got over­whelm­ing sup­port from unions and the com­mu­ni­ty. The first day we had box­es of 15 piz­zas, 10 cas­es of water, 30 dozen donuts, 70 box­es of cof­fee," he said, adding, ​"I kept track, I want­ed to make sure who I should send thank you notes to. So if that's not com­mu­ni­ty sup­port, I don't know what is."
Raechel Anne Jolie
is a writer, edu­ca­tor and media mak­er based in Min­neapo­lis. She holds a PhD from the Uni­ver­si­ty of Min­neso­ta, and has been pub­lished in numer­ous aca­d­e­m­ic jour­nals and pop­u­lar press sites. She cov­ers labor, pris­ons and LGBTQ jus­tice, and her mem­oir
&
lt;/i
&
gt;Rust Belt Femme
&
lt;i
&
gt; is forth­com­ing from Belt Pub­lish­ing. Fol­low her on Twit­ter @reblgrrlraechel.