Quality Over Quantity: Shrinking Towns Can Thrive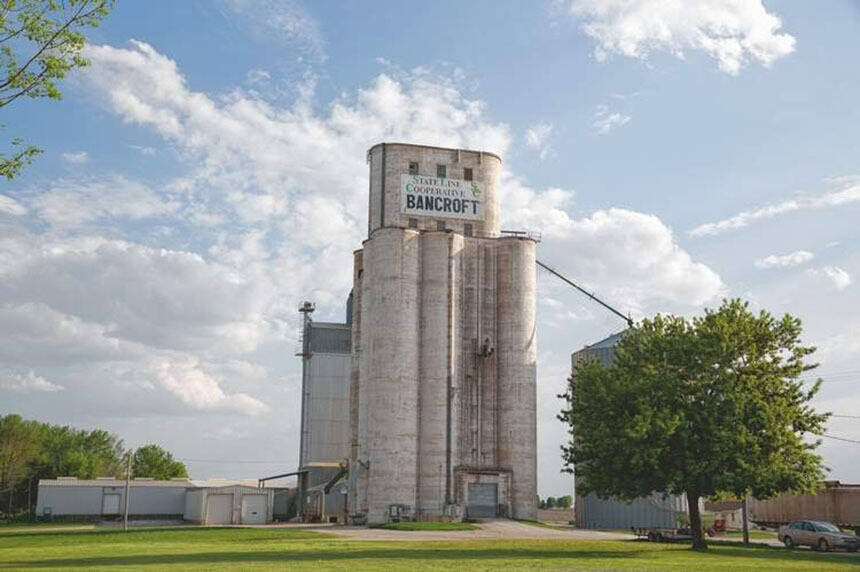 When Krista Looft first moved to the north-cen­tral Iowa town of Ban­croft in 2012, she was a lit­tle con­cerned about start­ing a life here.
She moved with her hus­band Jaimes, whom she met in a Future Farm­ers of Amer­i­ca schol­ar­ship pro­gram while each was attend­ing dif­fer­ent high schools. They hit it off on a trip to Wash­ing­ton, D.C.
They mar­ried young and lived in a tiny apart­ment in Emmets­burg while Krista stud­ied to be an admin­is­tra­tive pro­fes­sion­al and Jaimes a diesel mechan­ic at Iowa Lakes Com­mu­ni­ty Col­lege. After grad­u­at­ing, Jaimes got a job at Dei­t­er­ing Broth­ers, one of two farm imple­ment deal­ers in Bancroft.
Ban­croft is a small, and get­ting small­er, farm­ing com­mu­ni­ty most recent­ly pegged at around 700 peo­ple. It's one of the fastest shrink­ing of Iowa's 942 cities. Locat­ed about 20 miles south of the Min­neso­ta bor­der on High­way 169, it is the sec­ond largest city in Kos­suth Coun­ty after coun­ty seat Algona.
Ban­croft has no traf­fic lights and is about an hour from an inter­state. The last local school — the parochial grade school, St. John's — closed about five years ago. The high school closed in 1989.
Krista, who grew up 90 min­utes away in Sioux Rapids, was just 19 when she arrived.
"I was wor­ried at first there would be noth­ing to do," says Looft, 25, who now has two boys, Jacob, 5, and Luke, 2. Her hus­band, Jaimes, is now 26. ​"That was the main concern."
The farm cri­sis in the 1980s fueled the flight from rur­al Iowa com­mu­ni­ties such as Ban­croft. Thanks to a decline in man­u­fac­tur­ing, con­sol­i­da­tion of farms and urban­iza­tion, the ero­sion of small-town pop­u­la­tions has con­tin­ued, and noth­ing sug­gests the trend will reverse. Those left behind — peo­ple like Krista and Jaimes — face the chal­lenge of keep­ing the com­mu­ni­ty going.
Con­di­tions around the state are tes­ta­ment to the strug­gle — dete­ri­o­rat­ing hous­ing stock, closed store­fronts, com­mu­ni­ties dis­band­ing, lack of par­tic­i­pa­tion and ris­ing crime rates.
Those attrib­ut­es are preva­lent, but not all shrink­ing com­mu­ni­ties are ghost towns. Ban­croft is a prime example.
"I think Ban­croft is doing very good," says Dou­glas Nyman, 66, who returned to town four years ago to care for his par­ents and remained after their deaths. He's now pres­i­dent of the Ban­croft Com­mu­ni­ty His­tor­i­cal Muse­um. ​"It's well run. We have a good City Coun­cil. We have a vari­ety of things here.
"I am not wor­ried about Bancroft."
Locals point to small­er fam­i­lies, few­er peo­ple run­ning larg­er farms, young peo­ple who leave for jobs or col­lege and don't return as rea­sons for pop­u­la­tion decline. But if you look around, you'd be hard pressed to say the com­mu­ni­ty itself is in a decline.
Jobs and Real Estate
Homes are well main­tained, and few if any are aban­doned. The busi­ness strip — Ram­sey Street — has just one vacan­cy and boasts a gro­cery store, two restau­rants, a spa, the office of the Ban­croft Reg­is­ternews­pa­per, a med­ical clin­ic and a Ford deal­er­ship. A whiskey dis­tillery is being built in a for­mer dentist's office.
The town has a golf course, munic­i­pal swim­ming pool, bowl­ing alley, low-income hous­ing options, an assist­ed-liv­ing facil­i­ty, a library, the state­ly St. John the Bap­tist Catholic Church and a bed-and-break­fast called Sis­ters Inn — a nod to the fact it used to be a convent.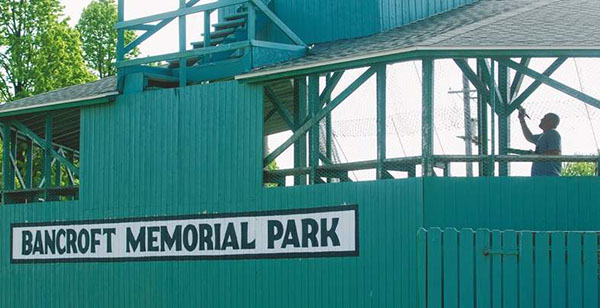 Travis Neu­man of Ban­croft paints the bleach­ers of Ban­croft Memo­r­i­al Park in prepa­ra­tion for the begin­ning of the Ban­croft Ban­dits sea­son in Ban­croft, Iowa on Sat­ur­day, May

19

,

2018

. (Cliffe Jette/​The Gazette)
The pride and joy, though, is the base­ball sta­di­um — 
Ban­croft Memo­r­i­al Park
 — and base­ball in gen­er­al. The sta­di­um is used by the Ban­dits, a sum­mer league fea­tur­ing col­lege play­ers from around the coun­try who board with res­i­dents. The North Union High School base­ball team also calls the sta­di­um home.
"This is a base­ball town," says John Nem­mers, 73, who used to live across from the base­ball sta­di­um before mov­ing to Algona.
He comes back to help with vol­un­teer efforts, such as repaint­ing the park this spring. Nem­mers, a for­mer ballplay­er, iden­ti­fies with the strong base­ball roots in Ban­croft, which pro­duced two for­mer major lea­guers — ​"Lefty" Joe Hat­ten and Denis Menke — and sev­er­al state championships.
Char­lie Kennedy is a for­mer may­or and pres­i­dent of Farm­ers & Traders Sav­ings Bank. He left for school and work and returned to help run the fam­i­ly bank.
"When an out-of-town per­son comes into the com­mu­ni­ty and says, how many peo­ple live here, when I tell them, they say, ​'Real­ly? I thought you'd be a town of 1,500,' " Kennedy says. ​"We are not real­ly a bed­room com­mu­ni­ty. We are a self-con­tained community."
His fam­i­ly moved here in 1898 to open Kennedy Bros. depart­ment store, which was a main­stay for more than 100 years. The space has been con­vert­ed into the Main Street Pub & Grille, which serves as one of the town's social centers.
Kennedy attrib­ut­es the town's suc­cess to a few things.
The pub­lic-owned elec­tric util­i­ty helps sub­si­dize the cost of city oper­a­tions. The com­mu­ni­ty as a whole has pri­or­i­tized prop­er­ty upkeep, which helps main­tain prop­er­ty val­ues high enough that peo­ple are will­ing to keep invest­ing. City gov­ern­ment is well run, local lead­ers think big and a large num­ber of cit­i­zens chip in mon­ey and sweat to local caus­es, he said.
Crysti Neu­man, city clerk and direc­tor, is con­vinced if they had more hous­es, the pop­u­la­tion would grow. But it's expen­sive to build, she said.
Like Many Small Towns
The num­bers sug­gest chal­lenges fac­ing Ban­croft are the same or worse than many small, rur­al towns far from a major city.
Ban­croft has lost 32.35 per­cent of its pop­u­la­tion — 1,082 in 1980 to 732 in 2010 — since 1980, the largest decrease in the state for com­mu­ni­ties with at least 1,000 peo­ple in 1980, accord­ing to data from the most recent decen­ni­al cen­sus. That's the small­est pop­u­la­tion since Ban­croft incor­po­rat­ed in 1881 as a rail­way hub. The rail­road depot was demol­ished in 1972.
In the past 20 years, only once were more babies born in Ban­croft than peo­ple died — 11 births and 10 deaths in 2005 — and the medi­an age increased from 41.7 in 2000 to 44.9 in 2010.
"We are a town of old peo­ple and wid­ows," says Lin­da Nem­mers, 78, while tak­ing a walk with her son, Tim Nem­mers, 58, on Ram­sey Street.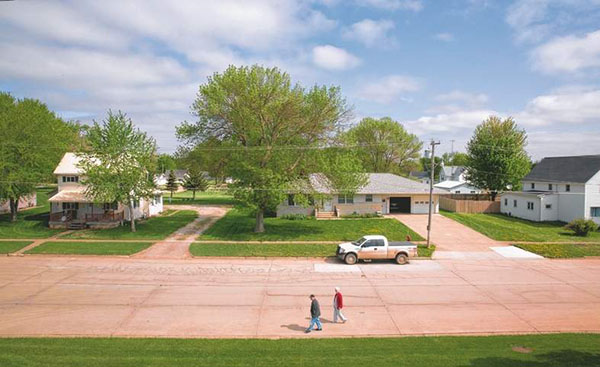 Tim Nem­mers and his moth­er Lin­da Nem­mers stroll down E Ram­sey Street in Ban­croft, Iowa on Sat­ur­day, May

19

,

2018

. (Cliff Jette/​The Gazette)
The num­ber of house­holds declined from
370
in
2000
to
311
in
2010
. Medi­an income has increased from $
33
,
340
to $
39
,
844
in that time, accord­ing to a com­mu­ni­ty pro­file by the Kos­suth Coun­ty Eco­nom­ic Devel­op­ment Corp.
A fis­cal year 2017 retail trade analy­sis from Iowa State Uni­ver­si­ty Depart­ment of Eco­nom­ics shows a mixed bag, with total tax­able sales in Ban­croft, sales per capi­ta and the num­ber of busi­ness enti­ties declin­ing slight­ly over the past five years, but wages and salaries per job increasing.
The Loofts are among 16 per­cent of the pop­u­la­tion over the age of 25 who have earned an asso­ciate degree; just six per­cent have a four-year degree, accord­ing to the eco­nom­ic devel­op­ment pro­file. Many who leave for a four-year school don't come back, locals said.
"For some rea­son, you can find cities with iden­ti­cal demo­graph­ics, pop­u­la­tion, econ­o­my, what­ev­er, and one com­mu­ni­ty is hold­ing its own and maybe even grow­ing, and the oth­er is strug­gling," says Alan Kemp, exec­u­tive direc­tor of the Iowa League of Cities. ​"One com­mu­ni­ty strug­gles to get some­one to run for may­or or city coun­cil, and down the road there's plen­ty run­ning. That is the human cap­i­tal, find­ing lead­ers in the com­mu­ni­ty will­ing to take the lead."
At some point, though, if Ban­croft con­tin­ues to shrink, it could face problems.
Kemp sug­gest­ed a tip­ping point could come — per­haps when a com­mu­ni­ty has a pop­u­la­tion of 100 to 300 — where it becomes dif­fi­cult to main­tain ameni­ties and ser­vices. Of Iowa's 942 com­mu­ni­ties, 360 have few­er than 300 peo­ple, and near­ly 700 had lost pop­u­la­tion since 1980. Ban­croft could be an exam­ple of a com­mu­ni­ty ​"swim­ming upstream," but vibran­cy would become more challenging.
"Either you don't have the finan­cial resources to pay for the nec­es­sary upkeep or, on the human resources side, you have a hard time get­ting peo­ple to run for elect­ed office," Kemp said. ​"A slow reduc­tion in pop­u­la­tion, and it becomes hard­er and hard­er for the city to survive."
While more com­mu­ni­ties are dis­cussing dis­band­ing, it remains a rare event, one every year or two, he said.
Shrink­ing Smart
Chal­lenges become cycli­cal, where pop­u­la­tion decline typ­i­cal­ly means a shrink­ing work­force, which makes a com­mu­ni­ty less attrac­tive to employ­ers, declin­ing sup­port for local busi­ness­es and ser­vices and less ener­gy for local causes.
"The myth is that there aren't good jobs or, if there are jobs, they don't pay very well," Zachary Mannheimer, prin­ci­pal com­mu­ni­ty plan­ner for McClure Engi­neer­ing Co. of Clive, who works with small towns to con­ceive devel­op­ment projects. ​"I would wager the major­i­ty of them have jobs. They just don't have the peo­ple to take the jobs or keep the jobs."
Mannheimer blames a lack of com­mu­ni­ty lead­er­ship in some cas­es for woes, such as one coun­ty that was eager to bring in new employ­ers but wouldn't work with an employ­er plan­ning to leave the community.
Iowa State Uni­ver­si­ty Asso­ciate Pro­fes­sor David Peters, who spe­cial­izes in rur­al soci­ol­o­gy, refers to ​"shrink­ing pop­u­la­tions, exo­dus of younger peo­ple, job loss­es and poor­er com­mu­ni­ty ser­vices" found in most small com­mu­ni­ties in the Mid­west, in a 2017 paper, ​"Shrink Smart Small Towns."
That per­cep­tion dri­ves the focus of many schol­ars and jour­nal­ists cre­at­ing a ​"false premise that shrink­ing towns are also with­er­ing ones," he wrote in his paper. ​"How­ev­er, not all shrink­ing com­mu­ni­ties are with­er­ing. In fact, some small towns have thrived in terms of qual­i­ty of life despite shrink­ing populations."
Main Street Pub

&

Grill draws much of the traf­fic on E Ram­sey Street in down­town Ban­croft on the evening of Fri­day, May

18

,

2018

. (Cliff Jette/​The Gazette)
Peters' report iden­ti­fied
12
com­mu­ni­ties in the state man­ag­ing to ​
"
shrink smart" — a list that includes Ban­croft. Oth­er com­mu­ni­ties list­ed include Aller­ton, Cor­rec­tionville, Elk Horn, Elma, Ever­ly, Grand Mound, Ham­burg, Medi­apo­lis, Pacif­ic Junc­tion, Rad­cliffe and Sac City.
Among oth­er attrib­ut­es, shrink smart towns are close­ly tied to agri­cul­ture and have man­aged to grow their indus­tri­al employ­ment base, have high par­tic­i­pa­tion in local pro­grams and civic orga­ni­za­tions, are ​"bet­ter-kept, more open to new ideas, more trust­ing and viewed as safer places."
Ban­croft may be doing the best of the shrink smart com­mu­ni­ties, Peters said. Income and home val­ues are low­er, and pover­ty rates are high­er than oth­er shrink smart com­mu­ni­ties and oth­er shrink­ing com­mu­ni­ties, accord­ing to his data.
Ban­croft also scored com­par­a­tive­ly low for edu­ca­tion lev­els, employ­ment par­tic­i­pa­tion and sin­gle-par­ent families.
The dif­fer­ence mak­er is local engage­ment, he says.
An ISU sur­vey found 72 per­cent of respon­dents in Ban­croft had par­tic­i­pat­ed in a com­mu­ni­ty project in the past year com­pared to only 47 per­cent and 43 per­cent in oth­er shrink smart com­mu­ni­ties and all shrink­ing com­mu­ni­ties, respec­tive­ly. Ban­croft also scored far bet­ter on com­mu­ni­ty per­cep­tions on safe­ty, tol­er­ance of dif­fer­ent races and eth­nic­i­ties, upkeep, and the sense Ban­croft has ​"more going for it" than oth­er com­mu­ni­ties, accord­ing to his data.
"They've played a real­ly good hand with bad cards," Peters says in an interview.
Here For Life
Neu­man, the city clerk and direc­tor for the past five-and-a-half years, views the inte­gra­tion of younger res­i­dents into lead­er­ship roles as one of the biggest rea­sons for suc­cess. Younger par­tic­i­pa­tion is seen as a chal­lenge in many small­er towns.
A ​"20s-30s-40s Meet With a Pur­pose" group has been an inten­tion­al effort to draw out ideas from younger res­i­dents and empow­er them, she said. Younger res­i­dents often need a direct invi­ta­tion to par­tic­i­pate, so her strat­e­gy has been to sim­ply ask.
And it's usu­al­ly worked. At the base­ball sta­di­um, for exam­ple, younger vol­un­teers will take charge of plan­ning enter­tain­ment, music and social media, while old­er vol­un­teers run con­ces­sions and tickets.
"Peo­ple who've always led, we need to learn how to hand over those reins and make that a smooth tran­si­tion," Neu­man says. ​"We are try­ing to fig­ure out how to do that."
On one Fri­day night in May in Ban­croft, Ron Beck­er, 56, was work­ing with his broth­er-in-law, Mark Schmidt, on an addi­tion to his rental property.
Becker's house is adja­cent to the prop­er­ty, and his moth­er lives in the house next to his. The rental house, which has had just two dif­fer­ent ten­ants in the 15 years he's owned it, is for his moth­er-in-law. He's build­ing a new garage, entry­way and big­ger kitchen.
He is not con­cerned about recoup­ing the invest­ment — he is con­fi­dent it will sell if he ever want­ed to — but rather wants to have a say on who his neigh­bors are, he said.
"I am com­fort­able where I am, and I see no rea­son to leave," says Beck­er, who's lived in Ban­croft his whole life.
Despite ear­ly reser­va­tions, Krista Looft set­tled in and also sees Ban­croft as her family's long-term home. She doesn't mind the prospect of send­ing her boys out of town for school.
As with many peo­ple in town, she wears many hats.
She took a posi­tion last year as admin­is­tra­tive assis­tant at City Hall, so she no longer has to com­mute to Algo­na to work. She runs a com­mu­ni­ty Face­book page called Ban­croft Mind­ed, where she posts local activ­i­ties and keeps peo­ple con­nect­ed. Her kids go to Kid­stop Day­care and Preschool, which is locat­ed in the old St. John's school.
On Fri­day nights at Wran­gling Grace restau­rant, she and her hus­band often play games such as crib­bage, rum­my and pass the ace with friends their age dur­ing Game Night.
Last month, Krista worked along­side John Nem­mers and about a dozen oth­ers on a Sat­ur­day morn­ing to help repaint the green fence, dugouts and bench­es at Ban­croft Park.
While mom paint­ed, Jacob and Luke played with sand toys kept on hand at the sta­di­um and ran around the infield.
The work has been going on sev­er­al days this spring in prepa­ra­tion for the park's 70th anniversary.
"We love the ball­park, and paint­ing was a way we could show our sup­port, put a lit­tle TLC into it," she says.
("Some Towns Con­tin­ue to Shrink, But Many Iowans are Choos­ing to Stay" was orig­i­nal­ly pub­lished on The Gazette's Iowa Ideas and is repost­ed on Rur­al Amer­i­ca In These Times with per­mis­sion from the edi­tor. Iowa Ideas con­sists of in-depth, solu­tions-focused jour­nal­ism and events. Engaged cit­i­zens, com­mu­ni­ty advo­cates and indus­try lead­ers are invit­ed to join them.)
B.A. Morel­li
is a jour­nal­ist based in Cedar Rapids and reports on Iowa for The Gazette.