Iran's Simmering Labor Struggle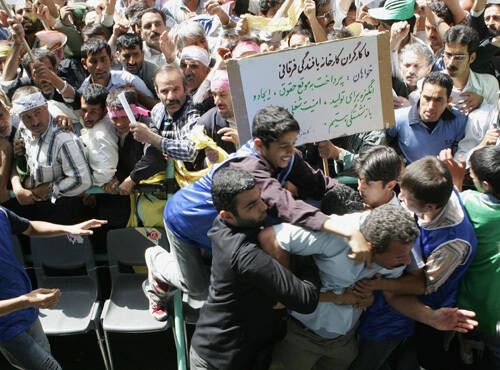 'Sooner or later,' an Iranian union organizer says, the country's precarious economy ​'will blow up' — and suppressed union activists will help forge reform
CHICAGO — What was heartbreaking last year for Iran's workers, he says, is even more terrible today. ​"It is ten times worse," he says. ​"There is wage theft. There are factory closings and the taking away of rights."
He says his name is Homayoun, which may or may not be true. During a visit to Chicago this past weekend, he doesn't offer his last name and he doesn't offer many other details about himself because that could be the end of what he does in Iran.
He is a union organizer in a country where a slim percentage of workers belong to unions and union leaders have been hung, tortured or thrown in prison and left to perish.
He is a small thin man in his ​'40s, a blue-collar worker who earns about $350 a month, which is just above the government's minimum wage and about one-third of what it takes to break out of poverty in Iran.
Homayoun's anonymity is crucial because he sometimes slips away, traveling outside of Iran seeking solidarity from labor, human rights and other groups.
Such support can mean life or death for labor leaders and members, he says, because it might dissuade Iranian officials from carrying out their more brutal punishments.
But more importantly, it is a crutch that can help someone languishing in jail to stand up on. ​"When you know that the world does care, that really changes your morale," he says.
Almost daily, it seems, there's a spontaneous strike by workers across Iran. But the number doesn't reflect workers' frustration or fury. The workers are fearful of striking, Homayoun explains, ​"because they would easily be replaced."
Their jobs would quickly be grabbed up, he says, because so many factories have shut down, victims of out-of-date technologies or bad economic planning by the government, which owns most industries.
But Iranians aren't just competing against themselves. They are competing, he says, against about 1.3 million Afghan workers who are paid far less, who work far harder and who add to the workplace instability of a country where more than half of the workers are considered temporary hires.
The economy is in chaos because the government heavily slashed subsidies but then countered with cash payments. The payments do not cover the lost subsidies but they create of a sense stability that delays any backlash.
But Homayoun doubts that the cash payments can continue. When they expire, he expects a full-blown economic crisis that will trigger major social unrest.
Layoffs will swell. Inflation will soar. Incomes will shrink even more. ​"Sooner or later this all will blow up," he says.
Then labor in Iran, like union movements across the Arab world this year, will be ready to help others overturn their rulers.
And that is why despite the dire statistics and economic consequences, despite the dangers and frustrations of living a life lashed to a marginal effort, his message is not a dire one.
"I've never been more optimistic than I am today," he says.
Stephen Franklin is a former labor and workplace reporter for the Chicago Tribune, was until recently the ethnic media project director with Public Narrative in Chicago. He is the author of Three Strikes: Labor's Heartland Losses and What They Mean for Working Americans (2002), and has reported throughout the United States and the Middle East.