Iran's Simmering Labor Struggle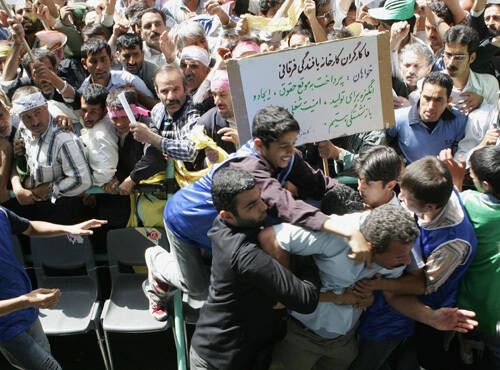 'Soon­er or lat­er,' an Iran­ian union orga­niz­er says, the country's pre­car­i­ous econ­o­my ​'will blow up' — and sup­pressed union activists will help forge reform
CHICA­GO — What was heart­break­ing last year for Iran's work­ers, he says, is even more ter­ri­ble today. ​"It is ten times worse," he says. ​"There is wage theft. There are fac­to­ry clos­ings and the tak­ing away of rights."
He says his name is Homay­oun, which may or may not be true. Dur­ing a vis­it to Chica­go this past week­end, he doesn't offer his last name and he doesn't offer many oth­er details about him­self because that could be the end of what he does in Iran.
He is a union orga­niz­er in a coun­try where a slim per­cent­age of work­ers belong to unions and union lead­ers have been hung, tor­tured or thrown in prison and left to perish.
He is a small thin man in his ​'40s, a blue-col­lar work­er who earns about $350 a month, which is just above the government's min­i­mum wage and about one-third of what it takes to break out of pover­ty in Iran.
Homayoun's anonymi­ty is cru­cial because he some­times slips away, trav­el­ing out­side of Iran seek­ing sol­i­dar­i­ty from labor, human rights and oth­er groups.
Such sup­port can mean life or death for labor lead­ers and mem­bers, he says, because it might dis­suade Iran­ian offi­cials from car­ry­ing out their more bru­tal punishments.
But more impor­tant­ly, it is a crutch that can help some­one lan­guish­ing in jail to stand up on. ​"When you know that the world does care, that real­ly changes your morale," he says.
Almost dai­ly, it seems, there's a spon­ta­neous strike by work­ers across Iran. But the num­ber doesn't reflect work­ers' frus­tra­tion or fury. The work­ers are fear­ful of strik­ing, Homay­oun explains, ​"because they would eas­i­ly be replaced."
Their jobs would quick­ly be grabbed up, he says, because so many fac­to­ries have shut down, vic­tims of out-of-date tech­nolo­gies or bad eco­nom­ic plan­ning by the gov­ern­ment, which owns most industries.
But Ira­ni­ans aren't just com­pet­ing against them­selves. They are com­pet­ing, he says, against about 1.3 mil­lion Afghan work­ers who are paid far less, who work far hard­er and who add to the work­place insta­bil­i­ty of a coun­try where more than half of the work­ers are con­sid­ered tem­po­rary hires.
The econ­o­my is in chaos because the gov­ern­ment heav­i­ly slashed sub­si­dies but then coun­tered with cash pay­ments. The pay­ments do not cov­er the lost sub­si­dies but they cre­ate of a sense sta­bil­i­ty that delays any backlash.
But Homay­oun doubts that the cash pay­ments can con­tin­ue. When they expire, he expects a full-blown eco­nom­ic cri­sis that will trig­ger major social unrest.
Lay­offs will swell. Infla­tion will soar. Incomes will shrink even more. ​"Soon­er or lat­er this all will blow up," he says.
Then labor in Iran, like union move­ments across the Arab world this year, will be ready to help oth­ers over­turn their rulers.
And that is why despite the dire sta­tis­tics and eco­nom­ic con­se­quences, despite the dan­gers and frus­tra­tions of liv­ing a life lashed to a mar­gin­al effort, his mes­sage is not a dire one.
"I've nev­er been more opti­mistic than I am today," he says.
Stephen Franklin is a for­mer labor and work­place reporter for the Chica­go Tri­bune, was until recent­ly the eth­nic media project direc­tor with Pub­lic Nar­ra­tive in Chica­go. He is the author of Three Strikes: Labor's Heart­land Loss­es and What They Mean for Work­ing Amer­i­cans (2002), and has report­ed through­out the Unit­ed States and the Mid­dle East.