Iraq: Political Turmoil Continues as Maliki Forges Autocratic Reign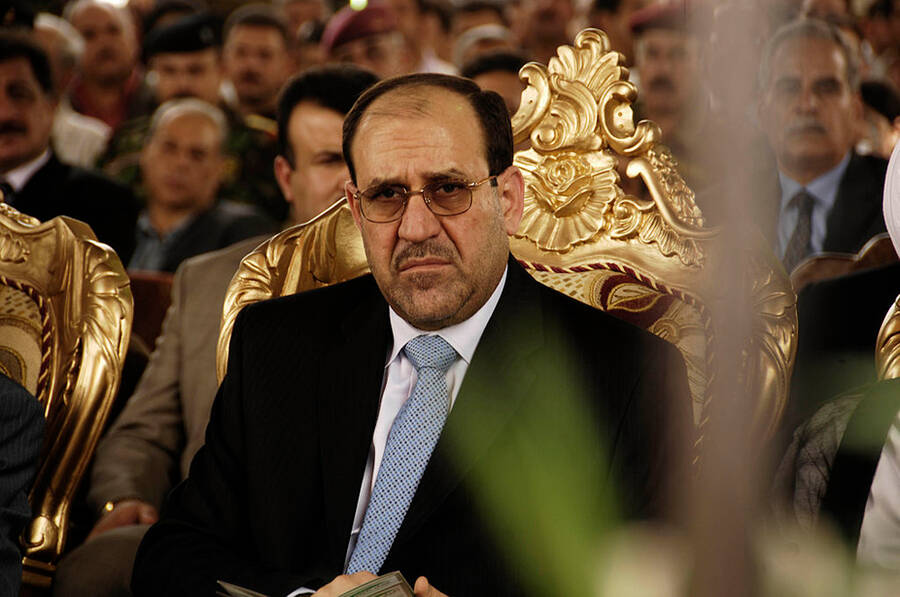 At a news conference in Baghdad today, ex-premier Iyad Allawi, leader of the largely Sunni-backed Iraqiya bloc, warned against Prime Minister Nuri al-Maliki's consolidating rule. Allawi called on Maliki to change course--either by supporting a unified and participatory government that did not seek to sideline any party
&
rsquo;s voices, stepping down or pursuing early elections. This call for change comes as tensions continue to mount between Maliki and his political rivals. On Tuesday, Maliki
&
rsquo;s Shiite-dominated Cabinet suspended boycotting Iraqiya bloc ministers, barring them from managing their ministries and nullifying any decisions they sign. The ministers began a boycott last month after Maliki's government leveled charges of terrorism against Sunni Vice President, Tariq al-Hashemi. The vice-president fled to refuge in Northern Iraq to escape a warrant for his arrest.
Speaking to Reuters shortly after the initial calls for al-Hashemi
&
rsquo;s arrest last month, Allawi drew parallels between Maliki
&
rsquo;s actions and those of fallen dictator Saddam Hussein. ​
"
It reminds me personally of what Saddam Hussein used to do where he would accuse his political opponents of being terrorists and conspirators," said Allawi.
&
ldquo;We fear the return of dictatorship by this authoritarian way of governing. It's the latest in a build-up of atrocities, arrests and intimidation that has been going on a wide scale.
&
rdquo; In an interview last month Iraq
&
rsquo;s Deputy Prime Minister, Saleh al-Mutlaq, characterized Maliki as a dictator
&
ldquo;worse than Saddam Hussein.
&
rdquo; Almost immediately, Maliki began seeking the sacking of al-Mutlaq and stationed tanks and soldiers outside Mutlaq
&
rsquo;s deputy's office. This was not the first time Maliki has attempted to silince his critics. In
2009
The Guardian quoted allegations by Iraqis of Maliki
&
rsquo;s growing autocratic tendencies. Maliki
&
rsquo;s intelligence forces soon filed suit against the publication in Iraqi court alleging defamation. As Maliki
&
rsquo;s government issues arrest warrants for individuals they allege have supported or controlled death squads, he has continued to muscle his direct control over military and civilian forces. As a result, many of Iraq
&
rsquo;s minorities are living in fear of violent repression. ​
"
The armed forces should not be a tool to repress people and the armed forces should not interfere in political matters," said Sunni parliament speaker Osama al-Nujafi in a televised address. Their fears are not unfounded. On Sunday, The Guardian
&
rsquo;s Ghaith Abdul-Ahad revealed signs of widespread brutalities committed by Iraq
&
rsquo;s state security officers.
&
ldquo;[A] growing body of evidence collected," he wrote,"…shows [that they] are systematically arresting people on trumped-up charges, torturing them and extorting bribes from their families for their release.
&
rdquo; For months, protesters at peaceful rallies throughout Iraq have been under assault by Maliki
&
rsquo;s soldiers and security forces. ​
"
Once we were there, they hit us with their hands in the face, neck, chest, and arms while we were still blindfolded," an Iraqi activist told Human Rights Watch in June
2011
. ​
"
They kicked us everywhere they could reach. They did not use batons on me, and they talked to each other about not leaving marks or bruises on us." Maliki
&
rsquo;s consolidation has also targeted journalists and members of the media critical of his heavy hand. On September
8
,
2011
popular radio journalist, Hadi al-Mahdi,
45
, was shot dead by silenced pistols in his home in Baghdad. A prominent critic of the Iraqi government, al-Mahdi played a role in organizing and publicizing peaceful mass protests for popular reform initiatives. Just hours before his death al-Mahdi posted a message to his Facebook account: Enough … I have lived the last three days in a state of terror. There are some who call me and warn me of raids and arrests of protesters. There is someone saying that the government will do this and that. There is someone with a fake name coming on to Facebook to threaten me. I will take part in the demonstrations, for I am one of its supporters. I firmly believe that the political process embodies a national, economic, and political failure. It deserves to change, and we deserve a better government. In short, I do not represent any political party or any other side, but rather the miserable reality in which we live… I am sick of seeing our mothers beg in the streets and I am sick of news of politicians
&
rsquo; gluttony and of their looting of Iraq's riches. UPDATE
1
/
20
/
12
: In a submission to the country's supreme judicial council, Allawi has alleged that over the last several months more than
1
,
000
opposition party members have been arrested and detained. According to the allegations, many are being held without legal council and some have been tortured into giving false information.
Andrew Bashi
is a Winter
2012
editorial intern at
In These Times
. A-third year law student at Loyola University Chicago, he is an active board member of the Chicago Chapter of the National Lawyers Guild.