Why Ireland's "Yes" Vote on Abortion Changes Everything
The historic vote to enshrine reproductive rights is the result of decades of organizing by Irish women—and its impact will be felt in countries across the globe.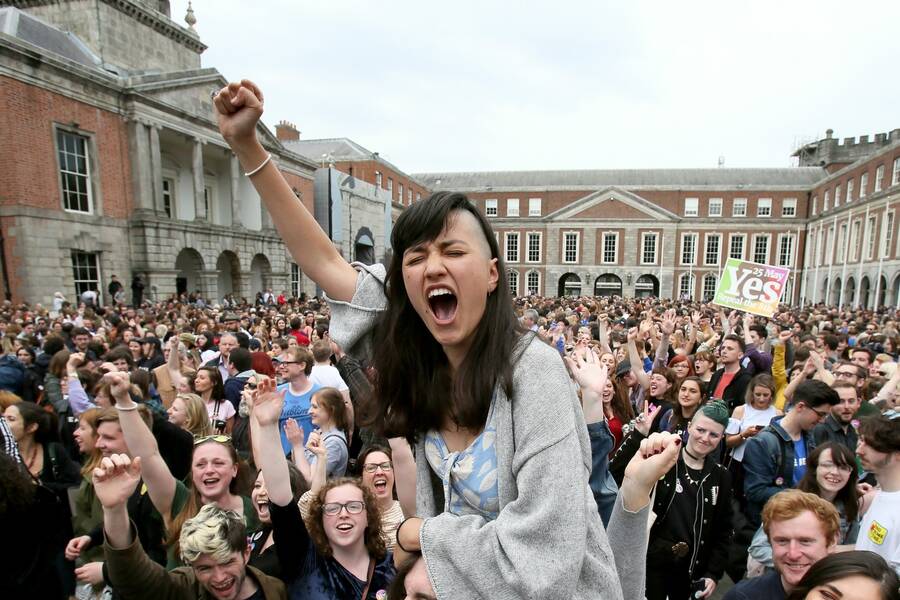 "And yes I said yes I will Yes."
The vote may be the biggest news to hit Catholic-majority Ireland since the country gained majority independence from England in 1922.
This resplen­dent ​"yes" — spo­ken by Mol­ly Bloom at the end of James Joyce's land­mark Irish nov­el Ulysses—was echoed in Ireland's vote last week to final­ly legal­ize abortion.
Crowd­ing Dublin Cas­tle by the thou­sands, packed so tight­ly in its cob­ble­stoned square that they bare­ly had room to hoist their ​"vote yes" plac­ards, Irish pro-choice sup­port­ers held their col­lec­tive breath, then exhaled an emphat­ic ​"YES!" when they heard the announce­ment that they'd final­ly won repro­duc­tive choice. Sobs, screams and whoops of vic­to­ry rang through the streets. They're still rever­ber­at­ing through Ire­land and its dias­po­ra today.
The decades-long bat­tle to repeal Ireland's eighth amend­ment — the 1983 law that gave equal val­ue to the lives of a preg­nant woman and a fetus — may be the biggest news to hit Catholic-major­i­ty Ire­land since the coun­try gained major­i­ty inde­pen­dence from Eng­land in 1922 (and that bat­tle took 800 years).
The vote, tal­lied at 66.4 per­cent for yes, will allow the ter­mi­na­tion of preg­nan­cies before 12 weeks' ges­ta­tion (and lat­er, in some med­ical cas­es). It will spare Irish teenagers from com­mit­ting sui­cide to escape the stig­ma of out-of-wed­lock preg­nan­cy. It will save women — and the chil­dren they've already borne — when domes­tic vio­lence, pover­ty, or sub­stance abuse make fur­ther child­bear­ing too much to bear. It will help rape sur­vivors move beyond their trau­ma. And it will spare 3,000 Irish women per year from ​"tak­ing the boat": mak­ing the often-solo trek to Eng­land to have a safe, legal abor­tion (if you can afford the four-day jour­ney, $600 in trav­el expens­es, and an $800 unin­sured pro­ce­dure per­formed by strangers in a for­eign land).
The win­ning ​"yes" vote comes as wel­comed vin­di­ca­tion not just for the 170,000 Irish women who have obtained over­seas abor­tions since 1980, but for every­one who sup­ports human rights.
"This is a cel­e­bra­tion of women's equal­i­ty," says Susy Freelove, an artist who lives in Bal­ly­de­hob, Coun­ty Cork. She says Irish women who have open­ly shared their expe­ri­ences of trav­el­ing to Lon­don to ter­mi­nate their preg­nan­cies can now final­ly feel a weight has been lifted.
"It's a real sea change in Ire­land in terms of how we view sex­u­al­i­ty," says Beth Wal­lace, a ther­a­pist who was born in a Dublin home for unwed moth­ers. ​"Gen­er­a­tions of shame are falling away."
"I myself have expe­ri­enced cri­sis preg­nan­cy," adds Deirdre Mur­phy Youell, who man­ages a pub in West Cork. ​"I didn't choose ter­mi­na­tion. But choice is the point. I don't have to approve of every­one else's. I should just be able to make my own, and to allow oth­ers to also make theirs."
Com­par­ing notes with these women this week — and read­ing Irish friends' exul­tant emails as they flood my inbox — is hurtling me back 30 years. As a col­lege stu­dent in Dublin in the late 1980s and ear­ly 1990s, I was involved in Ireland's bur­geon­ing pro-choice move­ment. And the vibran­cy of that cam­paign sus­tained me through the most chal­leng­ing time of my life, when I myself was a freck­led, dis­traught teenag­er reel­ing from an unplanned pregnancy.
The first time I had sex with my col­lege boyfriend, it was awk­ward and exu­ber­ant and the con­dom slipped off. Preg­nant and pan­icked, I decid­ed to have an ear­ly-term abor­tion because I had no mon­ey or where­with­al to raise a child. The pro­ce­dure was emo­tion­al­ly har­row­ing for me (I faint­ed three times), but its after­math was even worse. I was 19 years old, and fright­ened that my Irish-Catholic fam­i­ly would dis­own me if they dis­cov­ered I'd been preg­nant. I also feared that Boston Col­lege — my Catholic, large­ly Irish-Amer­i­can school — might cut me off finan­cial­ly. My fam­i­ly could only cov­er half of my tuition, and the schol­ar­ship I need­ed to stay in school was pro­vid­ed by Boston College's hon­ors pro­gram, which was run by con­ser­v­a­tive priests.
Iron­i­cal­ly, it was one of those Jesuits who would ulti­mate­ly come to my res­cue when the abortion's after­shocks near­ly derailed me. Though I begged my boyfriend not to tell any­one that we'd got­ten preg­nant, he con­fid­ed in a friend, rumors spread, and gos­sip hound­ed me all over cam­pus. Room­mates who I thought I could trust whis­pered about me as I walked into our dorm. Wracked by insom­nia, I devel­oped vis­i­ble hives and a secret eat­ing dis­or­der. When I start­ed los­ing the grade-point aver­age that I need­ed to keep my schol­ar­ship, I made the ter­ri­fy­ing deci­sion to tell my fam­i­ly about my abor­tion and ask them for support.
Instead of con­sol­ing me — or at least for­giv­ing me for what is con­sid­ered a sin in the Catholic Church — my fam­i­ly had the stereo­typ­i­cal Irish response. Fists raised, my father roared at me and called me a slut before throw­ing me out of the house. My moth­er and sib­lings hov­ered on the side­lines, offer­ing no words of com­fort. Repeat­ed­ly get­ting sick, I no longer knew if it was bulim­ia or if my nerves were too frayed to keep down the pas­ta that sus­tained me through my lean col­lege years.
I told one of my advi­sors — a Jesuit pro­fes­sor of Irish lit­er­a­ture — that I was com­ing unhinged and might be forced to leave school. Some­how under­stand­ing that I need­ed to be far away from Boston, but dis­crete­ly ask­ing for no more infor­ma­tion, he arranged for me to trans­fer my schol­ar­ship and cred­its to Trin­i­ty Col­lege in Dublin. ​"Aca­d­e­m­i­cal­ly, it's a much bet­ter school," he said. ​"And there, you'll learn about James Joyce's Ulysses and its resound­ing ​'yes' in a way that you nev­er could here." He added that he couldn't dis­cuss what he thought was hap­pen­ing with me, but he assured me that I'd find what I need­ed in Dublin.
At that ten­der and tur­bu­lent time, did I real­ly need to move to Ire­land, where abor­tion was not only taboo, but ille­gal? Did I need to return to my grand­par­ents' home­land, where it was not only accept­able — but expect­ed — that par­ents would demo­nize their unwed preg­nant daugh­ters? Was it help­ful for me to land at Trin­i­ty Col­lege in 1989, when four of its stu­dent lead­ers were embroiled in a legal bat­tle and threat­ened with impris­on­ment for print­ing infor­ma­tion about over­seas clin­ics where Irish women could obtain abor­tions? Yes, yes and yes.
When I joined Trinity's bur­geon­ing abor­tion rights move­ment, I start­ed pro­cess­ing my heart­break and rage over my family's and my community's fail­ure to respect my repro­duc­tive choice. Friends in Ire­land, who shared my cul­tur­al back­ground, sym­pa­thized with my plight. They under­stood that for me, my boyfriend's betray­al wasn't just that he'd spilled my secret. He'd failed to save my rep­u­ta­tion by fol­low­ing Irish pro­to­col: propos­ing mar­riage, offer­ing to sup­port our unborn child, or at least suc­cumb­ing to a vig­or­ous beat­ing at the hands of my irate father.
Irish women talked me off my ledge, and they shared their sto­ries, too. One activist friend announced that she'd found a phar­ma­cy where you could buy con­doms with­out sales­peo­ple glar­ing at you. A sec­ond had a birth-con­trol mishap, obtained the morn­ing-after pill, and report­ed to the rest of us that it was safe and effec­tive. A third friend was dev­as­tat­ed that her ex-boyfriend bowed out on his promise to accom­pa­ny her to Lon­don for her abor­tion. She called him ​"Bri­an the Wanker" — a nick­name that haunt­ed him not just on cam­pus, but for years after graduation.
One day as we pro-choice activists were plot­ting our next move against the anti-choice Soci­ety for the Pro­tec­tion of the Unborn Child (SPUC), some­one start­ed wav­ing a fresh­ly-print­ed copy of that morning's Irish Inde­pen­dent. There, on the front page, was an image of me in mid-protest. In an icon­ic shot that I've nev­er shown my fam­i­ly, I'm hoist­ing a ban­ner that reads ​"FUCK SPUC" (the pho­tog­ra­ph­er cropped out the ​"f" to make the pho­to pub­lish­able). I'm wear­ing a thread­bare pon­cho, an asym­met­ri­cal hair­cut, and an inef­fa­ble expres­sion on my elfin face. Star­ing off to the side, per­haps into the dis­tant future, I look at once both heart­bro­ken and resilient.
In the years since, Ireland's pro-choice move­ment has trudged both for­ward and back. In 1992, the par­ents of a 14-year-old rape sur­vivor fought a pro­tract­ed law­suit — known as the X case—and even­tu­al­ly won the government's per­mis­sion to take their sui­ci­dal teenag­er over­seas to ter­mi­nate the preg­nan­cy stem­ming from her assault. In 2012, an Indi­an woman named Savi­ta Halap­panavar died of sep­sis in a Gal­way hos­pi­tal because she was hav­ing a mis­car­riage and doc­tors denied her an abor­tion when they could still detect a fetal heart­beat. In 2016, the Unit­ed Nations Human Rights Com­mit­tee declared that Ireland's abor­tion ban sub­ject­ed women whose preg­nan­cies car­ried fatal abnor­mal­i­ties to ​"cru­el, inhu­man, or degrad­ing treatment."
In the fall of 2017, spurred by years of protests, die-ins, and can­dlelit vig­ils, Ireland's gov­ern­ment final­ly moved to put the eighth amend­ment — which banned abor­tion except in cas­es where a woman's life was at stake — up for repeal. The ref­er­en­dum came before Irish vot­ers on May 25.
In the months lead­ing up to this land­mark vote, Irish priests railed from their pul­pits and exhort­ed parish­ioners to vote ​"no." Catholic doc­tors declared that if ter­mi­nat­ing preg­nan­cy became legal, they would refuse to refer patients to abor­tion providers. Irish expats flew home to cast votes. The min­is­ter of health wran­gled with anti-choice extrem­ists in tele­vised debates. Pro­gres­sive cam­paigns — by the X‑ile Project, In Her Shoes and the Repeal Project—lit up social media. Pro-choice advo­cates can­vassed, prof­fered pam­phlets, and donned but­tons and T‑shirts urg­ing, ​"Yes!"
Three thou­sand miles away, from my home in New York City, I watched this all unfold with mount­ing aston­ish­ment. To make the case for repro­duc­tive choice, Irish women were divulging in pub­lic that they'd had abor­tions. This would have been unthink­able dur­ing the three years I lived in Dublin. And it inspired me to speak open­ly (here, for the first time) about hav­ing an abor­tion when I was a well-mean­ing, over­whelmed 19-year-old.
Why now? If the Irish activists who helped me heal are tak­ing it to this lev­el, it's time for me to join their rev­o­lu­tion. I'm a dual cit­i­zen of Ire­land, which has a pop­u­la­tion of 5 mil­lion and a dias­po­ra of 70 mil­lion. Peo­ple of Irish descent need to step up and shed their own taboos. It's time to pro­claim that yes, I endured this, and yes, it broke me in ten­der places, and yes, that may make me stronger in the end.
Ireland's his­toric vote rep­re­sents noth­ing less than a seis­mic shift for its peo­ple. But they're far from the only ones affect­ed. The suc­cess of the ​"yes" cam­paign offers hope that oth­er major­i­ty Catholic coun­tries could also legal­ize abor­tion. And it comes at a time when repro­duc­tive rights are under fire in the Unit­ed States, with Don­ald Trump enforc­ing his uncon­scionable new gag rule and with right-wing state leg­is­la­tors rolling back the pro­tec­tions that should be guar­an­teed by Roe v. Wade. Ire­land, lend us your fight­ing spir­it. Inspire us to do the impos­si­ble. Spur us to change the course of his­to­ry, and to emphat­i­cal­ly embrace our own ​"yes."
Mol­ly M. Gin­ty
is a jour­nal­ist who writes for
Ms.
, Wom­en's eNews, On the Issues, the
Utne Read­er
,
The Nation
and oth­er pro­gres­sive publications.