Is Seattle's Rideshare Crackdown Actually a Win for Taxi Drivers?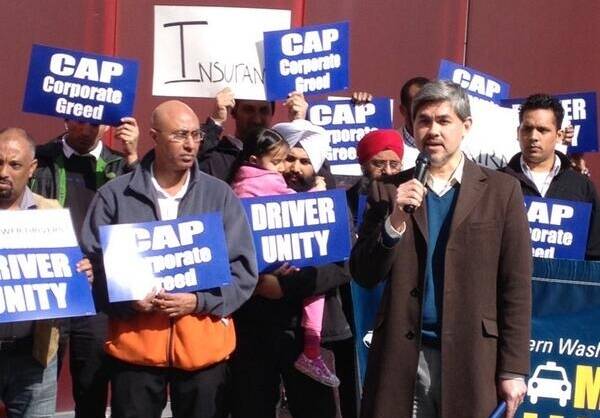 On Mon­day, the Seat­tle City Coun­cil vot­ed unan­i­mous­ly to cap the num­ber of rideshare dri­vers on the city streets. The rideshare com­pa­nies Lyft, Uber and Side­car, which pair dri­vers with rid­ers through a web appli­ca­tion ser­vice, were told they could each have no more than 150 dri­vers on the road at a giv­en time, though there are no lim­its on how many vehi­cles or dri­vers they can have in their sys­tem. The new law is the first restric­tion placed on rideshare com­pa­nies in Seat­tle that have been com­pet­ing against a taxi indus­try faced with licens­ing oblig­a­tions, strict insur­ance require­ments and oper­a­tional tax­es. The new com­pa­nies, unfet­tered by such reg­u­la­tions, have built up a fleet of an esti­mat­ed 2,000 dri­vers in Seat­tle over recent years, caus­ing con­cern in the taxi indus­try among com­pa­nies, unions and dri­vers that the rideshare boom will under­cut them — and per­haps ulti­mate­ly dri­ve them out of business.
Seattle's rideshare cap may be the first of its kind, but the city is not the first to put the brakes on the new web-based rideshare apps, also known as trans­porta­tion net­work com­pa­nies (TNC). TNC are banned from oper­a­tion in New Orleans, Los Ange­les, Mia­mi, Austin and Port­land, Ore. Cur­rent­ly, Chica­go is con­sid­er­ing whether to join Min­neapo­lis, St. Paul, Mil­wau­kee and Detroit in impos­ing taxi-like reg­u­la­tions on TNC, includ­ing a spe­cial license, a min­i­mum insur­ance require­ment and a trans­porta­tion tax.
The Wash­ing­ton Post declared the Seat­tle vote ​"a major vic­to­ry for the city's taxi cab dri­vers." Taxi com­pa­nies such as Yel­low Cab and indi­vid­ual dri­vers lob­bied in favor of the new reg­u­la­tions, which, in addi­tion to thin­ning the rideshare herd, will bring the web-based com­pa­nies in line with state insur­ance require­ments. To make up for the reduced num­ber of trans­porta­tion vehi­cles, the new leg­is­la­tion will, for the first time since 1990, issue new taxi licens­es — 200 of them.
But some taxi dri­vers aren't cel­e­brat­ing the vote.
Joe Blon­do, who has been dri­ving a cab since 1987 and who was present at Monday's city coun­cil meet­ing, con­sid­ers the vote a defeat for taxi dri­vers because it ​"basi­cal­ly legit­imized all the ille­gal activ­i­ty of the for-hire and rideshare com­pa­nies" that have been under­cut­ting taxi dri­vers. ​"We've been obey­ing all the rules, pay­ing all the fees," he says.
Blon­do con­sid­ers him­self a ​"major play­er" in the Seat­tle taxi scene. A long­time dri­ver, he main­tains a blog called ​"Real Seat­tle Taxi," and at one point served as the chair of the Seat­tle-King Coun­ty Taxi Advi­so­ry Com­mis­sion, estab­lished to advise the coun­ty on taxi indus­try issues.
Those issues, Blon­do says, extend beyond rideshare. Before there was rideshare, there were ​"flat-rate for-hire" com­pa­nies, which arrange rides in advance and charge an hourly or flat rate. Less reg­u­lat­ed and thus more com­pet­i­tive­ly priced than tra­di­tion­al taxis, for-hire vehi­cles are only autho­rized to take pas­sen­gers by pre­arrange­ment. But even before the con­ve­nience of rideshare smart­phone apps reduced the pre­arrange­ment rule to a mere bump in the road, for-hire vehi­cles were already weav­ing their way around it, paint­ing their cars like taxis and some­times doing ille­gal curb­side pick­ups. Blon­do says it amounts to ​"poach­ing" rides from legit­i­mate taxi dri­vers. ​"We'd been ask­ing for over three years for the City of Seat­tle to stop this and they didn't. So that's part one. And then you have the rideshare com­pa­nies come in … and now we're even worse off."
In a Feb­ru­ary state­ment , Seat­tle City Coun­cil­man Tim Burgess who was opposed to the cap but ulti­mate­ly vot­ed in favor, wrote that for-hire and rideshare com­pa­nies have been oper­at­ing ​"to-date by ignor­ing and vio­lat­ing City laws. This sets a dan­ger­ous prece­dent and is a les­son for the exec­u­tive branch of City gov­ern­ment to address these issues as soon as they emerge….That being said, the ques­tion before the Coun­cil today is what to do now." And in decid­ing on next steps, Burgess argues that the eco­nom­ic impor­tance of the jobs and ser­vices that rideshare com­pa­nies pro­vide in Seat­tle pre­cludes ban­ish­ing them altogether.
Though Seat­tle taxi dri­vers are not mem­bers of a for­mal union, they spent two years lob­by­ing the city for rideshare reg­u­la­tions with the help of Team­sters Local 117. A spokesper­son for the local, Paul Zil­ly, had a mixed reac­tion to the leg­is­la­tion, call­ing it a ​"step in the right direc­tion," but warn­ing that, ​"now that the new reg­u­la­tions are in place, it's the city's job to hold rideshare com­pa­nies account­able when they break the law." He also cit­ed numer­ous weak­ness­es in the law, say­ing, ​"It is unfor­tu­nate that there was no cap on the [total] num­ber of vehi­cles or dri­vers, no cap on the num­ber of TNC com­pa­nies, and most of all that TNC com­pa­nies have been giv­en increased lever­age over the TNC dri­vers who are already at an extreme disadvantage."
Blon­do believes the new leg­is­la­tion was a step toward cre­at­ing a two-tiered cab sys­tem — with licensed taxis on one side and under­reg­u­lat­ed TNCs on the oth­er. The law, he says, sends a neg­a­tive mes­sage to tra­di­tion­al taxi dri­vers that the main­stream press has over­looked. ​"The City Coun­cil decid­ed that the years of ille­gal oper­a­tion by both par­ties [were] unim­por­tant, unwor­thy of any penal­ty or fine, telling us to essen­tial­ly ​'suck it up' and accept the inevitable," he wrote on his blog on Mon­day.
The ​"inevitable" to which he refers is the end of the taxi sys­tem as we know it. Pro­po­nents of rideshare ser­vices argue that this is sim­ply the free mar­ket doing its job: Rideshar­ing com­pa­nies have devel­oped a bet­ter busi­ness mod­el. Accord­ing to JP Man­galin­dan at CNNMoney,
Pas­sen­gers more and more appear to appre­ci­ate these star­tups' supe­ri­or dis­patch tech­nol­o­gy, ease of use, and com­pet­i­tive pric­ing. …Indeed, the lack of a cen­tral taxi dis­patch has long meant some taxis are nev­er con­nect­ed with some pas­sen­gers, a frus­trat­ing sce­nario busi­ness­es like Uber side­step with smart­phone apps that track the car's loca­tion on a vir­tu­al map and an ETA. Mean­while pric­ing is becom­ing cut­throat: Late last week, Uber slashed Uber X prices again in 16 cities, includ­ing San Fran­cis­co, by up to 34 per­cent, claim­ing fare prices cheap­er than tra­di­tion­al cabs.
And the new plat­form appeals to dri­vers, too, who often use their own cars (mean­ing no sunk costs if they've rent­ed the car and then come down with the flu), and many attest to greater flex­i­bil­i­ty in man­ag­ing their work sched­ule. The San Fran­cis­co Cab Dri­vers Asso­ci­a­tion report­ed that in 2013, one-third of the city's taxi dri­vers left their reg­is­tered cab to dri­ve for Lyft, Side­car, or Uber.
Sean McConnell, a free­lance audio-engi­neer by trade, has been dri­ving for Lyft in Chica­go since Octo­ber for extra income. Accord­ing to the company's web­site, dri­vers like McConnell are ​"users of the plat­form and are not employ­ees of the com­pa­ny." But this works out for him: ​"I can use it as a part-time gig or full time depend­ing on how much I want to work." Like most Lyft dri­vers, McConnell uses his own car, but says that ​"Lyft is real­ly sup­port­ive as far as what they're will­ing to help you out with."
But crit­ics say that TNC are enjoy­ing the ben­e­fits of oper­at­ing out­side the law, as well as the cush­ion of tens of mil­lions in start-up cap­i­tal from major investors like Ama­zon CEO Jeff Bezos, and using those perks to unfair­ly under­mine the competition.
When I asked Blon­do whether or not he would con­sid­er becom­ing a rideshare dri­ver if the new ser­vice even­tu­al­ly replaced com­pa­nies like Yel­low Cab, his answer came imme­di­ate­ly: ​"No. I'm a tried-and-true cab dri­ver. It's a pro­fes­sion­al job and they've depro­fes­sion­al­ized it." In Chica­go, for exam­ple, cab dri­vers (and even horse-drawn car­riage oper­a­tors) are required to pass the Pub­lic Chauf­feur License Test, a skill and knowl­edge test that quizzes would-be dri­vers on all streets and major loca­tions in the city. Rideshare dri­vers do not have to take this test.
While admit­ting that when he joined the fleet he was not required to under­go any train­ing, Blon­do feels that train­ing should be a part of the career, and that casu­al rideshare dri­vers can­not effec­tive­ly replace career cabbies.
The fric­tion between the rideshare and taxi visions for the future of trans­porta­tion in Amer­i­can cities like Seat­tle and Chica­go is often reduced to a clash between work­ers. But their inter­ests aren't always diver­gent. Out­side the Seat­tle City Hall on Mon­day, dri­vers from both sides of the debate par­tic­i­pat­ed in the pro-reg­u­la­tion ​"Dri­ver Uni­ty Ral­ly," accord­ing to the Team­sters 117 website.
Though the ral­ly was spon­sored by taxi com­pa­nies, taxi asso­ci­a­tions and the Team­sters Local 117, which advo­cates for taxi dri­vers, the event was spon­sored by two com­pa­nies rep­re­sent­ing for-hire dri­vers, and it framed the debate in terms of what is best for work­ers. ​"All dri­vers — whether they dri­ve a taxi, a for-hire vehi­cle, or an Uber town­car — deserve fair treat­ment and a liv­ing wage," said Rich Stolz, Exec­u­tive Direc­tor of the pro­gres­sive non-prof­it OneAm­er­i­ca, in an address to the ral­ly. ​"The best way to achieve fair­ness is through safe, sen­si­ble reg­u­la­tion that puts work­ers and the trav­el­ing pub­lic first."
Zil­ly says that the Team­sters ​"are going to con­tin­ue to work to ensure that the rights of all work­ers in the indus­try are pro­tect­ed. All dri­vers deserve fair treat­ment and the abil­i­ty to earn a liv­ing wage."
And Blon­do, for his part, promis­es we will see a law­suit pret­ty soon and that he will be one of the peo­ple behind it, as long as the taxi com­pa­nies don't file first. ​"We're going to try to get an injunc­tion stop­ping the entire law… I'm already set­ting up an orga­niz­ing meet­ing with oth­er dri­vers for next week."
Amien Essif
is a reg­u­lar con­trib­u­tor to Work­ing In These Times and main­tains a blog called The Gazine, which focus­es on con­sumerism, gen­tri­fi­ca­tion, and tech­nol­o­gy with a Lud­dite bent. His work has also appeared on the Guardian and Coun­ter­Punch. You can find him using Twit­ter reluc­tant­ly: @AmienChicago