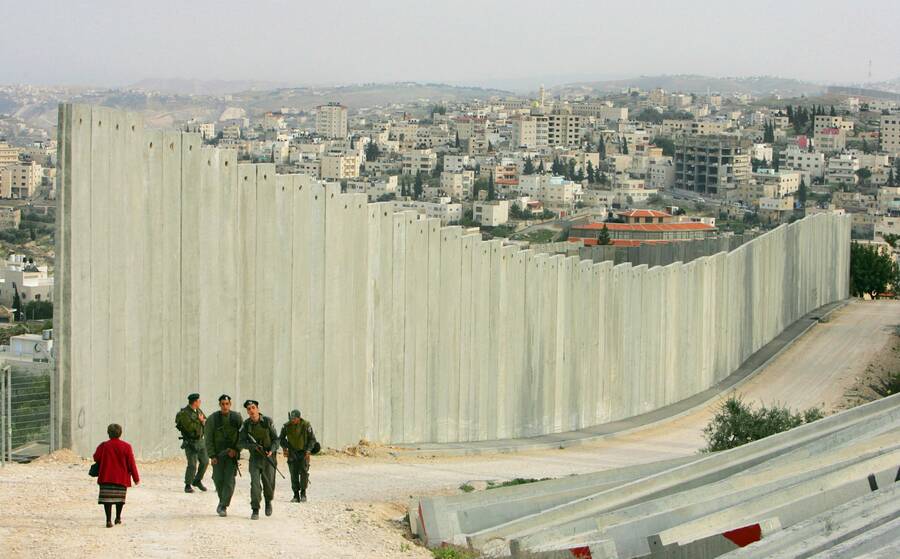 On July 14, the Israeli army launched the biggest attack on Gaza since its dev­as­tat­ing assault on the coastal enclave in 2014. Israeli war­planes dropped bombs on what many call the world's biggest open-air prison, killing two teenagers, 15-year-old Amir al-Nim­ra and 16-year-old Louay Kahil.
These policies of ethnic cleansing and denial of Palestinian refugee rights that started in 1948 are motivated by the desire to create and maintain a regime that is for Jews only—the very impetus for the nation-state law.
Five days lat­er, on July 19, the Israeli Knes­set passed the ​"Jew­ish Nation-State Law," a bill defin­ing Israel as a state for Jews — and Jews only. The bill passed despite the fact that at least 20 per­cent of all Israeli cit­i­zens are Pales­tin­ian, and the fact that there are at least 2.5 mil­lion Pales­tini­ans in Jerusalem and the occu­pied West Bank, where the bill will also apply. The move cod­i­fies a set of Israeli prac­tices that deny Pales­tini­ans equal rights and priv­i­leges Jews over Palestinians.
Then, on July 20, Israeli bombs once again pum­meled Gaza after Pales­tin­ian fight­ers from the mil­i­tant group Hamas killed an Israeli sol­dier. Four Pales­tini­ans were killed. Those deaths includ­ed one pro­test­er, Moham­mad Sherif Bad­wan, who had joined march­es at the fence that encages the coastal area.
It was a head-spin­ning week of esca­la­tion across Israel-Pales­tine, and por­tends more blood­shed in the near-future.
The bomb­ings of Gaza and pas­sage of the nation-state law are two sep­a­rate events that, when tak­en togeth­er, clar­i­fy why Israeli vio­lence is the norm in the region. While the nation-state law does not apply to Gaza, an iso­lat­ed enclave that Israel has delib­er­ate­ly cut off from oth­er Pales­tini­ans, both the law and the assault share a com­mon cul­prit: an Israeli gov­ern­ment that is vio­lent­ly bent on main­tain­ing a régime of eth­nic priv­i­lege and sep­a­ra­tion at the expense of all Pales­tini­ans, whether they live in Israel, Jerusalem, the West Bank or Gaza.
Nadia Hijab, co-founder and board pres­i­dent of Al-Shaba­ka: The Pales­tin­ian Pol­i­cy Net­work, tells In These Times that there's anoth­er con­nec­tion between the two events.
"The two are linked in a way that has marked the cre­ation of Israel from the start. Israel needs exter­nal ene­mies [like Hamas] to cement con­trol of man­date Pales­tine, emp­ty the land of the indige­nous Pales­tini­ans and make it a major­i­ty Jew­ish home­land," says Hijab. ​"Exter­nal threats are key in mask­ing the real­i­ty that the entire Pales­tin­ian body politic rec­og­nized Israel in 1988 and was will­ing to accept a state in just 22 per­cent of man­date Pales­tine, with the Islamist move­ment Hamas com­ing on board in recent years."
"This Pales­tin­ian con­sen­sus has been erod­ing," Hijab con­tin­ues, ​"as it is clear that Israel is deter­mined to annex the lands it occu­pied in 1967, hive Gaza onto Egypt, dis­crim­i­nate against the Pales­tin­ian cit­i­zens of Israel and keep Pales­tin­ian refugees from ever return­ing home.
For the past sev­en years, hard­line par­ties in Israel have intro­duced some ver­sion of the nation-state bill in the Israeli Knes­set. That it passed this year reflects the con­sol­i­da­tion of pow­er by Israel's right wing, which now takes com­fort in the glob­al rise of far-right move­ments that see in Israel a mod­el for how to deal with unwant­ed pop­u­la­tions. In fact, white suprema­cist Richard Spencer, who rose the Trump wave to fame after the 2016 elec­tion, wrote on Twit­ter that he has ​"great admi­ra­tion" for the law.
What makes the bill so trou­bling to Pales­tini­ans is that it not only legal­izes bla­tant dis­crim­i­na­tion against them in Israel, but that it passed as a ​"basic law" — a law equiv­a­lent to a con­sti­tu­tion­al clause, though Israel does not have an offi­cial con­sti­tu­tion. Now, dis­crim­i­na­tion against Pales­tini­ans — deny­ing them equal bud­gets, keep­ing them out of Jew­ish-only com­mu­ni­ties and pro­hibit­ing the growth of Pales­tin­ian cities and towns — is man­dat­ed by a law that can only be changed by a super-major­i­ty in the Israeli Knesset.
The law also man­dates that Hebrew is the state's only offi­cial lan­guage, although Ara­bic is wide­ly spo­ken in Israel-Pales­tine, and pro­motes the cre­ation and main­te­nance of exclu­sive Jew­ish-only set­tle­ments, which could lead to more ille­gal set­tle­ments in the West Bank and to more exclu­sive Jew­ish-only com­mu­ni­ties in Israel-proper.
"When you pro­vide exclu­sive [rights] for one eth­nic nation­al group and exclude it from the oth­er, and you make dis­crim­i­na­tion a con­sti­tu­tion­al val­ue, this basi­cal­ly cre­ates a colo­nial régime with very clear apartheid char­ac­ter­is­tics," says Sawsan Zaher, an attor­ney at Pales­tin­ian rights group Adalah, in an inter­view with In These Times.
Zaher notes that the nation-state law does not apply to Gaza because cur­rent­ly, there are no Israeli set­tlers there who could use the exclu­sive right to Jew­ish self-deter­mi­na­tion that the law pro­vides. (All Israeli set­tlers left Gaza in 2005, though the Israeli army con­trols most of Gaza's exports and imports and who can come in and go out.) But the law does impact Pales­tin­ian refugees in the Gaza Strip, as well as refugees in the West Bank, the Arab world and the diaspora.
"If you say exclu­sive self-deter­mi­na­tion [for Jews], that means no [Pales­tin­ian] refugee has the right to return, whether you are in camps in Jor­dan or Lebanon, or in the West Bank or Gaza," says Zaher.
In 1948, Zion­ist forces expelled 750,000 Pales­tini­ans from their home­land, cre­at­ing the Pales­tin­ian refugee cri­sis, and 250,000 of those expelled in 1948 fled to Gaza. Sev­en­ty years lat­er, those refugees and their descen­dants still yearn for return to the lands they were forced from, in what is today Israel. This demand to return is the core demand of the Great Return March in Gaza, the week­ly mass protests by Pales­tini­ans in Gaza that has been met with immense Israeli fire­pow­er, lead­ing to the deaths of at least 140 Palestinians.
These poli­cies of eth­nic cleans­ing and denial of Pales­tin­ian refugee rights that start­ed in 1948 are moti­vat­ed by the desire to cre­ate and main­tain a régime that is for Jews only — the very impe­tus for the nation-state law.
With a new war on Gaza on the hori­zon and dis­crim­i­na­tion enshrined in Israeli law, it's become clear that Israel has cre­at­ed a one-state real­i­ty where Pales­tini­ans are denied equal rights, a régime that can only be main­tained by vio­lence, as the fre­quent bomb­ings of Gaza show. The only ques­tion is how many more peo­ple will die — and whether mass mobi­liza­tion among Pales­tini­ans and inter­na­tion­al pres­sure can con­vince Israel to end its occu­pa­tion of Jerusalem, the West Bank and Gaza and grant equal rights to all who live in the land Israel cur­rent­ly dominates.
Alex Kane
is a New York-based free­lance jour­nal­ist who writes on U.S. for­eign pol­i­cy in the Mid­dle East.