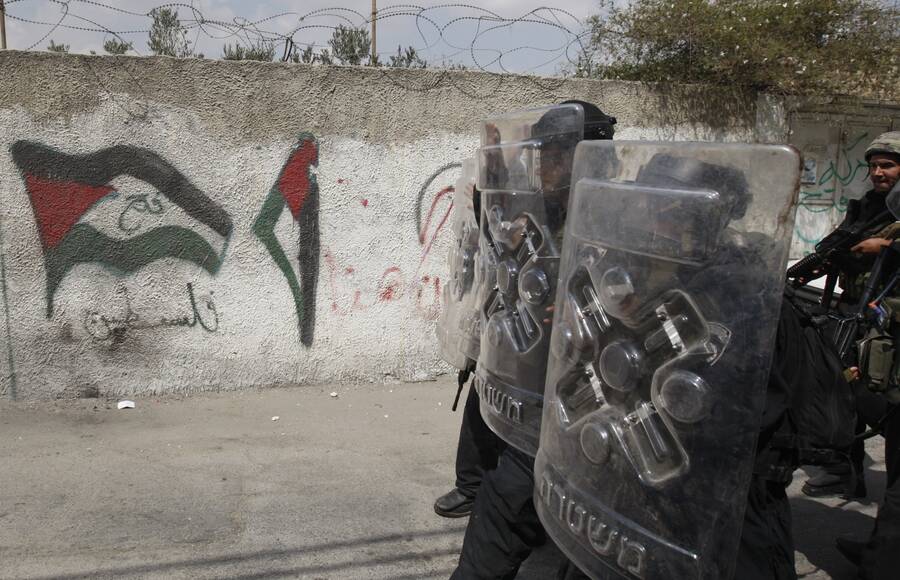 In ear­ly Sep­tem­ber, a del­e­ga­tion of U.S. law enforce­ment offi­cers flew to Israel for a week-long series of train­ings with Israeli secu­ri­ty forces.
"We want to denormalize the valorization of what we think is a horrifying human rights abuse."
These del­e­ga­tions have become rou­tine in the after­math of Sep­tem­ber 11, 2001, and they often take place with lit­tle scrutiny.
But this time was dif­fer­ent. A week before the del­e­ga­tion, mem­bers of the Jew­ish Voice for Peace (JVP) chap­ter in Wash­ing­ton, D.C. obtained a doc­u­ment pro­vid­ing details about the train­ing. Those details had turned up in the Met­ro­pol­i­tan Police Department's response to JVP's pub­lic records request, because a Wash­ing­ton, D.C. cop was join­ing the delegation.
So JVP mem­bers swung into action to call atten­tion to the trip, which they saw as trou­bling, because U.S. police — already under scruti­ny for racial pro­fil­ing and exces­sive force — would be train­ing with secu­ri­ty forces accused of human rights abus­es. They con­tact­ed local offi­cials to inform them of the del­e­ga­tion, and they also spoke to news out­lets about the doc­u­ment they obtained.
Their efforts made waves. A news report pub­lished by The Inter­cept cast a harsh light on the del­e­ga­tion. And on Sep­tem­ber 7, David Grosso, a Wash­ing­ton, D.C. Coun­cil­man, sent a let­ter to the city's police chief, writ­ing that he was ​"trou­bled" a police offi­cer would be train­ing with Israeli secu­ri­ty forces that have engaged in ​"human rights violations."
The elect­ed official's crit­i­cism was a win for JVP's Dead­ly Exchange cam­paign, an ini­tia­tive launched in April that seeks to halt U.S. law enforce­ment trips to Israel.
"Even peo­ple who are cog­nizant of all the prob­lems [with the del­e­ga­tions] don't want to bring it up, because they're aware of the polit­i­cal sen­si­tiv­i­ty [of crit­i­ciz­ing Israel]," said Ben­jamin Dou­glas, the chair of JVP-Wash­ing­ton, D.C.'s leg­isla­tive com­mit­tee, in an inter­view. ​"The fact that Grosso fired that open­ing shot is important."
Denor­mal­iz­ing Human Rights Abuses
JVP is now seek­ing to build on its suc­cess in Wash­ing­ton, D.C. by uti­liz­ing a vari­ety of tac­tics — direct actions, leg­isla­tive cam­paigns and teach-ins — to bring atten­tion to, and ulti­mate­ly try to end, police del­e­ga­tions to Israel. JVP is also hop­ing to put a stop to Israeli secu­ri­ty del­e­ga­tions to the Unit­ed States, espe­cial­ly at a time when Pres­i­dent Don­ald Trump and Israeli leader Ben­jamin Netanyahu are inten­si­fy­ing the U.S.-Israel alliance from the far right.
But the cam­paign faces a dif­fi­cult task. Israel has suc­cess­ful­ly mar­ket­ed itself as a glob­al leader in counter-ter­ror­ism and secu­ri­ty, and pro-Israel groups in the Unit­ed States have cap­i­tal­ized on that rep­u­ta­tion by bring­ing hun­dreds of police offi­cers on trips to train with Israeli police and mil­i­tary commanders.
The goal of JVP's Dead­ly Exchange cam­paign is to reverse Israel's rep­u­ta­tion as a secu­ri­ty leader, stig­ma­tize these del­e­ga­tions and — ulti­mate­ly — stop them. JVP is also hop­ing to expose the racial­ly biased U.S. police prac­tices that these exchanges rein­force. For JVP, del­e­ga­tions to Israel reveal U.S. law enforcement's trou­bling will­ing­ness to receive train­ing from Israeli com­man­ders who pre­side over a bru­tal sys­tem of occu­pa­tion and repres­sion, com­plete with mass sur­veil­lance, extra­ju­di­cial killings and racial pro­fil­ing of Palestinians.
"These pro­grams treat Israel's sev­en­ty years of dis­pos­ses­sion and 50 years of occu­pa­tion as best prac­tices for polic­ing in the U.S.," Ste­fanie Fox, a deputy direc­tor at JVP, told In These Times. ​"We want to denor­mal­ize the val­oriza­tion of what we think is a hor­ri­fy­ing human rights abuse."
A trou­bling mod­el for policing
For many pro-Israel activists in the Unit­ed States, Israel's expe­ri­ence in deal­ing with Pales­tin­ian mil­i­tant attacks, and in main­tain­ing its occu­pa­tion of the West Bank, East Jerusalem and Gaza, made the coun­try a mod­el for how U.S. law enforce­ment could com­bat ter­ror­ism. And after Sep­tem­ber 11, 2001, orga­ni­za­tions like the Anti-Defama­tion League (ADL) and the Jew­ish Insti­tute for Nation­al Secu­ri­ty Affairs (JIN­SA) cre­at­ed pro­grams to bring U.S. police offi­cers to Israel for train­ing. There, Israeli com­man­ders brief U.S. cops, who vis­it key sites where Israel exer­cis­es its con­trol over Pales­tini­ans: jails, check­points and settlements.
"What hap­pened after 9⁄11 is that Amer­i­ca need­ed some­one to val­i­date what they're about to do with the war on ter­ror. And Israel was there, with the nar­ra­tive of what it can do," said Eran Efrati, the exec­u­tive direc­tor of the group Research­ing the Amer­i­can-Israeli Alliance, which is pro­vid­ing research help for JVP's cam­paign. ​"The U.S. is buy­ing into a mod­el of con­trol that Israel is sell­ing … In this mod­el, we're talk­ing about an occu­py­ing army using vio­lent, non-demo­c­ra­t­ic means of con­trol over mil­lions of humans under the idea of counter-ter­ror­ism. But when [law enforce­ment] is com­ing back home, they're using those meth­ods of con­trol [on civilians]."
For some U.S. par­tic­i­pants in these trips, the Israeli mod­el for com­bat­ing threats is exact­ly what the Unit­ed States needs to adopt. ​"Let's be hon­est … This whole idea of best prac­tices is just a euphemism for: We're here to steal some of your great ideas. And a lot of great ideas and tech­nol­o­gy, indeed, you do have here in Israel," the Los Ange­les Police Department's com­man­der of infor­ma­tion tech­nol­o­gy said at a 2016 con­fer­ence in Israel that LAPD offi­cers attend­ed. ​"We are much more alike than dis-alike. As civ­i­lized nations, we are all con­front­ed with, in many cas­es, the same ene­my: The ever-grow­ing threat of ter­ror­ism and oth­er major crim­i­nal elements."
The ​"dead­ly exchange" goes both ways. In 2013, Israel's police com­man­der flew to New York to learn about how the New York Police Depart­ment polices ​"qual­i­ty of life" vio­la­tions — a term that refers to how the NYPD cracks down on pet­ty offens­es like pub­lic drink­ing. Its ​"bro­ken win­dows" polic­ing phi­los­o­phy — that going after pet­ty crimes can pre­vent more seri­ous ones — has been harsh­ly crit­i­cized for dis­pro­por­tion­ate­ly tar­get­ing peo­ple of color.
This exchange of tac­tics, though, has also pre­sent­ed some­thing of an oppor­tu­ni­ty for JVP: a chance to deep­en the organization's already-exist­ing rela­tion­ship with com­mu­ni­ties of col­or who are orga­niz­ing against racist police vio­lence in the Unit­ed States.
The Chica­go Reli­gious Lead­er­ship Net­work on Latin Amer­i­ca (CRLN) does not focus on issues relat­ed to Pales­tine. But the orga­ni­za­tion has endorsed the Dead­ly Exchange campaign.
"CRLN endors­es this cam­paign, because it is aligned with our efforts to expand the def­i­n­i­tion of sanc­tu­ary to mean pro­tec­tion for all peo­ple tar­get­ed by state vio­lence and racist polic­ing," Cinthya Rodriguez, an immi­gra­tion orga­niz­er with the net­work, told In These Times. ​"As we con­tin­ue to call for the account­abil­i­ty of the U.S. deten­tion and depor­ta­tions machine, for exam­ple, by urg­ing Con­gress to cut immi­gra­tion enforce­ment fund­ing, we also reject the shar­ing of dis­crim­i­na­to­ry and repres­sive polic­ing strategies."
In Wash­ing­ton, D.C., the JVP chap­ter is work­ing along­side groups like Pan-African Com­mu­ni­ty Action to high­light the need for local account­abil­i­ty and con­trol over civil­ian police forces. And in Atlanta, JVP's chap­ter has part­nered with oth­er groups, includ­ing Black Lives Mat­ter-Atlanta, to press offi­cials like city May­or Kasim Reed to com­mit to halt police par­tic­i­pa­tion in the Geor­gia Inter­na­tion­al Law Enforce­ment Exchange pro­gram, which sends offi­cers to Israel. (Reed has reject­ed that demand.) Con­nie Sos­noff, a mem­ber of JVP Atlanta, told In These Times the group's next step is to get can­di­dates run­ning in the upcom­ing may­oral elec­tion to take a posi­tion on the exchange pro­gram with Israel.
"It's absolute­ly essen­tial to us to run this cam­paign from an inter­sec­tion­al lens, and to cen­ter those peo­ple who are most impact­ed by these ter­ri­ble tac­tics and tech­nolo­gies," JVP's Fox told In These Times. ​"Joint strug­gle and mutu­al sol­i­dar­i­ty between com­mu­ni­ties of col­or in the U.S. and in Pales­tine is hap­pen­ing in a mil­lion dif­fer­ent ways, but this cam­paign is tar­get­ing the vio­lent exchanges."
"Polic­ing that goes against all civ­il rights norms"
But in addi­tion to the var­i­ous local cam­paigns that have tak­en hold across the Unit­ed States, JVP has also cho­sen a nation­al tar­get: the Anti-Defama­tion League.
Known nation­al­ly for its civ­il rights work and fight against hate crimes, the ADL is also a fierce defend­er of Israel. And in 2003, the orga­ni­za­tion launched the Nation­al Counter-Ter­ror­ism Sem­i­nar pro­gram, which has brought over 200 police offi­cers to Israel to learn from Israeli secu­ri­ty offi­cials. On one such trip in 2016, the ADL brought U.S. cops to the occu­pied West Bank city of Hebron, a city where the army and police pro­tect 800 right-wing set­tlers liv­ing in a Pales­tin­ian area, to meet with an Israeli police com­man­der. On the same trip, the U.S. offi­cers also vis­it­ed an Israeli prison where Pales­tini­ans are held, and met with a police patrol unit known as ​"Yasam."
JVP is cur­rent­ly col­lect­ing sig­na­tures on a peti­tion to the ADL call­ing on the group to end the police exchange pro­grams. The ADL has fired back at JVP, say­ing that JVP asserts ​"that joint train­ing and exchange pro­grams are respon­si­ble for ris­ing lev­els of police bru­tal­i­ty and racism against minori­ties in the US."
Ste­fanie Fox, the JVP deputy direc­tor, reject­ed that crit­i­cism, telling In These Times that the Dead­ly Exchange cam­paign high­lights how police exchange pro­grams ampli­fy already-exist­ing law enforce­ment tac­tics that are prob­lem­at­ic — and that the group does not believe Israel is teach­ing Amer­i­can law enforce­ment how to be racist. (The ADL did not respond to requests for comment.)
"It's absurd that the ADL's con­cern for civ­il rights is prac­ticed selec­tive­ly," said Fox. ​"And as an orga­ni­za­tion that claims to fight hate and stand up for civ­il rights, they're putting their resources, ener­gy and time in an approach to polic­ing that goes against all civ­il rights norms, and puts com­mu­ni­ties at risk of exces­sive force, racial pro­fil­ing and brutality."
Alex Kane
is a New York-based free­lance jour­nal­ist who writes on U.S. for­eign pol­i­cy in the Mid­dle East.