"It Is Right to Resist": The Revolutionary Art of Pilsen's Jose Guerrero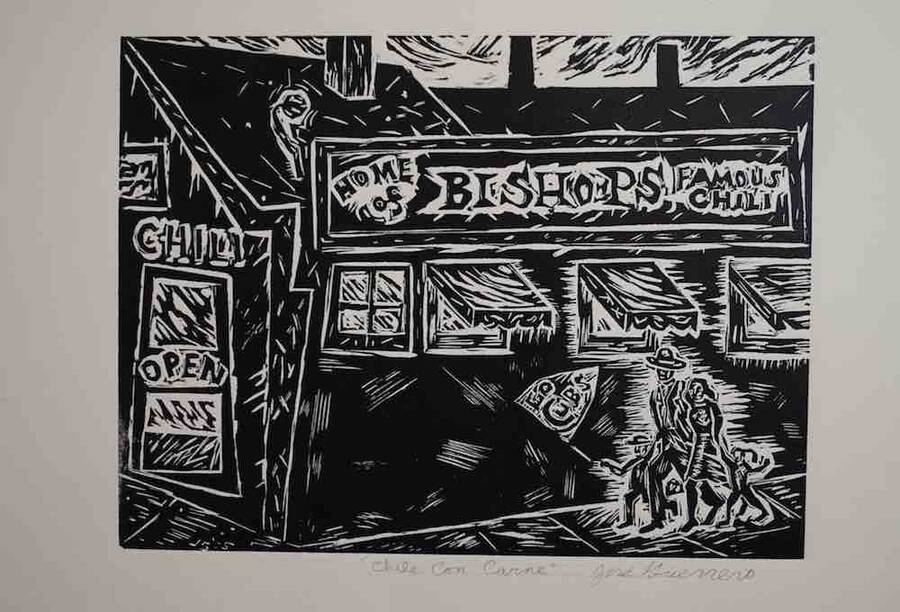 Enter Prospec­tus Gallery in Chicago's Pilsen neigh­bor­hood — a long­time bas­tion of immi­grant rights and com­mu­ni­ty activism — and you enter the world as seen by Jose Guerrero.
It is a world full of injus­tice and vio­lence, a grit­ty and reel­ing place where peo­ple nonethe­less rise up in resis­tance, sol­i­dar­i­ty and joy; where even death itself is van­quished by the grin­ning skele­tal calav­eras who con­tin­ue cel­e­brat­ing life on the oth­er side.
For four decades Guer­rero has been a well-known and well-loved artist here, a pro­lif­ic print-mak­er who also paint­ed murals, taught print-mak­ing to adults and kids and led thou­sands of vis­i­tors and col­lege stu­dents from around the coun­try on tours of the murals, with the out­fit Pilsen Mur­al Tours that he start­ed in 1985.
The ret­ro­spec­tive, orga­nized by Prospec­tus direc­tor Israel Her­nan­dez, shows Guerrero's world view, his deep roots in the neigh­bor­hood and the way he places local strug­gles for jus­tice, sur­vival and dig­ni­ty in a larg­er con­text sweep­ing across the globe and across time. Guerrero's work cel­e­brates reg­u­lar peo­ple — work­ers, women, immi­grants — oppressed by the evils of cap­i­tal­ism, racism and greed but tire­less­ly fight­ing back, defi­ant and often­times vic­to­ri­ous in their vision of a bet­ter world.
The crowd who filled the gallery on open­ing night May 8 showed how many peo­ple from diverse walks of life have been touched by the work and lead­er­ship of Guer­rero, along with his wife Margaret.
While Guerrero's pol­i­tics are bold and rad­i­cal, his demeanor is soft-spo­ken and full of mis­chie­vous and some­times endear­ing­ly corny humor. Being around him, one feels that per­haps the great­est insult to the forces that would humil­i­ate and exploit is to laugh at them.
Many of the prints at Prospec­tus fea­ture Pilsen, which has been the cra­dle of move­ments includ­ing the mas­sive immi­grants march­es of 2006 – 2007 — and has also become in recent years a sym­bol of gen­tri­fi­ca­tion. Guerrero's works show­case famil­iar and sig­nif­i­cant neigh­bor­hood land­marks and char­ac­ters like Thalia Hall, the one-time Bohemi­an social club now home to an upscale restau­rant and con­cert venue; or local artist Mar­cos Raya and the slouch­ing drunk­en dog that is his alter-ego; or the many hard­scrab­ble can­ti­nas and small eater­ies that have fall­en by the way­side as the rents in the neigh­bor­hood have gone up.
Guerrero's work has long explic­it­ly high­light­ed anti-gen­tri­fi­ca­tion move­ments. His prints and his murals have fea­tured protests against dis­place­ment; emphat­ic pick­et signs and ban­ners declar­ing that the eloteros (push­cart ven­dors), moth­ers, day labor­ers and oth­er stal­warts of the neigh­bor­hood will not be moved; and decry­ing the real estate agents and mon­ey-grub­bing land­lords who put prof­it before people.
Prints at Prospec­tus com­mem­o­rate oth­er spe­cif­ic social strug­gles and show­downs. ​"Juarez en luto" (Juarez Mourn­ing) shows a tear­ful Pres­i­dent Ben­i­to Juarez (the first indige­nous pres­i­dent of Mex­i­co), and alludes to the hun­dreds of women who have been mur­dered in Ciu­dad Juarez in more recent years. Sev­er­al works cel­e­brate Dami­an Garcia's auda­cious 1980 stand at the Alamo, when he replaced the Tex­an flag with a red flag. Anoth­er piece fea­tures the resis­tance to Chicago's 2012 host­ing of the NATO sum­mit, and the bat­tle over free speech and protest rights in the city that it sparked.
In the ear­ly 1970s, Guer­rero was doing car­toons for a labor news­pa­per, which led to him meet­ing Chica­go Pub­lic Art Group founder John Pit­man Weber and oth­er artists. In 1973 – 1974, Pit­man Weber and Guer­rero paint­ed the murals blan­ket­ing the inte­ri­or of the icon­ic union hall for the Unit­ed Radio, Machine and Elec­tri­cal Work­ers of Amer­i­ca (UE), the inde­pen­dent union expelled from the CIO dur­ing anti-Com­mu­nist hys­te­ria and still rep­re­sent­ing work­ers today.
Guerrero's style is rem­i­nis­cent of the great Mex­i­can painter Jose Clemente Orozco's ​"insis­tent­ly swirling" tex­ture, as Pit­man Weber described it. Like Oroz­co and famous Mex­i­can mural­ist Diego Rivera, Guerrero's work depicts and hon­ors the work­ers whose phys­i­cal toil built our cities and insti­tu­tions — the beau­ty and dig­ni­ty of rip­pling mus­cles, strong shoul­ders, stol­id jaws, tired eyes; rail­road work­ers; immi­grants who risk their lives and leave their homes to find work; labor­ers who unwind in cor­ner bars after long hard days.
Sev­er­al of Guerrero's works fea­ture old cone-topped beer cans of the cut-rate brands the Chica­go work­ers of yore could afford. Today, one would be hard-pressed to find these beers or the work­ing-class can­ti­nas that once pro­lif­er­at­ed in Pilsen.
But drink­ing in the imagery of Guerrero's prints leaves one with the feel­ing that while time pass­es and things change, there is an under­ly­ing spir­it of human dig­ni­ty, strength and ebul­lience that will always con­tin­ue on.
The Jose Guer­rero Ret­ro­spec­tive show runs through June 6 at Prospec­tus Gallery in Chicago's Pilsen neigh­bor­hood, 1210 W. 18th Street, 312−733−6132.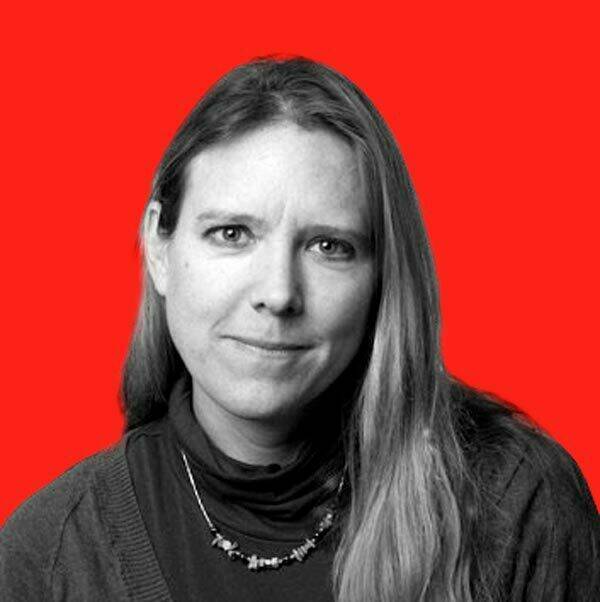 Kari Lyder­sen
is a Chica­go-based reporter, author and jour­nal­ism instruc­tor, lead­ing the Social Jus­tice
&
amp; Inves­tiga­tive spe­cial­iza­tion in the grad­u­ate pro­gram at North­west­ern Uni­ver­si­ty. She is the author of May­or
1
%: Rahm Emanuel and the Rise of Chicago's
99
%.