"It Is Right to Resist": The Revolutionary Art of Pilsen's Jose Guerrero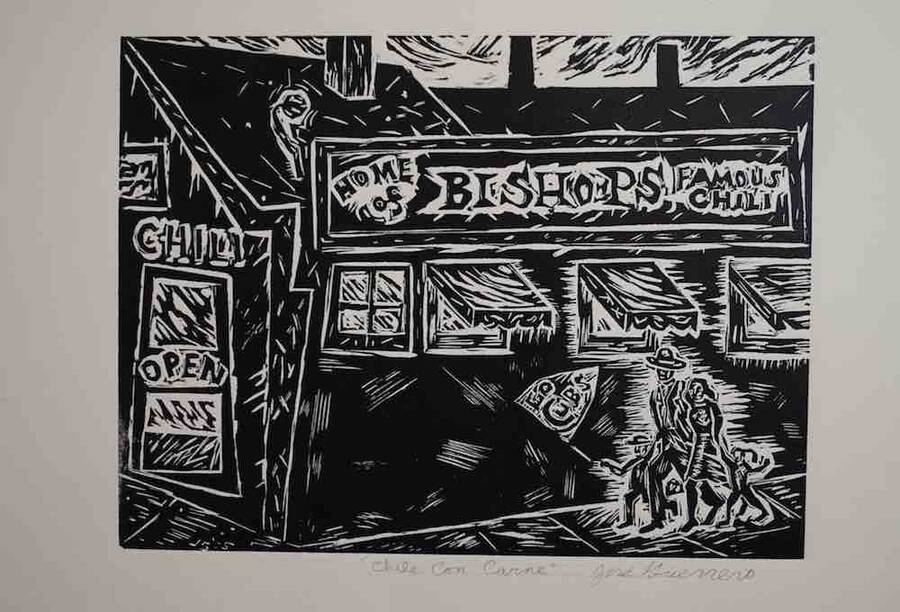 Enter Prospectus Gallery in Chicago's Pilsen neighborhood — a longtime bastion of immigrant rights and community activism — and you enter the world as seen by Jose Guerrero.
It is a world full of injustice and violence, a gritty and reeling place where people nonetheless rise up in resistance, solidarity and joy; where even death itself is vanquished by the grinning skeletal calaveras who continue celebrating life on the other side.
For four decades Guerrero has been a well-known and well-loved artist here, a prolific print-maker who also painted murals, taught print-making to adults and kids and led thousands of visitors and college students from around the country on tours of the murals, with the outfit Pilsen Mural Tours that he started in 1985.
The retrospective, organized by Prospectus director Israel Hernandez, shows Guerrero's world view, his deep roots in the neighborhood and the way he places local struggles for justice, survival and dignity in a larger context sweeping across the globe and across time. Guerrero's work celebrates regular people — workers, women, immigrants — oppressed by the evils of capitalism, racism and greed but tirelessly fighting back, defiant and oftentimes victorious in their vision of a better world.
The crowd who filled the gallery on opening night May 8 showed how many people from diverse walks of life have been touched by the work and leadership of Guerrero, along with his wife Margaret.
While Guerrero's politics are bold and radical, his demeanor is soft-spoken and full of mischievous and sometimes endearingly corny humor. Being around him, one feels that perhaps the greatest insult to the forces that would humiliate and exploit is to laugh at them.
Many of the prints at Prospectus feature Pilsen, which has been the cradle of movements including the massive immigrants marches of 2006-2007 — and has also become in recent years a symbol of gentrification. Guerrero's works showcase familiar and significant neighborhood landmarks and characters like Thalia Hall, the one-time Bohemian social club now home to an upscale restaurant and concert venue; or local artist Marcos Raya and the slouching drunken dog that is his alter-ego; or the many hardscrabble cantinas and small eateries that have fallen by the wayside as the rents in the neighborhood have gone up.
Guerrero's work has long explicitly highlighted anti-gentrification movements. His prints and his murals have featured protests against displacement; emphatic picket signs and banners declaring that the eloteros (pushcart vendors), mothers, day laborers and other stalwarts of the neighborhood will not be moved; and decrying the real estate agents and money-grubbing landlords who put profit before people.
Prints at Prospectus commemorate other specific social struggles and showdowns. ​"Juarez en luto" (Juarez Mourning) shows a tearful President Benito Juarez (the first indigenous president of Mexico), and alludes to the hundreds of women who have been murdered in Ciudad Juarez in more recent years. Several works celebrate Damian Garcia's audacious 1980 stand at the Alamo, when he replaced the Texan flag with a red flag. Another piece features the resistance to Chicago's 2012 hosting of the NATO summit, and the battle over free speech and protest rights in the city that it sparked.
In the early 1970s, Guerrero was doing cartoons for a labor newspaper, which led to him meeting Chicago Public Art Group founder John Pitman Weber and other artists. In 1973-1974, Pitman Weber and Guerrero painted the murals blanketing the interior of the iconic union hall for the United Radio, Machine and Electrical Workers of America (UE), the independent union expelled from the CIO during anti-Communist hysteria and still representing workers today.
Guerrero's style is reminiscent of the great Mexican painter Jose Clemente Orozco's ​"insistently swirling" texture, as Pitman Weber described it. Like Orozco and famous Mexican muralist Diego Rivera, Guerrero's work depicts and honors the workers whose physical toil built our cities and institutions — the beauty and dignity of rippling muscles, strong shoulders, stolid jaws, tired eyes; railroad workers; immigrants who risk their lives and leave their homes to find work; laborers who unwind in corner bars after long hard days.
Several of Guerrero's works feature old cone-topped beer cans of the cut-rate brands the Chicago workers of yore could afford. Today, one would be hard-pressed to find these beers or the working-class cantinas that once proliferated in Pilsen.
But drinking in the imagery of Guerrero's prints leaves one with the feeling that while time passes and things change, there is an underlying spirit of human dignity, strength and ebullience that will always continue on.
The Jose Guerrero Retrospective show runs through June 6 at Prospectus Gallery in Chicago's Pilsen neighborhood, 1210 W. 18th Street, 312−733−6132.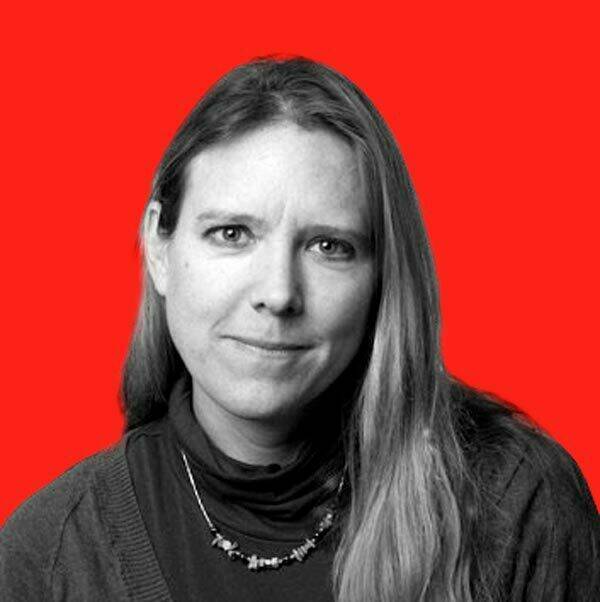 Kari Lydersen
is a Chicago-based reporter, author and journalism instructor, leading the Social Justice
&
amp; Investigative specialization in the graduate program at Northwestern University. She is the author of Mayor
1
%: Rahm Emanuel and the Rise of Chicago's
99
%.