'It Started in Wisconsin:' Paul Buhle on the Revolt That Paved the Way for Next Week's Recall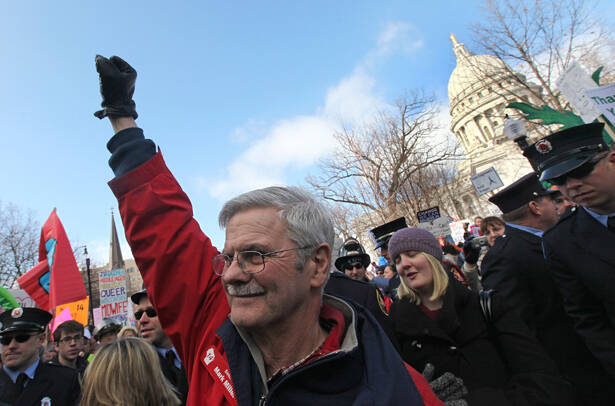 With the Wisconsin recall election less than a week away, it remains to be seen whether the mass mobilization that began last year will translate into an electoral coup. In a new poll released Tuesday by Marquette University Law School, Republican Governor Scott Walker has widened his lead over Democrat Tom Barrett to
7
percentage points. Walker has raised more than $
25
million, more than two-thirds of which is from out-of-state donors.
&
nbsp; But the impact of last February's popular uprising
&
mdash;and the sustained organizing that came after it
&
mdash;is likely to extend beyond next week
&
rsquo;s election results. In It Started in Wisconsin, released in January by Verso Books, editors Paul Buhle and Mari Jo Buhle collect first-hand accounts of events at the Capitol from striking teachers, students and other activists, as well as explorations into Wisconsin
&
rsquo;s progressive history and the global context of the demonstrations by noted historians. Ahead of the recall election, John K. Wilson discussed the long-term significance of the movement in Wisconsin with Paul Buhle via e-mail.
&
nbsp;
If
&
ldquo;it started in Wisconsin,
&
rdquo; will it spread nationwide? Paul: Thanks for asking these questions. As I write, we are a few days from a crucial election whose status is lifted high by the likes of Rachel Maddow and Tom Hayden, even while being pushed aside, considered not terribly significant, by [Democratic National Committee Chair] Debbie Wasserman Schultz. This difference of views is a bit more than tactical, and reflects the gap between a grassroots strategy in which the Obama campaign looms large, and a top-down campaign for Obama in which local and state events are far less important and may even distract attention and money. Not that Schultz and others are indifferent to results here, but these would not be central in her way, that of the national Democratic notables, of seeing the political world. Is it possible to have a Wisconsin-style movement nationally, and what would it look like? Or are the unique conditions of Wisconsin and Madison impossible to replicate elsewhere? Paul: The mass mobilization in Wisconsin, from February,
2011
until the end of the year and after
&
mdash;demonstrations, occupation of the Capitol, more demonstrations, then Recall work and an early election campaign all pointing ultimately toward June
5
&
mdash;was in some ways sui generis, perhaps most of all because of the traditions of Robert M. LaFollette in leading the nation with progressive reforms during the
1910
s. Few other left-leaning cities in the US are also the state capitols, another factor of importance. Still, the demographic character of the central factor in the scene
&
mdash;a workforce disproportionally women, from education to health care and related services
&
mdash;reflects a new era of struggle in many important ways. So does the largely middle-aged to older-aged quality of many militants, including union retirees whose plants have fled. And so does the particular quality of occupation here, including heavy emphasis upon family involvement from people with babes in arms to the very aged in wheelchairs and walkers. This is a long way from the
1960
s, even when high school kids by the hundreds march in support of their teachers. One thing more: the good humor of the solidarity movement, and the associated cultural elements, speak to the new era, too. Thousands of genuinely funny, home-made signs and slogans showed up spontaneously, as if a new craze had been launched. The Solidarity Singalong has continued,
5
performances a week or more inside the Capitol and outside, for something like
300
times, and is now going in buses around the state. These are wonderful manifestations of democratic expression and I expect to see them spread. Paul Buhle is, with Mari Jo Buhle, co-editor of IT STARTED IN WISCONSIN (Verso). And like her, a Solidarity Singalonger. They are retired, from teaching at Brown University, and live in Madison.
Be one of the first
Help kick off the new era of In These Times! Without a media that brings people together and creates a written record of the struggles of workers, their voices will be fragmented and forgotten.
The mission of In These Times is to be that written record, and to guide and grow those movements.
We have a lot of work ahead of us, and that work starts today. Early support is the most valuable support, and that's why we're asking you to pitch in now. If you are excited for this new era of In These Times, please make a donation today.
John K. Wilson is an In These Times' books editor.