What Italy's "Potere al Popolo" Can Teach Us About Building a Popular Party of the Left
This party is rejecting the false choice between a Europe united under the misery of austerity, or one united under the horrors of racism and bigotry.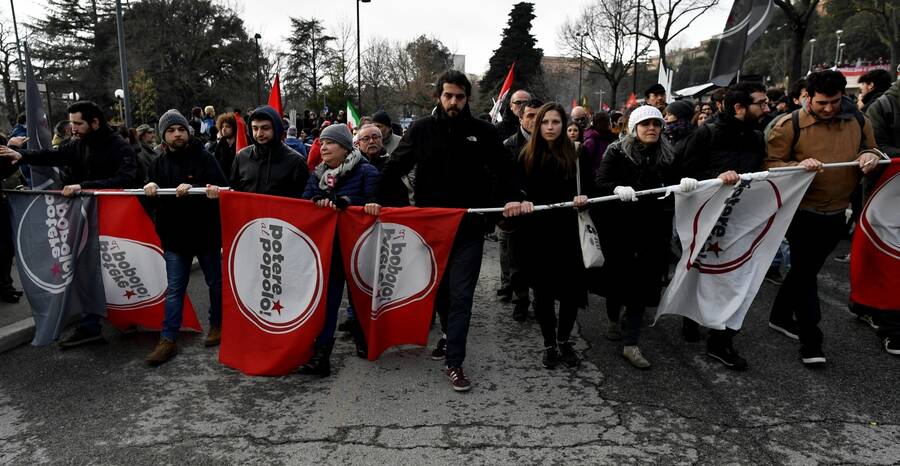 On March 4, the Ital­ian peo­ple will walk to the bal­lots to choose their gov­ern­ment for the next five years. Dur­ing the past few weeks, the TV sched­ule has been filled with rep­re­sen­ta­tives from each run­ning par­ty clash­ing over the best ways to get the coun­try out of the lin­ger­ing eco­nom­ic reces­sion: struc­tur­al reforms, inno­va­tion, job cre­ation, more cuts, less cuts and, of course, stop­ping immigration.
PAP is the only political formation that explicitly talks about wealth redistribution, with pillars that include a tax on property and a battle against tax evasion aimed at shrinking Italy's widening inequality gap.
The reg­u­lar pre-elec­tion spec­ta­cle is charged with a sense of grav­i­ty, as this will be the first time Ital­ian cit­i­zens will have the chance to elect their gov­ern­ment since the fall of Berlus­coni in 2011.
After the defeat of Le Pen's far-right par­ty by the lib­er­al, pro-aus­ter­i­ty par­ty of Macron in France, law­mak­ers, inter­na­tion­al orga­ni­za­tions and investors across Europe are watch­ing with bat­ed breath to see whether Ital­ian vot­ers reject the far Right and its anti-Europe dis­course. On the oth­er hand, some observers wor­ry that the elec­tions could result in a hung par­lia­ment that will yet again be resolved by the for­ma­tion of a gov­ern­ment of tech­nocrats in charge of car­ry­ing for­ward the aus­ter­i­ty man­date as their pre­de­ces­sors did.
Yet, a new left coali­tion is pre­sent­ing a third option. Potere Al Popo­lo (Pow­er to the Peo­ple or PAP) is artic­u­lat­ing a polit­i­cal plat­form that breaks through the dread­ful dichoto­my between the anti-aus­ter­i­ty, xeno­pho­bic Right and the pro-Euro­pean, lib­er­al ​"Left." With years of involve­ment in labor and com­mu­ni­ty orga­niz­ing behind it, PAP has entered the polit­i­cal are­na and resus­ci­tat­ed debates about inequal­i­ty and work­er pro­tec­tion — top­ics that have been set aside by par­ties across the entire polit­i­cal spec­trum to favor the smooth imple­men­ta­tion of struc­tur­al reforms. By bring­ing a net­work of grass­roots orga­ni­za­tions into elec­toral pol­i­tics, PAP demon­strates how build­ing a pop­u­lar par­ty of the Left is possible.
The Demo­c­ra­t­ic Par­ty adrift
So far, the elec­toral debate has been dom­i­nat­ed by the Right, whose coali­tion list has secured between 34 and 38 per­cent of votes, as pre­dict­ed by the final Feb­ru­ary 16 pre-elec­tion polls. The Demo­c­ra­t­ic Par­ty, cur­rent­ly the main force on the par­lia­men­tary Cen­ter-Left, is los­ing ground to the Five Star Move­ment, the anti-estab­lish­ment par­ty that grew out of the anti-Berlus­coni protests from 2008 to 2011. The Five Star Move­ment is polling as the largest sin­gle par­ty, with rough­ly 28 per­cent of the votes. Thanks to a polit­i­cal plat­form imbued with con­tra­dic­tions, this catch-all par­ty has man­aged so far to attract votes from por­tions of both the left and right electorate.
At 22 to 25 per­cent, and muti­lat­ed by con­stant inter­nal frac­tions, the Demo­c­ra­t­ic Par­ty appears to be suf­fer­ing a ter­mi­nal cri­sis. Amid increas­ing social ten­sions over aus­ter­i­ty and immi­gra­tion, it is prov­ing unable to assert itself as the oppos­ing force against cuts to pub­lic spend­ing. On the con­trary, the Demo­c­ra­t­ic Par­ty has active­ly imple­ment­ed struc­tur­al reforms, such as the Fornero reform of the pen­sion sys­tem and Renzi's Jobs Act — which first deep­ened and then extend­ed pover­ty and job inse­cu­ri­ty across all lay­ers of the work­force. In addi­tion, the Demo­c­ra­t­ic Par­ty has grad­u­al­ly aban­doned any dis­cus­sion of wealth dis­tri­b­u­tion, opt­ing instead to adopt a right-lean­ing nar­ra­tive that depicts the unem­ployed as ​"choosy," and those who try to artic­u­late a cri­tique of aus­ter­i­ty as ​"irre­spon­si­ble."
Par­al­lel­ing the tra­jec­to­ry of many oth­er lib­er­al par­ties across Europe and the Unit­ed States, the Demo­c­ra­t­ic Par­ty has failed to speak to those who have endured more than eight years of eco­nom­ic reces­sion. This short­com­ing has flood­ed par­ties of the Right with a new con­stituen­cy, while leav­ing the pre­car­i­ous youth, low-income pen­sion­ers and the unem­ployed with no polit­i­cal harbor.
Just as in the Unit­ed States, the long-last­ing absence of a real Left in the Ital­ian par­lia­ment has also forced social move­ments, activists and orga­niz­ers to think about how to be a dif­fer­ent kind of Left: one that does not aban­don its mis­sion for social jus­tice in favor of a neolib­er­al agen­da. In the past, most of this think­ing has led social move­ments to oper­ate out­side of the polit­i­cal are­na — in the social cen­ters and the streets.
The after­math of the debt cri­sis saw the emer­gence of the unrep­re­senta­bles—the peo­ple who are not and can­not be rep­re­sent­ed by the Demo­c­ra­t­ic Par­ty, which made their jobs pre­car­i­ous and cut their access to good health­care, edu­ca­tion and pen­sions. Many of these unrep­re­senta­bles flocked to the Five Star Move­ment, a par­ty born to chan­nel the indig­na­dos and Occu­py-type dis­con­tent that explod­ed in mass protests between 2008 and 2011. Yet the par­ty has no real analy­sis of the cri­sis that goes beyond con­demn­ing the cor­rup­tion of the polit­i­cal class. As the Five Star Move­ment sheds its orig­i­nal social move­ment ele­ments, it increas­ing­ly shows signs of a drift to the Right, as exem­pli­fied by its ​"Zero Boats" pro­gram on immigration.
PAP's path from the streets to elections
It is in this con­text of aim­less stray­ing of the par­lia­men­tary Left away from the ​"real coun­try" — a com­mon term that refers to the ordi­nary peo­ple who strug­gle to make ends meet — that PAP has emerged as a new force that claims to be the only polit­i­cal rep­re­sen­ta­tive of the wretched of the coun­try. Offi­cial­ly found­ed in Decem­ber 2017, PAP was born as the polit­i­cal embod­i­ment of almost a decade of grass­roots organizing.
At the core of the coali­tion is the group of activists around Je So' Paz­zo, a com­mu­ni­ty space in the heart of Naples. Pre­vi­ous­ly a psy­chi­atric hos­pi­tal-prison, the build­ing was occu­pied in March 2015, and since then hun­dreds of peo­ple have vol­un­teered at the cen­ter to ​"turn the prison into free­dom," as one of the center's slo­gans goes.
Par­tic­i­pants are pur­su­ing dozens of activ­i­ties to fight pre­car­i­ous employ­ment, pover­ty and racism. The list of ser­vices that the space offers com­plete­ly free of charge is extra­or­di­nary, rang­ing from a med­ical cen­ter that has served hun­dreds of peo­ple in the past year to an after-school pro­gram for young peo­ple who would oth­er­wise be in the streets and vul­ner­a­ble to the orga­nized crime that still plagues the city. The cen­ter also pro­vides legal-sup­port ser­vices for pre­car­i­ous work­ers and immigrants.
What dif­fer­en­ti­ates Je So' Paz­zo from a char­i­ty, though, is that all these activ­i­ties — while ori­ent­ed to pro­vide much need­ed relief to the peo­ple in Naples — are offered in a space that active­ly orga­nizes those indi­vid­ual issues into cam­paigns. The cen­ter has been sup­port­ing work­place bat­tles across the coun­try since 2011 through the work of its par­ent group Clash City Work­ers. (Dis­clo­sure: This author was for­mer­ly part of Clash City Workers.)
"I used to be a mem­ber of groups that would stand out­side the FIAT plant, fliers in our hands, telling the work­ers how they were being exploit­ed," Vio­la Caro­fa­lo, one of the long-term activists of Je So' Paz­zo and polit­i­cal leader of PAP, said in an inter­view with the polit­i­cal satirist Sabi­na Guz­zan­ti. ​"The work­ers didn't care. They did not want you to stand out­side their work­place to teach them about their prob­lems. It's when we start­ed ask­ing them ​'what do you need?' that every­thing changed, and we start­ed to win."
By doing work that was deeply inspired by the Black Pan­thers' com­mu­ni­ty pro­grams, the mem­bers of Je So' Paz­zo have learned that the rad­i­cal Left today needs to ​"oper­ate over and with­in this world, and avoid post­pon­ing it all to the utopia, by devel­op­ing the capac­i­ty to improve people's lives here and now," as put by mem­ber, Gian­piero Lau­ren­zano, now a can­di­date for PAP in Naples. But to be a real force, activists of Je So' Paz­zo knew that the manda­to­ry next step was to build a par­ty. And so PAP was born.
As stat­ed in their elec­toral pro­gram, PAP decid­ed to run for these elec­tions ​"by doing every­thing upside down" — build­ing its polit­i­cal pro­gram and list of can­di­dates through 150 pub­lic assem­blies held across the country.
Giv­ing voice to the unrep­re­senta­bles
PAP is the only polit­i­cal for­ma­tion that explic­it­ly talks about wealth redis­tri­b­u­tion, with pil­lars that include a tax on prop­er­ty and a bat­tle against tax eva­sion aimed at shrink­ing Italy's widen­ing inequal­i­ty gap. While attack­ing the wealth of the rich, PAP is deter­mined to fight the Euro­pean aus­ter­i­ty dic­tates by re-chan­nel­ing pub­lic spend­ing into social wel­fare. The par­ty also aims to decrease mil­i­tary spend­ing by break­ing away from NATO's fetters.
PAP puts work­er pro­tec­tion at the cen­ter of its polit­i­cal agen­da, fight­ing the struc­tur­al reforms of the labor mar­ket and the cuts to pub­lic spend­ing that have been imple­ment­ed since the off­set of the cri­sis. By form­ing alliances with sim­i­lar par­ties across Europe, such as Mélenchon's La France Insoumise, PAP hopes to re-define the Euro­pean Union as a struc­ture aimed at enhanc­ing the rights of work­ers, migrants and all peo­ple, rather than being a mech­a­nism of wage com­pres­sion and bor­der patrolling.
The Demo­c­ra­t­ic Par­ty is attempt­ing to avoid tak­ing a posi­tion on the piv­otal ques­tion of immi­gra­tion, as exem­pli­fied by the party's elec­toral pro­gram, which in 43 pages only men­tions the word ​"immi­gra­tion" once. In con­trast, PAP is proud to assert the prin­ci­ples of anti-fas­cism and anti-racism. In its pro­gram, PAP calls for the imme­di­ate ​"stop to the emer­gency and mil­i­ta­rized man­age­ment of immi­gra­tion" and the repeal of the 2001 Bossi-Fini law that made immi­gra­tion a crime by cre­at­ing the cat­e­go­ry of ​"clan­des­ti­no."
Giv­ing voice to the unrep­re­senta­bles, PAP is dis­man­tling the false choice between two cat­a­stro­phes: a Europe unit­ed under the mis­ery of aus­ter­i­ty, or one unit­ed under the hor­rors of racism and bigotry.
By virtue of its grass­roots for­ma­tion and its nov­el­ty, PAP is still a very small polit­i­cal force: Many doubt it will reach the 3 per­cent of votes thresh­old to get any rep­re­sen­ta­tives in par­lia­ment. To those who ques­tion the sig­nif­i­cance of its project, PAP says that ​"for us, elec­tions are a means to an end, not an end itself." The coalition's goal is to recom­pose the Left into a unit­ed front by show­ing peo­ple that they have pow­er to affect change.
PAP is demon­strat­ing to the world that a real par­ty of the Left must be built from the ground — and that process requires Par­ty mem­bers to become the real inter­locu­tors of the peo­ple. This bet is for the long-term. Invit­ed to the news­cast TG7 on Feb. 12, Caro­fa­lo was asked, ​"You are aware you will not win the elec­tions, so what's the point?" She respond­ed: ​"Of course, we'll win the next ones."
Valenti­na Dal­lona
is a PhD stu­dent in the Depart­ment of Soci­ol­o­gy at Johns Hop­kins Uni­ver­si­ty in Bal­ti­more, where she stud­ies fas­cism, labor move­ments and the pol­i­tics of the aus­ter­i­ty. Before mov­ing to the US, she was a mem­ber of the Clash City Work­ers col­lec­tive in Italy.