It's Been Getting Better; Now Someone Tell Hollywood
Debunking the American Horror Story of gay and lesbian aging.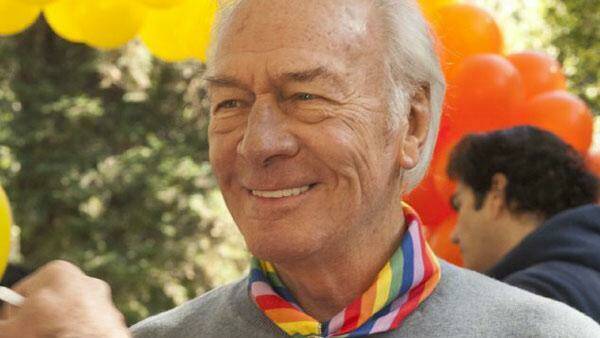 Tonight, the 24th GLAAD media awards will hon­or rep­re­sen­ta­tions of LGBT hope and equal­i­ty. While GLAAD's past and cur­rent efforts are sure­ly wor­thy of com­men­da­tion, many of the TV shows and movies that have been and will be cel­e­brat­ed con­tin­ue to depict gay hap­pi­ness as hav­ing a short shelf life (or at least, a ​"best if used by" sug­ges­tion) — some­times as ear­ly as one's 30th birth­day. Although stud­ies gen­er­al­ly sug­gest old­er gays and les­bians report sat­is­fac­tion on par with aging het­ero­sex­u­als, our media and cul­ture con­tin­u­al­ly nar­rate old­er gay char­ac­ters as sad, defeat­ed fail­ures. These sto­ries need to change.
Hav­ing con­duct­ed in-depth stud­ies of gay tele­vi­sion and film rep­re­sen­ta­tion since the ear­ly 2000s, I've found that gay char­ac­ters are most often depict­ed as ado­les­cents and young adults, rang­ing in age from teens to the ever-pop­u­lar Will Tru­man-esque white, upper-mid­dle-class gay male lawyer/​doctor type in his 30s. The rarely seen over-40 gay male often por­trayed as ​"that creepy old gay guy" the younger gays fear becom­ing. After all, no one ques­tions why Richard Dreyfess was con­tem­plat­ing sui­cide at the begin­ning of Posei­don, or why on Queer as Folk, Bri­an's friends threw him a ​"death­day" par­ty for his 30th birth­day. In main­stream gay male cul­ture, where youth and beau­ty are wor­shipped, fear of aging haunts gay youth like a men­ac­ing Fred­dy Krueger. Hyper-sex­u­al­ized and preda­to­ry, the old­er gay man is rou­tine­ly posi­tioned at the cor­ner of the bar, iso­lat­ed and des­per­ate — a cru­el fore­shad­ow­ing of the con­se­quences of devi­at­ing from the het­ero­sex­u­al path.
Sound a bit dra­mat­ic? Con­sid­er the GLAAD-nom­i­nat­ed Glee, where the only old­er gay char­ac­ter is the stu­dent-fondling drug deal­er and for­mer teacher Sandy Ryer­son. Anoth­er nom­i­nee, ABC's Mod­ern Fam­i­ly, recent­ly aired an episode titled ​"New Year's Eve," where the gay cou­ple Mitchell and Cam explore gay bars in Palm Springs. In a club full of young boys, Mitchell and Cam are invis­i­ble and ignored. When step­ping into an old­er gay male bar, they cringe at gray-haired men whose ogling is con­struct­ed as a creepy, laugh­able site gag.
As for aging les­bians, few rep­re­sen­ta­tions exist to counter the lin­ger­ing cau­tion­ary tales of the cursed, hard­ened, preda­to­ry and lone­ly spin­ster — a dif­fer­ent but not unre­lat­ed Amer­i­can Hor­ror Sto­ry. Typ­i­cal­ly cast in sup­port­ing roles, les­bians rarely have their own life, sto­ry or future on the cul­tur­al screen.
Nei­ther era­sure of old­er les­bians nor media depic­tions of sad gay elders do gay youth any favors. Main­stream cul­ture has long depict­ed gay aging as a sin­is­ter tra­jec­to­ry of depres­sion, lone­li­ness, sex­u­al pre­da­tion and sui­cide. But the trope is more trag­ic than the real­i­ty. For years, stud­ies have report­ed a decline in depres­sion and suc­cess­ful, healthy aging for old­er gays and les­bians. Con­trary to bleak images of doomed old­er gays, it's gay youth who face the great­est emo­tion­al obsta­cles and anxieties.
It's not only main­stream enter­tain­ment that per­pet­u­ates the myth of old­er gay unhap­pi­ness. Many well-inten­tioned par­ents per­pet­u­ate it too. ​"It's a hard­er life." ​"It's a lone­ly life." ​"It's just not the life I want­ed for you." Com­ing from par­ents of gay chil­dren, these words are often expressed with love and gen­uine con­cern, yet they reify the very vio­lence and pain par­ents wish to pro­tect their chil­dren from. Who ever said het­ero­sex­u­al­i­ty alone guar­an­tees an easy road?
The ​"hard­er path" nar­ra­tive is deeply entrenched. Once, fol­low­ing a pre­sen­ta­tion of my research, a moth­er of a les­bian now in her 20s approached me in tears, real­iz­ing she had regur­gi­tat­ed these neg­a­tive pre­dic­tions to her daugh­ter sev­er­al years ago. ​"What did I know?" she asked. I asked her how her daugh­ter was doing today. She smiled. ​"She's amaz­ing. Just perfect."
The idea of fac­ing the ​"hard­er road" in the future still pro­duces a very real, tan­gi­ble anx­i­ety for gay youth. Sen­ti­ments rang­ing from ambiva­lence to out­right fear of turn­ing into ​"one of those old­er gays" are expressed in clin­i­cal research and pop­u­lar media alike. As we scratch our heads, try­ing to under­stand the epi­dem­ic of off-screen sui­cide, sui­ci­dal ideation, and self-destruc­tive behav­iors in gay youth, we must inter­ro­gate our own behaviors.
While often per­ceived as sole­ly an anti-bul­ly­ing effort, the anti-sui­cide cam­paign It Gets Bet­ter also enacts a rad­i­cal chal­lenge to homo­pho­bic cau­tion­ary tales. The mes­sage that it gets bet­ter is an impor­tant dis­rup­tion to the long-per­pet­u­at­ed assump­tion that, for gay peo­ple, it always gets worse. It chal­lenges the idea that the future is some­thing to fear, if not avoid.
Tele­vi­sion and film writ­ers and pro­duc­ers need to stop reit­er­at­ing the tired and dan­ger­ous sto­ry where­in only het­ero­sex­u­al­i­ty leads to hap­py futures. Aging gays are far too often exploit­ed onscreen as a quick joke, a trag­ic les­son or an easy vil­lain. Although his char­ac­ter did not sur­vive the film (a fate shared by many old­er gay and les­bian char­ac­ters), Christo­pher Plummer's joy-filled por­tray­al of an old­er gay man in The Begin­ners serves as one high­ly effec­tive, fea­ture-length It Gets Bet­ter video. Also, as we move toward mar­riage equal­i­ty, let's not make The New Nor­mal the only alter­na­tive to tragedy. Mar­riage and chil­dren can't be the only oth­er path. There are many futures to be shared. We owe the youth more and bet­ter stories.
Final­ly, par­ents of gay chil­dren need to be very care­ful of pre­dict­ing the ​"hard­er" and ​"lone­ly" life, or indulging that nar­ra­tive when they encounter it them­selves. It's a scary, dan­ger­ous, and destruc­tive sto­ry, even if deliv­ered out of love. No one can know their own future, but I do know that the hor­ri­fy­ing images of gay futures work to obscure and fore­close all the won­der­ful things that life might, can, and ought to be. These images place an expi­ra­tion date on hope for a gay teen. By restor­ing a future for gay youth to invest in, by re-appro­pri­at­ing hope, a revised cul­tur­al nar­ra­tive will help make it better.
Dustin Bradley Goltz, MFA, PhD, is a Pub­lic Voic­es Fel­low with The OpEd Project and an Assis­tant Pro­fes­sor of Per­for­mance Stud­ies and Rhetoric in the Col­lege of Com­mu­ni­ca­tion at DePaul Uni­ver­si­ty. He is the author of the award win­ning book Queer Tem­po­ral­i­ties in Gay Male Rep­re­sen­ta­tion: Tragedy, Nor­ma­tiv­i­ty and Futu­ri­ty, pub­lished by Routledge.