Indiana University On Strike Against Tuition Hikes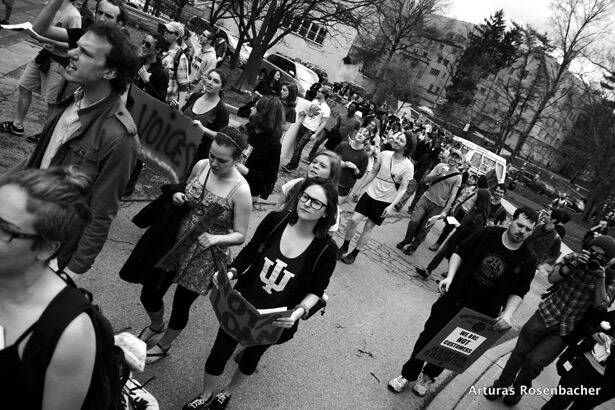 Indiana University, home of downtrodden basketball fans, is currently playing host to a prouder legacy. Yesterday, students and some faculty and staff commenced a two-day strike that organizers hope could help reinvigorate a movement to defend higher education.
A portion of students and faculty at the system's Bloomington campus are walking out of classes and off the job in protest of tuition hikes and privatization. Campus police were on hand during a series of protests yesterday, but no arrests occurred until last night, when police evicted strikers from a building on campus where they had amassed for a general assembly. One individual was arrested as the group dispersed. The group IU on Strike alleges that the arrest occurred as the participant was trying to leave the area, and has denounced police conduct, declaring ​"IUPD created a chaotic situation where there was none, bullying participants as they gathered their belongings." But organizers have nevertheless proclaimed the first day of the strike a success, and are now gearing up for Day 2. (The IU Police Department told In These Times that the individual was arrested for vandalism, but declined to comment further on the incident).
The strike, which student and community organizers have been planning for six months, coincides with a bi-monthly meeting of the IU Board of Trustees, who set tuition and fees for the university system. Throughout the day yesterday, a few hundred striking students trickled in and out of a central lecture hall on campus, where free classes were held on such topics as ​"women and American social movements" and ​"libraries in the age of austerity." Others held lively pickets outside of dorms, academic buildings and bus stops in hopes of growing the ranks of rebellious Hoosiers. In some buildings, students leaned out of their classroom windows to cheer on the strikers. At a few other campuses in the IU system, including IU South Bend and Indiana University-Purdue University of Indianapolis, students staged smaller actions against privatization.
As the Board of Trustees convened its meeting at the Bloomington campus, students held a speak-out on debt outside, chanting, ​"No cutbacks, no fees, just fire the trustees!" Some students even composed a song to the tune of a popular ballad from Les Miserables, calling on administrators to ​"look down" on indebted students as the trustees met inside a building blocked off by campus police. (Full disclosure/​ bragging rights: IU is this reporter's alma mater).
​"Why should I have to mortgage my soul to the debt companies for a chance at education?" asked one student during the speak-out. ​"The students and the workers are the ones who make this place run!"
In 2011, the Board of Trustees approved a new round of tuition increases. At IU Bloomington, the campus that saw the sharpest hikes in the system, tuition has risen by more than 5% for resident students and 6% for non-residents during each of the past two years, including new student fees that go towards building maintenance. (In-state tuition at the university is currently $10,034; out-of-state students pay $31,484).Though the university announced last fall that it would offset the hikes by freezing tuition for upperclassmen who are on-track to graduate in four years, student organizers say this further punishes those who may be struggling academically due to financial difficulties. The average graduate of IU Bloomington now leaves with more than $27,000 in debt, according to the Project on Student Debt.
Students worry that further hikes could be on the way. The Board of Trustees had originally planned to hear tuition recommendations during a two-day meeting this week, but last week announced that they would shorten the meeting to one day and omit the topics related to tuition. Mark Land, the university's associate vice president of communications, told the Indiana Daily Student that the change was made because of a dearth of items on the agenda and was unrelated to the strike.
Though student demonstrators object to the university being ​"run like a business," they assert that the problem is bigger than greedy university administrators. Since 2009, the Republican-controlled Indiana General Assembly and the Indiana Commission on Higher Education have slashed state funding for IU by more than $100 million, with the result that state support now comprises just 18% of IU's total operating budget. Thanks to deep cuts to higher education and other public services, the state of Indiana will enjoy a projected budget surplus of more than $500 million next year, but critics say this has been achieved on the backs of students, state workers and the poor.
Among striker's demands are the reversal of tuition hikes, a lifting of a ​"de facto wage freeze" for employees, and an end to the outsourcing of campus services. A declaration from IU on Strike reads:
The issues of massive student debt, hoosier-style racism, exploitation of workers, and the hollowing out of education in Indiana are getting too big to ignore. With an economy going nowhere fast and an administration in denial, the folks who make up Indiana University - the staff, faculty, and students - are taking matters into our own hands."
Strikers are also demanding the repeal of state laws barring undocumented students from receiving in-state tuition, as well as increased diversity on campus. That platform helped attract Jackson Alexander Caldwell, a senior journalism major who receives tuition support through a scholarship program aimed at increasing racial and ethnic diversity on campus. Speaking to In These Times by phone as he attended ​"free university days" Thursday, Caldwell said he supports the strikers' call for doubling enrollment of African-American students, which administrators have pledged previously to do. He also emphasized that keeping tuition affordable goes hand-in-hand with increasing diversity on campus.
Indiana's disinvestment in its universities is part of a bleak bigger picture. Since the mid-1980s, almost all states have cut funding for public universities, even as their student bodies have swelled. The result is that rising demand for higher education has coincided with its deepening privatization. Colorado universities, the biggest losers over the past two decades, have seen state support decrease by nearly 70%. If current trends continue, Colorado will cease funding its public colleges and universities entirely by 2022. Nationwide, things aren't looking much better — if disinvestment in higher ed proceeds apace, the average state support for colleges and universities will reach zero by 2059, according to the American Council on Education.
A report published last month by the Center for Budget and Policy Priorities notes that cuts to education have accelerated rapidly since the start of the recession, with every state except for North Dakota and Wyoming spending less per student than it did prior to 2008. Since then, the average annual tuition at public colleges and universities has grown by 27 percent. In addition to implementing hikes, schools make up for funding shortfalls by cutting spending — ​"often in ways that diminish the quality of education," such as eliminating course offerings or library services, the report's authors assert.
Staring into an abyss of deepening indebtedness and dwindling job prospects, students from across the country have over the past year begun searching for ways to scale up their fight. At a ​"National Student Power Convergence" held last summer in Columbus, Ohio, U.S. activists met with representatives of militant student movements from Quebec, Puerto Rico, and Mexico. As Sarah Jaffe noted in a report for AlterNet, a key theme of the conference — and a perennial challenge for U.S. student groups — was how to move beyond organizing with ​"the righteous few" and towards building real power.
During the height of a student strike in Quebec last spring, more than 150 student unions voted to join in. Students brought campuses to a halt, and successfully (though temporarily) halted a proposed hike to tuition in the province. But absent the strong student unions that thrived in the U.S. during the 1920s and 30s, or a return to the atmosphere of campus radicalism of the 60s, the potential of strikes on U.S. campuses remains mostly symbolic for the moment.
So far, active support for the strike is limited amongst the more than 40,000 students who attend IU Bloomington. There's no official count of how many students have skipped classes, but about 400 people participated in a lunchtime march through campus Thursday, according to organizers.
Nevertheless, a two-day strike is a place to start. ​"We're trying to get people reacquainted with the idea of a strike and the possibility of it being effective," says Caldwell. ​"From here, we hope it will get bigger and bigger." (Organizers also claim that support for the strike is widespread, even if students aren't leaving their classes. See for example, this strike support banner hanging at a frat house that I, for one, never knew to be hotbed of campus radicalism. If it turns out that the brothers themselves had a hand in this, I will take that as evidence enough of a sea change underway in the student body.)
All campus employees, meanwhile, have no-strike clauses in their contract and are technically barred from taking part. But Bruce Smedley, retired president of CWA local 4730, the IU support staff union, has encouraged employees to participate in the strike regardless by succumbing to the ​"crimson flu:" calling in sick and joining students on the picket lines. In a letter to the Herald-Times, Smedley explains the stake employees have in the strike:
You are some of the lowest paid Big Ten university employees and barely receive annual raises while the top income earners on campus receive huge pay raises each year. In fact, you have been asked in some years to forgo a raise — to sacrifice for the university. As loyal and hardworking employees, you do this, thinking that everyone will sacrifice together. Unfortunately, while this thinking appears to be fulfilled for a short time, top administrators eventually receive raises retroactively, but not you.
A number of faculty members on campus are also participating in this week's actions in some way, according to Purnima Bose, an English professor and member of the IU Progressive Faculty and Staff Caucus. A number of instructors gave their students the option of skipping class without penalty, others opened their courses up for striking students to attend, and a few even cancelled classes for the days. Though faculty are an ​"ideologically diverse group," Bose notes, many were galvanized by the heavy-handed responses of administrators in responding to the strike. An e-mail sent by a university dean last month, for example, warned faculty and staff against using ​"faculty LISTSERVs and emails to promote organization around the proposed student strike." Though the dean later issued a retraction of the statement, many faculty members began to see the rights to academic freedom and free speech as at stake during this week's demonstrations. More than 100 faculty members signed onto a statement supporting the students' right to protest, if not the strike itself.
Others faculty stand in solidarity with the strikers' demands, Bose notes, especially given the shift toward a ​"performance-based" model of funding that gives state officials an unprecedented level of control over university governance.
​"Even as the state legislature has made deep cuts to our budget, it insists on a bigger role defining the pedagogical mission and meddling in curricular issues," she says. ​"The drive to ​'corporatize' the university … has left many wondering about the role of faculty governance in matters pertaining to educating our students and in the life of the institution. For these reasons, many faculty are delighted that students have initiated a debate about these issues through the strike."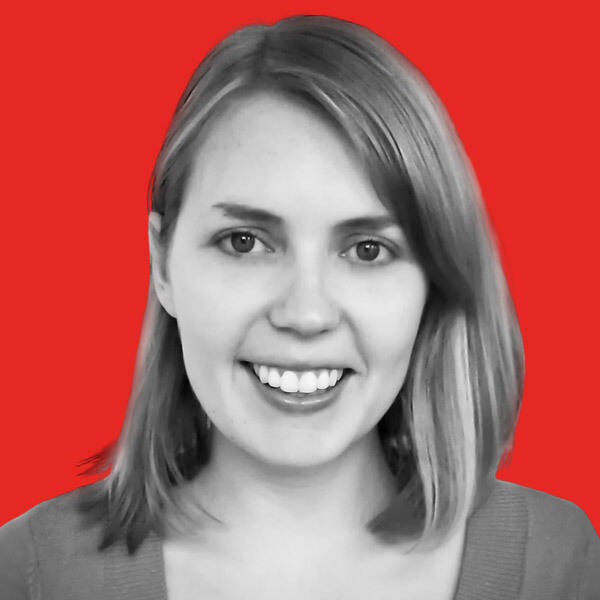 Rebecca Burns is an In These Times contributing editor and award-winning investigative reporter. Her work has appeared in Bloomberg, the Chicago Reader, ProPublica, The Intercept, and USA Today. Follow her on Twitter @rejburns.