Jailed Hikers: the Untold Story
The three Americans Iran has charged with espionage are not who you think they are.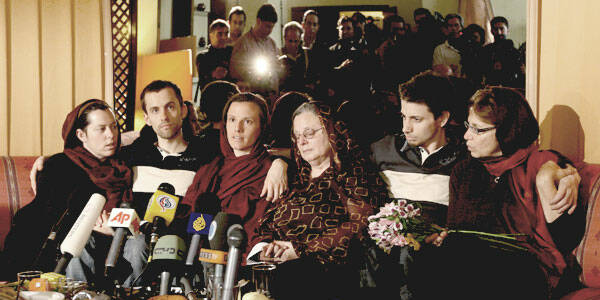 In July of last year, Shon Meck­fes­sel was debat­ing whether or not to join his three friends on a hike in the moun­tains of Kur­dis­tan in north­ern Iraq. In the hopes of fight­ing off a cold, Meck­fes­sel ulti­mate­ly decid­ed to stay in a hotel, with plans to join them the next day.
That seem­ing­ly incon­se­quen­tial deci­sion saved Meck­fes­sel from end­ing up in an Iran­ian prison, where his friends have spent the last year.
Sarah Shourd, Shane Bauer and Josh Fat­tal have become known as ​"the hik­ers" since their arrest on July 31, 2009, by Iran­ian Rev­o­lu­tion­ary Guards, who claimed the three ille­gal­ly crossed the Iraq-Iran border.
And Bauer, Fat­tal and Shourd were indeed hik­ers at the moment of their arrest, tak­ing a break from jour­nal­is­tic, aca­d­e­m­ic and sol­i­dar­i­ty work they were doing in the Mid­dle East. The four, who met while study­ing in the San Fran­cis­co Bay Area, con­sid­ered them­selves on a mis­sion to – in Shourd's words – ​"build a bridge between East and West."
Meck­fes­sel, 37 and author of a 2009 book on post-con­flict life in the Balka­ns, is cur­rent­ly on a 30-city, no-frills Euro­pean tour spread­ing the word about the plight of his friends. He also recent­ly launched a web­site, www​.freeourfriends​.eu, that high­lights the work of his three impris­oned col­leau­gues and pro­vides tes­ti­mo­ni­als from sup­port­ers includ­ing Noam Chom­sky, Desmond Tutu and the par­ents of slain activist Rachel Corrie.
Only 28 years old, Bauer already has an impres­sive rep­u­ta­tion for inves­tiga­tive report­ing, and has pub­lished sto­ries on the Mid­dle East for The Nation, Moth­er Jones, Al Jazeera​.net and New Amer­i­ca Media. Among oth­er things, he exposed the exis­tence of spe­cial oper­a­tions forces in Iraq who are account­able to no one but the prime minister.
Shourd, 31 and a pro­lif­ic inde­pen­dent jour­nal­ist, has brought a per­son­al voice to obser­va­tions of dai­ly life in Latin Amer­i­ca, the Mid­dle East and Africa. She also taught Eng­lish in Dam­as­cus where she and Bauer, now her fiancé, lived for 10 months before their detention.
Fat­tal, 27, had just arrived in the Mid­dle East as a teach­ing fel­low in the Boston-based Inter­na­tion­al Hon­ors Pro­gram that had already led him to India, Chi­na and South Africa.
Meck­fes­sel was work­ing on a dis­ser­ta­tion for the Uni­ver­si­ty of Wash­ing­ton on the Arab-Israeli con­flict at the time of the ill-fat­ed hike. He is dis­turbed that many peo­ple in the Unit­ed States and around the world seem to view his friends as naïve out­doors­men, clue­less about the pol­i­tics sur­round­ing them.
"The cov­er­age has been very wide, but very thin," says Meck­fes­sel, who grew up in Sacra­men­to. ​"Near­ly every­one I speak to inside the U.S. has heard of the case, but knows less than noth­ing about who they are, or why we were in the Mid­dle East in the first place. Worse yet, peo­ple have heard the same thin sto­ry so many times that they think they're experts on it. I end up get­ting lec­tured by total strangers about the char­ac­ter of some of my clos­est friends."
The Iran­ian gov­ern­ment has charged them with espi­onage, an alle­ga­tion that friends and col­leagues find ludi­crous and iron­ic, con­sid­er­ing the three are vocal crit­ics of U.S. for­eign pol­i­cy and inter­ven­tion in the Mid­dle East.
In ear­ly inter­views, his friends' moth­ers talked about their children's jour­nal­ism and sol­i­dar­i­ty work in the Mid­dle East and their desire to increase under­stand­ing of the region. ​"But that's not what stuck" in main­stream media cov­er­age, Meck­fes­sel says. ​"It's a long sto­ry that has a lot to do with how media works, with sen­sa­tion­al­ism and sim­pli­fy­ing things for a quick, uncom­pli­cat­ed pitch."
The Nation Institute's Inves­tiga­tive Fund, for which Bauer worked, com­mis­sioned two reporters to inves­ti­gate the cir­cum­stances of the arrest. Those reporters tracked down local eye­wit­ness­es who con­firmed the three were actu­al­ly in Iraq, not Iran, when they were detained.
"It seems pret­ty appar­ent to us they did not cross the bor­der at all," says Esther Kaplan of The Inves­tiga­tive Fund, which fund­ed Bauer for a project in Pales­tine before his arrest. The Fund's reporters also dis­cov­ered that the hik­ers' deten­tion and trans­port to Tehran was like­ly ordered by a Rev­o­lu­tion­ary Guards' region­al intel­li­gence com­man­der who is now fac­ing exe­cu­tion after being ​"impli­cat­ed in a vast crim­i­nal enter­prise encom­pass­ing a prof­itable smug­gling oper­a­tion and dozens of mur­ders, rapes and kidnappings."
Since state-lev­el nego­ti­a­tions have not yield­ed his friends' release, Meck­fes­sel is count­ing on inter­na­tion­al ​"social pres­sure" built through the web­site, his tour, social net­work­ing and word of mouth to both help secure their free­dom and pro­mote the work and val­ues they have long stood for.
"We're all high­ly crit­i­cal of U.S. for­eign pol­i­cy," says Meck­fes­sel. ​"We've spent our whole adult lives fight­ing to change it. So there's been a fear of stir­ring up con­tro­ver­sy with­in the U.S. pub­lic by focus­ing on who we actu­al­ly are."
But with his Euro­pean tour and media cam­paign, Meck­fes­sel is hop­ing to stoke a groundswell of aware­ness. Meck­fes­sel says that the grass­roots activism scene in many Euro­pean cities nur­tures a feel­ing of empow­er­ment and imme­di­a­cy often miss­ing in the Unit­ed States. He feels Euro­peans are more like­ly to act on the infor­ma­tion they receive and incor­po­rate it into broad­er social movements.
"I hope that draw­ing atten­tion to their pub­lic record of incred­i­ble human­i­tar­i­an, jour­nal­is­tic, [and] polit­i­cal work– for Pales­tini­ans, for Iraqis, against U.S. impe­ri­al­ism – will put enough glob­al pres­sure on Iran that it's just not worth hold­ing on to them anymore."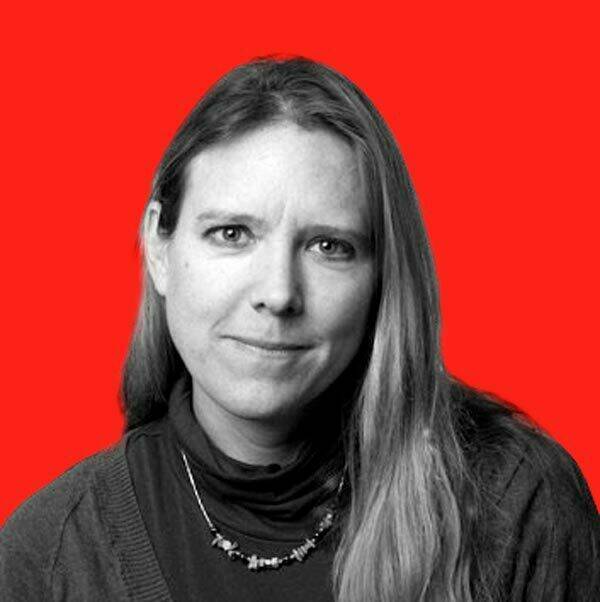 Kari Lyder­sen
is a Chica­go-based reporter, author and jour­nal­ism instruc­tor, lead­ing the Social Jus­tice
&
amp; Inves­tiga­tive spe­cial­iza­tion in the grad­u­ate pro­gram at North­west­ern Uni­ver­si­ty. She is the author of May­or
1
%: Rahm Emanuel and the Rise of Chicago's
99
%.