Don't Trust Jeff Bezos' Preschool Philanthropy Scheme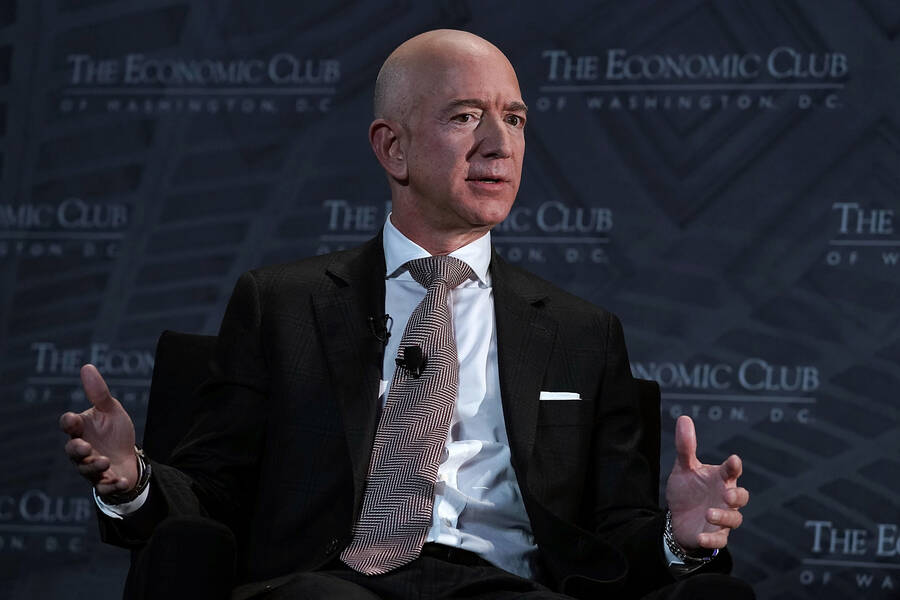 The CEO of Ama­zon and the world's rich­est man declared this month that he'll be wad­ing into the waters of phil­an­thropy. In a high-pro­file announce­ment, Jeff Bezos described his vision for a ​"Day One Fund" — a $2 bil­lion invest­ment in orga­ni­za­tions that pro­vide home­less­ness assis­tance, and a new net­work of non­prof­it preschools in low-income com­mu­ni­ties. This char­i­ta­ble gift will amount to just 1.2 per­cent of his net worth.
Bezos joins fel­low tech bil­lion­aires Mark Zucker­berg, Bill Gates and Reed Hast­ings in cham­pi­oning cor­po­rate-style reform of Amer­i­can edu­ca­tion. ​"We'll use the same set of prin­ci­ples that have dri­ven Ama­zon," Bezos said of his future preschool chain. ​"Most impor­tant among those will be gen­uine, intense cus­tomer obses­sion. The child will be the customer."
Preschool is a par­tic­u­lar­ly appeal­ing area for those who like con­cep­tu­al­iz­ing prob­lems in terms of mar­ket poten­tial. Sev­er­al years ago, a U.S. Cham­ber of Com­merce affil­i­ate report­ed that every dol­lar invest­ed in high-qual­i­ty ear­ly child­hood edu­ca­tion yields sav­ings ​"from $2.50 to as much as $17 in the years ahead." Uni­ver­si­ty of Chica­go econ­o­mist and Nobel Prize win­ner James Heck­man pub­lished research in 2009 find­ing high-qual­i­ty preschool can yield a 7‑to-10 per­cent annu­al return.
Preschool is also one of the most pop­u­lar tar­get-areas for cham­pi­ons of ​"Pay for Suc­cess"—a branch of so-called impact invest­ing which took off under the Oba­ma admin­is­tra­tion. Under Pay for Suc­cess, pri­vate fun­ders front mon­ey for social pro­grams, and the gov­ern­ment pays the investors back with inter­est if cer­tain pre­de­ter­mined goals are met. Chica­go launched a Pay for Suc­cess preschool pro­gram in 2014, fund­ed by Gold­man Sachs, North­ern Trust and the J.B. and M.K. Pritzk­er Fam­i­ly Foun­da­tion. These pri­vate groups aim to rough­ly dou­ble their invest­ment over the next 18 years.
It's not clear at this point how Bezos's Day One Fund will be struc­tured; whether it will be a tra­di­tion­al fam­i­ly foun­da­tion like the Gates Foun­da­tion, some sort of lim­it­ed-lia­bil­i­ty com­pa­ny like the Chan Zucker­berg Ini­tia­tive, or per­haps one of the increas­ing­ly con­tro­ver­sial ​"donor-advised funds" that oth­er tech titans have embraced. CNBC reports that between thir­ty to fifty per­cent of Bezos's gift could be tax-deductible.
It's also not clear why exact­ly he chose this month to announce his plans, but it's pos­si­ble that Bezos is try­ing to improve his image, which has tak­en a pub­lic beat­ing over the past year. This past June, the Seat­tle City Coun­cil rolled back its so-called ​"Ama­zon tax" which coun­cilmem­bers had passed unan­i­mous­ly four weeks ear­li­er. The tax, meant to gen­er­ate new rev­enue to address the region's grow­ing home­less cri­sis, would have required Ama­zon to pay about $12 mil­lion per year in new tax­es. The com­pa­ny helped fund an aggres­sive, unpop­u­lar, and ulti­mate­ly suc­cess­ful cam­paign to repeal it.
Ver­mont Sen. Bernie Sanders has also been tar­get­ing Bezos, specif­i­cal­ly on the gulf between the CEO's ever-increas­ing wealth and the low-wages of Amazon's many thou­sands of employ­ees, who rely on all sorts of gov­ern­ment aid to sup­ple­ment their income. This month, just days before Bezos made his phil­an­thropic announce­ment, Sen. Sanders and Cal­i­for­nia Rep. Ro Khan­na intro­duced new fed­er­al leg­is­la­tion to force large com­pa­nies to help shoul­der the cost of social ser­vices for low-paid staff. More than any­thing, though, the bill is under­stood as a vehi­cle to spot­light the issue of inequal­i­ty between rich own­ers and their work­ers. It's unsub­tly named the Stop Bad Employ­ers by Zero­ing Out Sub­si­dies Act, or ​"Stop BEZOS" for short.
While he's offered lit­tle detail as to how he'd treat the edu­ca­tors in his forth­com­ing preschool net­work, Bezos's oth­er busi­ness­es offer some hints. The medi­an com­pen­sa­tion of Amazon's more than 566,000 glob­al employ­ees at the end of 2017 was $28,446. Thou­sands of Ama­zon work­ers in Europe launched a strike this past sum­mer to protest their work­ing con­di­tions, fol­low­ing an exposé of a jour­nal­ist who had toiled under­cov­er at an Ama­zon ware­house. Work­ers in Min­neso­ta also demand­ed safer Ama­zon con­di­tions this past sum­mer, alleg­ing dehy­dra­tion, injuries and exhaus­tion on the job. A spokesper­son for the com­pa­ny dis­missed the employ­ees' com­plaints, call­ing theirs a ​"pos­i­tive and accom­mo­dat­ing" workplace.
The nation­al medi­an income for preschool teach­ers in 2016 was $28,570. While a grow­ing num­ber of edu­ca­tion pol­i­cy experts have called for increas­ing salaries as a way to attract and retain bet­ter teach­ing tal­ent, there's no guar­an­tee that Bezos's ​"cus­tomer" focused-mod­el will pri­or­i­tize com­pet­i­tive wages.
And to put Bezos's gift in per­spec­tive, Head Start, the fed­er­al government's high-qual­i­ty ear­ly-child­hood edu­ca­tion pro­gram which serves near­ly one mil­lion low-income chil­dren every year, runs on a strained bud­get of more than $9 bil­lion annu­al­ly. Bezos's Day One Fund, mean­while, is $2 bil­lion, to be divid­ed amongst both pre‑K and homelessness.
Let's be clear about the scale of the prob­lem. In 2016, just 42 per­cent of 3‑year-olds and 66 per­cent of 4‑year-olds in the Unit­ed States were enrolled in preschool pro­grams, and these fig­ures were not mea­sur­ably dif­fer­ent from the per­cent­ages enrolled in 2000. Demand for ear­ly child­hood edu­ca­tion far exceeds exist­ing capac­i­ty in this coun­try, and the cost to change that will require sig­nif­i­cant­ly more than what Bezos has so far offered to contribute.
The world's rich­est man may sin­cere­ly view his new phil­an­thropic project as a way to pos­i­tive­ly impact the world, but what we know is that Bezos has built up his com­pa­ny and per­son­al for­tune by aggres­sive­ly avoid­ing tax­es for years. In 2017 alone, Ama­zon paid lit­er­al­ly noth­ing in fed­er­al income tax, while report­ing $5.6 bil­lion in U.S. profits.
Instead of cre­at­ing his own new pri­vate net­work, which might run in direct com­pe­ti­tion with Head Start and oth­er exist­ing state pro­grams, Bezos could help the gov­ern­ment expand its proven mod­els: A com­bi­na­tion of high­er tax­es and phil­an­thropy could help ear­ly child­hood edu­ca­tors cov­er the cost of school sup­plies, help pro­gram providers extend their school days, con­struct and refur­bish school build­ings, sup­ple­ment teacher salaries, and improve teacher train­ing pro­grams. There are even Montes­sori-inspired Head Start pro­grams, the pro­gres­sive ped­a­gog­i­cal mod­el Bezos seems most inter­est­ed in expand­ing on his own.
Giv­ing more kids access to good schools can be an uncom­fort­able thing to crit­i­cize. But we have to be able to rec­og­nize when some­thing even seem­ing­ly gen­er­ous is nowhere near enough. Last year Bezos said he wants his phil­an­thropy to help ​"peo­ple in the here and now." This month he said he wants to ensure our great-grand­chil­dren have ​"lives bet­ter than ours." Whether he means it or not, it's on all of us to push for more.